SUVs are the best bets for consumers who want a vehicle that will last at least 200,000 miles, according to a new study by automotive research firm iSeeCars.com. The findings reveal the top 14 longest-lasting vehicles which include just six imports on a list dominated by seven SUVs.
In iSeeCars.com's analysis of more than 13 million cars on the road, the Ford Expedition ranks first with 5.7 percent of its cars over 200,000 miles. All of the models on the top 14 list have at least 2.0 percent with over 200,000 miles compared to 1.3% for the average model.
"While any vehicle on today's market has the potential to travel 200,000 miles with proper maintenance and care, our list of longest-lasting vehicles shows that certain vehicles don't just have the potential—they do last well past 200,000 miles far more frequently than other models," said Phong Ly, iSeeCars.com CEO.
SUVs from General Motors, Ford and Toyota dominate the list of the longest-lasting light-duty vehicles, taking the top seven spots. These large SUVs have percentages of cars over 200,000 miles that are more than double and quadruple the average. iSeeCars.com found that owners of these seven vehicles drove an average of 14,407 miles annually, 14 percent more than the average vehicle.
Top 14 Longest-Lasting Vehicles*
Rank
Model
% of Cars Over 200k Miles
1
Ford Expedition
5.7%
2
Toyota Sequoia
5.6%
3
Chevrolet Suburban
4.8%
4
Toyota 4Runner
4.7%
5
GMC Yukon XL
4.2%
6
Chevrolet Tahoe
3.5%
7
GMC Yukon
3.0%
8
Toyota Avalon
2.6%
9
Toyota Tacoma
2.5%
10
Honda Accord
2.3%
10
Honda Odyssey
2.3%
11
Chevrolet Silverado 1500
2.2%
12
Ford F-150
2.1%
13
GMC Sierra 1500
2.0%
Average for All Models
1.3%
*
With at least 2.0% of cars sold over 200,000 miles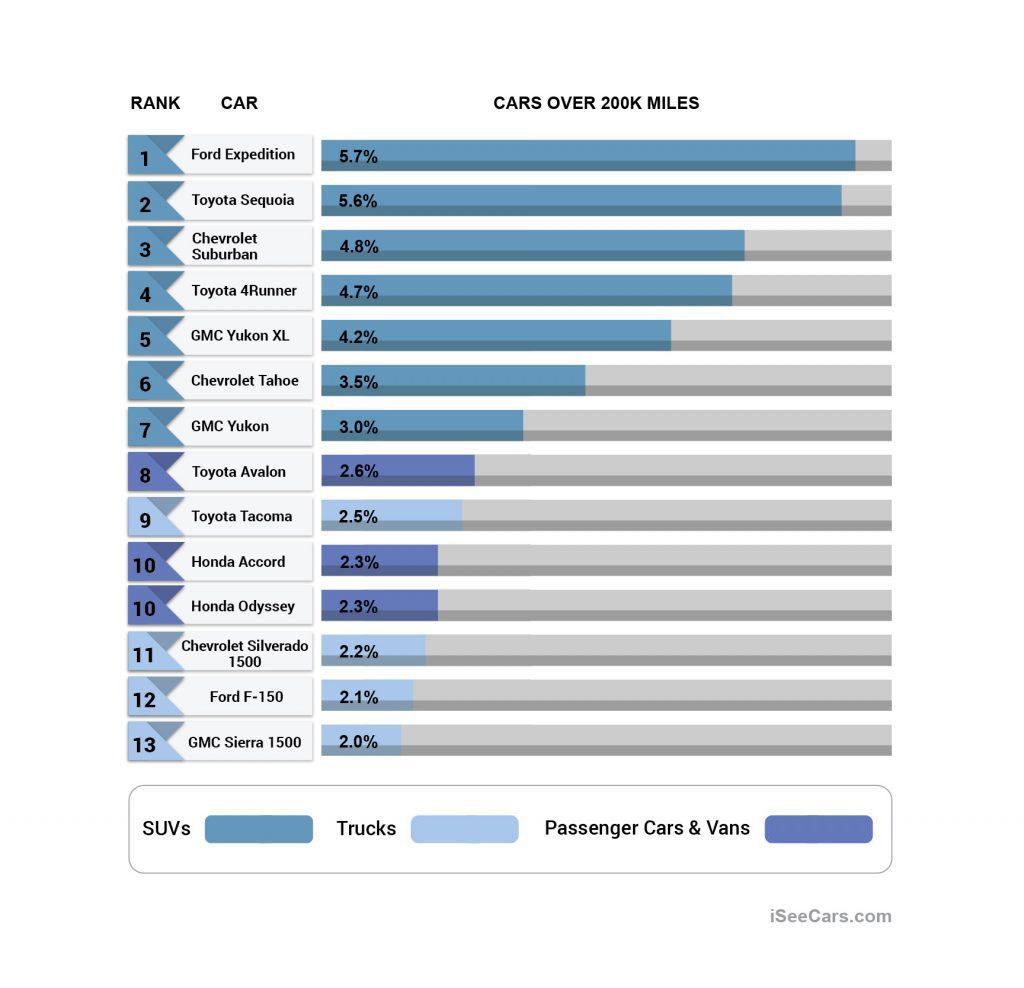 While the four pickup trucks on the list—the Toyota Tacoma, Chevrolet Silverado 1500, Ford F-150 and GMC Sierra 1500—have lower percentages of 200,000-mile vehicles than the large SUVs, it's no surprise that they are still well above the average. They are frequently used as work vehicles, generating high mileage compared with other types of vehicles that are more commonly used for shorter commutes.
"These pickup trucks are often essential to the owner's livelihood, so there's a greater incentive to keep them in top shape," explained Ly. "When you depend on your pickup not just to get you to and from your job, but also to get you from one job to the next and carry your work gear, you are going to stay on top of maintenance and necessary repairs." Overall, trucks have an average mileage of 74,777 miles on the odometer, 37 percent more than the average passenger car.
Three Japanese models represent the only cars and minivans on the list: the Toyota Avalon, Honda Accord and Honda Odyssey. "Hondas and Toyotas have long been rated highly for their reliability," said Ly. "And the Odyssey minivan likely logs many miles for similar reasons as the large SUVs do. Both Honda Accord and Toyota Avalon are cars that we often hear of being passed down from one generation to the next, such as a parent to a new teen driver, or an aging grandparent to their grown child."
The Longest Lasting Cars (Excluding SUVs and Pickup Trucks)
When trucks and SUVs are excluded, the list of longest-lasting cars is dominated by Japanese automakers. A total of 16 models have more 200,000-mile cars than the 0.8 percent average across non-truck, non-SUV vehicles.
Top 16 Longest-Lasting Cars (Excluding Trucks and SUVs) 
Rank
Model
% of Cars Over 200k Miles
1
Toyota Avalon
2.6%
2
Honda Accord
2.3%
2
Honda Odyssey
2.3%
3
Ford Taurus
1.9%
4
Chevrolet Impala
1.5%
4
Toyota Camry
1.5%
4
Nissan Maxima
1.5%
5
Toyota Sienna
1.4%
6
Honda Civic
1.3%
6
Dodge Grand Caravan
1.3%
6
Subaru Legacy
1.3%
7
Nissan Quest
1.1%
7
Subaru Outback
1.1%
7
Toyota Prius
1.1%
8
Mercedes-Benz S-Class
0.9%
8
Subaru Forester
0.9%
Average for All Cars Excluding Trucks & SUVs
0.8%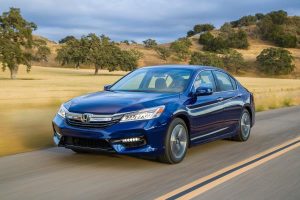 Also of interest, is the presence of four minivans—Honda Odyssey, Toyota Sienna, Dodge Grand Caravan and Nissan Quest. "Similar to the large SUVs, these classic family haulers log many miles, proving they can go the distance and last a long time," said Ly.
Four Toyotas, three Hondas, three Subaru models and two Nissans make the list, which interestingly includes the Toyota Prius, the only hybrid model. "For all the concern about hybrid reliability when the Toyota Prius was introduced in the U.S. back in 2001, this data is a true testament to its longevity," said Ly. 
In addition to the Dodge Grand Caravan, just two other domestic cars make this list—Ford Taurus and Chevrolet Impala. Ly said, "This isn't really surprising, as these models are frequently used for company fleets, city governments and rental cars—all situations where they might be driven more miles than the average."
The Longest Lasting Luxury Vehicles
With Mercedes-Benz S-Class as the only luxury car above the overall car average, iSeeCars.com further assessed the longest-lasting luxury models and found that only 0.6 percent of luxury vehicles have over 200,000 miles.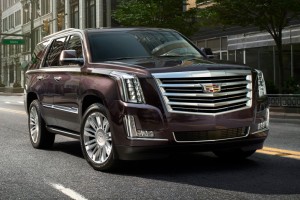 Ly said, "Typically, luxury models have fewer cars with that many miles. That's likely because often times these cars are leased and the contracts require lessees to keep the miles down. In the latter part of the car's life, owners may shy away from driving a lot of miles in an effort to keep the costs down on expensive maintenance and repairs." Seven luxury models have greater percentages than the overall luxury vehicle average.
Top 7 Longest-Lasting Luxury Cars
Rank
Model
% of Cars Over 200k Miles
1
Lincoln Navigator
1.9%
2
Cadillac Escalade ESV
1.6%
3
Cadillac Escalade
1.5%
4
Acura MDX
1.3%
5
Mercedes-Benz S-Class
0.9%
6
Volvo S60
0.8%
6
Volvo XC90
0.8%
Average for Luxury Models
0.6%
Like the overall list of longest-lasting vehicles, the luxury list is dominated by large SUVs with three domestics—Lincoln Navigator, Cadillac Escalade ESV and Cadillac Escalade—topping the list, followed by the Acura MDX, the lone Japanese automaker on the luxury list. Volvo, which has a reputation for being long-lasting with the Guinness Book record-setting three-million-mile car, also ranks twice on the list with a sedan and an SUV.
"For any consumer looking to buy a used car that will last for the long haul, these cars are likely to go the distance successfully," Ly said. "And for current owners of these vehicles who aren't anxious to buy something new, these cars can keep you out of a car payment for a long time if you choose."
Methodology
iSeeCars.com analyzed over 13 million pre-owned cars sold in 2016 from model years 1981 through 2017. Models that were not in production as of the 2016 model year, heavy duty vehicles and models with fewer than 10,000 cars sold were excluded from further analysis. For each model, the percentage of the number of cars with at least 200,000 miles was calculated.
About iSeeCars.com
iSeeCars.com is an automotive data and research company that helps consumers find the best car deals by providing key insights and guidance. It has saved users over $100 million by applying big data analytics powered by over 25 billion (and growing) data points and using proprietary algorithms to objectively analyze, score and rank millions of cars and thousands of dealers. Based in the Boston area, iSeeCars.com was founded by former TripAdvisor and SAP developers and executives determined to improve the car shopping experience for consumers.