One of the more frustrating parts of the car buying process is knowing where to start. With all the different websites to search both local and nationally for used cars for sale, you're bound to start wondering which are the best and which might not be worth your time.
On first blush all these sites feel similar, and many of them often list the same cars. But in reality no two are quite alike; each site has their particular attributes that make them stand out from the competition.
To take the legwork out of determining which site is best for you, we've gone ahead and compiled some of our favorite car search engines. The following list isn't in any particular order. But all these used car websites are well worth a look for today's information-hungry and time-constrained car buyers.
Without further ado, our favorite websites to search for used cars:
iSeeCars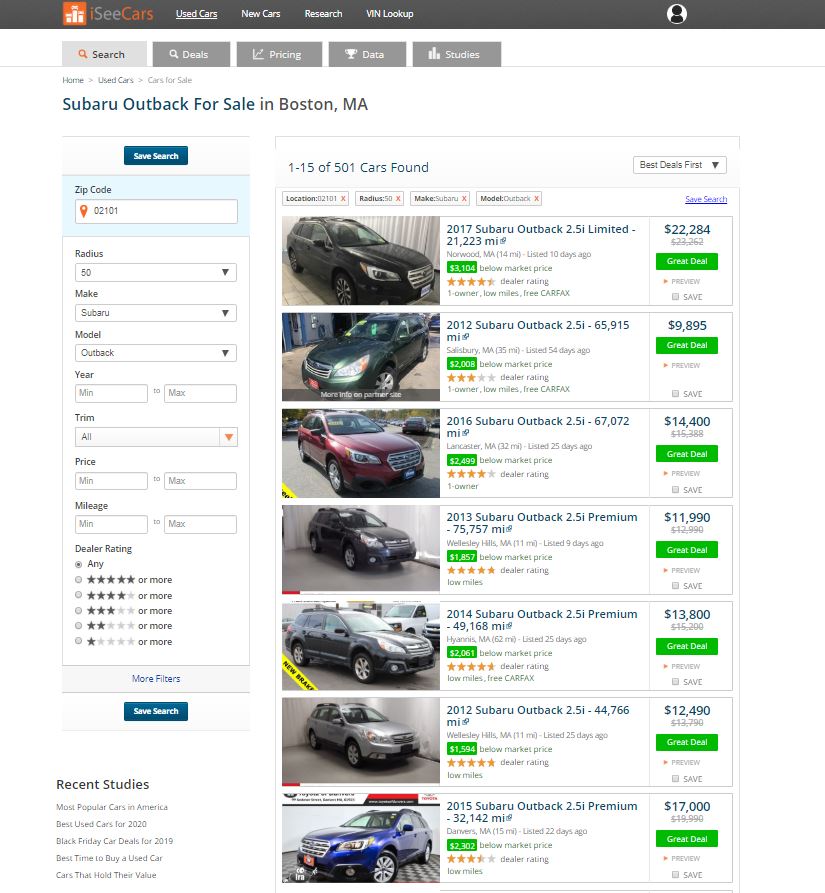 Powered by big data analytics, iSeeCars.com brings much needed information transparency to used car shopping. Drawing from over 25 billion data points, iSeeCars applies its unique algorithms to objectively analyze, score and rank over 4 million cars for sale and tens of thousands of dealers. These data-driven insights take the guesswork out of car buying and empower the consumer to make informed shopping decisions.
Once you enter your search query, the best deals are listed first. These best deals take into account car quality, car price, and whether it is for sale by a reputable dealer. Car quality is measured by history data, seller description, mileage, whether a car has been smoked in, number of owners and more. A car's price is measured relative to iSeeCars' estimated market value, with the best-priced cars being set at a certain amount below market value. Lastly, dealer quality is measured based on their price competitiveness, information transparency, and responsiveness.
A whopping 59 filters can be used to narrow down the search results. Some of these advanced search functions are the usual industry-standard stuff: body style, engine type, mileage, price range, and so on. Others, however, are unique to iSeeCars. For instance, you can narrow down cars by your height; simply use the slider control to input your height and automatically the minimum head room and leg room you'll need will be calculated. The results will then automatically update to show all cars that have those minimum dimensions.
To make sure all your questions about the used car are answered, iSeeCars links to a VIN report for every listing. This iSeeCars VIN check report is a comprehensive overview of a particular car that answers key questions a car shopper should ask by divulging information regarding projected depreciation, options and features, pricing of nearby vehicles, vehicle condition, and more.
Autotempest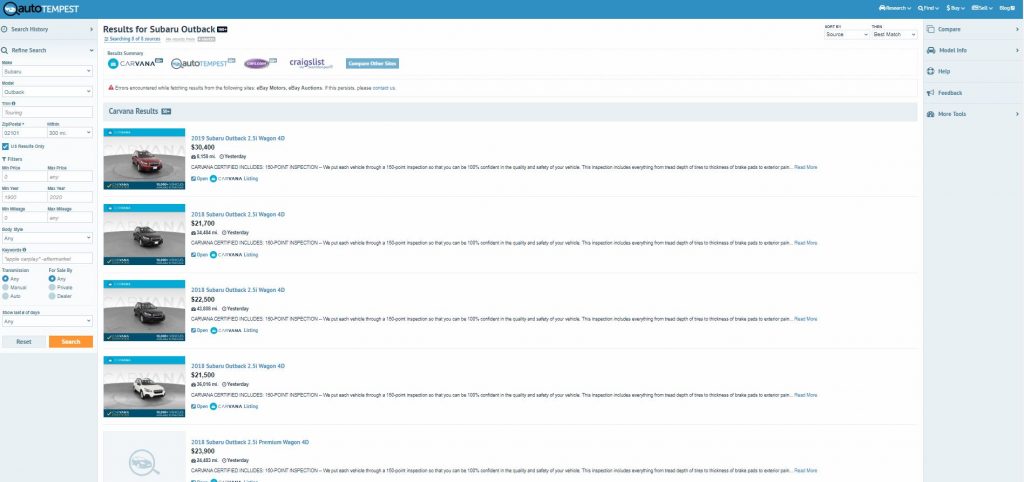 Another site that aggregates listings from a variety of sources is Autotempest. Some of the sites it pulls from include Craigslist, eBay, Cars.com, AutoTrader, and Carvana. Use the dropdown menus to fill in your search query and the results page segregates listings by the sites they were originally listed on. If you only want to see results from certain sites but not others, you can select which sites you want to see search results for. For instance, if you don't want to see Craigslist or eBay, but you do want to see results from all other sites, you can specify that by deselecting those two.
Autotempest makes it particularly easy to search a site like Craigslist, which normally segregates based on the region in which the ad was posted. As an example, those searching Craigslist in Boston will only see Boston-area results; if you want to see results for New Hampshire, Maine, or even western Massachusetts, it would require changing the region using the appropriate dropdown. On Autotempest, you only choose the mileage range from your zip code, allowing easy searches over multiple Craigslist regions; in our example, it could mean easily broadening your search from merely the Boston area to the entirety of New England.
The biggest drawback of Autotempest is its limited filters; compared to some other leading sites, there's not nearly as many ways to narrow down your searches. However, the basic search criteria is available and should do the trick for anyone not intent on narrowing down their search by color or cargo space.
Autotrader and Kelley Blue Book (KBB)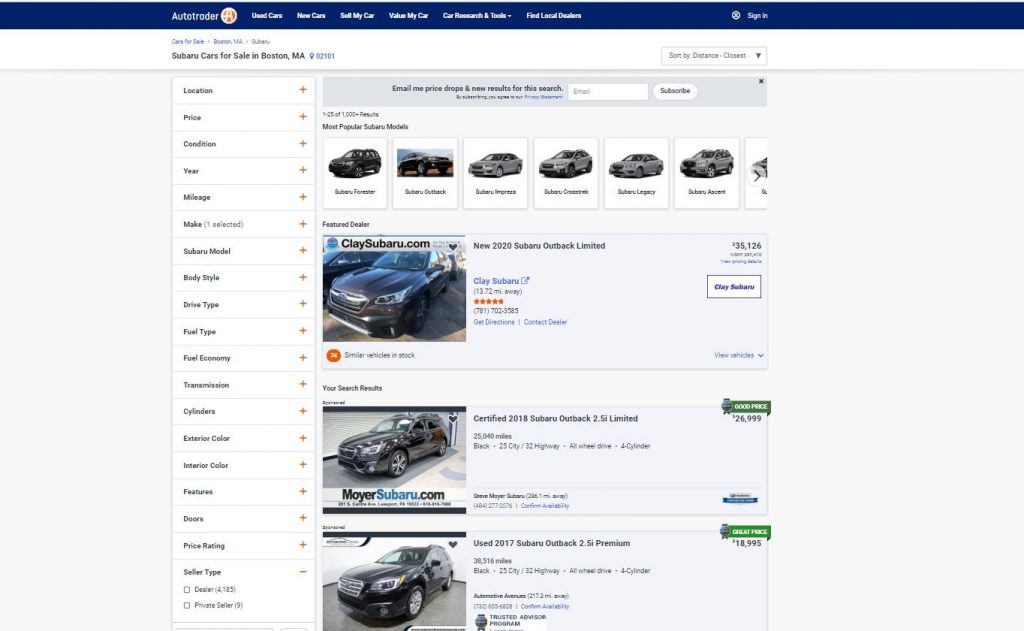 Kelley Blue Book was originally a source that dealerships would consult for used-car market values; today, it has grown into a major consumer website that helps owners value their trade-ins and shop for used vehicles.
Searching cars is straightforward on KBB. Because it's powered by Autotrader, another robust used-car search engine, there's a deep well of listings to browse. Their famous KBB pricing data is used as a pricing benchmark for each listing. Like Autotempest, there's not too many filters to work with, especially compared to Cargurus and iSeeCars.
Though you can search on KBB for used cars, you're better off using Autotrader.com. Since both are owned by parent company Cox Automotive, Autotrader uses the same price-analysis algorithms that make KBB values so famous. Autotrader also has far more filters to search with, and is easier and more intuitive to use than KBB.
CarsDirect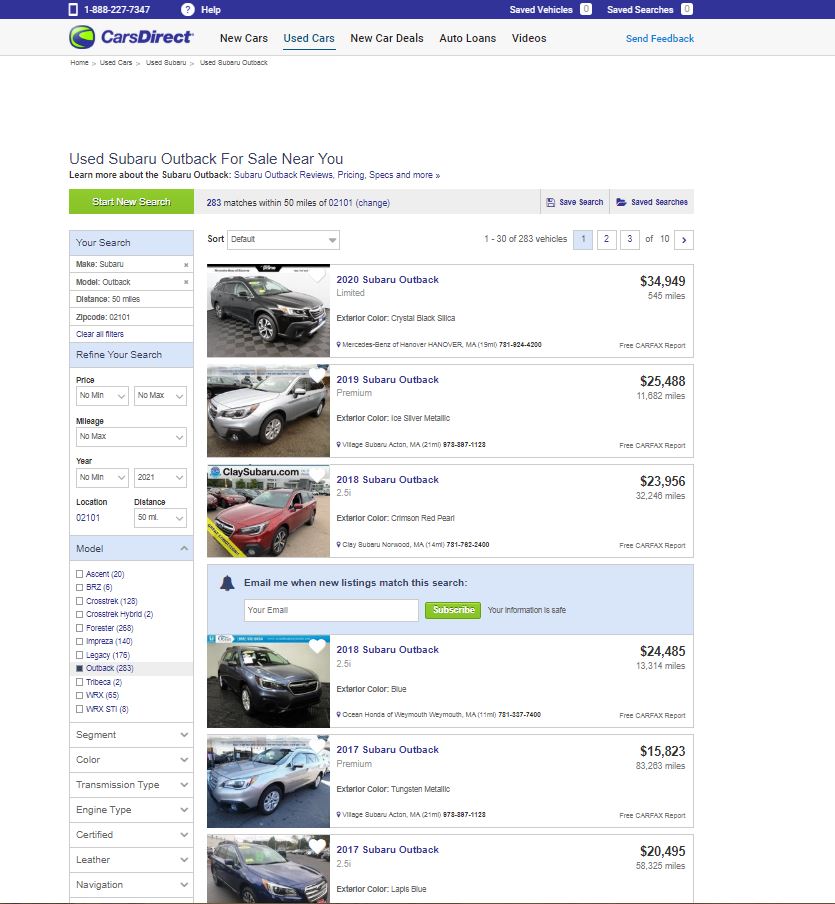 If you're looking for financing options to go along with your car search, CarsDirect is a sound option. Simple and straightforward, this site lets you search for both new cars and used cars with equal ease. It also will help put you in touch with a local dealer if you find a car you're interested in.
One unique attribute of CarsDirect is the ability to search cars by financing deals. Each month they showcase the best leasing deals and financing deals in the market, so you don't have to do the painful research yourself. This is most helpful if you're shopping for something new rather than used.
Filters aren't quite as plentiful as some of the other sites showcased here, but the usual important ones are all present and accounted for, including the option to filter by listings that include a Carfax. Pricing analysis is not available, as CarsDirect does not analyze advertised prices the way iSeeCars or KBB do.
Though their search engine isn't anything unique, their lender network for auto financing is. Besides a loan calculator, FAQ section, and a full section dedicated to car loan advice, they also will help you get a loan from their network of lenders. The process has been made hassle free and is just four steps, and they claim the whole thing can be done in a minute or less. If you feel overwhelmed by the process of securing automotive financing, or just want another quote to compare to, this is a great source to take advantage of.
CarGurus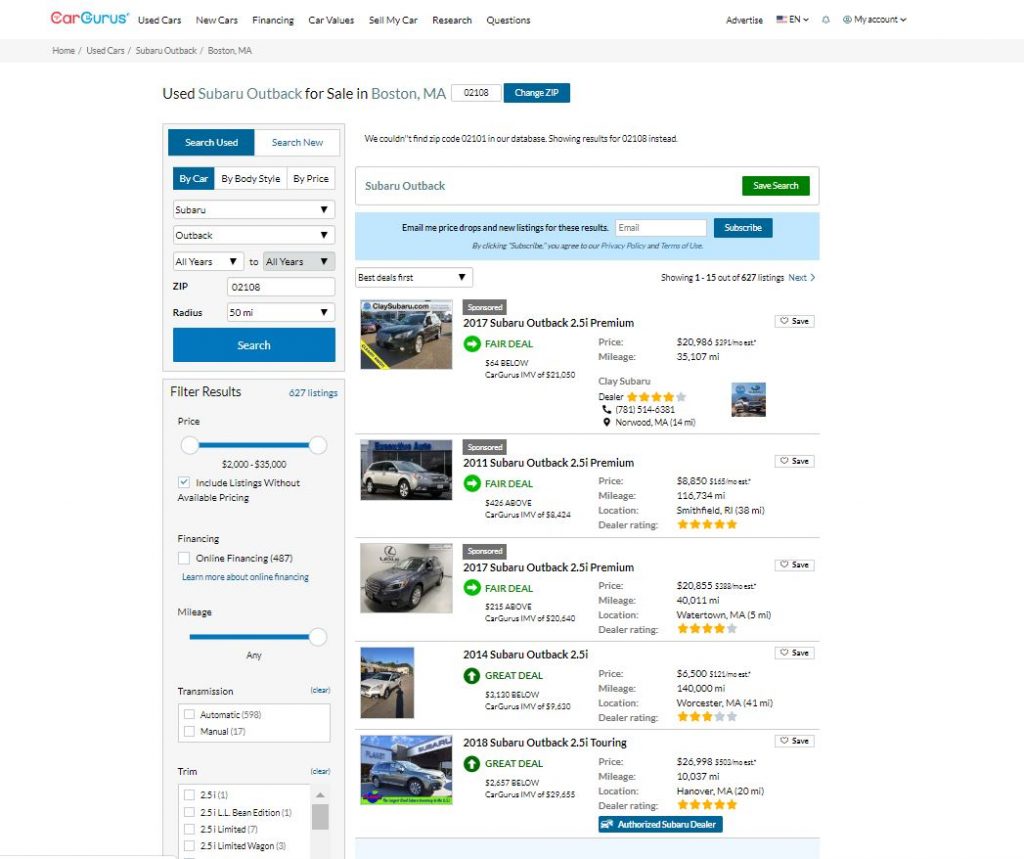 CarGurus isn't an aggregator, so it doesn't pull from multiple sources the way Autotempest does. But because it's free to list and easy to use, it has become one of the top sites to search for used cars.
The site's data analytics will compare the listed price of a particular car to other similar cars. Their algorithms take into account various factors like condition, mileage, and location to determine how good a deal the advertised price is. They results are displayed on a gauge that ranges from 'overpriced' to 'great deal.' Users can quickly and easily scroll through the results page and see which cars are priced the best and which aren't.
Plenty of filters make it easy to narrow down the search results. Examples include vehicle history, deal rating, and gas mileage; you can also filter by price drops and trim levels.
CarMax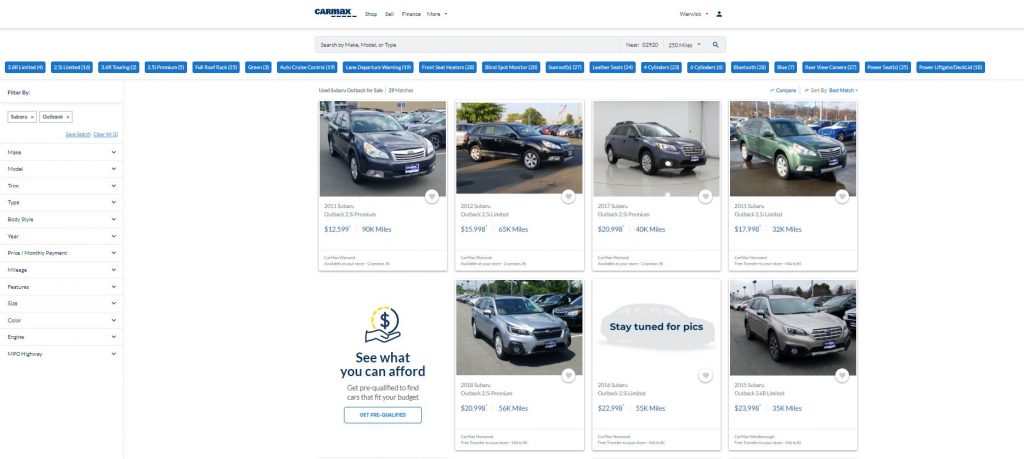 Unlike the car search engines, CarMax is a used-car chain; the cars you find through them are being sold by their salespeople. The unique thing about buying from CarMax is the haggle-free experience: the price advertised is the price you pay. Don't try your practicing negotiation skills with them; they won't work.
When searching through CarMax, you're searching only their inventory, which is unlike the other search engines profiled here. Luckily, they have quite the inventory: their 195 stores across the nation result in tens of thousands of cars being available at any given time. If one car is not available in your area, it can be shipped from another location for a fee
Though the market of CarMax cars is not going to be as thorough as what you can find from a general car search engine like iSeeCars or Autotrader, what you do get is the peace of mind that comes with the CarMax shopping process. Whatever car you find through them, you'll know that the buying experience will be relaxed and transparent.
Another perk of CarMax is their seven-day money-back guarantee; if you're unhappy for any reason, simply return the car. It's no different than returning an ill-fitting pair of shoes. Other benefits of shopping with CarMax include in-house financing and their extra-cost but very generous warranty.
As a website to find used cars, you won't find a ton of selection here - but you will find a one-stop shop where you can shop, test drive, buy, and finance - and even have it delivered if you don't live near one of their stores.
Carvana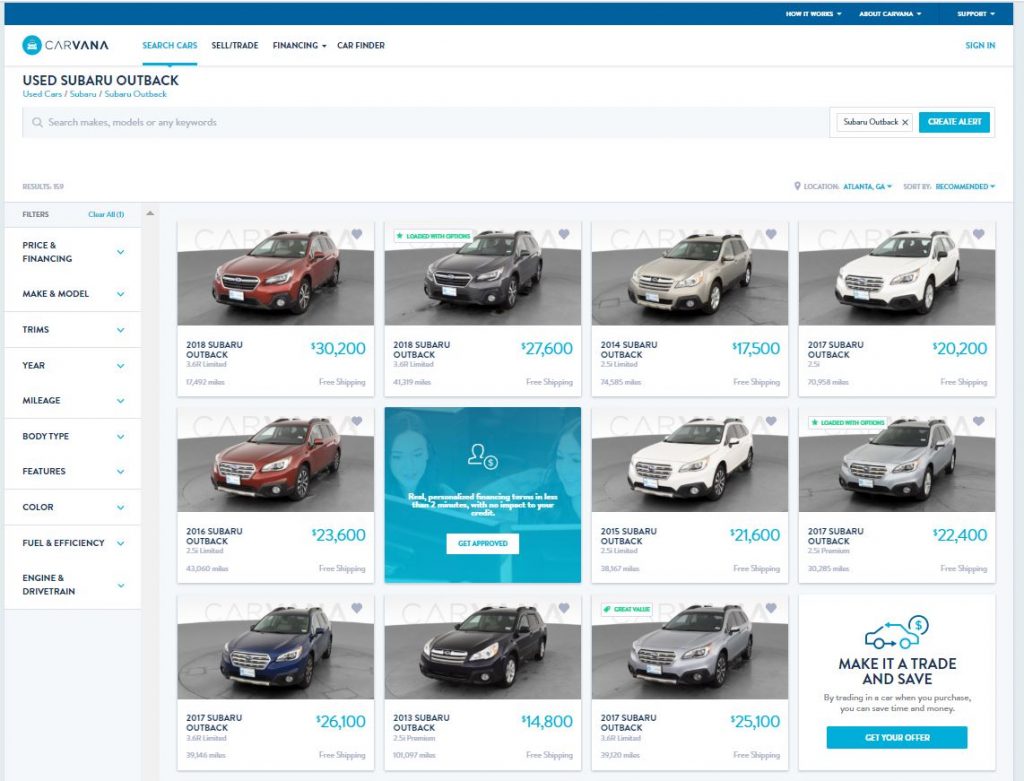 If you're more concerned with your buying experience than the exact car you want, and want to do everything virtually, Carvana is the way to go. If you haven't heard of it, it's a used car dealer that has moved the entire process online - don't expect to do any test driving here. From your initial interest to delivery, the internet makes it happen.
The premise here is simple: find the car you like online. Buy it. Have it delivered. If you don't like it, return it within seven days for a full refund. Consider it an internet start-up that's nipping at the heels of the brick-and-mortar CarMax.
Unlike CarMax, there's no extensive extra-cost warranty or in-house financing options. But the Carvana process is designed to be just as stress-free as its biggest competitor. They also provide a Carfax for every car they sell, and they won't sell cars that have been in accidents. If don't want to pay the shipping charges for delivery (which can be free if you live within their local coverage area), you can always utilize one of their famous vending machines, replete with a goofy-big token you deposit into a coin slot before the car you ordered is lowered down.
Perhaps the biggest downside of going with Carvana instead of CarMax is that you don't get to really inspect the car before buying; you can only look at pictures online, and with used cars that's always a gamble. Besides not seeing any potential wear and tear or other red flags, you won't know until after the fact whether the car is comfortable, you like the features, the infotainment is intuitive, or so on. At CarMax, walking their sales lot and inspecting the cars in person is a much better gauge of whether a certain car is right for you.
Other used-car websites where you can buy direct include Vroom and Shift, but Carvana is the biggest. If you think you're ready to buy a car while lying on your couch, and have it be delivered faster than your next Amazon Prime package, Carvana should be on your list.
eBay Motors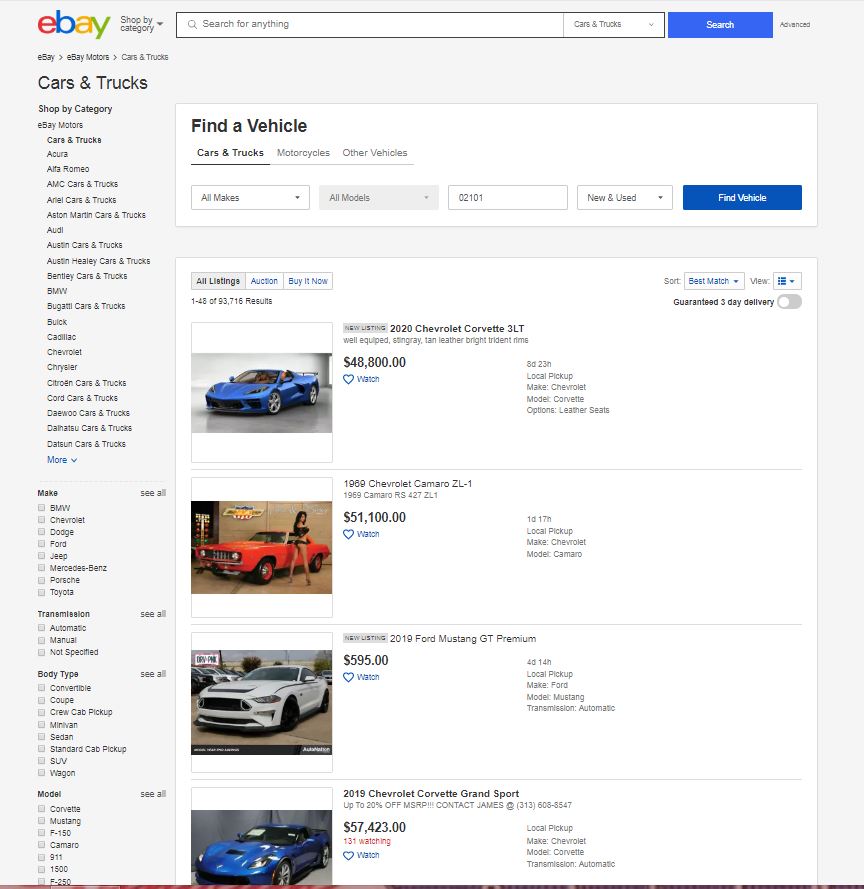 If you want something that's old, antique, or just obscure, eBay Motors is a good place to begin your search. The famous online marketplace has had its automotive section for a few years now, and while its not as easy as buying a car from a local dealer, it often has the sort of eclectic and unique cars that can be impossible to find anywhere else.
Buying a car on eBay is unlike buying a car anywhere else. First off, unless the seller chooses otherwise, the sale is set up as an auction: for a stated duration of time - anywhere from a week to a month - the auction is live and interested buyers can submit bids. As the bids run up, the reserve - which is the minimum amount a seller will actually sell for - may or may not be met. If it isn't met, the highest bidder won't get the car and the car will remain unsold.
If the reserve is met, or if there is no reserve, the highest buyer generally wins the auction. Generally, because the winning bidder might retract their bid or the seller may cancel the winning bid; either instance would leave the second-highest bidder as the winner. Once you win, you're usually expected to pay a deposit within 48 hours and the full amount within a week, though this can vary from seller to seller.
Buying on eBay is an intimidating prospect for the uninitiated, and the risk is high. You don't see the car in person, so you don't know what you're buying until it arrives. You will likely have to pay via PayPal or otherwise try to set up financing arrangements. And eBay policies are intricate and complex articles, which makes determining your legal rights in the chance is something goes wrong a difficult proposition at best. At worst you could be stuck without recourse, leaving you with a lemon in your driveway.
If you intend on buying from eBay, there's a number of precautionary steps you should take. Be sure to review the seller's ratings and feedback. Ask to call them, so you can talk on the phone about the car - if they're not willing to do this, it's a red flag. Research to see what other similar models sold for, so you don't get caught up in the excitement of a final-minutes bidding war and end up overpaying. And don't forget to research transport options to get your new ride home.
If you take the right precautions, you can mitigate the risks posed by purchasing a car on eBay. But if you don't feel comfortable, we don't blame you. There's plenty of other, less risky ways to go about buying a car.
Hemmings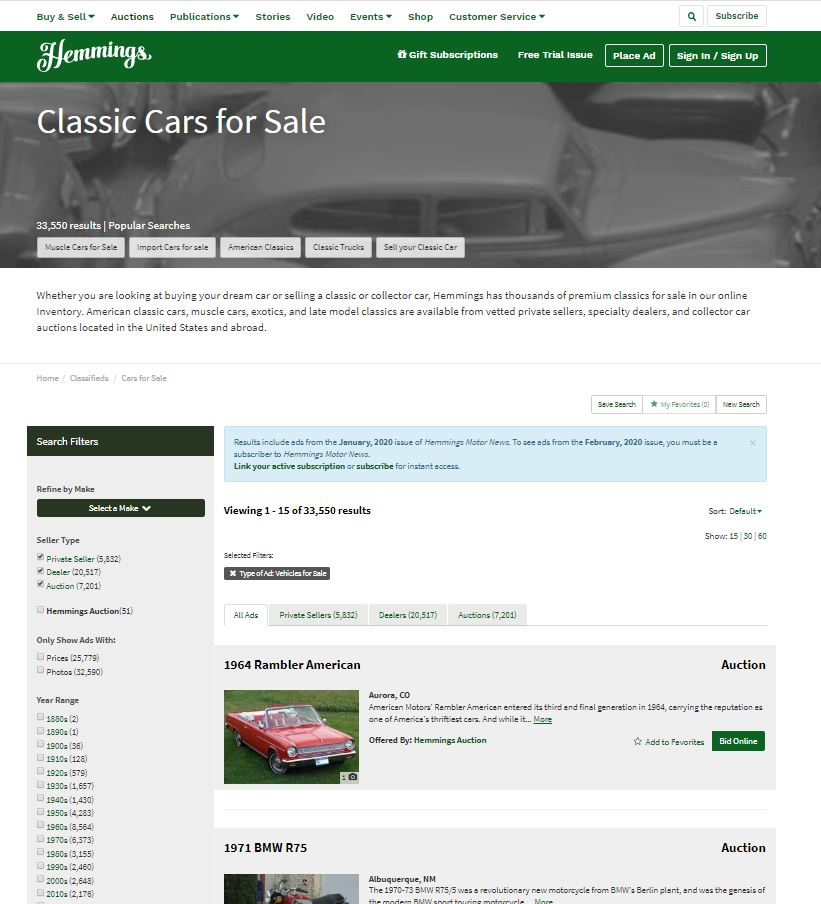 If you're in the market for a concours-level classic car, a project to get dirty with, or anything in between, Hemmings should be your first stop. This is the premiere classic-car marketplace, where enthusiasts come to buy, sell, and trade their antique rides.
Because it is catered toward speciality cars, the Hemmings search filters are a little unique. They let you refine your search by decade, price range, and niche categories such as military vehicles, late-model cars, and street rods and customs.
Both classic car dealers and private sellers advertise on Hemmings, and you can filter to only show postings by one or the other or both. You can also filter it down by location or otherwise search across the nation for that particular classic car you've been hankering for.
Recently, Hemmings introduced an auction format that sellers can use. Similar to eBay, you can put in your bid and, if you're the highest bidder, you become the next owner. Unlike eBay, the Hemmings staff writes up the ad description, ensuring informative and high-quality copy. To ensure that the cars being auctioned are quality pieces, Hemmings staff select which cars go under the hammer. This same staff works with sellers throughout the process to ensure a stress-free, hassle-free experience.
With a very well-regarded name in classic-car circles, Hemmings is a fine way to search for old, antique, and speciality cars. And with their new auction format, buyers and sellers can reap the rewards of auctioning while mitigating some of the risks involved with a site like eBay.
If you're on the hunt for a high-quality classic, Hemmings is the best source out there.
Craigslist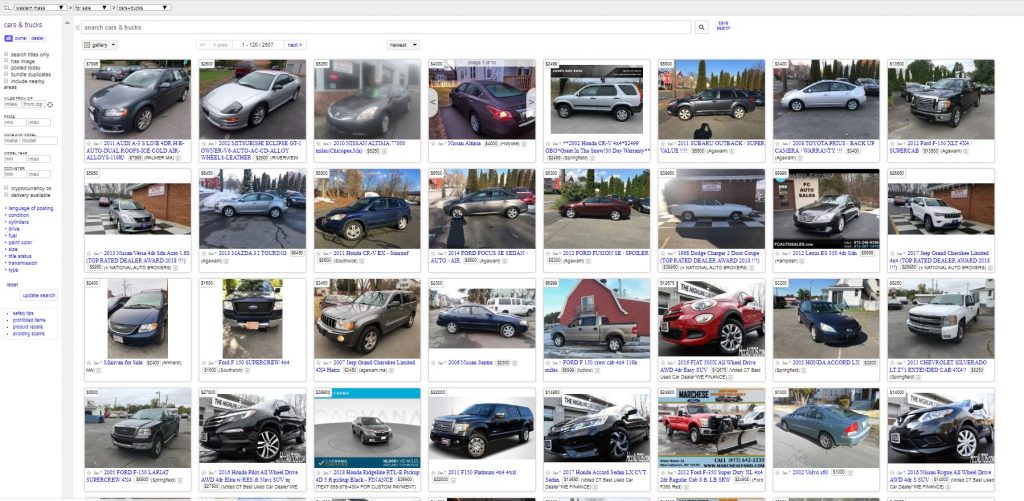 Simply put, it's the Wild West of the internet. Craigslist is a classifieds in the grand tradition of classifieds: simple, easy, enticing, and imminently dangerous for your wallet. This is where cheap cars, weird cars, beater cars, and sometimes decent cars all come to find new homes.
Anyone willing to spend $5 can put up an ad on Craigslist, where it will last for up to 45 days before expiring. Both dealers and private sellers use it, and there's a filter option to only see ads posted by dealers, only by private sellers, or both. Other filters include mileage, price range, body style, and condition.
Craigslist is a great way to see what's available locally to you, as the site divides each state into distinct regions that can be separately searched. In big metropolises such as Boston, Los Angeles, or Chicago, a search can be further narrowed down into smaller sub-regions.
If there ever was a site where the phrase caveat emptor applies, it's Craigslist. It's not unusual to find ads with terrible photos and nearly unreadable ad copy. Sellers might be slow to respond or won't respond at all, and if they do reply their replies might be just as unintelligible as their ads. You've got to keep an eye out for sellers trying to oversell their car's condition as well. There's plenty of horror stories out there regarding people's attempts to buy cars on Craigslist.
That's not to say you can't find a good car on Craigslist - you absolutely can. Most posts are for decent used cars between 5 and 15 years old, posted by local private citizens who just want to move on from a car for whatever reason. There's plenty of good deals to be had.
But it takes patience to weed out what's worthwhile from what it isn't, and successfully separating the wheat from the chaff takes experience. If you're a grizzled car shopper who can reliably spot a good deal from a bad one, or are adept at discerning a good car from a bad one, Craigslist can be as thrilling and rewarding as a treasure hunt. But if you aren't sure what a good cheap used car looks like, shopping on this site is a risky bet.
Craigslist is best if you're looking for an older, cheap car and you'd rather buy direct from a private seller rather than pay dealer markup fees. But you'll want to arm yourself with knowledge before you fork over any cash. If you plan on using Craigslist, be sure you know exactly what to look for when buying a used car to help you make a smart purchase.
The Bottom Line
This list only showcases a few of the many great automotive classified sites out there.s. We feel that those we've elaborated on represent the best of the
used car
websites, whether for their data, their size, their reach, or their other unique features not found anywhere else.
If you're ready to take to the web for your own car buying process, you can search over 4 million new and used cars with iSeeCars' award-winning car search engine that helps shoppers find the best car deals by providing key insights and valuable resources, like the iSeeCars VIN check report.