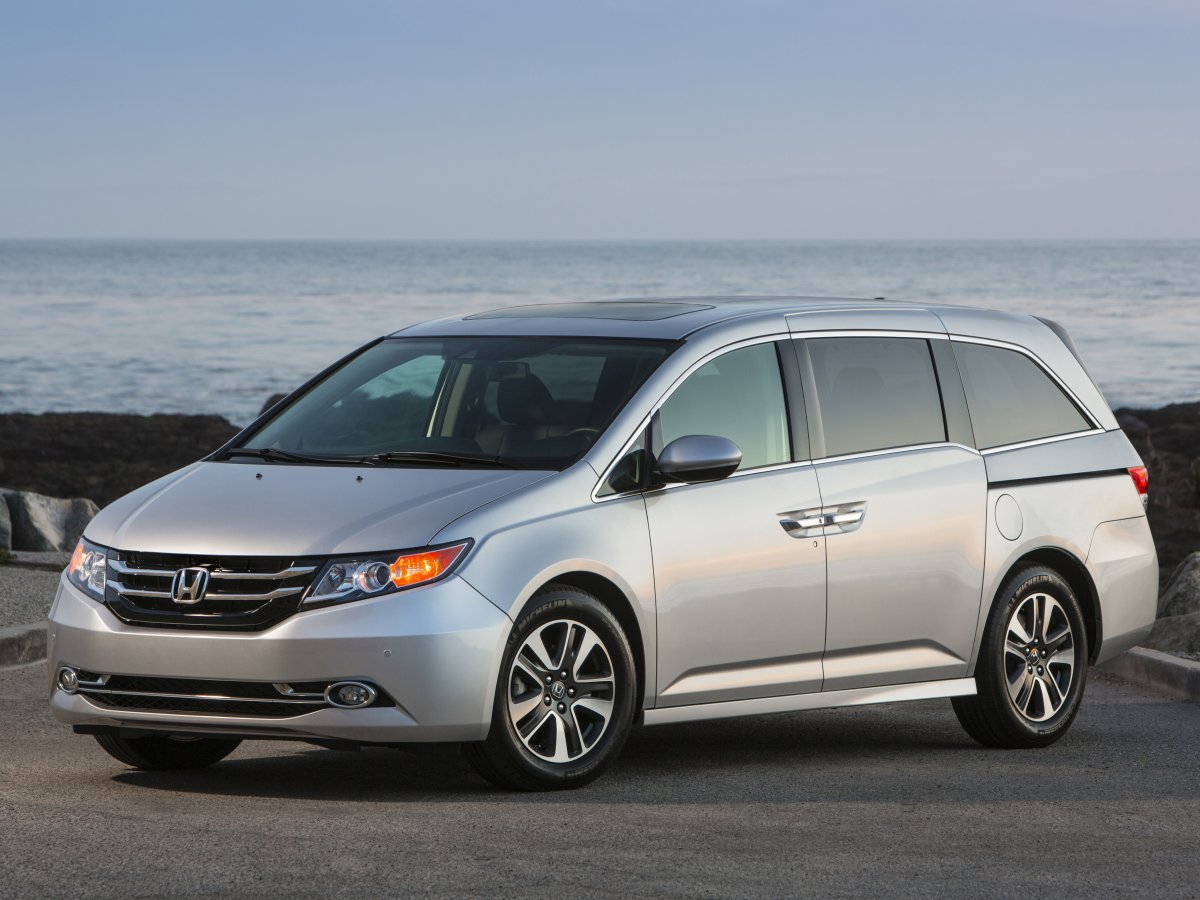 Reliable used cars under $20k can be found in many vehicle categories: SUVs, sedans, minivans, and hybrids
Earning the top spot is the Honda Odyssey minivan
Toyota is the most represented automaker on the list with five vehicles
According to iSeeCars data, the average price of a used car has risen to $23,458. The good news is that you can find a reliable used car for less, and within your budget.
With that in mind, there are many reliable used cars to choose from for under $20,000. (If your budget is slightly lower, you can refer to our guides of the Best Used Cars Under $15,000 or if you know you want an SUV check out our Best Used SUVs Under $20,000.) Because the used car search can be overwhelming, we've done the important research for you. Here are the best used cars on the market for less than $20,000.
Best Used Cars Under $20,000
The vehicles that make our list are between three and five-years old and achieve high rankings on our analysis of the
longest-lasting cars
to reach 200,000 miles. If driven close to the average mileage per year, these used vehicles will endure for at least 15 years. That means they can still be on the road for another decade or more if you follow the proper maintenance and care.
Best Used Cars Under $20,000 - iSeeCars
Rank
Used Vehicle
% 200,000 Miles
Average Used Car Price

1

2015 Honda Odyssey

2.7%

$19,063

2

2015 Toyota Avalon

2.6%

$16,924

3

2015 Honda Pilot

2.4%

$19,133

4

2017 Honda Civic

2.3%

$17,087

5

2015 Toyota Sienna

2.0%

$19,770

6

2015 Toyota Prius

2.0%

$14,415

7

2017 Honda Accord

1.8%

$17,797

8

2017 Chevrolet Impala

1.6%

$17,589

9

2017 Ford Taurus

1.6%

$17,251

10

2017 Toyota Camry

1.5%

$16,470

11

2017 Toyota Camry Hybrid

1.5%

$19,705

12

2015 Honda CR-V

1.1%

$16,796

13

2015 Hyundai Santa Fe

1.0%

$16,725
Honda Used Cars
Earning top honors as the best car under $20,000 is the Honda Odyssey minivan. Along with its high reliability scores, it provides a comfortable driving experience and a smooth ride. As a minivan, it boasts a number of convenience features like a third row with multiple configurations and some trims even have a built-in vacuum cleaner. A 2015
used Honda Odyssey
can be found under the $20,000 price point for an average of $19,063.
If the ease of Cheerio pickup is not among your non-negotiables for finding a used car and if you aren't interested in adding a minivan to your fleet, there are other reliable Honda models across multiple vehicle types to choose from. These include the third-ranked Honda Pilot midsize SUV, the fourth-ranked Honda Civic compact car, the seventh-ranked Honda Accord midsize car, and the twelfth-ranked Honda CR-V compact SUV.
The Honda Pilot is a spacious three-row crossover SUV that is a popular minivan alternative. It comes with features including an 8-inch infotainment screen, and Bluetooth connectivity. The Touring trim, which is the vehicle's top trim, adds rear parking sensors as a safety feature. A 2015 used Honda Pilot for sale costs an average of $19,133.
The Honda Civic, which is among the most popular vehicles in America, appeals to a range of consumers from sporty to practical and comes as a sedan, coupe, or hatchback. It provides a smooth and comfortable ride, sharp driving dynamics, and excellent safety scores. It comes standard with front-wheel drive and a five-speed manual transmission, but a five-speed automatic transmission is also available. The Civic's engine is a 143-horsepower four-cylinder. A three-year-old Honda Civic for sale can be found for an average price of $17,087.
Joining the Civic is the larger midsize Honda Accord, which is available as a coupe or sedan with attractive exterior styling. One of iSeeCars top picks for best compact cars, it has high safety scores and a comfortable cabin along with multiple powertrain options. It comes standard with a manual transmission, with a six-speed automatic and a continuously variable automatic transmission (CVT) also offered. Available features include Apple CarPlay, and Android Auto. While a rearview camera comes standard, available safety features include lane keep assist, blind spot monitoring, forward collision warning, automatic emergency braking, and parking sensors. A 2017 used Honda Accord has an average price of $17,797.
A second Honda SUV, the compact 2015 Honda CR-V joins the list. The CR-V provides spacious seating and above-average cargo space for its class, while providing great gas mileage. A 2015 used Honda CR-V for sale can be found in the used market for $16,796.
Toyota Used Cars
Five Toyotas make the list, the most of all automakers. Ranked second is the Toyota Avalon full-size sedan, ranked fifth is the Toyota Sienna minivan, ranked sixth is the Toyota Prius hybrid hatchback, the Toyota Camry midsize sedan ranks tenth, and its hybrid variant ranks eleventh.
The Toyota Avalon is known for its excellent reliability ratings and is consistently at the top of its class for vehicle rankings. It also has a spacious front and rear seats and an upscale interior that rivals luxury cars like those made by Toyota's luxury brand, Lexus. A five-year-old used Toyota Avalon for sale can be found for $16,924. The slightly smaller midsize Toyota Camry and its hybrid version also offer perfect safety scores and above-average cargo space. A rear camera comes standard, but available features include adaptive cruise control, automatic pre-collision braking, blind-spot monitoring, and lane departure warning. A 2017 used Toyota Camry costs an average of $16,470, while a used Toyota Camry Hybrid costs $19,705.
The Toyota Sienna minivan is an excellent choice for a family hauler with its abundant cargo space. It is also the only minivan that can be purchased with all-wheel drive. A 2015 used Toyota Sienna for sale costs an average of $19,770
Rounding out the list is the Prius, which earns excellent fuel economy with an MPG of 51/48 for city/highway and above-average cargo space. It is also the best hatchback according to iSeeCars rankings. A five-year-old Toyota Prius for sale costs $14,415.
Used Chevrolet Impala
The
2017 Chevrolet Impala earns the eighth spot. Known for its capable standard 4-cylinder engine, it provides a comfortable ride and offers a more powerful V6 engine option for those seeking a spacious family sedan. It can also fit up to six passengers thanks to its available front-row bench seat. A three-year-old
Chevrolet Impala for sale
can be found for $17,589.
Used Hyundai Santa Fe
The Hyundai Santa Fe for the 2015 model year rounds out the list. Known for its practicality, it is among the best-rated midsize SUVs in its class, and is available with both two- and three-rows. A 2015
used Hyundai Santa Fe
costs an average of $16,725.
Used Ford Taurus
In the ninth spot is the Ford Taurus. This newly discontinued vehicle has a fuel-efficient 2.0-liter engine and standard features such as a voice-activated SYNC infotainment system, Bluetooth, and Ford MyKey, which allows drivers to set limits on speed and volume when others drive your car. It also can be equipped with all-wheel drive to (AWD). A three-year-old
Ford Taurus for sale
can be found for an average price of $17,251.
Bottom Line
When it comes to car buying, buying a dependable used car can save you a great deal of money compared to a brand new one. You can find reliable
used cars for under $20,000
if you know where to look.
If you're buying a used car, you should always get a vehicle history report such as Carfax or Autocheck and have it inspected by a trusted mechanic. Also, be sure to check out the iSeeCars
VIN Check report
that takes the guesswork out of buying a used car and provides you with all the information you need to decide if a used car is a smart purchase decision.
If you're interested in a new car or a used car, be sure to check out iSeeCars' award-winning car search engine. It uses big data analytics to help shoppers find the best car deals across all vehicle types, from SUVs to sports cars, and provides key insights and valuable resources, like the iSeeCars VIN check report. Filter by make, model, price, and special features to find the best deal on your next vehicle.