Automotive research firm iSeeCars.com analyzed a sample of 12 million cars on the road in 2015 from model years 1981 and newer to determine the models with the highest percentage of vehicles over 200,000 miles. It found that as in 2014 when it first conducted the study, pickup trucks and SUVs dominated the list, with only one passenger car in the top 10 ranking.
Even with the similarities between the 2014 and 2016 studies, there were still some differences. "While there was a lot of continuity in the vehicles this year as compared with the previous study, the Toyota Sequoia saw a jump of three spots, while the Chevrolet Suburban dropped two," noted Phong Ly, iSeeCars.com CEO.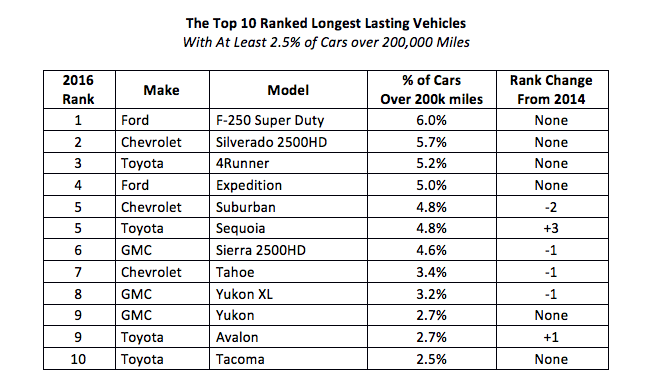 As in the 2014 study, only one passenger car cracked the top 10 in this analysis. In 2014, that car was the Honda Accord —consistently one of the best-selling vehicles year-after-year and always ranked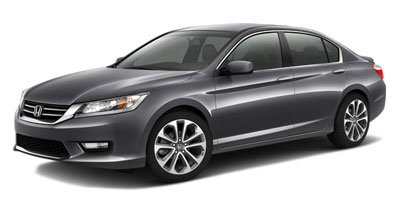 highly for its reliability. This year, that car was the Toyota Avalon. "While the Avalon doesn't carry the best-selling title of the Accord, it does have Toyota's long-standing reputation for reliability," said Ly.
Heavy-duty pickups top the list because they are primarily used as work vehicles and are typically used much more than the average car – trucks, on average, log 33 percent more mileage. "Manufacturers build trucks with these demands in mind and stake their reputations on how long their trucks will last. Longevity is even a major focus of their marketing campaigns," says Ly. "Also, owners who are dependent on their vehicle to get from one job site to the next are going to pay closer attention to their vehicles' regular maintenance or repairs because their livelihood depends on keeping their trucks in good operating condition."
"Similarly, the largest SUVs, such as Ford Expedition, Chevrolet Suburban and GMC Yukon XL, are also often used for business purposes, such as in the livery industry," Ly continued. "One possible
explanation for the other SUVs that have now appeared in both studies is that vehicles such as the Toyota 4Runner and Toyota Sequoia, as well as Chevrolet Tahoe and its brother the GMC Yukon, are often the chosen transportation for parents who want extra passenger and cargo capacity and reliability, but don't want to drive a minivan. Parents are typically logging tons of miles shuttling their kids from one activity to the next and often using these cars for long trips as well." In general, SUVs have an average of 15 percent more mileage than cars.
When trucks and SUVs are excluded, the list of Longest Lasting Cars is dominated by Japanese models, with just three domestics—Ford Taurus, Chevrolet Impala and Dodge Grand Caravan.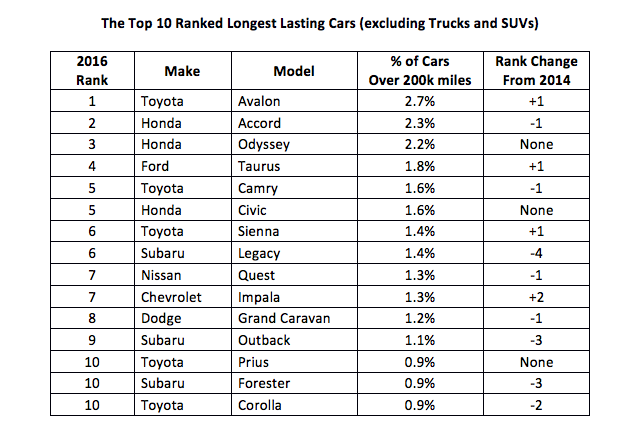 "There is a lot of stability in the longest-lasting cars between this year's list and the previous study," says Ly. Most of the cars are on both lists in a similar order, though all three Subaru models had the biggest drops of the cars on this list. "This could be at least partially attributed to the fact that Subaru has had 50 straight months of sales growth for its new cars, reflecting growing interest and popularity in the brand," comments Ly.   The increased interest causes the number of cars from recent model years to go up, thus lowering the share of 200,000 mile cars.
With luxury brands noticeably absent from both lists, iSeeCars.com took a look this year at the longest lasting luxury models.

The luxury list is dominated again by SUVs, with only one passenger car on the list. Domestic brands take the top two spots, with Lincoln Navigator ranked first, followed by Cadillac Escalade in second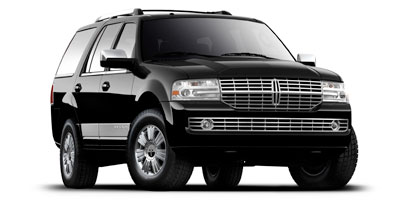 and its larger sibling, the Escalade ESV ranked fourth. Third is the Acura MDX, the lone Japanese nameplate. Mercedes-Benz S-Class and M-Class are tied in fifth place. Ly said, "Overall, the luxury cars had notably lower percentages of cars sold with over 200,000 miles, perhaps because these cars are often leased and the requirements of those contracts keep the miles down." Furthermore, owners may shy away from driving these vehicles too much because of potentially high maintenance and repair costs. On average, luxury vehicles log 10% less mileage than non-luxury ones.
Methodology
iSeeCars.com analyzed over 12 million cars sold in 2015 from model years 1981 through 2016. Models that were not in production as of the 2015 model year were excluded from further analysis, as were models with fewer than 10,000 cars sold. For each model, the number of cars with at least 200,000 miles was expressed as a percentage of the total number of cars sold. The current ranking of each model was also compared with the ranking from the 2014 study. Note that for the 2014 study, the analysis focused on used cars for sale; for the current study the analysis included only cars that were sold, as a representative sample of cars currently on the road.
About iSeeCars.com
iSeeCars.com is an automotive data and research company that helps consumers find the best car deals by providing key insights and guidance. It turns used and new car shopping on its head by applying Big Data analytics powered by over 25 billion (and growing) data points and using proprietary algorithms to objectively analyze, score, and rank millions of cars and tens of thousands of dealers. Based in the Boston area, iSeeCars.com was founded by former TripAdvisor and SAP developers and executives determined to improve the car shopping experience for consumers.