New and Used Cars with Best AWD Systems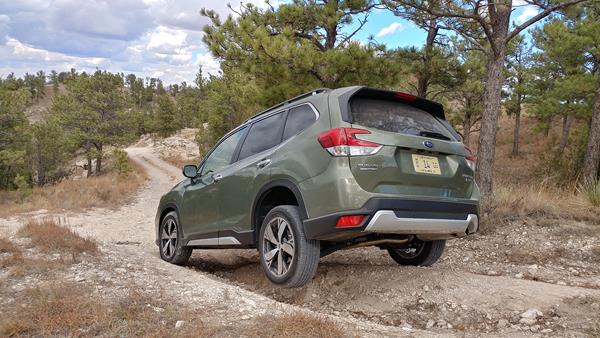 If you're looking at vehicles, you've probably noticed that many come equipped with all-wheel drive, and usually at an added cost. What exactly is all-wheel drive, and is it worth it? And what types of vehicles offer AWD, and which ones are the best? We've done the research so you don't have to.
All-wheel drive (AWD) vehicles send power to all four wheels to provide traction that's indispensable in winter driving conditions. Pioneered by Audi and Subaru in the 1980s, it became an alternative to four-wheel-drive (4WD), which was only available for trucks and rugged SUVs. The two drive systems are commonly confused, but there are key differences between AWD and 4WD. Chief among them is the fact that AWD technology can be found across many vehicle types to provide all-weather driving alternatives beyond just trucks and SUVs.
If you want a vehicle that can handle ice and snow, here are the best AWD vehicles you can buy across a variety of vehicle segments.
Best AWD Cars (Non-Luxury)
Most mainstream cars come standard with front-wheel drive (FWD). The main
difference between FWD and AWD
is that the engine provides power to the front axle in front-wheel drive vehicles, while the engine provides power to the front and rear in all-wheel drive vehicles. Passenger cars used to primarily be FWD vehicles, but more and more AWD passenger cars have entered the market. These vehicles may come standard with AWD in the case of the Subaru Impreza, or as an optional variant like the Mazda 3.
To determine the best AWD cars, iSeeCars analyzed the longest-lasting cars most likely to reach 200,000 miles and determined which AWD cars ranked the highest.
*Used vehicles not equipped with AWD
Topping the list is the Toyota Prius, which is five times more likely than the average AWD vehicle to reach the 200,000-mile milestone. Along with being reliable, this best AWD hatchback has the added advantage of improved fuel economy as a hybrid vehicle.
Ranked second is the full-size Ford Taurus, which was discontinued after the 2019 model year, so time is running out to purchase a new version of the vehicle. However, since the Ford Taurus introduced AWD in the 2008 model year, they are abundant on used car lots.
The Mazda Mazda3 ranks third for consumers looking for a compact car with AWD. The versatile Mazda 3 is known for being fun to drive and achieves perfect safety scores. It's important to note that the vehicle introduced AWD for its 2019 model year, so earlier used versions are all FWD.
The full-size Chrysler 300 earns the fourth spot and is a sedan that offers ample cargo space with a powerful engine. New versions offer all-wheel drive systems on most trims for an additional $2,750.
Ranked fifth is the Nissan Altima midsize sedan and is the only sedan in its class to offer AWD. The Altima also includes a list of standard technology features like Android Auto and Apple CarPlay and safety features like automatic emergency braking and forward collision warning. Like the Mazda3, AWD was introduced in the 2019 model year, so older used versions won't be equipped with the drive type.
Rounding out the list are two Subarus: the compact Impreza and the midsize Legacy. Unlike the other vehicles on the list, Subarus offer standard all-wheel drive. Both achieve Subaru's characteristic high safety scores and have standard safety features like adaptive cruise control, lane keep assist, forward collision warning, and automatic emergency braking.
Best AWD Luxury Cars
For consumers who want a
luxury car
, there are plenty of AWD models to choose from. These are the most reliable:
Two Mercedes vehicles make the list to include the top-ranked E-Class and the eighth-ranked S-Class. Both are known for their opulent interiors and smooth rides.
Ranked second is the Volvo V90 wagon, which boasts a long list of safety features such as blind spot monitoring, rear cross traffic alerts, forward and rear collision warning, and lane-keeping assist. Introduced in 2018, only recent model years can be found in the used car marketplace.
Rounding out the list are the Lexus IS 300 and BMW 3 Series, both small cars, and the full-size Lincoln Continental. Along with their drive quality, all boast top-notch safety ratings and have a suite of standard safety features.
Best AWD SUVs
The most common segment to include AWD vehicles is
SUVs
. These crossover SUVs are the most reliable models on the market that offer all-wheel-drive.
The Toyota Highlander Hybrid earns the top spot and is joined by its non-hybrid version in third. Toyota is known for producing long-lasting and dependable vehicles, and these midsize SUVs offer a third-row of seating to make them great options for family vehicles.
Two Hondas make the list to include the second-ranked Pilot and the fifth-ranked CR-V.
These vehicles are known for their safety and reliability while offering class-leading cargo room. Also making the list is the Acura MDX, which is the luxury version of the Pilot.
Ranked seventh is the midsize Ford Explorer, which has had a variety of drivetrains throughout its storied history. Its first four generations offered standard rear-wheel drive with four-wheel drive and all-wheel drive options, while the fifth generation was front-wheel drive and all-wheel drive. It's current generation went back to rear-wheel drive with the option for all-wheel drive. A second Ford, the compact Escape makes the list and offers a list of standard driver assistance features and a user-friendly infotainment system.
A pair of Subarus also make the list: the Outback and the Forester, which offer standard all-wheel drive. Both vehicles boast impeccable safety scores and offer a suite of driver assistance technology such as adaptive cruise control, collision warning, and emergency braking. The Subaru Outback is unique in that it identifies as a crossover wagon, and is among the best AWD station wagons and SUVs.
Best AWD Sports Cars
All-wheel drive is also present in the
sports car
segment. To determine the most reliable AWD sports cars, iSeeCars examined the vehicles most likely to reach 150,000 miles.
Audi
is the most represented automaker on the list with three vehicles: the Audi TT, the Audi S8, and the Audi S4. Audi's quattro AWD technology, which was the pioneer for AWD performance vehicles and is known as one of the best AWD systems available, has a variable torque split between its front and rear wheels and delivers traction to the wheels that have the best grip.
Also making the list is the Dodge Charger muscle car and the BMW M5 super sedan, which is the performance variant of the BMW 5 Series. The Dodge Charger is known for its powerful V6 and V8 engines, while the BMW M5, which began offering AWD in 2018, features a twin-turbo V8 that offers 600-plus horsepower.
Best AWD Systems
Audi
With origins dating back to World War II, Audi's Quattro system is now in its seventh generation. The fifth generation pioneered "torque vectoring," which allocates torque across the rear axle. The sixth generation furthered that technology with the introduction of a new "Crown Gear" differential, which allows up to 70% of the torque to be distributed to the front wheels and up to 85% to the rear wheels. It also helps the computer system better control traction-slip situations when cornering, and braking.
Subaru
Subaru's Symmetrical AWD system has been around for over forty years. With the absence of the extra drive shaft of FWD-based or RWD-based all-wheel system, the Symmetrical system disperses energy more efficiently. This creates better handling, acceleration, and control. The Subaru system provides power to the wheels with less components and distribution of power than any other AWD system. This leads to better balance, quicker response to traction loss, and more dynamic acceleration, in a more efficient manner.
Acura
Designed and engineered at Honda Motor Company, Acura's Super Handling-All Wheel Drive (SH-AWD) system allows torque to be continuously distributed in a ratio of 70% front/30% rear, or vice versa based on traction needs. It also disperses of up to 90% of available torque to the front wheels during normal cruising. This provides for front-wheel drive control during normal operation, or up to 100% of the torque to the rear axle and applied to the rear wheels as needed based on conditions. This helps the driver in the event of traction slippage.
Cheapest AWD Cars
The best
used AWD cars
can be found across a variety of budgets.
Used AWD Cars Under 10k
If you are looking for a
used car under $10,000
, here are the best AWD cars and SUVs to choose from:
Used AWD Cars Under $15,000
Here are the best AWD
used cars under $15,000
:
Used AWD Cars Under 20k
Here are the best AWD
used cars under $20,000
:
Bottom Line
If you want an AWD vehicle, there are a variety of all-wheel drive vehicles across multiple segments to suit your needs. While AWD vehicles are better in inclement weather, there are trade-offs, including higher prices and decreased fuel efficiency. Make sure you do your research to determine what kind of drive type is best for your needs.
If you're interested in a new or used AWD car, be sure to check out iSeeCars' award-winning car search engine. It uses advanced algorithms to help shoppers find the best car deals and provides key insights and valuable resources, like the iSeeCars VIN check report. Filter by price, fuel economy, drive type, and other parameters to find your next vehicle.