Select Hybrids and Electric Cars Dominate
While sales of electric and alternative fuel cars are slowing on the new car market in the U.S., these cars are among the fastest selling cars on the used market.
iSeeCars.com recently analyzed over 2.2 million used cars sold from January through May of 2016 that were one to three years old and found that five of the top 10 fastest-selling cars were alternative fuel cars—hybrids, plug-in hybrids, or electric vehicles. Of the remaining five, three were luxury crossovers, and two were sporty cars.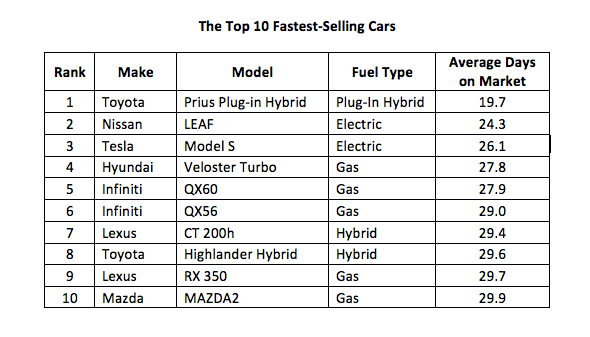 Overall, iSeeCars.com found that one- to three-year-old used cars took an average of 42.4 days to sell. The top 10 fastest selling cars, however, were much faster—ranging from just 19.7 days on the market to 29.4 days. "For a car to sell so quickly, it needs to have the right mix of demand and supply," explained iSeeCars.com CEO Phong Ly.
The fastest selling car was the Toyota Prius Plug-In, selling in 19.7 days on average or about 2.2 times faster than the average car. Over the same time period in 2015, the Prius Plug-in stayed on the market almost twice as long before it was sold (averaging 38.1 days on the market). "The dramatic decrease in days on the market is at least partially due to the fact that 54 percent of these cars were sold in California and the distribution of the stickers that allow plug-in hybrids to be used in California's HOV carpool lanes with a single occupant has reached its limit, pushing up demand for used cars that already have this privilege," said Ly. Further, demand may have been driven up by a 17% decline in average price: in 2015, the Prius Plug-In sold for $22,945 on average, but prices dropped to $19,057 by 2016.
The Nissan Leaf was the other vehicle in the top ten to experience a dramatic increase in its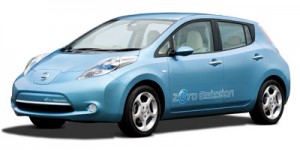 average days on market, going from 38.7 days in 2015 to 24.3 days currently. "The Nissan Leaf dropped $2,219 from 2015 to 2016 to a current average price of just $12,533, making it one of the most affordable used cars available. These lower prices are a likely factor fueling the demand," said Ly.
Not surprisingly, the Tesla Model S was one of the fastest movers in the study. Interestingly, despite its relatively high demand and limited supply, the Model S price declined 17 percent on average from 2015 to 2016. This likely further increased the speed of its sales, which jumped from 29.0 days on average last year to 26.1 days this year.
The remaining two hybrids on the list, the Lexus CT 200h and the Toyota Highlander Hybrid, are unique within their segments. "While the Lexus CT 200h shares its hybrid powertrain with the Toyota Prius, this is a rather sporty car, known for its handling, yet still gets 43 mpg in the city," said Ly. "SUV sales are once again on the rise and the venerable Toyota Highlander Hybrid offers buyers an upscale interior, a luxurious ride and an impressive 27 city/28 highway mpg, putting it at the top for fuel economy in this popular segment," he continued.
"For these fastest-selling cars, the market may have hit a sweet spot where the pricing of these particular alternative fuel cars has dropped enough to make these cars more desirable," continued Ly. Indeed, the iSeeCars.com analysis of year-over-year data for one- to three-year-old used cars indicates that electric car prices have dropped by $3,830 on average driving an 8 day decrease in days on market, followed by a decline of $1,214 for plug-in hybrids, $889 for hybrids, and just $242 for gasoline vehicles.

After many years of alternative fuel vehicles on the market, consumer confidence in these vehicles' performance, range, safety, and battery life has increased. Now, with these used models being more affordable than ever, some buyers are taking the leap to cars that reduce their dependence on gasoline even though gas prices are still low. Ly was quick to point out that not all alternative fuel vehicles show this pattern.
Among the gas-only models on the fastest-selling list were three luxury crossovers—the Infiniti QX60 and QX56, and Lexus RX 350. "It's not surprising to see cars from this segment selling quickly, as we've seen a similar trend in new car sales," said Ly.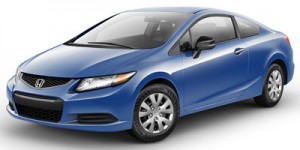 The most popular models such as the Honda Civic, Toyota Camry, and Honda Accord were just outside of the top 10 fastest selling, moving faster than the average days on market of 42.4. For example, the used Civic took 31.1 days to sell, the Toyota Camry 33.9, and the Accord 34.1. Other popular models however, such as the Ford F-150, took more than 50 days to sell. This could be due to the F-150's higher price point – almost $4,000 above the average truck price; dealers could be pricing them higher because they are in demand.
For consumers, the quick sale of these vehicles is both a boon and a hindrance. Explained Ly, "Consumers who are ready to take the leap into a hybrid, plug-in or full EV have a great opportunity to get one at a price that is more affordable than ever, but they may face challenges finding the model they want due to lower availability."
Methodology
iSeeCars.com analyzed over 2.2 million used car sales from January 1, 2016 through May 31, 2016. The number of days that each car was listed for sale on iSeeCars.com was aggregated at the model level and used to estimate the average days on market for one to three year old vehicles (model years 2013 – 2015). The average prices of these cars were also aggregated. Cars with fewer than 250 listings and having only a 2015 model were excluded from the analysis. The remaining models were then ranked by their average days on market to arrive at the Top 10 List of Fastest -Selling Cars. For comparison, a similar analysis of one to three year old vehicles was also run for sales from January 1, 2015 through May 31, 2015.
About iSeeCars.com
iSeeCars.com is an automotive data and research company that helps consumers find the best car deals by providing key insights and guidance. It turns used and new car shopping on its head by applying Big Data analytics powered by over 25 billion (and growing) data points and using proprietary algorithms to objectively analyze, score, and rank millions of cars and tens of thousands of dealers. Based in the Boston area, iSeeCars.com was founded by former TripAdvisor and SAP developers and executives determined to improve the car shopping experience for consumers.