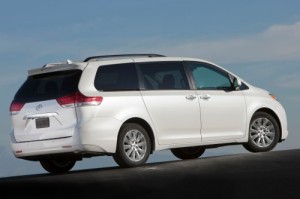 With the Toyota Sienna the only minivan in recent years to offer all-wheel drive (AWD), consumers looking for this feature for driving confidence in all kinds of weather might think they have to choose a Sienna or go without AWD.
That's not entirely true. What it does mean, however, is that you'll need to look back a few years and go for older model minivans from different manufacturers that then offered all-wheel drive as an option.
Looking at what's available, here's a list of the best five used AWD minivans, beginning, of course, with the Toyota Sienna, the all-time player in providing this family-friendly feature.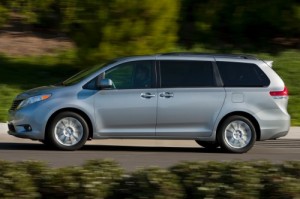 2011-2013 Toyota Sienna – Three models of the Sienna offered all-wheel drive, the LE, XLE and Limited. In the 2013 model year, the Toyota Sienna lost the four-cylinder engine, but that was considered underpowered, anyway. Standard features on the LE included rear-view camera, power-sliding side doors, automatic climate control and upgraded audio. XLE, meanwhile, featured a standard sunroof, leather seating, blind spot monitoring system and second-row lounge seats with pop-up footrests. Limited models got dual sunroofs, power-folding third-row seat and premium audio. LE and XLE were available in 7- and 8-passenger configurations with AWD, while the AWD Limited was 7-passengers only. Pricing ranges from arouond $23,000 to $26,500.
2006-2010 Toyota Sienna – In 2006, the Toyota Sienna gained standard side airbags. While a four-cylinder engine was offered, it's best to look for AWD models with the more powerful 215-horsepower 3.3-liter V6 paired with a five-speed automatic transmission. These model year minivans were packed with safety features, offered a smooth ride, above-average fuel economy and were considered the practical choice for family buyers needing more room and utility. Depending on trim and 7- or 8-passenger seating configuration, plus options, mileage and condition, look for prices ranging from a low of $11,960 to the vicinity of $21,500.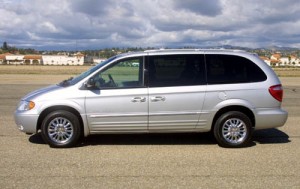 2004 Chrysler Town & Country – The last model year that Chrysler offered all-wheel drive in the Chrysler Town & Country minivan was 2004. Power came from a 215-horsepower 3.8-liter V6 engine matched with a four-speed automatic. AWD models were available in Touring and Limited trims only. Pluses included excellent ride and handling, a refined drivetrain and a comfortable and luxurious interior. Negatives included no fold-flat third-row seat and spotty reliability. Pricing for used models ranges from $4,500 to $12,100.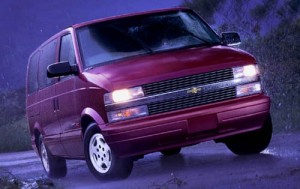 2005 Chevrolet Astro – Families needing the roominess of a minivan but also the cargo capacity and towing ability of an SUV had a reasonable choice in the 2005 Chevrolet Astro. Powered by a 190-horsepower 4.3-liter V6 engine paired with a four-speed automatic transmission, the Astro minivan provided sure-footed transportation, if not exactly a thrilling driving experience. These are hard to find, but relatively cheap, about $4,900.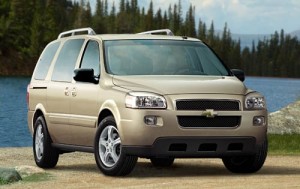 2005-2006 Chevrolet Uplander – Debuting in the 2005 model year, the Chevrolet Uplander was marketed as a crossover sport van, the successor to the Chevy Venture and precursor to the Chevrolet Traverse. Available with all-wheel drive only in the LT trim, the Chevy Uplander seated seven passengers. Power came in the form of a 200-horsepower 3.5-liter V6 engine matched with a four-speed automatic transmission. The Uplander featured a fold-flat 50/50 split-folding third-row seat.Look for pricing ranging from $5,995 to about $9,999.
Future AWD Minivans
If you're looking for something other than a Toyota Sienna and don't want to go for long-discontinued models and minivans from years past, there may be hope on the horizon. One bright spot for consumers in the market for an AWD minivan is that Chrysler's Sergio Marchionne has said that the next-generation Chrysler Town & Country will reintroduce all-wheel drive on the 2015 model. It had been dropped to make way for the popular Stow 'n Go feature. Whether that proves to be true or not, only time will tell. At least then there'll be more than one minivan in the marketplace offering family-friendly AWD.