Used car prices remain elevated in the wake of the global microchip shortage, but they began to level off in the second half of 2022. However, according to iSeeCars' recent analysis, over the same period prices for electric cars continued to increase significantly. In July, electric car prices saw an increase of 54.3% from the same month last year while gas-powered cars were up just 10.1%.
iSeeCars analyzed the prices of over 13.8 million 1-5 year old used cars sold between January and July of 2021 and 2022 to determine the price growth of electric cars compared to conventional fuel vehicles.
"Until recently, mainstream electric vehicles typically depreciated rapidly due to improvements in battery technology and a lack of demand in the secondary market," said iSeeCars Executive Analyst Karl Brauer. "However, soaring gas prices, improvements in public charging infrastructure, and a lack of inventory for new EVs have led to soaring demand for used electric vehicles."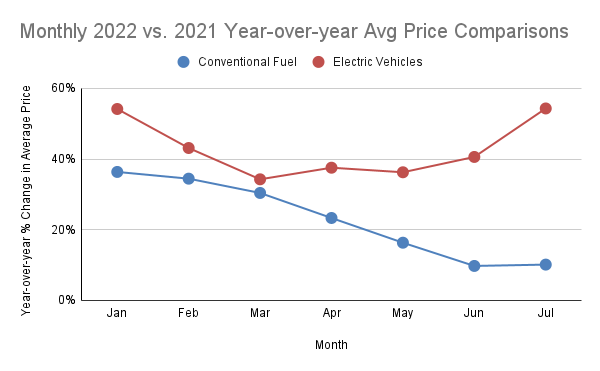 Monthly 2022 vs. 2021 Year-Over-Year Average Price Comparisons: Conventional Fuel Vehicles Vs. EVs
Y-o-Y % Change, Conventional Fuel Vehicles
Y-o-Y % Change, EVs
Jan

36.3%

54.1%

Feb

34.4%

43.1%

Mar

30.4%

34.3%

Apr

23.3%

37.5%

May

16.3%

36.2%

Jun

9.8%

40.6%

Jul

10.1%

54.3%
Electric vehicles started the year with a price increase of 54.1 percent over January of 2021, while conventional fuel vehicle prices were 36.3 percent higher. "The sharp price increase for electric vehicles in January was driven by a sudden spike in demand due to rising fuel prices plus the ongoing shortage of used gasoline vehicles," said Brauer.
The price increases for both EVs and conventional fuel vehicles declined until March and continued to decline for conventional fuel vehicles through June. Meanwhile, the price increase for EVs rose in April and continues to far outpace the price growth of conventional fuel vehicles. "March marked the aggressive upward pricing trend for gasoline as a result of the Russia-Ukraine conflict, and we have seen increased demand for EVs and decreased demand for gas-powered cars since," said Brauer.
Electric Vehicle Annual Price Increase By Model
iSeeCars analyzed the used car prices across electric cars to determine which had the highest price increase in July 2022 compared to 2021.
Electric Vehicle Year-over-year Price Increase By Model, July 2022 vs. 2021
Rank
Electric Vehicle
% Y-o-Y Price Increase
$ Y-o-Y Price Increase
Average Used Car Price

1

Nissan LEAF

45.0%

$8,930

$28,787

2

Chevrolet Bolt EV

29.3%

$6,417

$28,291

3

Tesla Model S

27.5%

$17,906

$83,078

4

Tesla Model X

19.7%

$14,863

$90,484

5

Tesla Model 3

16.2%

$7,781

$55,766

6

Kia Niro EV

15.7%

$5,124

$37,732

7

Tesla Model Y

13.6%

$8,381

$70,065

8

Audi e-tron

9.9%

$5,867

$65,420

9

Jaguar I-Pace

3.5%

$1,980

$59,338

10

Porsche Taycan

-3.5%

-$5,042

$138,033
The used electric vehicle that has risen the most in price is the Nissan LEAF, which has a 45 percent price increase over last year. "The price increase for the Nissan LEAF, which was once the
highest depreciating car
on the market, is likely due to heightened gas prices as well as the heightened desirability for the redesigned 2018 model that offers increased range and is now coming off lease to enter the used car market," said Brauer.
The Chevrolet Bolt hatchback ranks second. "The Chevrolet Bolt is the most affordable used electric vehicle on the market, and its relative affordability plus heightened interest in all-electric vehicles have led to its steep used car price increase," said Brauer.
Four Tesla models make the list including the third-ranked Model S, the fourth-ranked Model X, the fifth-ranked Model 3, and the seventh-ranked Model Y. "Demand for the Model S waned last year as used car shoppers embraced the more affordable Model 3 and the Model X and Model Y SUVs," said Brauer. "Demand for used versions of the Model 3, Model X, and Model Y was high last year before the rise of gas prices because they were relatively scarce in the used car marketplace, which helps explain why they have not had as steep of a yearly price increase."
The Kia Niro EV ranks sixth with an average annual price increase of 15.7 percent. "The Kia Niro has a relatively small price increase compared to other electric vehicles, which is surprising given its value proposition as a practical electric crossover with an impressive EPA estimated 239 miles of range," said Brauer.
The remaining three models come from luxury automakers and include the Audi e-tron, the Jaguar I-Pace, and the Porsche Taycan. "The Porsche Taycan is the only electric vehicle that has gone down in price compared to last year, perhaps suggesting an upper limit to what consumers are generally willing to pay for used EVs," said Brauer. "The Jaguar I-Pace has seen a decrease in new car sales since 2019, while Audi e-tron sales have improved, but both models are not widely embraced by used car buyers."
Month-By-Month Pricing Analysis: Hybrid Vehicles
iSeeCars also analyzed the year-over-year price increases of hybrid vehicles by month and found that price increases slowed since January but began to rise in July.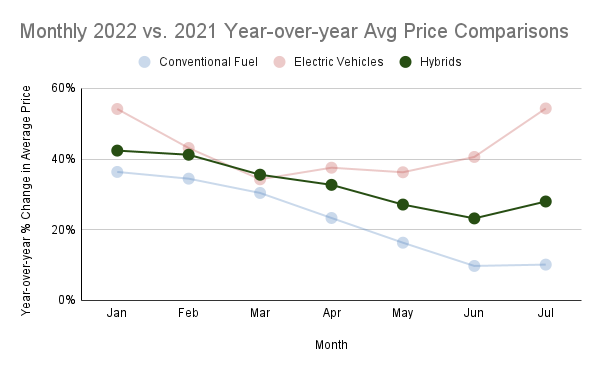 "Hybrid vehicles likely saw an increase in demand in January because of the scarcity of conventional fuel vehicles in the used car marketplace," said Brauer. "While EVs have risen in price, hybrid vehicles have trended more like conventional fuel vehicles and remain a practical choice for used car buyers who want a more fuel-efficient option."
Bottom Line:
The U.S. government just announced a federal tax credit for used EVs as part of the Inflation Reduction Act, which will provide an added incentive for used car shoppers as prices continue to increase for used electric vehicles. "More and more affordable new electric vehicles are entering the market, which means that used EVs won't be as much of a novelty, especially once supply chain issues begin to improve," said Brauer. "While prospective used car buyers will see steep price increases for EVs in the short term, it's important to be patient because used EV prices are expected to decline in the coming months."
Methodology:
iSeeCars.com analyzed over 13.8 million 1-5 year old used car sales between January and July of 2021 and 2022. The average price of each model was calculated monthly in 2022 and compared to the average price of the same model from a year prior. Average prices were also aggregated by fuel type and compared similarly. Low-volume vehicles, vehicles no longer in production as of the 2022 model year, and heavy-duty vehicles were excluded from the analysis.
About iSeeCars:
iSeeCars.com is a car search engine that helps shoppers find the best car deals by providing key insights and valuable resources, like the iSeeCars free VIN check reports and Best Cars rankings. iSeeCars.com has saved users over $343 million so far by applying big data analytics powered by over 25 billion (and growing) data points and using proprietary algorithms to objectively analyze, score and rank millions of new cars and used cars.