Best Hybrid Trucks on the Market and the Future of Pickups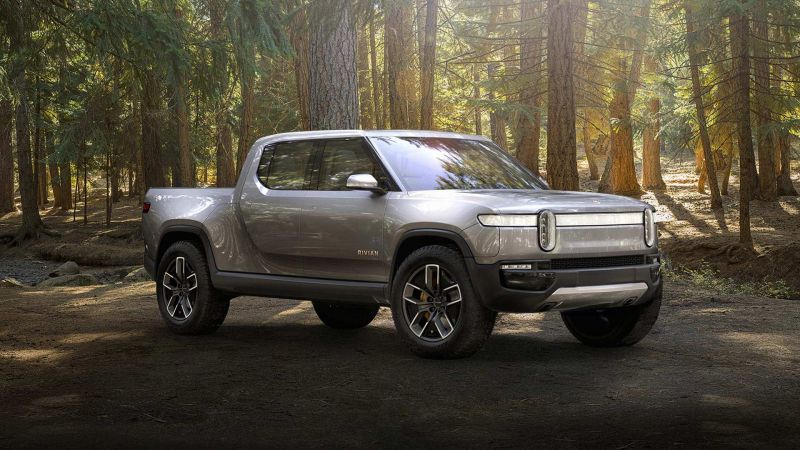 Pickup trucks have been hewing to the same formula for years: a big gas or diesel engine hidden under a long hood that itself hinges to a big, hulking vehicle best defined by its six- or eight-foot bed. It's a layout nearly as old as the automobile, and just as successful.
And yet change is imminent. The hybrid and electric vehicle revolution is already upending the passenger car and crossover market; now the truck market is feeling the first tremors of this industry-wide sea change. Concept electric trucks from automakers both firmly established and freshly chartered have been circulating the internet and showing up at car shows. Big promises and boggling stats have been tweeted about and reported on. The hype over electrified trucks is real, even if the products are not.
With hardly any hybrid or electric trucks available today, getting a pulse on the segment is a difficult endeavor. How close is the truck market to really embracing hybridization and electrification? Will the various moonshot products being talked about really be built, or are they just fanciful vaporware?
There's no clear answers yet. But we've done the research and read the press releases to bring you the scoop on where the truck market may be heading in the not-so-distant future. And we've also found a few hybrid trucks you can buy today.
Best Hybrid Trucks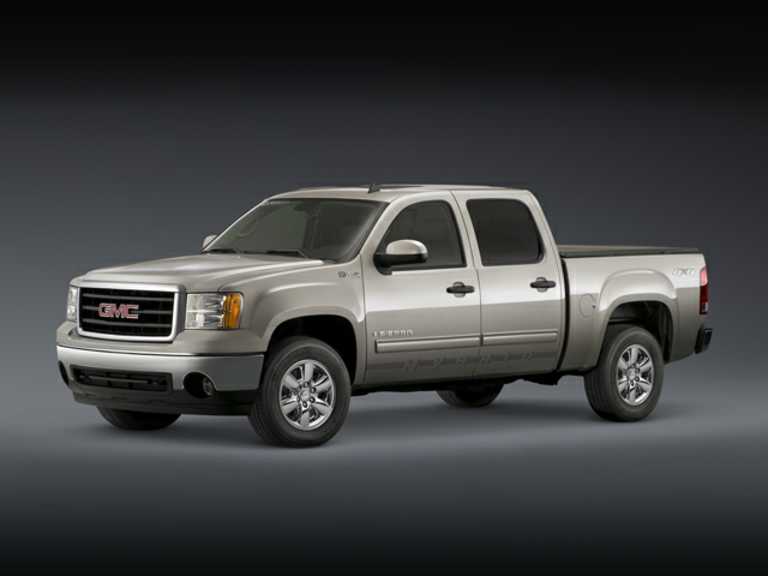 Determining the best hybrid trucks wasn't too difficult; there's only three trucks, new or used, that fit the bill. As with all our studies, we still collected pertinent data on these trucks in order to rank them by objective data points such as economy and safety. Trucks are ranked primarily by data garnered in our latest longest-lasting cars study, in which vehicles were ranked by the percentage of each make and model that were sold with more than 200,000 miles. For reference, the segment average is 1.10 percent.
Rank
Truck
% Vehicles with 200k+ Miles
Maximum Towing Capacity
City/Highway mpg
NHTSA crash rating (out of 5)
Average New Car Price
Average 7-Year-Old Used Car Price

1

GMC Sierra

1500 Hybrid

1.30%

6,100 pounds

20/23

mpg

4.8

n/a

$15,805

2

Ram 1500

Hybrid

1.10%

12,750

17/23

mpg

4.1

$47,165

$18,373

3

Chevrolet Silverado

1500 Hybrid

0.70%

6,100 pounds

20/23

mpg

4.8

n/a

$15,574
It's a short list of
hybrid trucks
, and interestingly enough only
full-size pickups
have given the technology a shot. Of the three presented here, the
GMC Sierra
1500 Hybrid
lays claim to being the most long-lasting, with 1.30 percent of models sold in 2019 having reached 200,000 miles. The mechanically-identical
Chevrolet Silverado
1500 Hybrid
ranks third at 0.70 percent.
For those scratching their heads trying to recall a hybrid Sierra or Silverado, don't beat yourself up - these were obscure trucks, only built between 2009 and 2013 and limited to the crew-cab, short-bed configuration. Pricing at the time began at more than $40,000, which was a steep ask in those recession-era days. You can still find a hybrid version of a used Chevrolet Silverado 1500 for sale as well as a hybrid used GMC Sierra 1500 for sale.
The Sierra and Silverado hybrid versions employed a pair of electric motors to augment the standard 6.0-liter V8 engine and electronically variable transmission with four fixed gears. (If you need a refresher on hybrid tech, read our article on the differences between hybrid and electric vehicles.) The setup provided electric-only operation up to 30 mph and resulted in EPA-rated fuel economy of 20 mpg city and 23 mpg highway. Those numbers were - and are - stellar for a full-size truck. Hybridization did hurt capability, however, with max tow ratings limited to just 6,100 pounds.
That's not the case with the 2019 Ram 1500, which tows up to 12,750 pounds. The Ram's eTorque hybrid technology isn't quite as advanced as the General Motors hybrid trucks were in their day, but Ram's electric motor/generator allows for regenerative braking, improved automatic stop/start performance, and the ability to add a jolt of extra torque when needed. Fuel efficiency for the V-8 with eTorque increases by 2 mpg over V-8 models not so equipped.
eTorque is standard on the V-6 Ram and available on the V-8 for $1,450. Notably, it's the only hybrid setup currently available on any truck, be it small or large. The average new transaction price is $47,165. A 7-year old Ram - without hybrid tech of any sort - is trending at $18,373, which is a good $3,000 higher than the 2013 Sierra and Silverado hybrid.
Because the Ram's eTorque technology only debuted in 2019, it's vehicles have not been around long enough to accumulate 200,000 miles. However, when looking at all Ram 1500 pickup trucks, 1.10 percent exceeded 200,000 miles, slotting it between the two GM trucks when it comes to longest-lasting stats.
Future Hybrid Trucks
Though the
Ram
is running the hybrid show right now, its exclusivity will be soon coming to an end. Here's some of the upcoming
hybrid trucks
to watch out for:
Ford F-150 Hybrid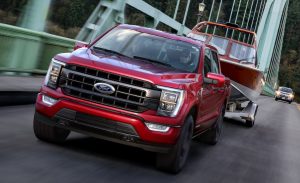 America's most popular truck line isn't about to get complacent and let Ram steal the show. The recently-debuted 2021 Ford F-150 Hybrid proves the viability of the Ram's technology - and aims to one-up it.
The details are still fresh off the press, but so far we know that Ford is affixing an electric motor to its 10-speed transmission and bolting it up to the 3.5-liter twin-turbo V-6 already offered in the F-150 lineup. Keeping the electric motor juiced is a battery that lives somewhere under the truck. This powertrain will be dubbed 'PowerBoost' and should be available in every trim level.
Power figures are still forthcoming, but Ford claims the PowerBoost engine is targeting to be the most powerful of any pickup in the class. That would peg output to something over 450 horsepower. Towing capacity should be around 12,000 pounds.
EPA ratings are even more vague, but expect better than the 19 mpg combined of the Ram 1500 hybrid.
Look for more details to surface soon, as Ford is hoping to build the first units in the fall of 2020.
Toyota Hybrid Trucks: Tundra and Tacoma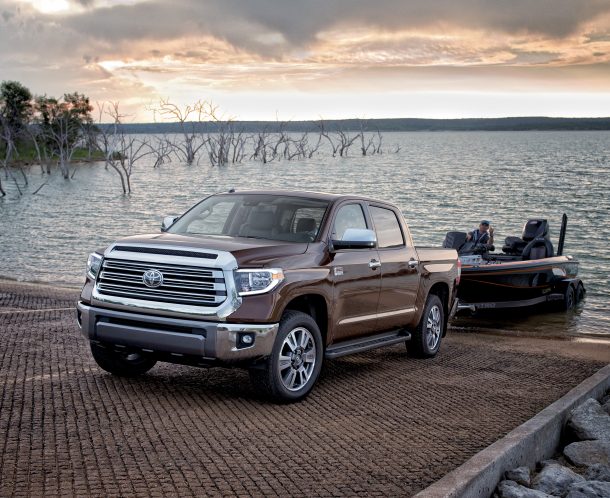 Be forewarned: all the following is conjecture and speculation by automotive journalists, spy photographers, and industry insiders. But there is a general consensus that the next generation of Toyota trucks will offer hybrid technology.
What exactly that technology might look like is still a question only a few select Toyota employees are privy to. But one thing is clear: the current Toyota Tacoma and Toyota Tundra are automotive fossils and are well past their sell-by date. The Tundra is particularly old, with the current design dating back to 2007. Currently, the Tundra trails its American competition in sales by a wide margin.
However, it's said that Toyota is working on all-new next generation models of both the Tundra and Tacoma. These should be due out sometime in the next three years if the current pandemic doesn't delay things. Some claim that they will be underpinned by the same platform.
If a hybrid is available in the upcoming trucks, it will likely be in the form of a twin-turbo 3.5-liter V-6 with electric assist, a setup not unlike what's available in the current Lexus LS500h. It would be appropriately beefed up to handle the added weight and bulk of the trucks as well as for payload and towing considerations.
Unfortunately, any additional details remain scant. The headlines have been quiet recently regarding upcoming Toyota trucks, and Toyota itself has remained mum on the topic. But it's no secret the current crop of Toyota trucks are outdated, leaving us hopeful that these rumors of redesigns prove true.
Honda Ridgeline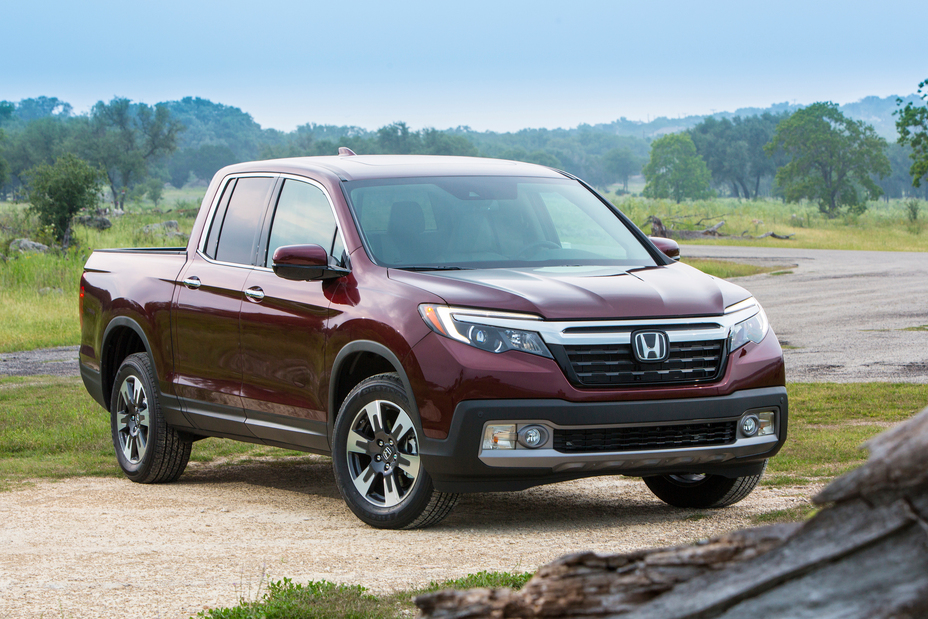 Not long ago, a Honda dealer in Louisiana announced on their website that a Honda Ridgeline hybrid was imminent. Not long after that announcement went up, it was taken down without notice. When pressed on the topic, Honda corporate was silent.
It sounds like a case of a dealer misinterpreting a presentation on future products, but there's merit to the idea of a hybrid Honda Ridgeline. With its car-based platform, small engines, and focus on light-duty usage over big payload and towing numbers, the Ridgeline is a clear candidate for giving hybridization a try. We're sure the thought has at least crossed the minds of some Honda employees, so perhaps a Ridgelines Hybrid is in the cards. Don't hold your breath, though.
Future Electric Trucks
Many consider hybrids as mere stepping stones to full electrification. Already, a handful of companies both strange and familiar are working on what they imagine as the
electric pickup truck
of the future. Here's some of the most promising products that should reach showrooms in the next few years.
Rivian R1T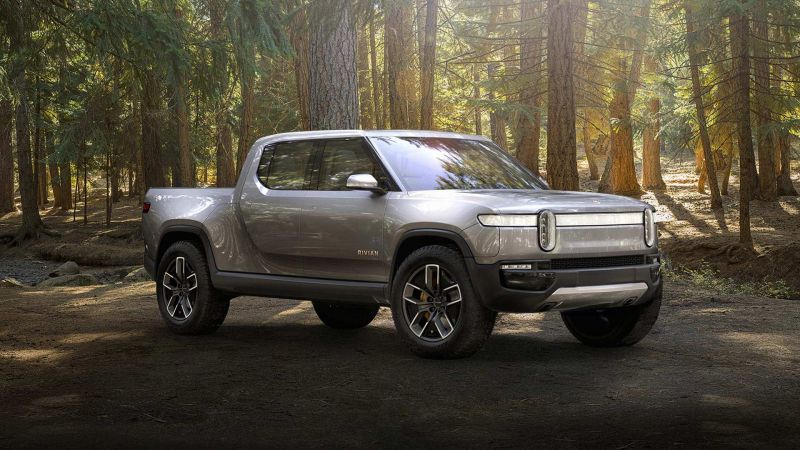 The Rivian R1T is the first product due out from startup automaker Rivian. It is an all-electric pickup that slots between the mid- and full-size categories. It will be offered with a variety of different battery sizes, ranging from 105 to 180 kWh. Range is projected to be as low as 230 miles with the small battery and as high as 400 miles with the 180 kWh battery. Regardless of battery, all models will have all-wheel drive and should tow 11,000 pounds.
Rivian was founded in 2009 and is based in Michigan; its lineup consists of the R1T and the similar R1S SUV, both of which are pre-order only. Don't be fooled by the current lack of tangible product: Rivian is the automotive startup to watch out for. They've already built concepts and pre-production models for auto shows and other events, and Ford has already purchased a significant stake in the company. Production should begin at the end of 2020.
Tesla Cybertruck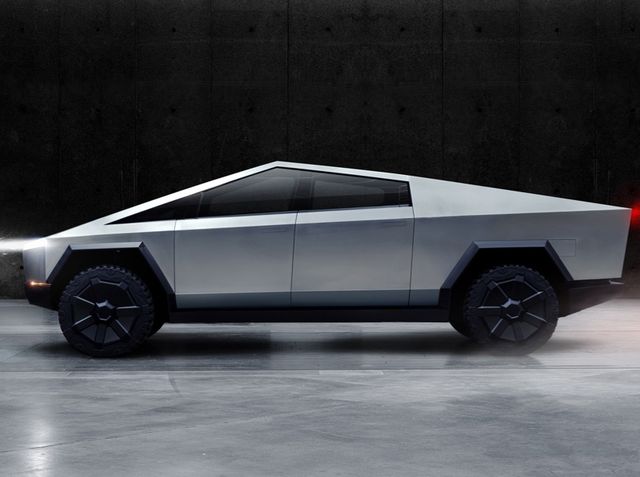 Elon Musk had hinted about a Tesla electric truck for some time, and now there's something to show for his bold claims: the Cybertruck. This is a truck that looks nothing like a traditional pickup truck. It has an extreme wedge shape for cheating the air and wears a body made of stainless steel. It is supposedly bulletproof, dent-proof, and scratch-proof. Tesla also claims it will tow over 14,000 pounds and be capable of going 0-60 mph in less than three seconds. Impressive? Yes. But remember these claims are coming from a company and CEO who routinely talk a big game but don't always have something to show for it. Time will tell if the Tesla Cybertruck can deliver on all its promises.
Ford F-150 Electric Truck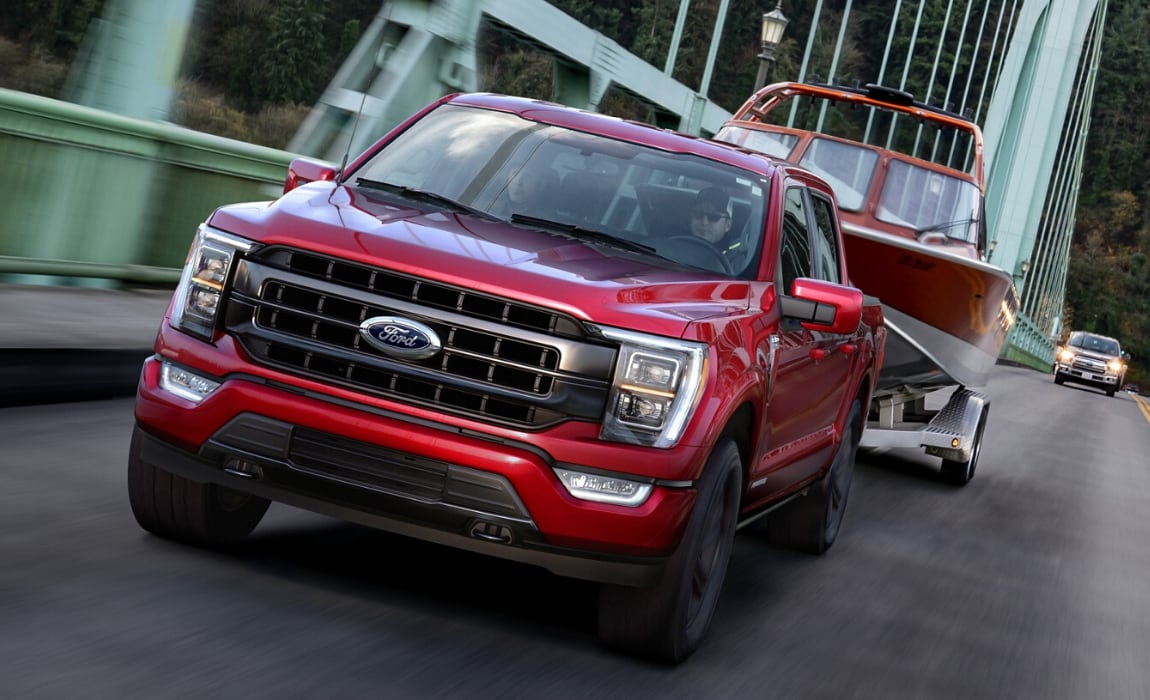 We already discussed the hybrid F-150; this is the all-electric version. Details are still few and far between; all we know for sure is that it will debut sometime during the 2022 model year. It will likely look and feel much like a traditional F-150, which should be comforting for buyers still wary of an electric pickup truck. After seeing Ford's teaser video of an electric F-150 prototype pulling one million pounds of freight train, we imagine capability will be as good or better as any gas-powered F-150.
GMC Hummer Electric Truck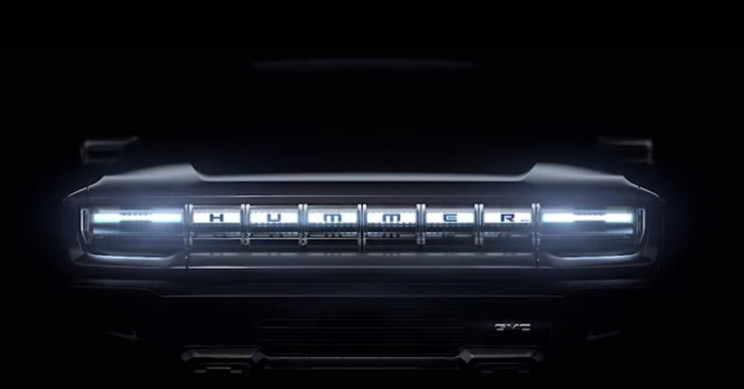 A GM electric truck won't debut under the familiar Sierra or Silverado banners. Instead, it comes as a Hummer, reviving the name that adorned the big, boxy, militaristic SUVs from the early aughts. This Hummer will be far more efficient than those old polarizing models, though GM hasn't said anything about battery pack sizes or range estimates. It does claim the new Hummer has up to 1,000 horsepower and 1,400 lb-ft of torque, however. 0-60 mph is purported to happen in 3 seconds. Look for more details to surface as the Hummer's 2022 release date gets closer.
Bollinger B2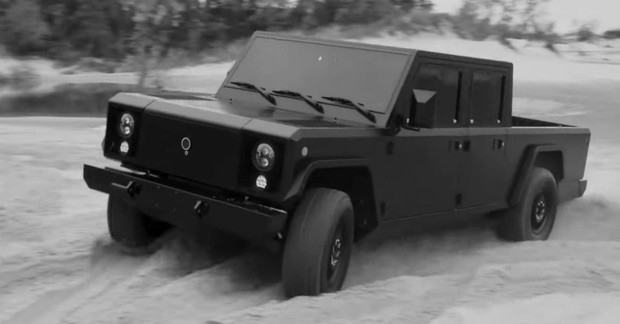 The Bollinger B2 is a squared off, highly utilitarian truck from startup automaker Bollinger. The burly, four-wheel drive B2 carries a 10,001 gross vehicle weight rating, making it exempt from safety standards governing typical passenger cars. That means there's not even airbags, let alone anything like automatic emergency braking. What the B2 does have is a height-adjustable hydropneumatic suspension, heavy-duty off-road gear, and a 120 kWh battery that should deliver a 200 mile range. The price for all this capability? $125,000 to start. The B2 will begin production in the second half of this year and be available for delivery in early 2021.
Nikola Badger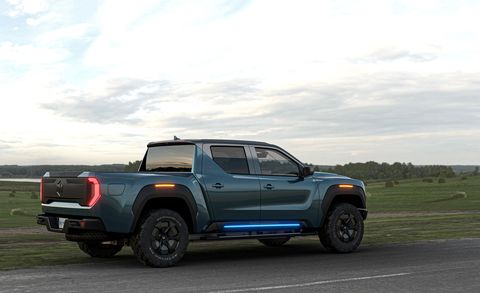 The Badger is another truck from a startup outfit. This one wears sheetmetal far more familiar than the brutalistic style of the Bollinger B2 or the futuristic look of the Rivian R1T. The all-electric Badger boasts a 160 kWh battery pack and a 300 mile range; there's also a hybrid electric/fuel-cell model that increases range to 600 miles. The company claims the Badger will tow 8,000 pounds and do 0-60 mph in 2.9 seconds. There's no timeline on when production might begin.
Lordstown Endurance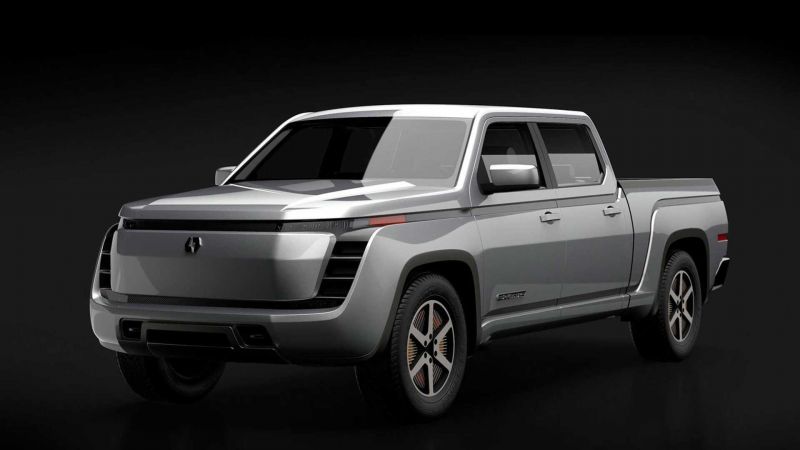 Named for the former GM plant in Lordstown, Ohio that is now owned by the eponymous company, the Lordstown Endurance is a 600-horsepower, four-motor electric truck that is due out next year. There's few details to go along with that info, but the company did claim they are aiming for a $52,500 starting price and a towing capacity of 6,000 pounds. Like most electric-truck startups, the truck is pitched as revolutionary, but more details will need to surface before that claim can be believed.
The Bottom Line
There's no doubt electric and hybrid trucks are the future. Today marks the cusp of this technological sea change; in five years, expect to share the road with electric trucks from both traditional automakers and disruptive startups. What will be interesting is not so much the proliferation of electric trucks - that's all but guaranteed - but rather which electric trucks proliferate and which quietly disappear into obscurity.
Questions remain, of course. Can the startups follow through on their promises? Will there be buyer demand for electric trucks? And will electric pickups be as capable as they need to be? These are valid questions, and the answers, at least initially, might not appease traditional truck buyers. But for a product still in its infancy, the current crop of electric trucks - the first of their kind - look promising. Comfort, capability, and usability are common threads among all the various vehicles profiled here. Whatever the electric and hybrid truck market might shape up to look like, there's no doubt it will be an interesting ride.
Check out used trucks for sale by visiting iSeeCars' award-winning car search engine. It uses advanced algorithms to help shoppers find the best car deals and provides key insights and valuable resources, like the iSeeCars VIN check report. Filter by price, fuel type, drivetrain, and other parameters in order to find your next pickup truck.