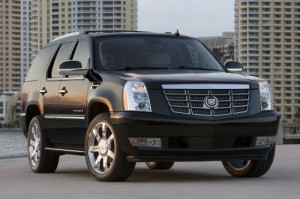 For some families, nine is a big number. Others who have eight people to pile into a vehicle consider that a big family. When it comes to transporting a large number of family members, the best bets are full-size SUVs and minivans.
Looking at the used vehicle market, here are the top 10 used vehicles for big families. This is based on overall space, ease of use, passenger and cargo capacity, style, safety, convenience and other factors.
2011-2013 Cadillac Escalade – For big families that like their vehicle large, boldly styled and unmistakably American, the 2011-2013 Cadillac Escalade may fit the bill nicely. Eight-passenger seating, with the optional second-row bench seats, makes the Escalade a true family hauler, although the third row is a bit cramped. Every Escalade is powered by a 403-horsepower 6.2-liter V8 engine. Prices for such luxury transport can be on the high side, ranging from $38,888 (2011 Escalade base) to $69,971 (2013 Escalade Platinum).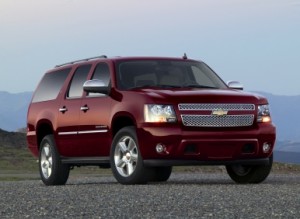 2011-2013 Chevrolet Suburban – This long-time people-mover full-size SUV accommodates eight family members with ease (as do its other siblings, the Cadillac Escalade and GMC Yukon XL). In fact, the Chevy Suburban can even handle up to nine with no problems. With its 320-horsepower 5.3-liter V8 engine providing sufficient power to move the Suburban along and available four-wheel drive for the occasions when you want to travel off the beaten path, the Chevrolet Suburban is a fine choice for a big family vehicle. It can also tow a boat or trailer, should you so desire. Prices range from $24,900 to $56,695.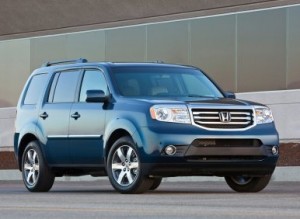 2012-2013 Honda Pilot – Among high-capacity (translate: big family) haulers, the 2012-2013 Honda Pilot full-size crossover SUV provides better third-row legroom than some of the competition. This makes it a lot more comfortable for adults sitting back there on family outings. Available in front- and all-wheel drive, the Pilot is powered by a 250-horsepower 3.5-liter V6 engine. Many standard and available features round out this eight-passenger family vehicle. Prices range from $16,659 to $37,895.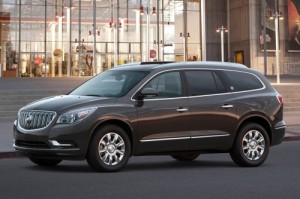 2013 Buick Enclave – Along with its siblings the Chevrolet Traverse and GMC Acadia, the redesigned 2013 Buick Enclave offers a comfortable, spacious environment for large families. The Buick Enclave holds up to eight passengers in luxury and style. The 288-horsepower 3.5-liter V6 engine provides ample power in either front- or available all-wheel drive. Prices range from $26,643 to around $39,997.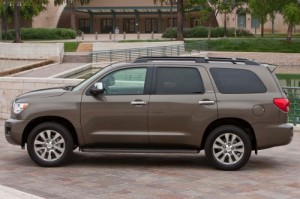 2011-2013 Toyota Sequoia – The largest SUV in the Toyota lineup, the 2011-2013 Toyota Sequoia effortlessly seats eight family members in three rows of spacious seating. The Sequoia also offers off-road capability with available four-wheel drive and can also tow a boat or a trailer. Power comes by way of a 381-horsepower 5.7-liter V8. Prices range from $28,994 to around $55,991.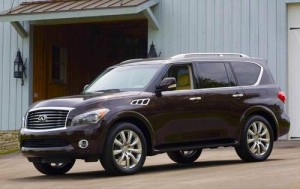 2011-2012 Infiniti QX56 – With its 400-horsepower 5.6-liter V8 engine, three rows of seating, a third row that quickly folds into the floor with the push of a button, and available four-wheel drive, the 2011-2012 Infiniti QX56 provides big families looking for an eight-passenger vehicle with plenty of luxury, comfort and style. A nice feature added for 2012 is the blind spot intervention system (part of the optional technology package). Prices range from $34,980 to $54,985.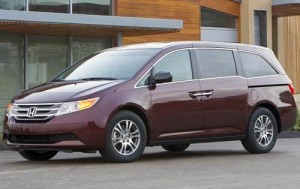 2011-2013 Honda Odyssey – One of the top minivans available, the Honda Odyssey, now in its fourth generation, offers big family-friendly features combined with confident driving dynamics and outstanding reliability. All Honda Odyssey models are powered by a 248-horsepower 3.5-liter V6 engine. Seating for up to eight passengers plus a slide-forward second section that has a special configuration mode making it possible to put three child safety seats across is very family-friendly. Look for prices ranging from $16,990 to $36,950.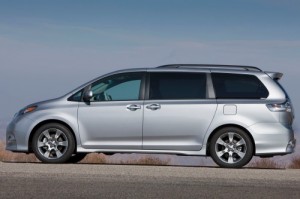 2011-2013 Toyota Sienna – Hard on the heels of the Honda Odyssey as one of American families' most popular minivan is the Toyota Sienna. Besides eight-passenger seating, the Sienna can be ordered with optional all-wheel drive, perfect for those in the snow belt or who need to traverse different types of road surfaces (but not off-road, this is a minivan, after all). Smooth and capable 266-horsepower 3.5-liter V6 engine, cabin versatility, quiet ride, spacious interior and flexible utility are other Sienna strengths. Check out eight-passenger Sienna prices ranging from $17,898 to around $29,987.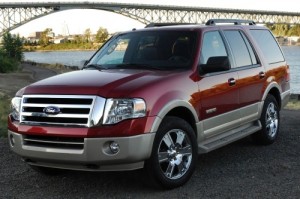 2011-2013 Ford Expedition – Ford's answer to the Chevrolet Suburban is the Expedition, a full-size, truck-based SUV that seats up to eight passengers. For large families, fold-flat second-row seats and available power-folding third-row seatbacks create a wide and flat cargo area. The second row's center sliding position can bring a child safety seat 11 inches closer to the front-row driver and passenger. Rear- and four-wheel drive is available. The Expedition is powered by a 310-horsepower 5.4-liter V8 engine. Prices range from $17,950 to around $44,995.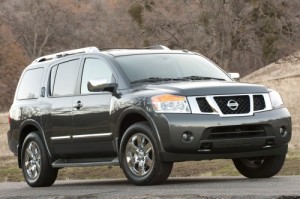 2011-2013 Nissan Armada – With its classy cabin, intuitive controls, eight-passenger seating, plentiful storage areas, and lots of standard and optional features, the 2011-2013 Nissan Armada rounds out this list of the top 10 used vehicles for big families. Towing campers and trailers along with family members is easy, thanks to the standard 317-horsepower 5.6-liter V8 engine. Rear-wheel drive is standard, while four-wheel drive is optional. Prices range from $21,974 to $43,985.