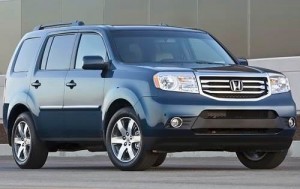 If you are a tall driver, chances are there are more tall people in your immediate family. While this isn't always true, it's true often enough that tall drivers have a need to find a vehicle that is sufficiently roomy in headroom and legroom in the front and back seats to accommodate everyone.
Check out the following list of top 10 used SUVs for tall families to see if there's something that sparks your interest and can fit your size family.
2012-2013 Honda Pilot – A midsize crossover SUV with seating for seven or eight, the Honda Pilot from the 2012 and 2013 model years offers generous interior room for all passengers, plus loads of utility, numerous standard and optional features, and impressive fuel economy. Some reviewers have commented that the seat cushions in second and third rows are too low, necessitating more of a knees-up position. Pricing ranges from $20,500 to $35,823.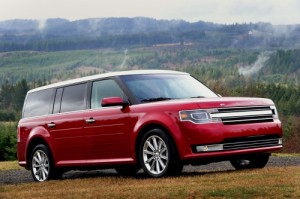 2013 Ford Flex – A three-row crossover SUV that seats seven (six with optional captain's chairs), the refreshed 2013 Ford Flex provides tall family members with excellent head and legroom in all three rows of seats. Even those taller than six feet can comfortably take the third-row seat for family outings. The low ride height of the Flex and the second row that flips forward with the touch of a button makes access to rear-most seats quick and easy. Some call the Flex a tall wagon, but it's really a well-equipped three-row crossover SUV that might just be perfect for seven tall people. Prices range from $21,995 to $38,000.
2011-2012 Nissan Armada – A full-size SUV, the Armada seats up to eight passengers with ease, has lots of cargo space, can tow boats and trailers (tow rating up to 9,100 pounds) and makes an excellent tall family vehicle – if you don't mind its size and somewhat difficult-to-park nature. There are also lots of storage areas for small items and even the base model is very well-equipped. Head and legroom in the first two rows is generous and legroom in the third row is good, although the short seat cushions make this row better for kids. Look for pricing to range from around $21,700 (Armada SV) to $1,998 for top-of-the-line Platinum.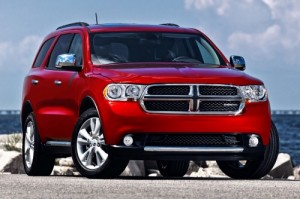 2011-2013 Dodge Durango – Classified as a midsize crossover SUV, the 2011-2013 Dodge Durango actually slots midway between midsize and full-size. With seating for seven, the Durango offers more interior room and towing capability than a typical midsize SUV, is easier to park and maneuver and, most important, can seat passengers up to six feet tall in all three rows with ease. Check out used prices ranging from $19,800 (2011 Durango Express) to $34,998 (2013 Durango Citadel).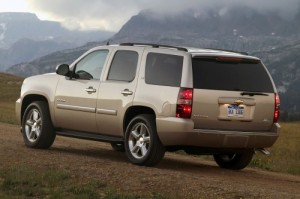 2011-2013 Chevrolet Tahoe – A full-size, truck-based SUV that seats up to nine tall passengers with ease plus tows good-sized boats and trailers effortlessly, the 2011-2013 Chevrolet Tahoe deserves consideration as a family vehicle for those in the 6-foot range. Of course, the Tahoe, for all its capabilities does have some downside. The third-row seat doesn't fold into the floor and is somewhat less spacious than competitors. Note that the Tahoe is fully redesigned for 2015, addressing this issue and more. But for value, space and comfort for tall family members, a look at the 2011-2013 Chevy Tahoe may prove worthwhile. Pricing ranges from $23,133 to $51,994 for top-tier Tahoe LTZ.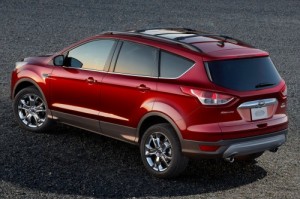 2013 Ford Escape – The completely redesigned 2013 Ford Escape small crossover SUV is roomier inside than its predecessor, offering more head and legroom for all passengers, front and rear. Front seats are wide and well-padded with extra bolstering for support. Other pluses are good performance and fuel efficiency, agile handling, many high-tech features and value for the money. Check out prices ranging from $15,299 to around $23,893.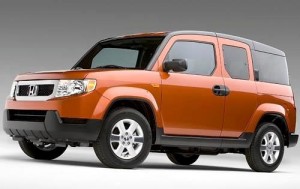 2011 Honda Element – A compact, car-like SUV produced from 2003 to 2011, the Honda Element provided roomy, comfortable and versatile space ideal for tall families – as long as they're limited to four. The versatility of the Element comes in handy for hauling bikes, surfboards, dogs – all kinds of family gear and assorted stuff. Go for the 2011 Honda Element, its final year of production and look for prices ranging from around $14,870 to $23,250.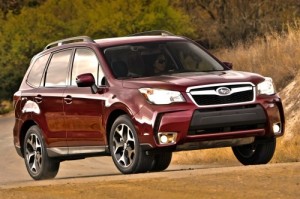 2014 Subaru Forester – Also redesigned for the 2014 model year, the Subaru Forester is larger, roomier and nicer inside than the previous version. That means the small crossover SUV is friendlier, room-wise, for tall family members. Seats are soft and supportive, and the ride is comfortable whether it's a trip to the grocery store or an off-road excursion (thanks to standard all-wheel drive, the Forester does modestly well off-road). Available in six trim levels, used 2014 Subaru Foresters are priced from $20,995 to $33,100.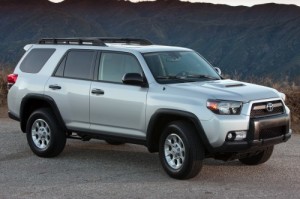 2012 Toyota 4Runner – For tall families numbering five that desire rugged off-road capability in their SUV, the 2012 Toyota 4Runner midsize SUV may be a good choice. While the 4Runner can be optioned with a third-row seat to house seven, that third row is only suitable for small children. Otherwise, headroom and legroom (and shoulder room) is good for taller occupants in the first and second rows. The truck-based SUV will not handle like a crossover; it's not designed to. Used 2012 Toyota 4Runners, available in SR5, Trail and Limited trims range in price from $26,900 to $36,500.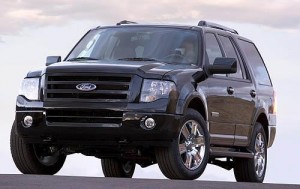 2011-2013 Ford Expedition – A full-size, three-row SUV that seats up to eight passengers (in Expedition EL) in comfort, the 2011-2013 Ford Expedition offers tall families the ability to haul everyone at once and tow a boat or trailer with ease (although performance and fuel economy will suffer). The power-folding third-row seat makes for easy loading and unloading as well as extra passenger room. Pricing ranges from $21,890 (for base XL) to $45,650 for top-of-the-line King Ranch.