People are built in all shapes and sizes, so carmakers are tasked with trying to build and design vehicles that are suited for a wide range of people. In the United States about 16 percent of the population stand taller than six feet in height. For those people, there can certainly be challenges when shopping for a vehicle. To find the right vehicle, in addition to doing research to identify a list of vehicles that have the comfort features and a good amount of space (legroom and headroom, for example), you should actually get inside each vehicle and test drive it. Just as not all people have the same dimensions, not all vehicles are built to the same static dimensions.
Now, let's take a look at some of the things to consider from your tall vantage point.
Driver's seat
Will you be the primary driver of this vehicle? If so, be sure to spend the majority of your time behind the steering wheel. How does the seat feel? Different car manufacturers have different seat angles, and certain seat styles are more conducive to taller passengers. Racing-style seats, such as those in many European vehicles and American sports cars, are very constricting. If you're not only a tall person, but also have wide shoulders, these type of seats are often not intended for you. You will have to find out if the shoulder space is too constricting or if racing-style seats are a comfortable choice for you. Look for a vehicle that has multiple seat adjustments, up to 10 different adjustments on the high end. The more there are, the more likely you can find one to your liking. And hopefully there's at least two memory seat settings so once you find that sweet spot, you can save it.
If there is lumbar support, is it at the right angle for your back? Most lumbar support seats can be adjusted to be extra firm or lightly firm on your lower back. The same is true with headrests. For taller people, make sure the headrest is adjustable and supportive of your head and neck. Some luxury models take seating a step further and offer leg extenders. If you have a vehicle with this feature, know that it can be adjusted, just like the seat angle, to find the sweet spot for your long legs.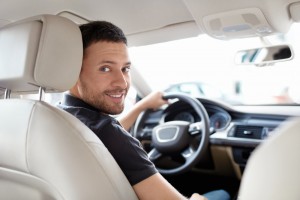 Take note of the steering wheel placement. Each make and model of vehicle has a different steering wheel placement. Does it have a telescoping adjustment that will let it slide up and down to adjust to your size? Beyond that, is the steering column bulky and intrusive? Many SUVs have a very big steering column that can hit knees and impede legroom. This is even more of an issue for longer-legged people.
Many luxury vehicles have retractable pedals. This is a feature that really helps tall (and short) people. You can adjust the gas and brake pedals to a more comfortable level for those long legs.
Lastly, look around from the driver's seat. Do you have an unobstructed view of the road ahead? How are your blind spots? Blind spots can be worse for taller people, so look for a vehicle that provides some kind of blind spot monitoring system that will indicate in the side mirrors when someone is driving in your blind spot. Also, be sure that the center stack and infotainment system is at a good angle for you to use and operate without much distraction. Remember, safety first and eyes ahead. Some vehicles offer heads up displays that beam information directly in front of the driver.
Other seating arrangements
Will you only be the driver in this vehicle? If not, you will want to try the other seats, including the front passenger seat and the rear seats. A lot of vehicles don't offer as many seat adjustment settings for the passenger, so you may be more uncomfortable and unable to find that right setting. Look for a vehicle that has multiple passenger seat adjustments, and also look for electronic seat settings, because those manual ones mean just sliding that seat as far back as it can possibly go.
If you're buying a sedan, sit in the back seat. How far up will the front seats have to move for you to have the legroom you'll need? That space doesn't always indicate comfort due to seat angles and how legroom and headroom are measured in some vehicles. It's usually done at the highest point, but that may not be the optimal measurement for your body shapeAvoid vehicles with sloping C-pillars and sharp cutting angles as they may impede your headroom. Again, the sit test is key. Sit in the vehicle—all three spots in the back seat.
If there's a third row, will you ever need to sit back there? Note that virtually no vehicle on the road has a third seat comfortable for tall passengers. But if you'll be helping children in and out of those seats, is it comfortable for you to get back there? Are you going to bang your head? Will you have to perform a circus act just to get back there? These are the specifics to test out for taller people with SUVs and minivans.
Get in/Get out
Those with long legs and long frames will need a vehicle that's both easy and comfortable to get into and out of. That excludes a lot of sports cars and muscle cars which generally have a lower profile. Therefore, vehicles that have a higher ground clearance will be more suited for taller folks. Generally, most crossovers and SUVs will have ample ground clearance to for a comfortable entry. Also, most mid-size sedans and certainly all full-size sedans will also provide a comfortable egress. Pay attention to vehicles that have thick, bulky door sills. Those can make for clumsy entries into your vehicle. The best general rule of thumb is pay attention to how comfortable any vehicle is for entering and exiting.
Top down/Top up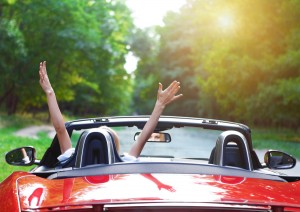 Who doesn't love a convertible? The wind in your hair, the open road. It's what driving is all about. With the top down, convertibles are great for tall people. However, be sure to see how much headroom actually exists in a convertible when that top goes up, which it will for a lot of the time. You don't want to have to sit with your head tilted just to be able to drive. Be sure that you fully test all convertibles with the top up and down to test for your size.
A tool to start your search
For taller consumers, there's no clear-cut answer as to which vehicle is best suited for your frame. Do your homework and start your search online! At iSeeCars, we offer research tools to help you begin your search for just the right vehicle. Our search tool recommends minimum headroom and legroom based on your height, and shows you the vehicles available in your area that meet those recommendations. Our calculations are based on data from the CDC and Leiden University Medical Center, and also take the Society of Automotive Engineers' best practices into account. When you've found a car you're interested in, contact the dealer and move your search to the car lot. You can't know how well a vehicle will work for you unless you're sitting in the seat, behind the steering wheel, in the back seat, and seeing how it feels getting in and out of the vehicle!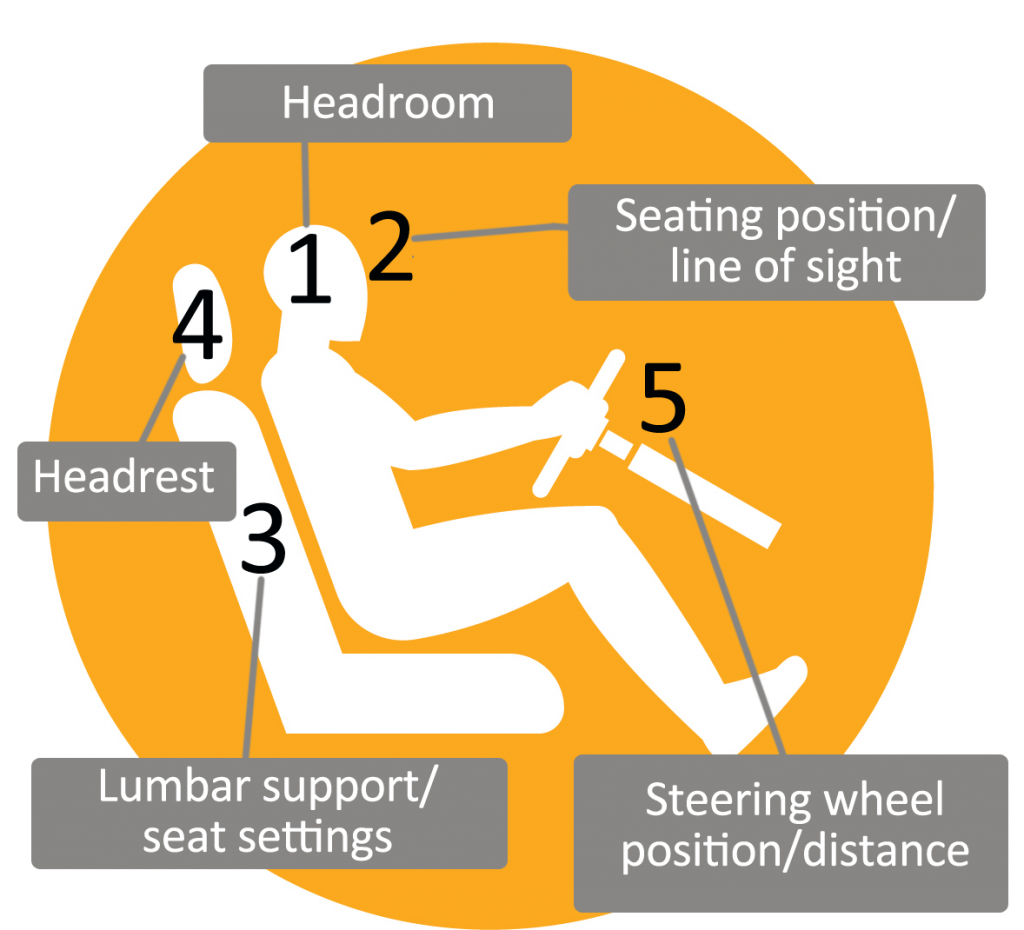 #1 Headroom tip: Roughly estimate half your height in inches to determine optimal headroom. So if you're six feet tall (72 inches then you're minimal comfortable headroom would be a vehicle with at least 36 inches).
#2 Seating position/line of sight: Proper seat position should give a driver (regardless of height) vision of the ground within 12-15 feet to the front and one and a half car lengths to each side of the car. For taller people, finding a seat that adjusts up and down with ease is important to achieving this ideal driving position.
#3 Lumbar support/seat settings: 10 preset driver seat positions is considered a good number of settings. These can range from upper, middle, and lower back support. Adding lumbar support means extra cushion is forced at various levels near the lower part of your back. For those with sciatica or lower back issues, the more lumbar support the better.
#4 Head rest: Some vehicles have an adjustable head/neckrest. The optimal position is to set the middle of the headrest slightly above the middle of where your ears are on your head. Some headrests tilt forward, and if that's the case, taller people may need to tilt them to allow for no more than three inches to the back of your head while seated.
#5 Steering wheel position/distance: According to AAA, anything less than 10 inches from the steering wheel increases the risk of arm, neck or facial injury in a crash. Determine a proper position by extending your arm in front of you and adjusting the seat forward or back until the top of the steering wheel is in line with the palm of your hand.