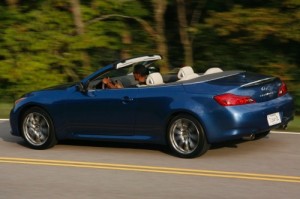 When feeling the wind in your hair takes a decidedly different turn and you long for a hardtop above your head, but still want the roadster ride, a hardtop convertible could be in the offing. There are many good choices in the used hardtop convertible market, but we've selected those that rise head and shoulders above the rest.
Here, then, are our top picks for the best used hardtop convertibles.
2012-2013 Infiniti G37 Convertible – If you need to carry four people and still want a convertible, check out the 2012-2013 Infiniti G37, available in G37, G37 Sport and IPL (Infiniti Performance Line). The three-piece roof is slim enough to stow in the trunk, an added advantage over some hardtop convertibles. Power in the G37 and G37 Sport comes from a 330-horsepower 3.7-liter V6 engine. A seven-speed automatic is standard with G37 while a six-speed manual is the only transmission available on the G37 Sport. Pricing for G37, G37 Sport ranges from $28,900 to $39,900.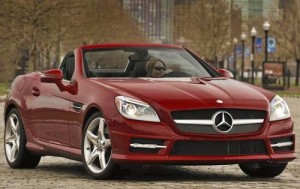 2012 Mercedes-Benz SLK-Class – Redesigned for 2012, the Mercedes-Benz SLK-Class retractable hardtop roadster features luxury and power in equal proportions. An available special glass panel in the roof can be dimmed to block out the sun's rays. Power comes from a new turbocharged 201-horsepower 2.8-liter four-cylinder base engine mated to either a six-speed manual or seven-speed automatic or a 302-horsepower 3.5-liter V5 engine with standard seven-speed automatic transmission. Pricing ranges from $34,900 to around $49,500.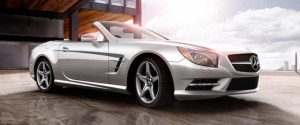 2011-2012 Mercedes-Benz SL-Class – With all the trademark luxury you'd expect from any Mercedes-Benz, the 2012 SL-Class convertible also features great innovations. Consider the Air Scarf, which keeps passengers warm on chilly days. There's also a glass panel that's similar to the one offered on the Mercedes-Benz SLK-Class convertible that keeps the car's interior bright even with the roof closed. The SL-Class is powered by a 302-horsepower 5.5-liter V8 mated to a seven-speed automatic transmission. Pricing ranges from $51,995 to $74,963.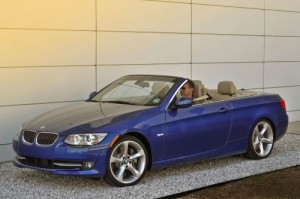 2011-2012 BMW 3-Series Convertible – Excellent steering and suspension, respectable power, and the convenience of a retractable hardtop mark the 2011-2012 BMW 3-Series convertible. Base engine in the 328i convertible is a 230-horsepower 3.0-liter V6, paired with a six-speed manual or optional six-speed automatic transmission. The 335is puts out 325 horsepower in a twin-turbocharged inline-six. A six-speed manual is standard, while a seven-speed automated dual-clutch manual is optional. Pricing ranges from $29,995 to $42,999.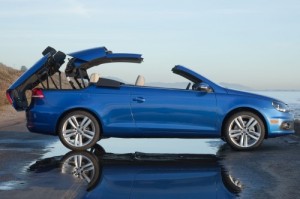 2012 Volkswagen Eos – Fun and more deserving of attention than it likely gets, the 2012 Volkswagen Eos is a two-seater convertible featuring an innovative retractable hardtop with integrated sunroof, strong and efficient 200-horsepower 2.0-liter turbocharged four-cylinder engine mated with a six-speed dual-clutch automated manual transmission. Look for pricing ranging from $18,999 to $26,999.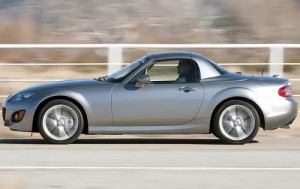 2011-2013 Mazda MX-5 Miata – Long-known for its drop-top fun at an affordable price, the 2011-2013 Mazda MX-5 Miata proves that a hardtop convertible doesn't have to cost an arm and a leg to be just right. Touring and Grand Touring models are available with optional power retractable hardtop (PRHT). The engine is a 167-horsepower 2.0-liter four-cylinder mated with a six-speed manual or optional six-speed automatic with paddle shifters. As for price, check out used MX-5 Miata models ranging from $20,500 to $27,850.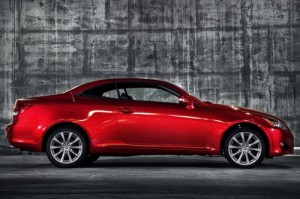 2012 Lexus IS C – High-quality materials and interior comfort and refinement are hallmarks of the 2012 Lexus IS C convertibles. Available in IS 250 C and 350 C, the Lexus IS C also features a golf-friendly trunk. Engines include the 204-horsepower 2.5-liter V6 in the IS 250 C and the 306-horsepower 3.5-liter V6 in the IS 350 C. The former is available with six-speed manual or optional six-speed automatic transmissions, while the latter only comes with a six-speed automatic. Pricing for IS 250 C ranges from $37,995 to $40,499. Pricing for IS 350 C ranges from $35,482 to $43,500.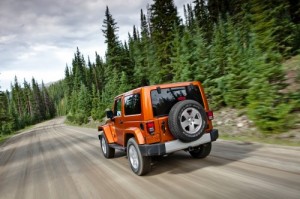 2011-2012 Jeep Wrangler – Its go-anywhere, rough and tumble image are well-deserved, but the 2011-2012 Jeep Wrangler, with available hardtop, is also a unique convertible. Granted, you'll need somewhere to store the hardtop when you want to drive sans roof, but this is an off-road vehicle – available in two-door Wrangler or four-door Unlimited. For 2012, there's a new 285-horsepower 3.6-liter V6 engine matched with a six-speed manual transmission or optional five-speed automatic. Prices range from $18,000 to $28,000 for Wrangler and from $22,900 to $31,000 for the four-door Wrangler Unlimited.