When you first look at an SUV, quiet is one of the last words that come to mind. You think big; you think roomy; you think powerful; you think family. Quiet usually doesn't get a second thought. That doesn't mean that SUV drivers don't appreciate a nice, quiet ride as much as anybody else; they just have other important needs on their minds at the time of purchase – cargo space, powertrain, safety, price. That's a full plate. Well, don't worry SUV shoppers, we've got your backs. We've researched information from automotive professionals at Car and Driver, Consumer Reports, Edmunds, and Motor Trend to bring you the top 3 quietest SUVs.
2011 Lexus RX350 New Model MSRP: $38,375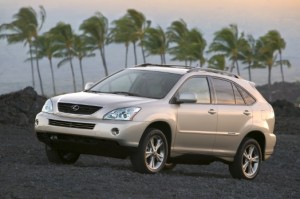 The RX350 has been described by drivers as being a silenced bubble of crossover SUV luxury. It provides a smooth ride, a wood-trimmed interior, 80 cubic feet of maximum storage space, and one of the best audio systems on the market with the optional Mark Levinson stereo. Rear passengers will feel just as luxurious with a bevy of reclining and sliding adjustments available on their seats, and a host of rear-seat entertainment available. The 3.5L V6 is your only engine choice, but you are offered the choice of front-wheel or all-wheel drive. Equipped with the towing package, the RX350 can handle a load of up to 3,500 pounds. It also maintains a decent fuel economy of 18/24 mpg (city/highway) with all-wheel drive power (18/25 mpg for the front-wheel model).
2011 Hyundai Veracruz New Model MSRP: $28,145

The Veracruz provides a smooth, comfortable ride to go along with its near-silence. The interior is fashionably designed and praised as being one of the finest in any class of SUV. There is ample room in both first and second rows, but the third row seat can be rather cramped for larger passengers. Both rear seats fold down to increase cargo capacity to 87 cubic feet, average for this class. It comes packed with standard features, and the available package upgrades are both innovative and well priced. Its 3.8L V6 is more than capable of any task, coupled with a six-speed automatic transmission it has a maximum towing capacity of 3,500 pounds. The 5-year/60,000-mile warranty is one of the best manufacturer's warranties available.
2011 Buick Enclave New Model MSRP: $35,615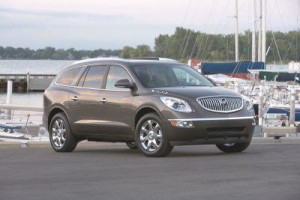 "The three-row 2011 Buick Enclave crossover SUV is an excellent choice for families who want minivan functionality along with classy styling and a luxurious interior." (www.edmunds.com) Buick has insulated that luxurious interior to near perfection. Wind noise, engine noise, and tire noise is silenced perfectly in the Enclave, even at speeds of 60-70 mph. That's fairly impressive given this SUV's size. It features a maximum cargo capacity of 116 cubic feet, and the interior is emblazoned with chrome surrounding wood-grain inlays. The third-row seat isn't small, but it isn't huge either. The tilt-and-slide function of the second-row seat does make the rear seat easier to climb into. The Enclave also earned an overall five-stars for its performance in the government's stricter 2011 crash-test standards, making it one of the safest SUVs available.