In the typical four-person family, if two of those are children requiring car seats, and the intent is a new car purchase or lease, the question becomes what are the best cars for 2 car seats?
The good news is that many of the new models today are capable of accommodating dual car seats. It is more a matter of which vehicle best fits personal needs, is in the budget and, for new parents, especially, has the Lower Anchors and Top Tethers for Children (LATCH) systems that are easy to use.
Here are five new models that may fit the bill. They represent choices from affordable to luxury and include compact and midsize cars, crossovers and SUVs.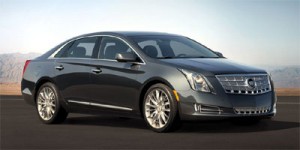 2013 Cadillac XTS – An all-new model, the 2013 Cadillac XTS is a large five-passenger luxury sedan featuring a luxurious interior, spacious back seat, a large trunk, and numerous standard and optional safety equipment. Forward-facing child car seats should be secure in the rear of the XTS. Mother Proof says there are two sets of LATCH anchors in the outboard seats and one set in the middle, noting "the extra anchor allows parents to install child safety seats in a variety of positions using Latch anchors," and "rear-facing child seats fit easily." Anchors are tough to reach and top tethers a bit difficult to use due to the angle of the rear window. Pricing for the 2013 Cadillac XTS begins at $44.075.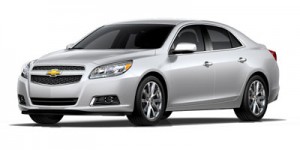 2013 Chevrolet Malibu – The redesigned 2013 Chevrolet Malibu is a five-passenger midsize family sedan that offers a spacious cabin with high-quality materials, athletic handling and precise steering, cargo space better than most competitors, and has one of the highest reliability ratings in the class. USA Today calls Malibu "the best modern Chevy." Five lower LATCH anchors across the rear seat permit LATCH installation of car seats in any position, although not side-by-side. The lower LATCH anchors, however, are positioned close to the adjacent seat cushions, which might make attaching and detaching the LATCH connectors a bit tough. The rear parcel shelf has three top tether anchors. Both rear- and forward-facing child car seats should be secure in the rear passenger positions. The 2013 Chevy Malibu ranges in starting price from $21,995 to $29,700.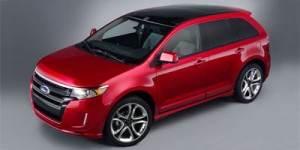 2013 Ford Edge – An affordable midsize SUV, the 2013 Ford Edge, priced from $27,555, provides a smooth ride, great fuel economy and comes in an attractive exterior design. Edmunds says: "Thanks to its well-rounded nature, the 2013 Ford Edge is one of the top choices for a midsize crossover SUV." The five-passenger Edge has high-quality materials in the cabin and well-laid-out controls, although the MyFord Touch system is still a bit complicated. For parents, rear-facing car seats can be secured in any rear seat using the LATCH system anchors; although some reviewers say those can be hard to access. Front-facing car seats should be secure in all rear seat positions. There are three top tether anchors in the rear seatback.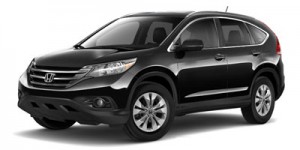 2013 Honda CR-V – As an affordable compact crossover, the 2013 Honda CR-V presents small families with a spacious interior, agile handling, good fuel economy, impressive safety and reliability ratings and numerous impressive standard tech features. Front- and rear-facing child seats can be secured with seatbelts and five easy-access LATCH anchors permit LATCH installation in any rear seating position, although not all three positions at once. The CR-V has two outboard top tether anchors on the seatbacks, while the center top tether anchor is located on the ceiling. According to Consumer Guide, the CR-V "continues to excel for its 'just-right' blend of comfort, refinement, passenger room, and cargo versatility." The 2013 CR-V is priced from $22,795.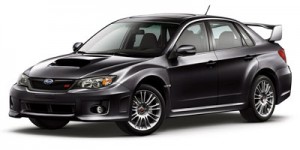 2013 Subaru Impreza – With its standard all-wheel drive, the 2013 Subaru Impreza, redesigned in 2012, is a compact car that delivers a controlled ride, responsive and secure handling, good acceleration and impressive fuel economy. The rear seat is considered spacious for the class and LATCH anchors in both outboard seats are easy to access. The Impreza sedan also features three top-tether anchors in the rear seat. The 2013 Impreza is also very affordable, with starting prices ranging from $17,895 to $37,645. Kelley Blue Book calls the Impreza "a good choice for those seeking practicality, reliability, good fuel economy and the all-weather traction benefits of all-wheel drive."