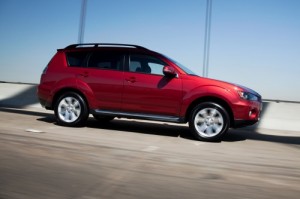 If all things are relative, when it comes to buying a used SUV with third-row seats, price is often the deciding factor. In many cases, what you can afford and what you like are thousands of dollars apart.
Getting to the basics of buying the best you can get for as little as possible, we've put together the following list of what we consider the 10 best cheap used SUVs with third row seats. Note that the cheapest ones may offer limited space in the third row and some are more upscale than others, but all have compelling qualities, including numerous standard and available features.
2013 Mitsubishi Outlander SE – The mid-level SE trim of the 2013 Mitsubishi Outlander is equipped with three rows of seating as standard, while the base trim is not. Appealing features include a fun-to-drive nature, style and value, while that third row is cramped for some passengers. The Outlander SE price is also attractive, ranging from $17,491 to around $19,990. Note that the Outlander is completely redesigned for 2014, although the third-row seat is still a bit tight.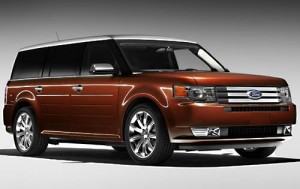 2009 Ford Flex – Introduced for the 2009 model year, the Ford Flex seven-passenger crossover SUV offers consumers three rows of adult seating at an affordable price. High-quality interior, unique styling, available all-wheel drive and options such as Sync multimedia interface are other reasons to look at the 2009 Ford Flex (that some call a tall wagon). Available in base SE, SEL and Limited trims, check out 2009 Ford Flex prices ranging from $10,997 to $19,991.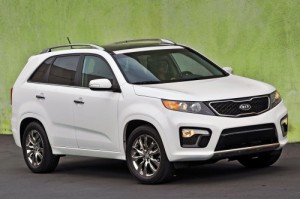 2013 Kia Sorento – In LX trim with a V6 engine and SX, the 2013 Kia Sorento provides third row seating as standard, accommodating seven (although the third row is best suited to kids). Prices range from around $24,347 to $29,355 for this midsize crossover SUV that's a good consideration for a three-row family vehicle.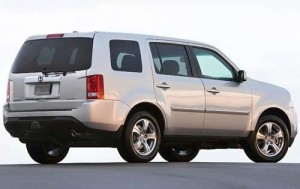 2012 Honda Pilot – Although the second-generation midsize Honda Pilot debuted for the 2009 model year, most auto reviewers recommend looking at the 2012 Pilot and later. Highlights include roomy third-row seat, lots of neat interior storage spaces, impressive fuel economy and pleasing ride. For the cheapest 2012 Honda Pilot, go for the LX and EX trims, with prices ranging from $21,878 to around $24,993.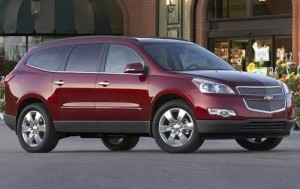 2011-2012 Chevrolet Traverse – The least expensive of the trio of GM's large crossover SUVs (others being the Buick Enclave and the GMC Acadia), the 2011-2012 Chevrolet Traverse offers roomy, versatile three-row seating for eight adult passengers and a host of other standard and available features. A massive cargo area and impressive safety scores are other pluses. For bargain hunters, go for the LS or LT trims, with prices ranging from $14,894 to around $20,810.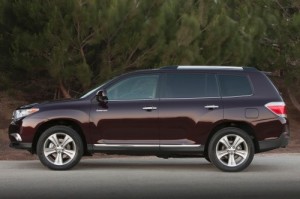 2011-2013 Toyota Highlander – Although it's not as stylish as the totally redesigned 2014 model, the 2011-2013 Toyota Highlander three-row, seven-passenger crossover SUV does provide roomy interior, a user-friendly cabin and easy maneuverability. Opt for the Highlander base model with prices ranging from $19,984 to around $26,129.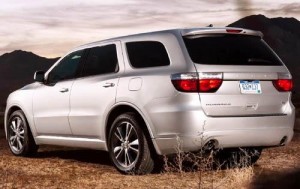 2011-2012 Dodge Durango – A large seven-passenger crossover SUV, the 2011-2012 Dodge Durango offers families and those needing true three-row transportation an attractive, versatile and affordable package. The 2011 redesign brought a more spacious and upscale interior, improved ride and handling, and generous towing capacity. Look for pricing ranging from $16,995 to upwards of $31,995.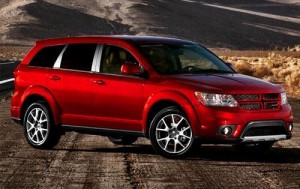 2011-2012 Dodge Journey – Straddling the compact and midsize crossover SUV segment, the 2011-2012 Dodge Journey offers a third-row seat that, while small, is adequate enough for children and ups seating capacity to seven. The vehicle is affordable and offers many standard and available features, including built-in booster seats. The Journey, originally introduced in 2009, was significantly overhauled for the 2011 model year, so from 2011 onward is where the value-conscious consumer should look. Prices range from $13,988 to around $22,799.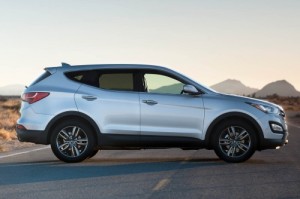 2013 Hyundai Santa Fe – The redesigned 2013 Hyundai Santa Fe is a seven-passenger long-wheelbase midsize crossover SUV. For the cheapest three-row Santa Fe, go for the GLS trim, with prices ranging from $23,922 to around $26,910. Note that there's also the Santa Fe Sport, but that's a five-passenger crossover.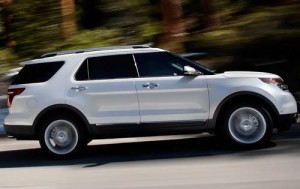 2011 Ford Explorer – No discussion of three-row SUVs would be complete without mentioning the Ford Explorer midsize crossover SUV that seats seven. The Explorer was completely redesigned for the 2011 model year. Highlights include improved on-road dynamics, a larger and more upscale cabin, better fuel efficiency and numerous available high-tech features. For the cost-conscious buyer, look for the base or XLT Explorer with prices ranging from about $18,700 to around $25,599.