Overview (Final Score: C+)

When Hyundai unveiled the current Tucson a few years ago, it was considered one of the best compact crossovers. A handsome design, spacious interior for passengers, and the brand's hallmark of offering a large number of features for a surprising price.

But the compact crossover marketplace has become more crowded as more brands either enter or redesign their contenders. Hyundai hasn't really made any significant changes to the Tucson since its launch. Can it still compete with the new contenders?


What We Love About the 2018 Hyundai Tucson:



Styling that stands out


Balanced ride and handling characteristics


Comes well equipped for the price


What We Don't Love About the 2018 Hyundai Tucson:



Sluggish acceleration


So-so fuel economy


Smallish cargo area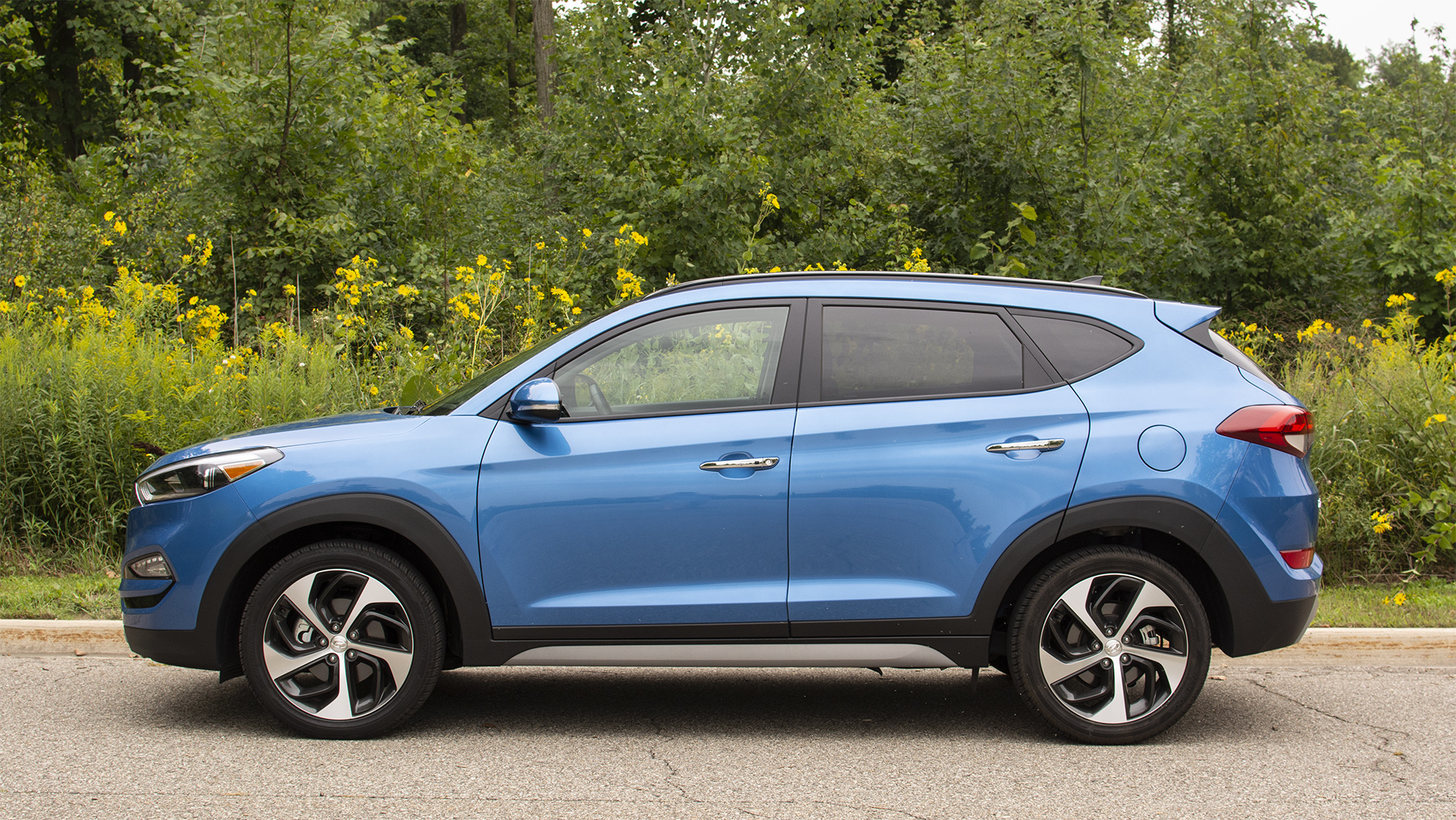 Exterior View (8/10)

On one hand, you could describe the Hyundai Tucson as playing it safe. It doesn't feature the extroverted design seen on the Kia Sportage and Mazda CX-5. But the Tucson isn't as plain looking as the Volkswagen Tiguan or Nissan Rogue.

Hyundai's designers were able to strike a balance of a premium and subdued. The sheet metal used features prominent creases and sculpting. For the front, Hyundai installs a prominent hexagonal grille with chrome accenting and a set of sharply raked headlights. A vibrant Caribbean blue and 19-inch alloy wheels help the Tucson stand out.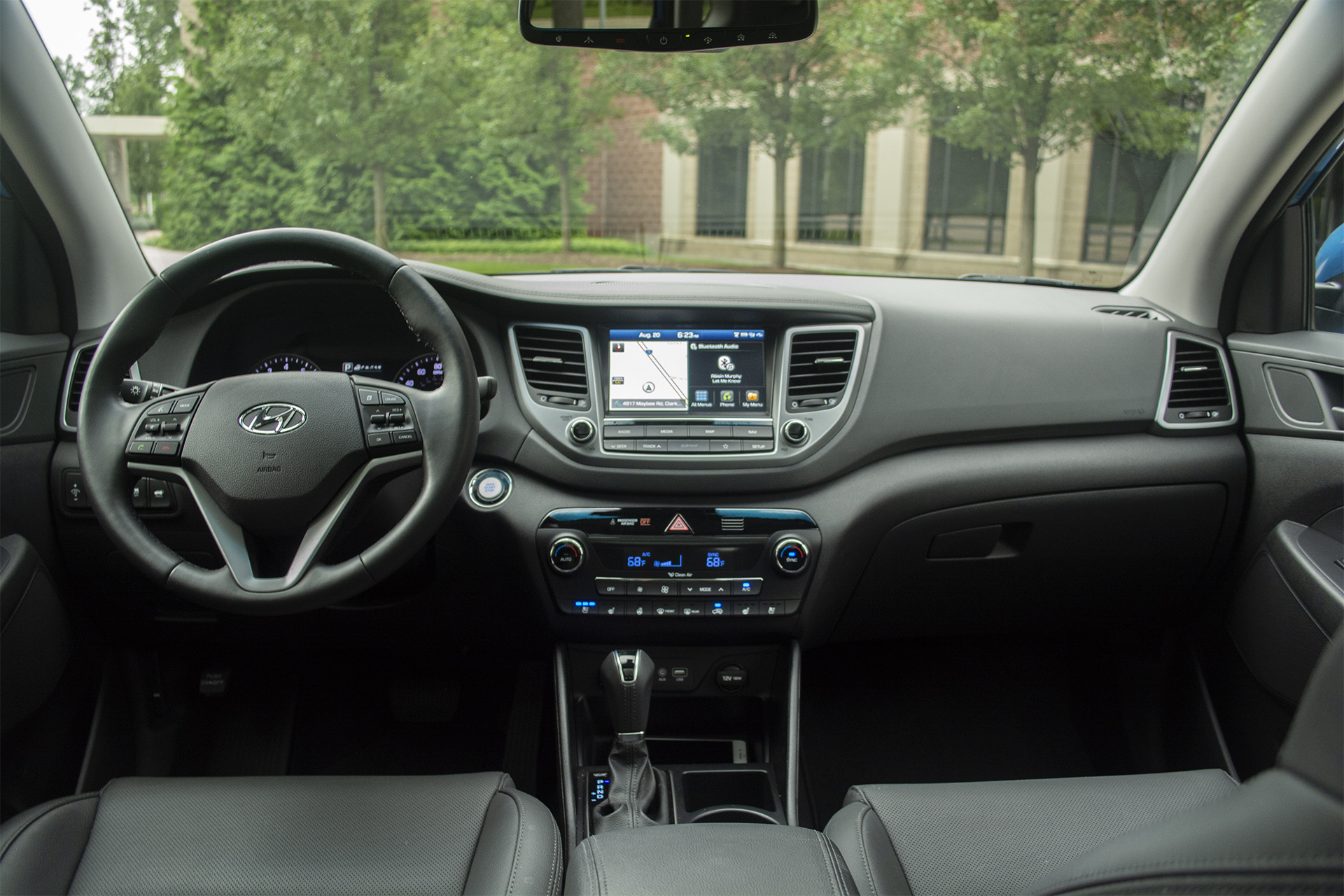 Interior Comfort, Quality and Ease of Use (8/10)

The Tucson's interior follows the same ideals as its exterior, offering something subdued and luxurious. This is due in part to a fair amount of soft-touch material and excellent build quality. The mostly black color palate on our tester makes the interior feel slightly smaller than it actually is. Going for either the light gray or beige interior helps make it feel somewhat airier. No complaints about the controls, as they are simple to operate and are in easy reach for driver and passenger.

Those sitting in the front will feel quite comfortable, as the seats provide the right amount of cushioning for long drives. Our Limited tester came with power adjustments for the front, making it easy to find a comfortable position. The Tucson boasts one of the largest back seats in the class, offering plenty of headroom and legroom, even for tall folks.

But there comes a major downside to offering all this space for passengers: cargo space. Open the rear hatch and you're greeted with 31 cubic feet, tying with the Kia Sportage and Mazda CX-5. But trailing the Honda CR-V, which offers a massive 39.2 cubic feet. Fold the rear seats and the Tucson offers up 61.9 cubic feet, slightly more than the CX-5 (59.6 cubic feet), while significantly less than 75.8 cubic feet than what you'll find in the CR-V.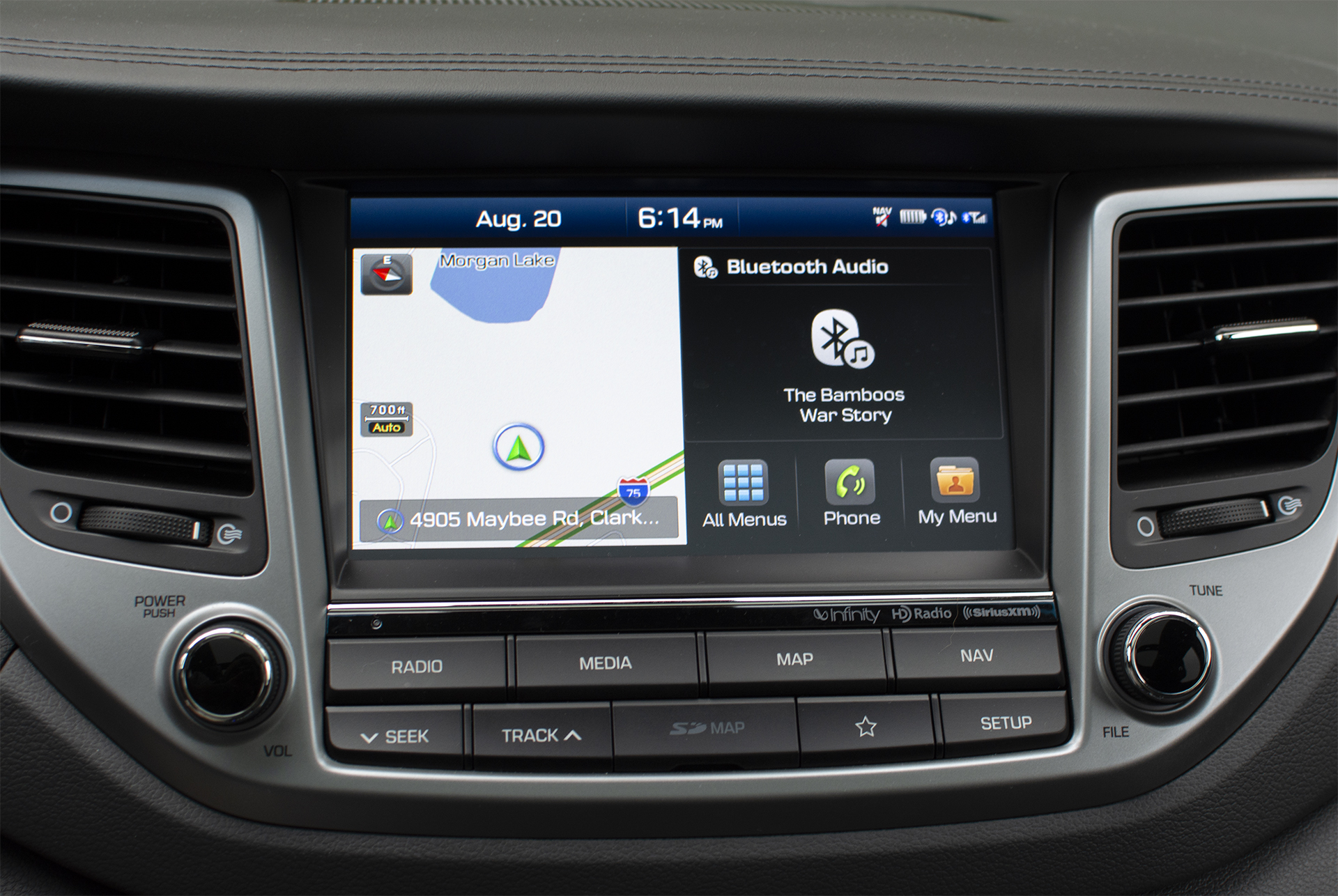 Technology (9/10)

Three infotainment systems are on offer for the Tucson, ranging from 5- to 8-inches. Our Limited tester came with the 8-inch system that features navigation.

Hyundai's current infotainment system has been around for a few years and the interface is beginning to look somewhat dated. But the system is dead easy to use thanks to large touch points, an intuitive layout and a set of physical buttons sitting underneath the screen. Apple CarPlay and Android Auto are standard on the larger screens and provide owners with another way to interact with the infotainment system.

One disappointment is the Tucson only having one USB port, meaning you'll be fighting with passengers to charge your phone or other USB devices on the move.


Fuel Economy (7/10)

Our Tucson Limited tester came equipped with the turbocharged 1.6L four-cylinder and all-wheel drive and has EPA ratings of 24 City/28 Highway/25 Combined.

We saw an average of 25.9 mpg with mostly city driving. Front-wheel drive variants return 26/32/28. The base 2.0L four-cylinder returns 23/30/26 for FWD and 21/26/23 for AWD. The 2.4L four-cylinder has ratings of 21/28/24 for FWD and 21/25/22 for AWD.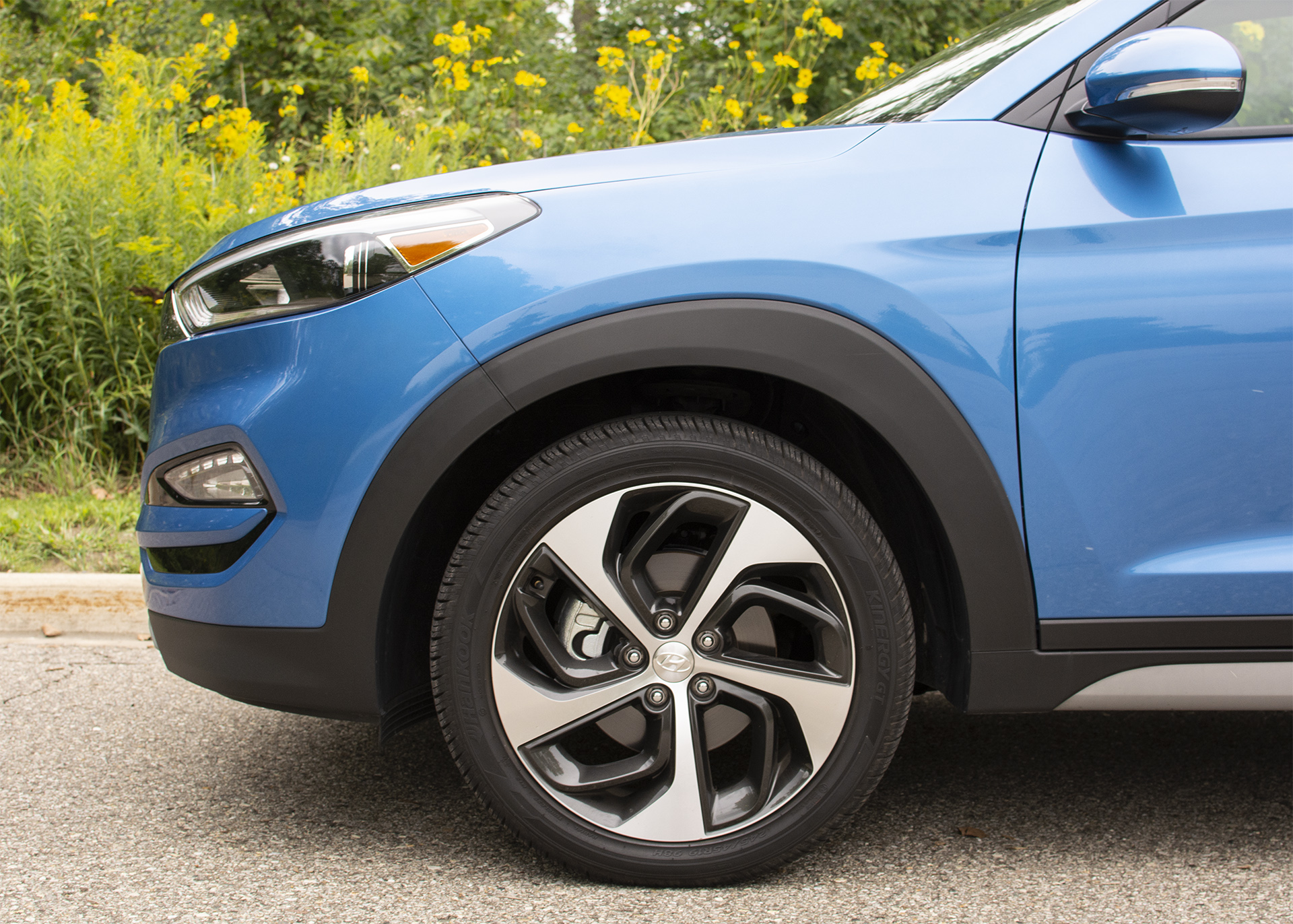 Predicted Reliability, Initial Quality Ratings (7/10)

Consumer Reports gave the 2018 Tucson a below average rating in the reliability ratings. J.D. Power gave the Tucson an above average rating. No initial quality rating has been given for the 2018 Tucson, but Hyundai as a brand finished quite high in J.D. Power's most recent initial quality rankings.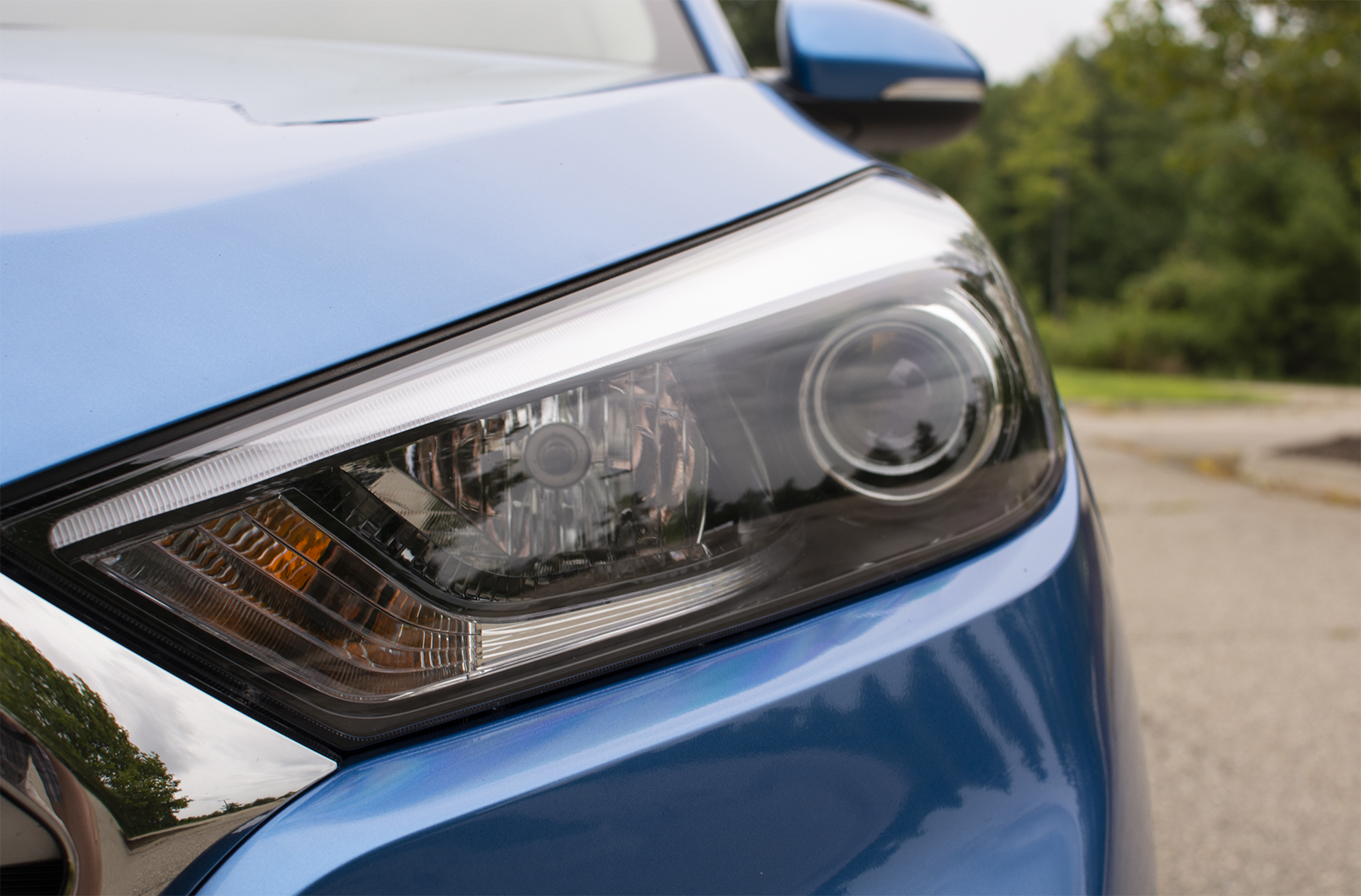 Safety (8/10)

All Hyundai Tucsons get a full set of airbags, traction control, stability control, backup camera and tire-pressure monitoring. A driver blind-spot mirror is standard for the SE and SEL. Blind-spot monitoring, rear cross-traffic alert and lane keep assist come standard on SEL Plus and above. The Limited can be equipped with automatic emergency braking and lane departure warning via the Ultimate package. Those wanting adaptive cruise control or automatic high beams are out of luck as they are not available on the Tucson.

The National Highway Traffic Safety Administration (NHTSA) awarded the Tucson a five-star overall rating. The Tucson also has a Top Safety Pick award from the Insurance Institute for Highway Safety (IIHS).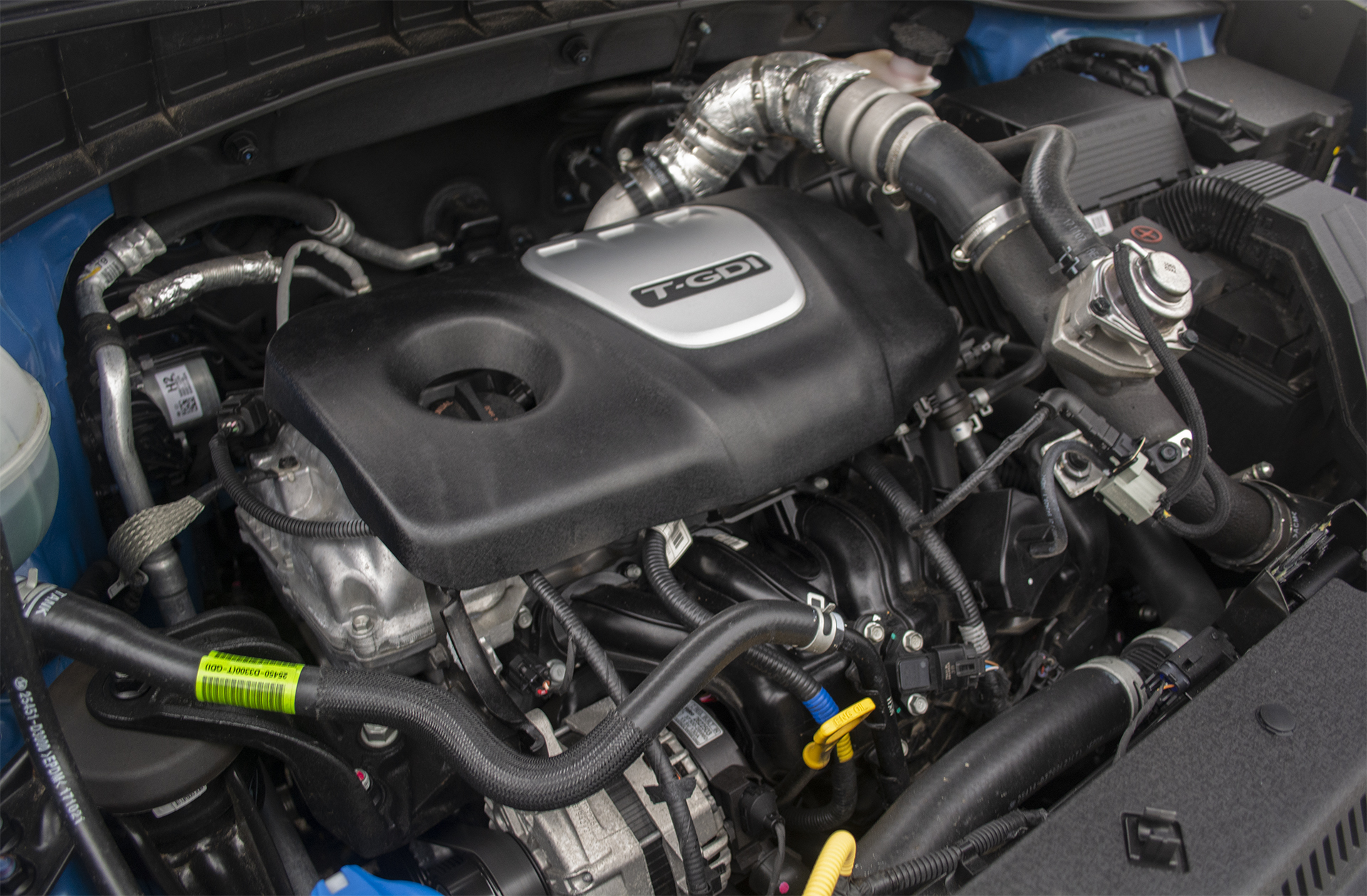 Performance (7/10)

Hyundai offers three engines for the 2018 Tucson. A 2.0L GDI four-cylinder providing 164 horsepower and 151 pound-feet of torque is found under the hoods of the SE, SEL and SEL Plus. Next is a 2.4L GDI four-cylinder with 181 horsepower and 175 pound-feet that resides under the Sport model. Finally, there is a turbocharged 1.6L four-cylinder offering 175 horsepower and 195 pound-feet of torque for the Value Edition and Limited. A six-speed automatic is standard for the 2.0 and 2.4, while the turbo 1.6 uses a seven-speed dual-clutch transmission. There is a choice of front or all-wheel drive.

Our Limited tester came paired with the turbo 1.6 and AWD. Performance is very disappointing at low speeds due to an apathetic throttle response and noticeable turbo lag. You can remedy this somewhat by pushing the throttle a bit further, but at the cost of fuel economy. The seven-speed dual-clutch is slightly slow when it comes to gear changes, but is noticeably smoother than previous Tucsons we've driven.

Balanced is the best way to describe the Tucson's ride and handling characteristics. Most bumps are ironed out to provide a smooth and refined ride. Handling is competent with body motions kept in check and the vehicle feels confident when changing direction. The steering provides decent weight, but we would have like just a little bit more feel.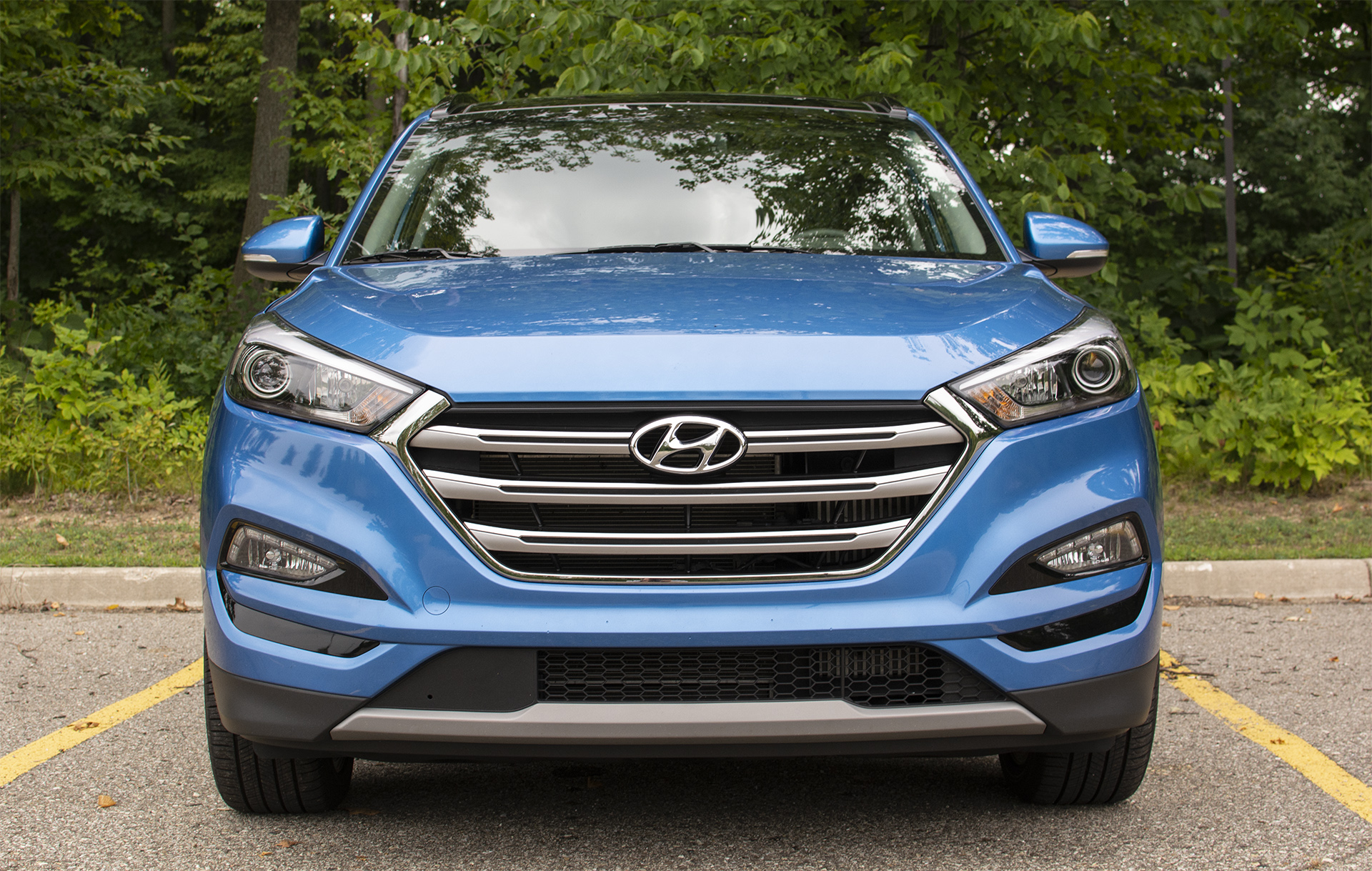 Pricing and Value (8/10)

The 2018 Hyundai Tucson lineup begins at $22,550 for the SE FWD and climbs to $30,825 for the Limited AWD. Our Tucson Limited AWD came to an as-tested price of $34,430 with a couple of options including the Ultimate package.

For most people, the Tucson Sport is the sweet spot in the lineup. It comes with the 2.4 four-cylinder which offers a good balance of power and fuel economy, along with an excellent amount of equipment such as blind-spot monitoring, dual-zone climate control system, an 8-inch infotainment system and 19-inch wheels.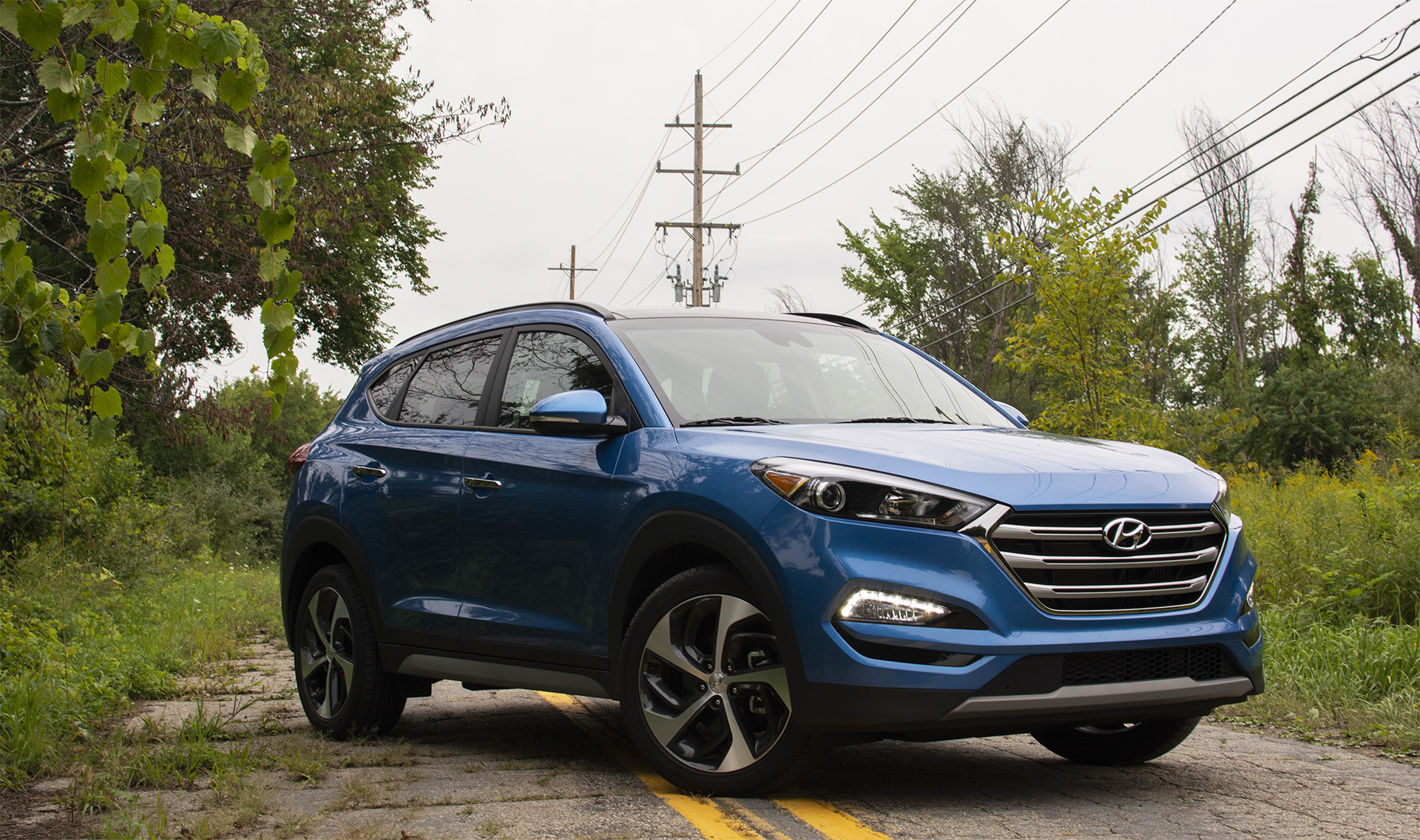 Total Score and Competitive Comparison (63/80, 79%)

For a similar amount of money as our test Tucson, you can get into the Volkswagen Tiguan SEL. The Tiguan may lack the design flair of the Tucson, but it has a massive interior for both passengers and cargo. A third-row is standard on FWD and optional on AWD models that make the Tiguan more practical on paper. But the rear seats are best used for small kids due to the limited amount of legroom, and it will eat into overall cargo space. SEL models come very well equipped with a number of active safety features such as adaptive cruise control and lane departure warning. The Tiguan can also match the Tucson in ride and handling, providing a similar balance of comfort and sport.

Mazda's CX-5 offers sharper styling, along with a more premium interior than the Tucson. It also runs rings around the Tucson by offering more active safety equipment, with all models offering automatic emergency braking, automatic high beams, adaptive cruise control, lane departure warning and lane keep assist. The CX-5 falters when it comes to performance. The 2.5L four-cylinder runs out of steam when trying to reach highway speeds.

The 2018 Hyundai Tucson is a very competent compact crossover offering a balanced ride, comfortable interior and a decent list of features. But the problem is the compact crossover class has seen a number of models come out that provide many of those traits, but go one step further. Whether that is in fuel economy, safety features or performance, the Tucson seems to trail somewhat.

For those who need a crossover that won't give them any hassle and prioritizes comfort over cargo space, then the Tucson is worth a look. Otherwise, consider the competition first.