Overview (Final Score: B-)

The Tundra has slowly gained its strong foothold in the American landscape of pickup trucks. Its sales figures are still below those of the traditional domestic makes, but brand loyalty and a strong reputation for dependability have kept the Tundra moving forward. So much so that Toyota has a difficult time building enough to meet sales demands.

The 2017 Toyota Tundra carries on with revisions made to the truck a couple of years ago and the slight updates from last year. The 2017 Tundra has 50 configuration options, ranging from cargo bed length and cab configuration to interior amenities. Trim levels that emphasize utility, off-road capability and luxurious comfort are offered in the Tundra.

The Tundra's shining points are its box-checking capability on every front, no-nonsense overall design, and the quiet way Toyota has built a core following for this truck in a very competitive US pickup truck market. All without offering anything beyond the Tundra's basic half-ton pickup capabilities.


What We Love About the 2017 Toyota Tundra:



Roomy interior with tons of package options and storage space


Reliability and value are high - perhaps the highest in the segment


Exterior design is robust and no-nonsense


What We Don't Love About the 2017 Toyota Tundra:



Fuel economy is poor in a segment replete with mpg-boosting tech


No V6 powertrain option limits the base-level sales volumes for this truck


Rivals are thicker with options, especially in engines, and versatility points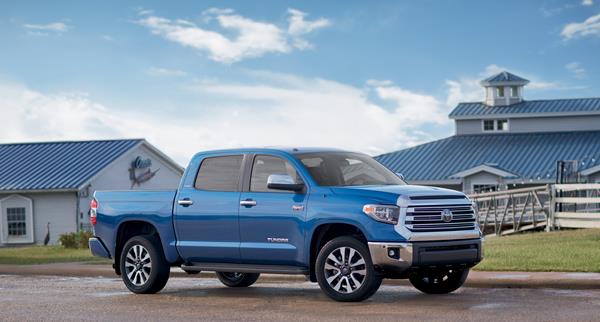 Exterior View (9/10)

Strong, ready-for-action looks and an imposing front grille are the hallmark of the pickup truck market in the United States. Buyers want a robust appearance and muscular design to emphasize the work-a-day readiness of their pickup, even if it never really sees more than an annual lumber store run and occasional fishing trip.

The 2017 Toyota Tundra has a wide, flat, heavy grille with a large, separated bumper up front. A square hood fronted by a thin, integrated scoop is heavily stylized to emphasize strong shoulders through the fenders and the promise of a muscular engine underneath.

The fender bulge created starts a line that runs along the bodywork to create the beltline under the greenhouse to eventually become the top line for the edge of the bed behind. This beltline divides the tumblehome above with the flat panel work below.

That bodywork is further emphasized with paneling, and a running board crease below and a fender crease ahead that matches a fender bulge edge at the rear wheels. Some of the Tundra's looks are segment-leading upgrades that may create new standards in the segment. The front three-piece bumper is standard equipment and mimics the aftermarket three-piece options often added to other makes. The Tundra introduced integrated tie-downs in the bed that have now become ubiquitous in the segment. But the plastic-lined bed option is a throwback that does not meet the expectation set by other makes with their spray-on bedliner options.


Interior Comfort, Quality, Ergonomics (9/10)

The 2017 Toyota Tundra is full of usable space and useful ergonomics. Emphasis is on daily use for both work and everyday driving. Some aspects may be dated, such as the outdated instrument cluster and less-modern interior amenities. Most of these aspects are not serious detractions, and everything in the Tundra is made to be as indestructible as possible.

The front seats are wide and well cushioned for good support and comfort. Whatever the driver or front passenger's size, they'll find a sweet spot with those seats and be happy with the available adjustments, even at the lower end of the 2017 Toyota Tundra's trim points. This is true whether front seating is buckets or the bench.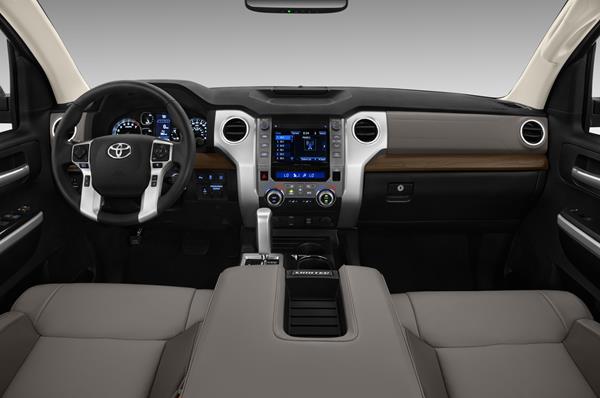 Rear seating is also ample in the larger cabin configurations. The CrewMax (four-door) rivals most sedans for spaciousness and seating three adults across - even big men with tools - is very realistic. Throughout the cabin sizes, headroom is excellent so that even a six-footer can likely keep a cowboy hat on sitting inside the 2017 Tundra.

We like the extra door swings for the Double Cab, with its smaller but usable back seat and easy fold-up seating for added floor space. The CrewMax crew cab is very large with intelligent underseat storage and folding options. Tie-downs for child safety seats are easy to access in both the Double and Crew options.

Cargo setups in the 2017 Toyota Tundra are very well done and more than on par with the segment's expectations for pickup trucks. Integrated tie-down rails offer both convenience and ease of use while bed sliders and box ties are also available. Dealer options can add even more, such as tonneau covers, adjustable load locks, rubber bed mats, etc. Extra outlets can be added in some packages to offer 120-volt plugs in the bed, as well as added cargo lighting options.


Technology (8/10)

Toyota has begun lagging behind with its Entune infotainment options, and that doesn't help the 2017 Tundra's scoring here. The basic Entune package includes Bluetooth connectivity and Siri Eyes Free voice recognition. Apps can be added from the SR5 package on up, mostly powered by a connected smartphone. Apps for audio streaming, connectivity and navigation are available in upper trims.

Toyota's Entune is far better than it has been in the past, but still relies on somewhat outdated interface settings to get by. The large, user-friendly buttons are nice, but have a somewhat square/pixelated appearance that looks out of date. Still, it is better than it was and we'd consider it mostly commensurate with the industry norms, even if the screens are a bit small for pickup truck market expectations today.

The base touchscreen is a 6.1-inch screen that appears in all Tundra models. This upgrades to a 7-inch screen (where rivals are usually over 8) with several package upgrade options available for additional apps, such as Slacker, iHeartRadio, MovieTickets, Pandora, Yelp and more. Real-time traffic/weather powered by either a smartphone or the truck's available internal connectivity is also available.

This is a lot of technology, but it's right about where most others in the full-size pickup arena are, so it's not necessarily outstanding.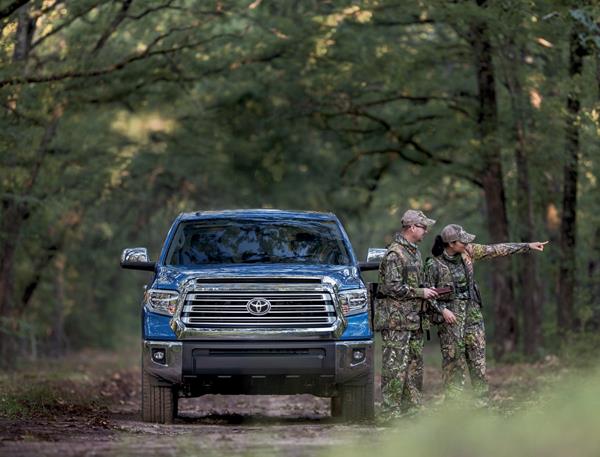 Fuel Economy (7/10)

As others in the full-size pickup truck market increase transmission gearing, lessen vehicle weights and move to sophisticated engine efficiency technologies, the 2017 Toyota Tundra remains how it has been for years.

The base engine in the 2017 Tundra sees an EPA rating of 16 mpg combined, with 15 mpg in the city and 19 mpg on the highway in rear-wheel drive models. Four-wheel drive changes those numbers slightly to 14 mpg in the city and 18 mpg on the highway, for a similar 16 mpg combined rating.

The upgraded engine drops EPA estimates to 15 mpg combined in either rear-wheel or four-wheel drive. City ratings are 13 mpg in both options, and the highway rating is 18 mpg for rear-wheel and 17 for four-wheel drive.

Most in the segment are getting better ratings than this with equivalent-output engines. These low numbers are generally left to performance and power-oriented models rather than the mainstream truck offerings.


Predicted Reliability, Initial Quality Ratings (9/10)

As it has been for some time, the J.D. Power and Associates Vehicle Dependability Study results for the Toyota Tundra rate it as "Better Than Most." This has been the case for most of the Tundra's lifespan as a pickup truck model. And it's also why the Tundra tends to hold high resale value (even compared to its peers) and the overall expectation for Toyota-branded vehicles on the whole.

We note that the 2017 JDP results are carrying on from the same result issued to the 2016 and 2015 model years. There have been two recalls for the 2017 Tundra, but neither has been a serious issue involving expected reliability.


Safety (8/10)

For three years running, crash test ratings for the Toyota Tundra have been largely the same. The 2017 model year Tundra received a four-star overall rating from the National Highway Traffic Safety Administration (NHTSA) with four stars each for frontal crash and rollover tests, and five stars for side crash tests.

Similarly, the Insurance Institute for Highway Safety (IIHS) gave the 2017 Tundra best-available "Good" ratings for all crash tests except the moderate overlap front test, which received a second-worst "Marginal" rating.

Advanced safety features are available in the upper-trim options for the 2017 Toyota Tundra (Platinum, 1794 Edition). Rear cross-traffic alert and blind spot monitoring are standard in all Tundra models.


Performance (8/10)

The base-level powertrain for the 2017 Toyota Tundra is a 4.6-liter V8 engine mated to a six-speed automatic transmission. Output is 310 horsepower and 327 pound-feet of torque. Both rear-wheel and four-wheel drive are available. Maximum towing is rated at 6,800 pounds, depending on body style and configuration.

The base engine offers respectable performance, but is well behind the curve compared to the V6 options offered in today's market. Especially when it comes to fuel economy compared to the fuel-sippers offered by others.

The most popular option for the Tundra is the upgraded engine, a 5.7-liter V8 that has been available for the Tundra for over a decade. A six-speed automatic transmission remains, as do RWD and 4WD options. The engine outputs 381 horses and 401 lb-ft of torque. A tow package comes standard and capacity is rated at up to 10,500 pounds.

The larger engine makes the 2017 Tundra into a workhorse with a great-sounding muscular pull. Peppy off-line performance and a growling presence are hallmarks of this engine. Especially in TRD-labeled trim packages with their added baffling for the intake. Trailering with this engine and the included options is a solid experience.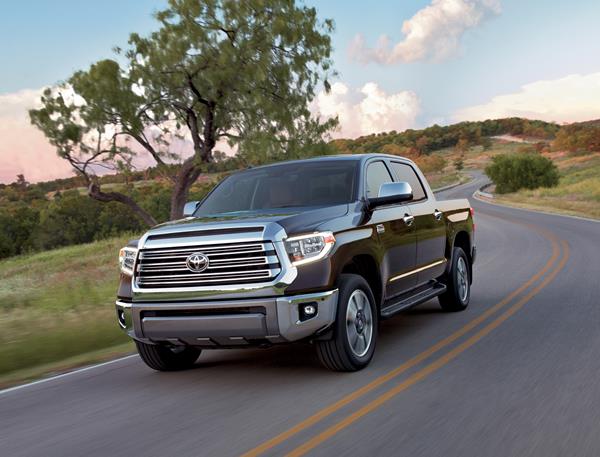 Pricing and Value (9/10)

The 2017 Tundra's primary value point is that it fulfills all the standard requirements for a full-size pickup. The half-ton Tundra does everything well, though it doesn't particularly standout at anything. Its very high resale value retention only makes the value metric better for the Tundra.

One thing to note is that Toyota does not target fleet sales for the Tundra, which is part of the reason its sales figures are generally lower. Comparisons with higher trims in competitive trucks show that the resale and value retention are still excellent points.

High reliability expectations and a good workhorse reputation make the Toyota Tundra a great option in the full-size pickup market. Fuel economy and related costs are its only serious downer.


Total Score and Competitive Comparison (67/80, 83%)

The 2017 Toyota Tundra can be summarized as an excellent all-around performer with nothing seriously detracting from its workhorse design when compared to others in the full-size half-ton pickup truck segment.

The Tundra does have solid competition from the other pickups available in the US. The Chevrolet Silverado offers excellent value and its GMC Sierra twin has a classy presence. The workhorse excellence of the Ram 1500 is hard to deny, especially with its diesel engine option. The best-selling Ford F-150 leads the segment for a reason and much of that is due to fuel economy and being a fleet favorite. The new Nissan Titan offers a heavy-duty half-ton option in the XD model that might appeal to some buyers looking for more bulk for their buck.

The 2017 Tundra may not be a glitzy leader in any one category, but it certainly does check all of the boxes a truck owner might have, and it offers class-leading reliability to boot. The overall 2017 Toyota Tundra package of value and reliability are hard to argue with.