Overview (Overall Grade after 8 Categories: B-)


Written by Jimmy Dinsmore

Adding value is always a win for the consumer. The Hyundai Elantra is already considered a value-oriented vehicle due to its small size and small price tag. So it's refreshing to learn that for 2016, Hyundai adds an amenity-packed Value Edition trim to the Elantra. With true value features like alloy wheels, sunroof and heated leather seats, they put their money where their mouth was.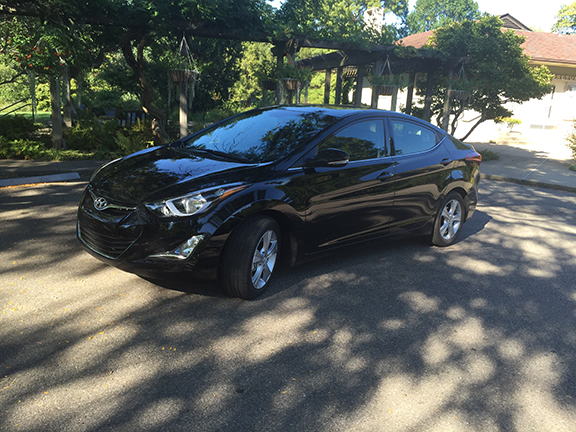 What We Loved about the 2016 Hyundai Elantra



Value Edition trim brings tremendous value


Large trunk


Elantra Sport has best powertrain


What We Didn't Love about the 2016 Hyundai Elantra



Sluggish base engine


Unresponsive steering


Looks are starting to be dated


Exterior View (7 out of 10)

The Elantra has had essentially the same look for five years now, so it's in need a major overhaul. The last redesign was so good that it keeps the Elantra on the cusp of modern looks still, but we do look forward the next generation Elantra and all new looks from it. In its current state, the Elantra has a conservative appearance. The small grille has a certain understated charm and suits the rest of the Elantra's basic design qualities. The profile is its best side. There are flowing lines down the side panels and below the door sills. This helps give it a timeless appearance and keeps the overall design relevant, despite being somewhat long in the tooth. The back end of the Elantra loses all design features and is quite bland.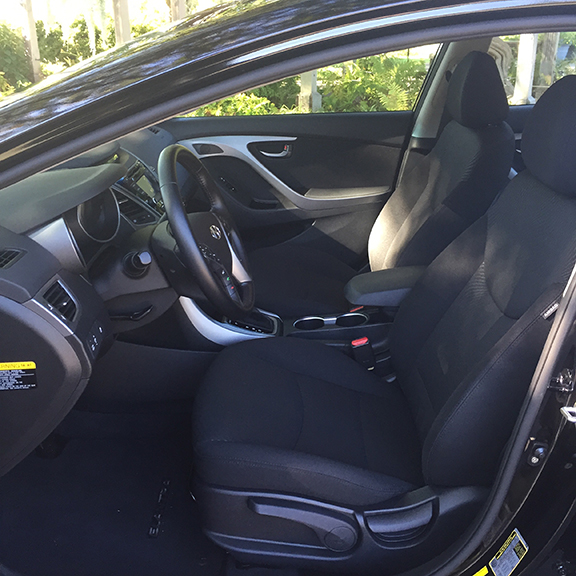 Interior Comfort, Quality and Overall Ease of Use (9 out of 10)

If the exterior is nearing its expiration date, the interior looks current and rivals other compact sedans in quality and design. For a $20,000 vehicle, there is significant value and quality to be found throughout. You have to look closely to find the harder plastic materials that are pervasive for other "value"-oriented vehicles. In the Elantra, they are few and far between. In fact, the dashboard is plush, as are the seats. A soft dashboard is a pleasant surprise within this segment. As mentioned, for the Value Edition trim, heated seats and a leather gear shift knob are standard, and again these are rare finds in a vehicle with this price tag. For a small sedan, there's ample rear legroom. Two adults will be comfortable in the backseat. However, taller passengers may find a lack of headroom in the rear seat, although it's a not problem in the front seats. The sloping design of the roofline inhibits headroom for the rear passengers. The Elantra has segment-leading cargo room with a 14.8-cubic foot trunk. A 60/40 rear split expands that area further.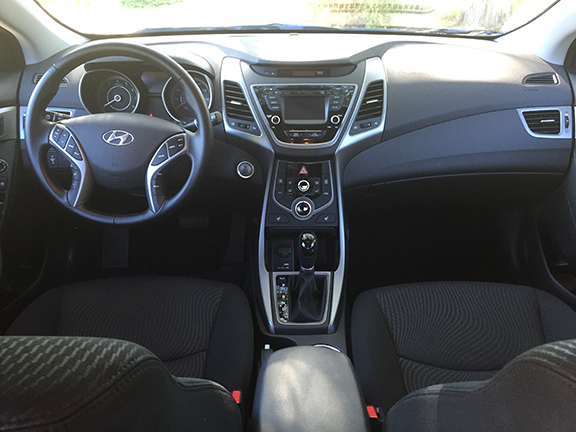 Technology (8 out of 10)

Despite the lack of upgrades, the Elantra's infotainment system remains current. Most importantly, it's easy to use. There's a 7-inch touchscreen that has an intuitive interface with apps that integrate with smart phones. Of all the infotainment systems, Hyundai's is one of the easiest to figure out. There's also the BlueLink system, which works similar to General Motors' OnStar system, but also has other neat features that include being able to set a maximum speed for first-time drivers and can also set a perimeter of how far you'll let the car be driven before it shuts off (known as geo-fencing). That means the technology is ideal for today's younger drivers, and gives parents a piece of mind with extra safety features integrated through technology. And the technology will also hold young drivers accountable when they say they're only running to this one place, the geo-fence can assure that happens.


Fuel Economy (9 out of 10)

The base 1.8-liter engine has an EPA rating of 28 mpg/city and 38 mpg/highway while the Sport engine has a rating of 24/34. There is a decent difference between the two engines, but then again, the Sport engine is so vastly better than the sluggish 1.8-liter, 4-cylinder base engine, we can forego fuel economy for the improved driving experience. In a week's worth of mostly city driving, we averaged 32 mpg in our tester.


Predicted Reliability and Initial Quality Ratings (6 out of 10)

With an older powertrain, that, as we noted, is in need of an upgrade, there are some reliability concerns with the Elantra. JD Power gives the Elantra an overall rating of three stars (out of five). The Elantra received one four-star rating for features and accessories quality which include windshield wipers, navigation, heating and air conditioning and electrical. All other aspects of the Elantra received a three-star rating from JD Power.


Safety (10 out of 10)

As mentioned, the BlueLink system offers parents extra peace of mind with several safety features that can be generated with this system. However, the Elantra has other standard safety features like anti-lock brakes, hill-start assist, traction control and a rear view parking camera. The NHTSA gave the Elantra their top five-star overall rating for safety and crash tests. The Elantra earned high marks as well from IIHS in their crash testing. Between both agencies, the Elantra did the best with side impact crashes, which netted the sedan the highest rating possible from both agencies.


Performance (6 out of 10)

There's a base 1.8-liter, 4-cylinder engine that makes 145 horsepower. This underpowered engine is in need of an upgrade. It's sluggish off the line and takes significant to get up to highway speeds. Upon quick acceleration the engine is noisy, although generally, road and engine noise is not overly invasive. An automatic six-speed transmission is standard, but there's an optional six-speed manual. The automatic transmission struggles with shifting at times and is more of a detriment to the weak-powered engine. The peppier Elantra Sport has significantly more power and would be the option for the consumer who likes to have driving excitement. While the Elantra is adequate as a daily driver, and ideal for first-time drivers, there's still little to be excited about. Even the steering feels non-responsive, and the overall driving performance leaves a lot to be desired.


Pricing and Value for Money (10 out of 10)

You can't add a trim called Value Edition and not get major props from us in pricing and value. We believe the Elantra has tremendous value for the consumer. There are four trim levels, with most starting under $20,000. The Value Edition has a starting MSRP of $20,650, but brings a lot more to the vehicle than other compact sedans do. Standard features for the Value Edition include 16-inch alloy wheels, heated mirrors, blind spot monitors and keyless entry. Hyundai has raised the bar with this trim, adding tremendous value to an already steady eddy sedan.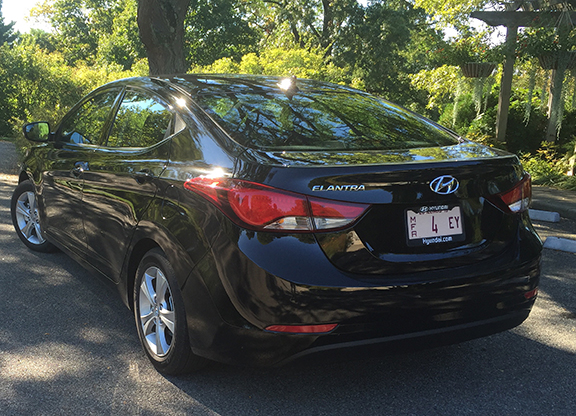 "The Final Numbers" and the Competition (65 points out of 80: 81%)

We are rating the Elantra now, for what it is, but are also excited about what a redesigned Elantra holds. Fixing some of the flaws, specifically in the powertrain and the stale looks could make the Elantra one of the best vehicles on the road with the caveat included of "for the price." And that's how we look and judge the Elantra. Compared to other similarly priced sedans, there are few vehicles that give the consumer more as a daily driver. We also highly recommend it as a first car for new drivers.