Overview (Final Score: A-)
The Toyota Tundra is a long-lived full-sized pickup truck which has slowly gained acceptance on the American market. Truck buyers are a unique lot whose brand loyalty and bent towards heavy accessorization of their trucks makes them a very different market from the automotive norm. Breaking those traditions and building acceptance has been a long haul for Toyota, but the 2016 Toyota Tundra proves that they've managed to do that.

New this year are small changes that include a modified front fascia on the SR5 lower trim level and the top-most 1794 Edition trim point. All Tundras equipped with the larger of the 8 cylinder engine options come with trailer brake controls as standard.

In all, the 2016 Toyota Tundra has fifty different configuration options that include available cargo bed lengths of up to 8.1 feet and towing ratings up to 10,500 pounds. Three cab configurations are available, starting with a two-door regular cab, a four-door extended cab, and a four-door crew cab (Regular, Double, and CrewMax respectively). Trim levels range from the base level SR to the highest-end Platinum and 1794 Edition. The TRD Pro offroad-centric package also continues into this model year.


What We Loved About the 2016 Toyota Tundra



Strong exterior styling and packaging.


Great, roomy interior with lots of storage.


Excellent expected reliability and value.


What We Didn't Love About the 2016 Toyota Tundra



Poor fuel economy for the segment.


Lack of V6 powertrain option and lackluster entry-level V8.


Rivals offer many more options and more versatility.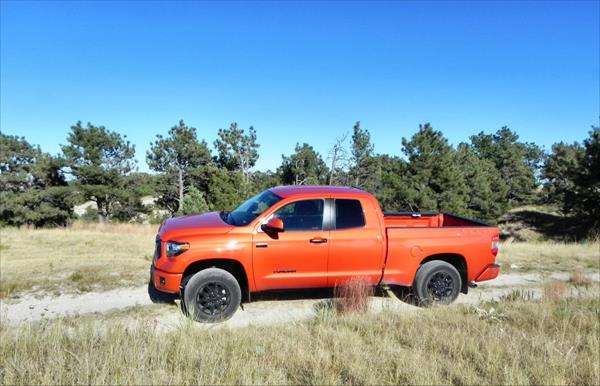 Exterior View (8/10 relative to market)
Pickup trucks rely on two things that are uniquely American: heavyset looks and a strong, imposing front end. The 2016 Toyota Tundra has both of those elements, with a strong body style emphasizing strength and power.

Those cues begin with the wide, flat, heavy grille and large, separated bumper up front. A heavily stylized square hood and small, integrated hood scoop at the front creates the muscular beginnings of the Tundra's bodywork. Strong, squared fenders with large wheel wells carry the heavy look of the hood down to the body, with the fender's bulge line running across to continue through as the beltline for the truck.

Below that, another line begins with the square fender bulge that starts just behind the headlight and side marker, running along the doors and then across the bed to create the top of the rear fender bulge. Contrasting this, the rounded greenhouse at the rear pillar and somewhat curved roofline add a sportier feel to the Tundra's look. At the rear, the tailgate is stamped and includes an integrated spoiler and heavy rear bumper below.

There are features of this unique styling that include some engineering that is segment leading. The standard three-piece bumpers, a common aftermarket addition for truck owners, are unusual. One complaint, however, is the lack of a spray-on bed liner option, with Toyota being the lone holdout in the full-sized truck market that continues with a plastic liner option instead.

In most trim levels, the 2016 Toyota Tundra is a good-looking truck with few frills. Some model options, such as the TRD Pro offroad edition and the 1794 Edition for luxury, add some flair to the exterior.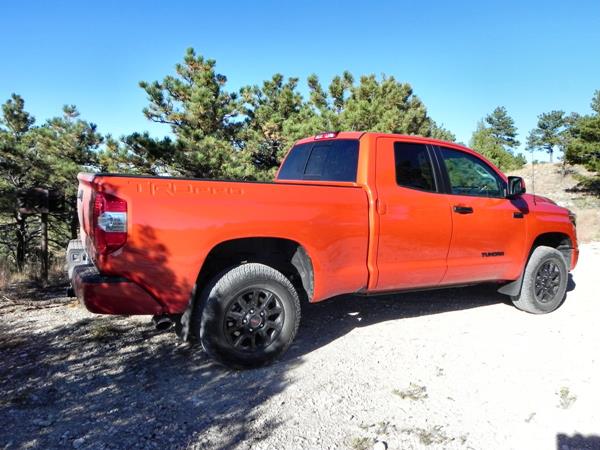 Interior Comfort, Quality, Ergonomics (9/10)
Compared to others on the market, the 2016 Tundra offers a lot of usable space in its interior along with excellent ergonomics for daily use. Some aspects of the Tundra's interior are a bit dated compared to rivals with more sophisticated instrument clusters and interior amenities, but nothing in the Tundra is cheap or complex in use.

Front seating is wide and well-cushioned with a stiff support structure that remains comfortable. Roominess is key in the Tundra's interior and a virtual requirement in this segment. Leg and shoulder room are excellent and headroom is spacious even for very tall drivers. Adjustments are basic and easy to operate, but allow plenty of movement for finding a good position, no matter a person's size.

In Double and CrewMax configurations, the 2016 Toyota Tundra offers more back seat space than many might expect and options for seating up to six. In the Double Cab, the rear seats are still large, with enough room for adults with underseat storage and plenty of legroom for all but the tallest of riders. The CrewMax takes this a step further with more backseat amenities, more legroom, etc. Parents will note that the back seats in either of these cab configurations now offer easier access for front-facing child safety seat tie-downs.

Cargo options for the 2016 Tundra are very good. Toyota offers smart integrated tie-down rails that are easy to operate and very convenient. Other dealer-installed options can include tonneau covers, adjustable load locks, rubber cargo mats, and so forth. Some packages for the Tundra include a 120-volt outlet at the rear, extra storage for smaller items such as straps and bungees, etc.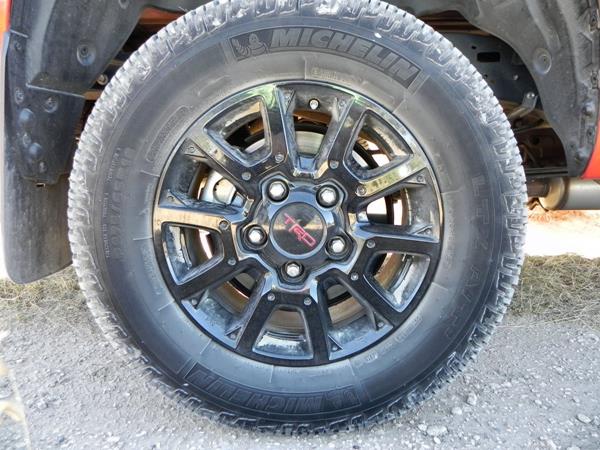 Technology (8/10)
For the new model year, Toyota has upgraded the technology packages in the 2016 Tundra to include the latest Entune Multimedia interface. Starting with the base SR package, this includes basic Bluetooth connectivity as well as Siri Eyes Free and voice recognition. The SR5 trim adds smartphone-enabled apps for navigation. Upper trims or additional packages add app suites for audio streaming, connectivity and more.

Toyota's Entune system has come a long way in just a couple of years. Where it was clunky and often difficult two or three years ago, it's now sophisticated and more user-friendly. The standard Entune interface in the 2016 Toyota Tundra is a 6.1-inch touchscreen, which upgrades to 7 inches in more premium packages. Apps include Slacker, iHeartRadio, MovieTickets.com, Pandora, Yelp, Facebook Places, and real-time traffic/weather.

This is a lot of technology for a pickup truck, but in today's market, it's become the expected norm.


Fuel Economy (7/10)
Fuel economy continues to be the Tundra's weakest point. In the base model V8 with rear-wheel drive, the EPA gives the 2016 Tundra a rating of 16 mpg combined, with 15 mpg in the city and 19 mpg on the highway. Adding four-wheel drive keeps the 16 mpg combined rating, but drops city MPG to 14 and highway MPG to 18.

A 5.7-liter V8 upgrade changes EPA ratings to 15 mpg combined for both RWD and 4WD models. The 2WD is rated 13 mpg in the city and 18 mpg highway while the 4WD gets 13 and 17.

These numbers are barely average for the segment and are actually lower than many competitors which have more sophisticated engines or more gearing in their transmissions.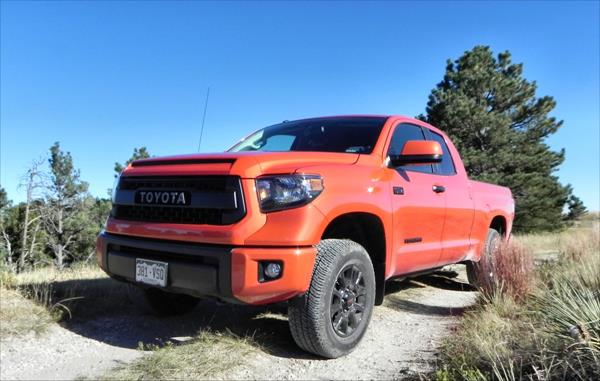 Predicted Reliability, Initial Quality Ratings (9/10)
This early in the 2016 Tundra's time on the market, finding reliability data is a challenge. We expect that the experience of the 2015 model will carry through, which had only one recall (for tires) and higher-than average reliability expectations.

The J.D. Power and Associates Vehicle Dependability Study ranked the 2015 Tundra as "Better Than Most" for reliability. This is in line with the overall expectation of Toyota vehicles, which retain resale value because of their reputation for reliability. This should continue for the 2016 model year in the Tundra, which enjoys the highest value retention in the full-sized truck segment.


Safety (8/10)
The 2016 Toyota Tundra has not yet been evaluated for crash testing, but is structurally unchanged from the 2015 model year. Thus we expect that ratings from 2015 will carry over into 2016.

Those ratings included an overall four-star crash result from the National Highway Traffic Safety Administration. This included a four-star frontal crash score, a five-star side crash score, and a three-star rollover protection score. The Insurance Institute for Highway Safety gave the 2015 Tundra top ratings of "Good" for all crash tests except the small-overlap frontal test results. That test was not conducted.

Both the 1794 Edition and the Platinum trim level have advanced safety features such as Rear Cross Traffic Alert and Blind Spot Monitor as standard equipment.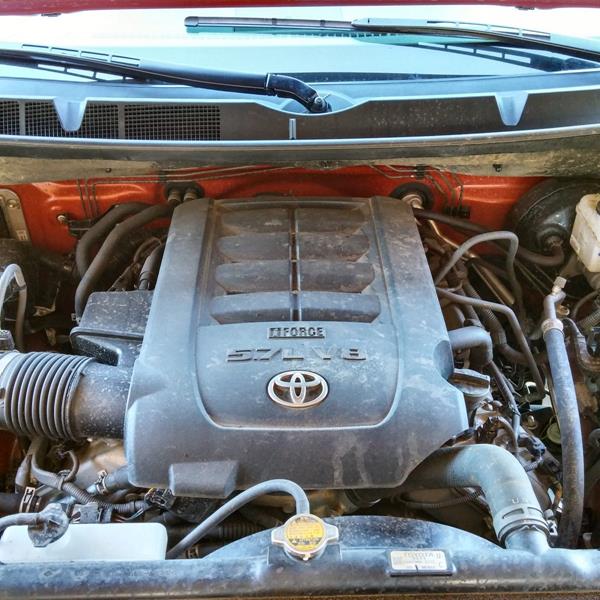 Performance (8/10)
The standard powertrain for the 2016 Toyota Tundra is a 4.6-liter V8 and six-speed automatic transmission which output 310 horsepower and 327 pound-feet of torque. This is available in either rear-wheel drive or four-wheel drive. Maximum towing with this engine is 6,800 pounds, depending on body style.

The base level V8 is a good engine with respectable performance, but in today's market, it's well behind the curve in comparison to the excellent V6 options other full-sized trucks might offer as their fuel-sipping option.

The upgraded engine option is a 5.7-liter V8 that's been powering the Tundra for over a decade. This engine is mated to the same six-speed automatic transmission with RWD or 4WD as options. The engine produces 381 hp and 401 lb-ft of torque. Tow packages are standard with this engine and the truck is rated at up to 10,500 pounds, depending on cab configuration.

With this larger engine, the 2016 Tundra becomes a workhorse and is even fun to drive. Although pickup trucks are not sporty by nature, the 5.7L offers peppy off-line performance in comparison to its rivals. This engine configuration also makes the Tundra a capable and well-mannered trailer puller.


Pricing and Value (9/10)
The 2016 Toyota Tundra has a starting price that is above the average for the segment, but the base model Tundra SR includes more in its package than most low-end, full-sized trucks. Because Toyota does not target fleet sales, comparisons to competition must be made through their more advanced trim levels.

Although the Tundra is generally more expensive, on average, with few incentives from the manufacturer for prospective buyers, the truck enjoys a very high value retention rate over time and a solid reputation for reliability and low costs of ownership outside of fuel.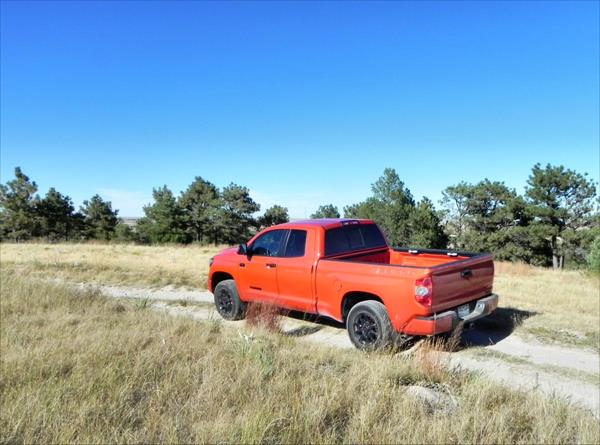 Total Score and Competitive Comparison (66/80, 82.5%)
To summarize everything, the 2016 Toyota Tundra is not the best at anything when compared to its rivals. The full-sized truck arena is full of excellent options, including the excellent value of the Chevrolet Silverado 1500, the classy interior of the GMC Sierra 1500, and the workhorse excellence of the Ram 1500. The best-selling Ford F-150 leads the segment for many reasons as well. Finally, the all-new Nissan Titan and its heavy half-ton XD package bring a lot of upheaval to the segment.

Compared to these, the 2016 Tundra has no one thing that can be pointed to as a compelling reason to buy. As an overall package of value, capability, and reliability, however, the 2016 Toyota Tundra stands tall and cannot be pushed aside easily.