The romance of a sports car encompasses a lot of things: sleek styling, quiet backroads, spectacular sunsets, fall colors, summer days, spring evenings. What, hopefully, doesn't come to mind are big repair bills and being broken down on the shoulder of the road.
Sports car aficionados of yore once accepted low reliability as part of enjoying these vehicles, but those days are gone. Today's buyers may expect their low-slung two-door to be as predictable as a Toyota Camry, with no exceptions. Automakers, for the most part, have delivered on this. The current crop of sports cars are generally as reliable as anything else built by their respective manufacturers. This is an era of being able to daily drive your track car, if you so desire.
That said, there are still sports cars that are better suited for the long haul than others. To find out which are the most reliable and longest-lasting cars in this class, we analyzed over 11.8 million used cars sold in 2020. For each model, the percentage of the number of cars sold with at least 100,000 miles was calculated. iSeeCars typically uses 200,000 miles as a reliability metric, but the threshold was lowered given the fact that sports cars typically aren't daily drivers.
A note on the data: sports cars, by design, typically accumulate miles far slower than the typical vehicle; those that do manage to rack up more than 100,000 miles usually take years longer than the industry average to get there. Used sports cars also retain their value better than the standard sedan or crossover, due to the lower production numbers and higher interest they generate among enthusiasts, many of which are not deterred by age or mileage concerns.  
Take a look below to see if your favorite sports car made the list:
Sports Cars with the Best Reliability 
#1: Audi TT
iSeeCars Reliability Score: 9.0 (of 10)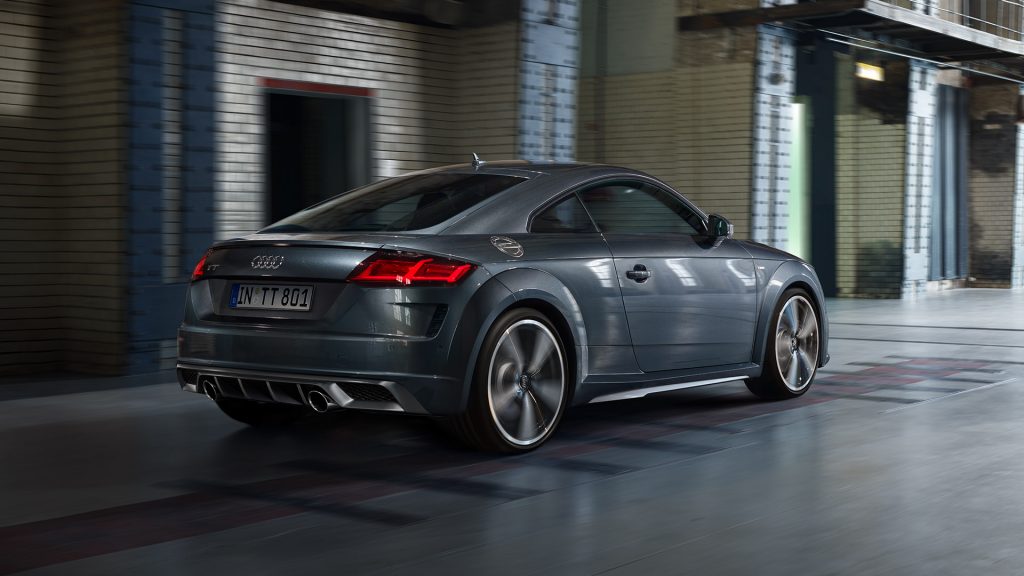 Earning the top spot is the Audi TT. The front-wheel drive Audi TT is an elegant, usable sports car: it has a hardtop, it has refined road manners, it is relatively quiet and comfortable and gets better fuel economy compared to most of the cars on this list. It even has a back seat, small as it is. These traits make it a better daily driver than tiny convertibles like the Miata or burly V8 machines like the Mustang. The Audi TT has a 2.0-liter turbo four-cylinder engine with 228 horsepower and 258 pound-feet of torque.
 A new Audi TT costs between $54,260 and $58,089, and a used Audi TT from the 2018 model year costs between $36,324 and $43,721.
#2: BMW Z4
iSeeCars Reliability Score: 8.4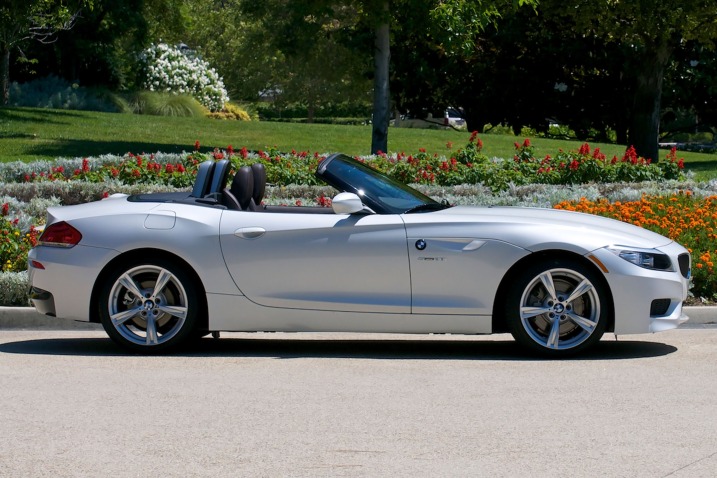 The BMW Z4 earns second place as the most reliable sports car. It's a two-seat convertible that serves as a comfortable daily driver for those who never need to haul more than one passenger. It also has a trunk that is above-average size for the small convertible class. The Z4 offers two available powertrains: a turbocharged 2.0-liter four-cylinder engine with 255 horsepower and an upgraded 3.0-liter six cylinder with 382 horsepower.
A new BMW Z4 costs between $53,552 and $72,258, and a two-year-old used BMW Z4 costs between $45,598 and $51,999. The BMW Z4 skipped the 2017 and 2018 model year, so three-year-old used versions are unavailable.
#3: Ford Mustang
iSeeCars Reliability Score: 8.3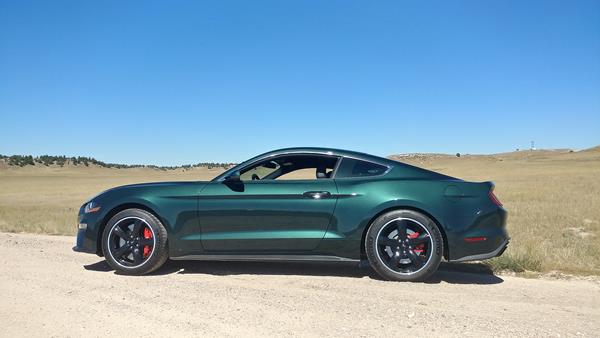 The Ford Mustang ranks fourth. The Ford Mustang was remarkable when it debuted in the 1960s because it married sports car aspirations with the realities of daily-driving in an attractive package. The Mustang's simple and robust rear-wheel drive platform and durable engine options endure the use and abuse of both fun and functional car shoppers. It comes standard with a 2.3-liter turbocharged four-cylinder with 310 horsepower and 350 pound-feet of torque. There are three V8 engine choices, including two 5.0-liter V8s with 460 horsepower or 480 horsepower in the GT or Bullitt/Mach 1, respectively. There's also a 5.2-liter supercharged V8 with 760 horsepower offered in the Shelby GT500. 
And having been continuously in production since 1964, there's plenty of old but desirable Mustangs to enjoy for a relatively low price - though the Mustang does retain its value better than the average sports car.
All this can explain why the Mustang has taken the top spot among American sports cars in the reliability rankings, with the highest percentage of vehicles reaching 100,000 miles on the odometer. A longtime favorite of the muscle car set, the Mustang is always a good choice for a cheap, fun sports car in the American tradition.
A new Ford Mustang costs between $26,551 and $35,615, and a three-year-old used Ford Mustang costs between $20,498 and $70,300.
#4: Mazda MX-5 Miata
iSeeCars Reliability Score: 8.3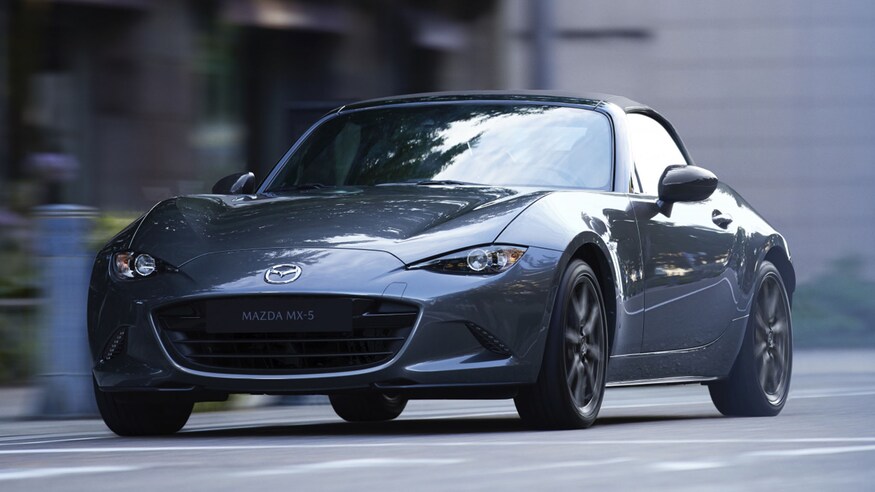 Earning the fourth spot is the Mazda MX-5 Miata two-seater roadster. The Miata project began as an effort by the Japanese automaker to build an affordable sports car in the European tradition. The Miata has excellent fuel economy for its class at 26 mpg city and 35 mpg highway. It has a 2.0-liter four-cylinder engine with 181 horsepower and 151 pound-feet of torque. While it does not measure up to its competition for power, the MX-5 Miata makes up for this with nimble, responsive handling and low weight.
 A new Mazda MX-5 Miata costs between $26,551 and $35,615, while a three-year-old used Miata for sale costs between $20,498 and $26,350. models exceed the $30,000-mark.
#5: Audi S5
iSeeCars Reliability Score: 8.1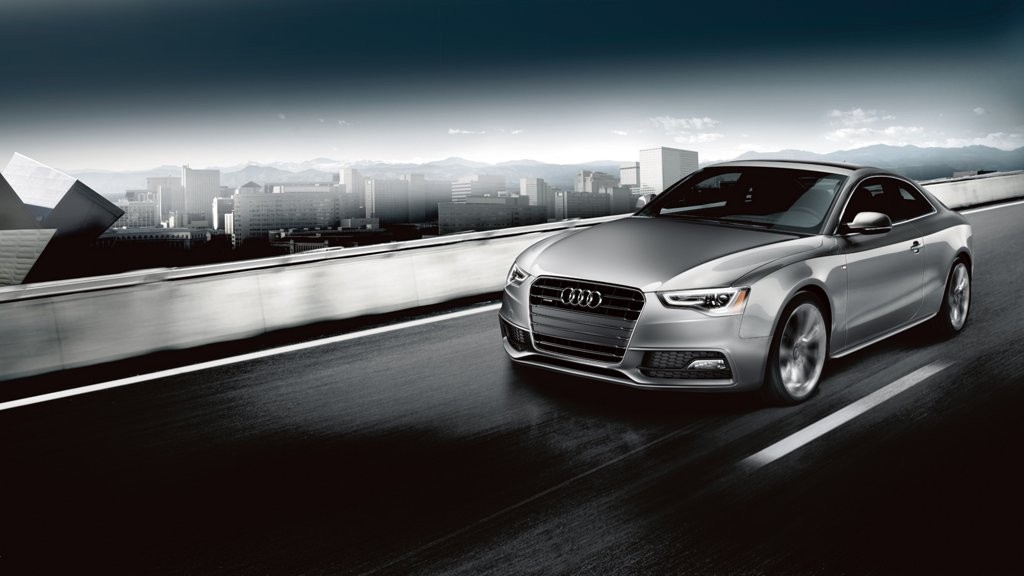 The Audi S5 is the performance version of the Audi A5 small luxury car. The Audi S5 has a sophisticated interior with a lot of high-end materials and comes standard with leather upholstery and power-adjustable heated front seats. The Audi S5 has a 349-horsepower turbocharged V6 engine that can reach 155 mph.   
A new Audi S5 costs between $57,145 and $69,918 and a three-year-old used Audi S5 costs between $36,985 and $48,000.
#6: Mercedes-Benz SL-Class
iSeeCars Reliability Score: 7.9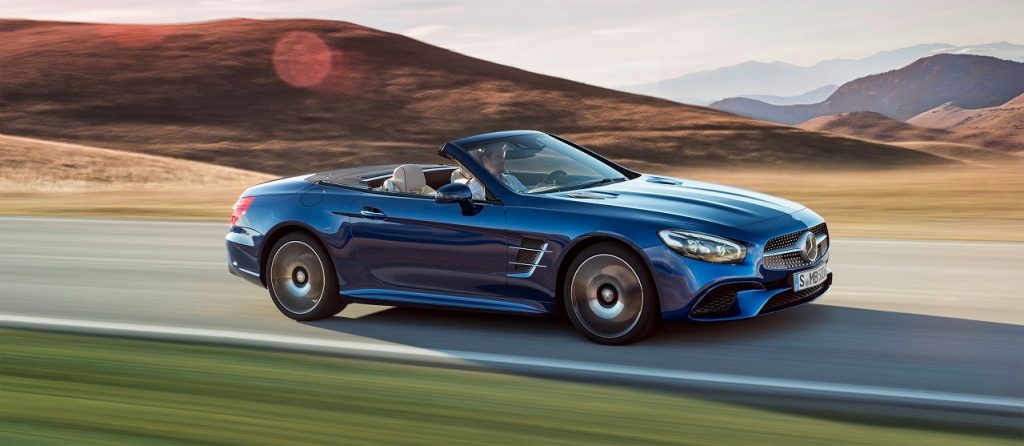 The Mercedes SL is a luxury two convertible, a sports car for those who care less about low weight or raw power and more about solid build quality and refinement. The SL delivers on this with its muted but rapid power delivery, elegant interior, and stylish, upscale design. It comes with a twin-turbocharged 3.0-liter V6 engine with 362 horsepower and 369 pound-feet of torque. An upgraded twin-turbocharged 4.7-liter V8 with 449 horsepower and 516 pound-feet of torque is also available.
Starting at around six figures, this is not a cheap car, relegating it to wealthy shoppers looking for a third or fourth car to be used occasionally. Even though depreciation hits them hard - they'll lose over 60 percent of their value within five years, according to our study on highest-depreciating sports cars - they never become any cheaper to maintain, keeping them out of the hands of those who may want one to drive regularly. This one-two punch keeps SLs as perpetual weekend cars that never really accumulate major mileage.
A new Mercedes-Benz SL Class costs between $98,906 and $124,714, while a three-year-old Mercedes-Benz SL Class costs between $59,894 and $96,686.
#7: Chevrolet Camaro
Reliability Score: 6.6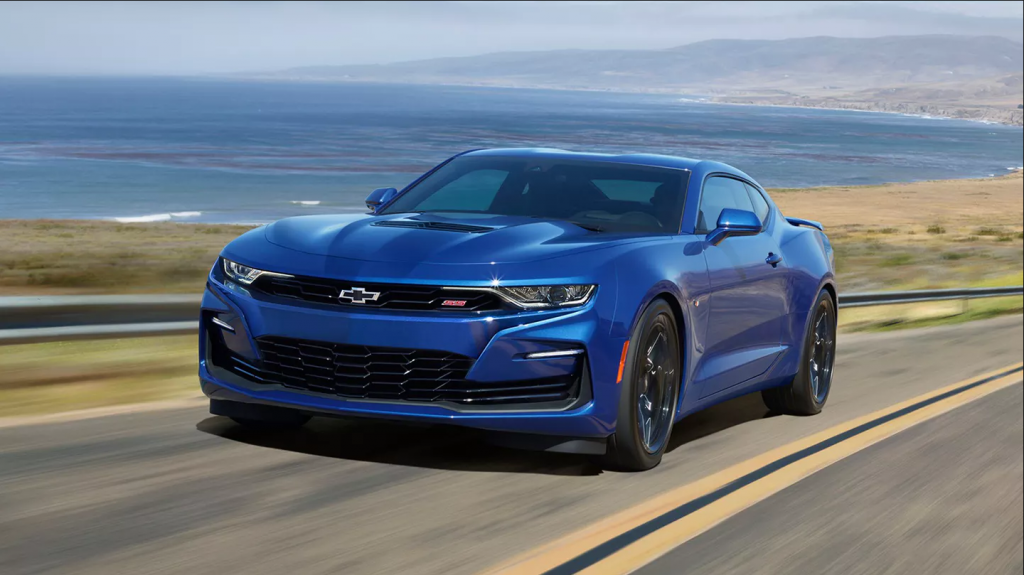 Known as "everyman's sports car," the Chevrolet Camaro ranks seventh. The Camaro has four engine choices ranging from its standard turbocharged four-cylinder engine with 275 horsepower and 295 pound-feet of torque to a 6.2-liter supercharged V8 with 650 horsepower and 650 pound-feet of torque. The Camaro is praised for its responsive steering and swift acceleration. The iconic Chevy Camaro is available as a convertible or coupe and has a starting MSRP of $25,000, making it among the most affordable sports cars on the market.
A new Chevrolet Camaro costs between $24,590 and $65,889, and a three-year-old used Chevy Camaro costs between $20,492 and $56,987.
#8: Nissan 370Z
Reliability Score: 6.6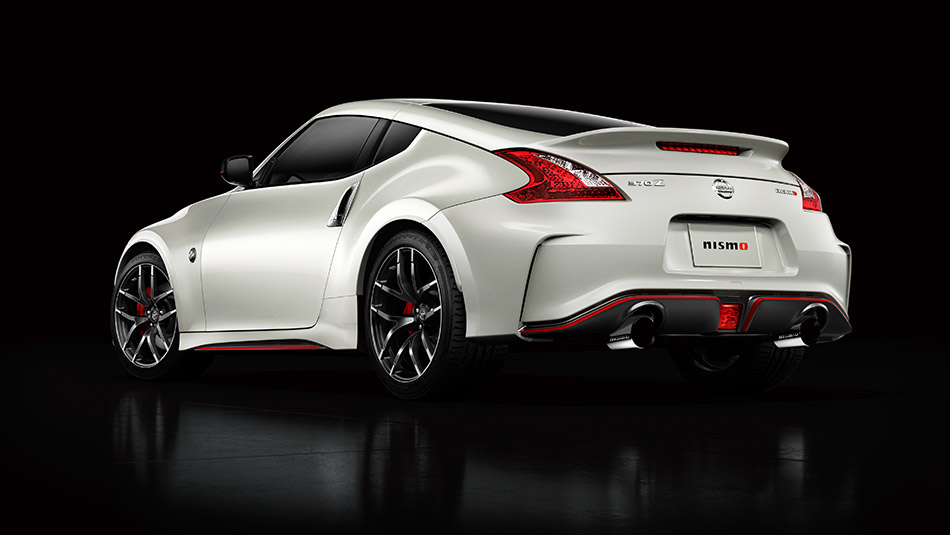 Ranked eighth is the Nissan 370z, an aging sports car that hasn't been redesigned since 2009. The Nissan 370z has a 3.7-liter V6 base engine with 332 horsepower and 270 pound-feet of torque, while an upgraded 3.7-liter V6 with 350 horsepower and 276 pound-feet of torque also available. It also comes standard with a six-speed manual transmission.
A new Nissan 370z costs between $30,956 and $47,741, and a 2018 used Nissan 370z costs between $22,179 and $35,674.
#9: Dodge Challenger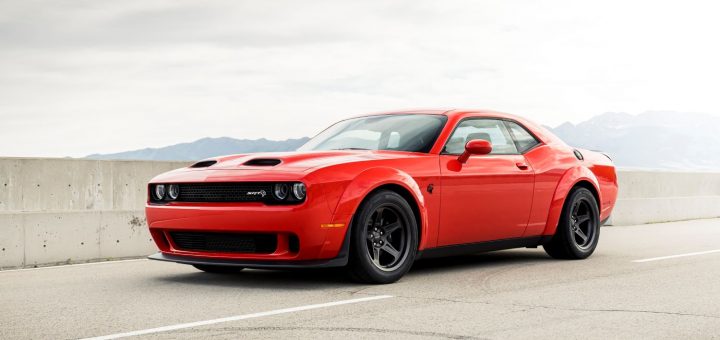 Reliability Score: 5.3  
The muscular Dodge Challenger ranks ninth. The Challenger comes standard with a powerful 3.6-liter six-cylinder engine that produces 303 horsepower and 268 pound-feet of torque. It offers some of the most powerful engines on the market, including five V8 options ranging from 375 horsepower and 410 pound-feet of torque to its 6.2-liter supercharged Hemi V8 with 807 horsepower and 707 pound-feet of torque.
A new Dodge Challenger costs between $23,994 and $68,009, and a three-year-old used Dodge Challenger costs between $21,000 and $59,470.
#10 Chevrolet Corvette
Reliability Score: 5.2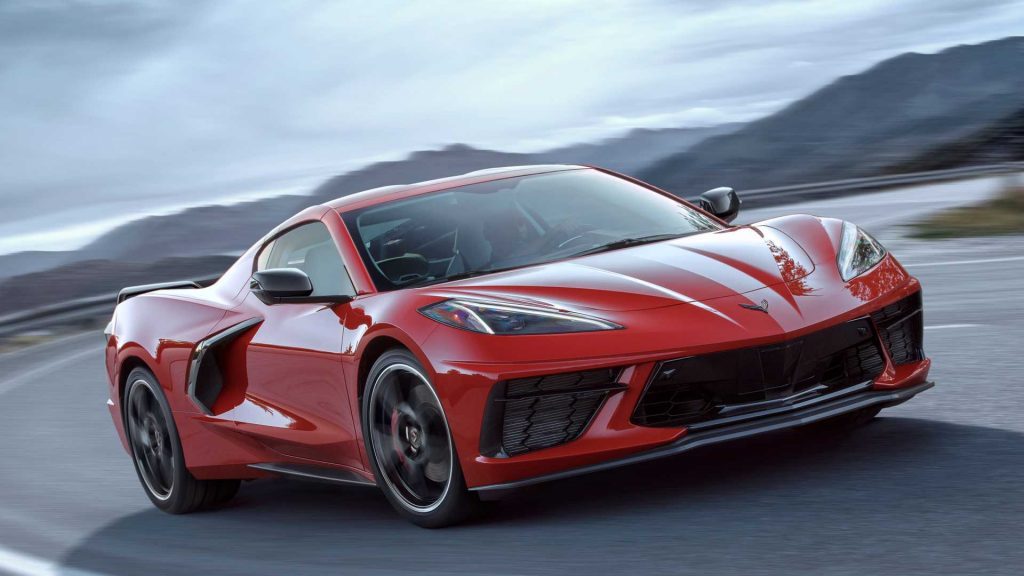 The classic American sports car, the Chevrolet Corvette ranks tenth. Like the Mustang, the Corvette has been around for ages, dating back to 1953 and being produced almost continuously since then (there was no 1983 Corvette). It's one of the best selling premium sports cars and has developed a reputation as being a high-performance giant slayer that can take down cars twice its price. Its old-school pushrod V8 engine traces back to 1955 and has proven its reliability both on the street and on the track. 
It comes with one potent engine across all trims: a 6.2-liter V8 with 490 horsepower and 465 pound-feet or torque. The upgraded exhaust package bumps up the performance to 495 horsepower and 470 pound-feet of torque. The Corvette is a luxury sports car that performs like a supercar, adding to its popularity.
A new Chevrolet Corvette costs between $75,599 and $118,995, and a three-year-old used Chevrolet Corvette costs between $47,711 and $85,617.
#11: Audi TTS
Reliability Score: 5.0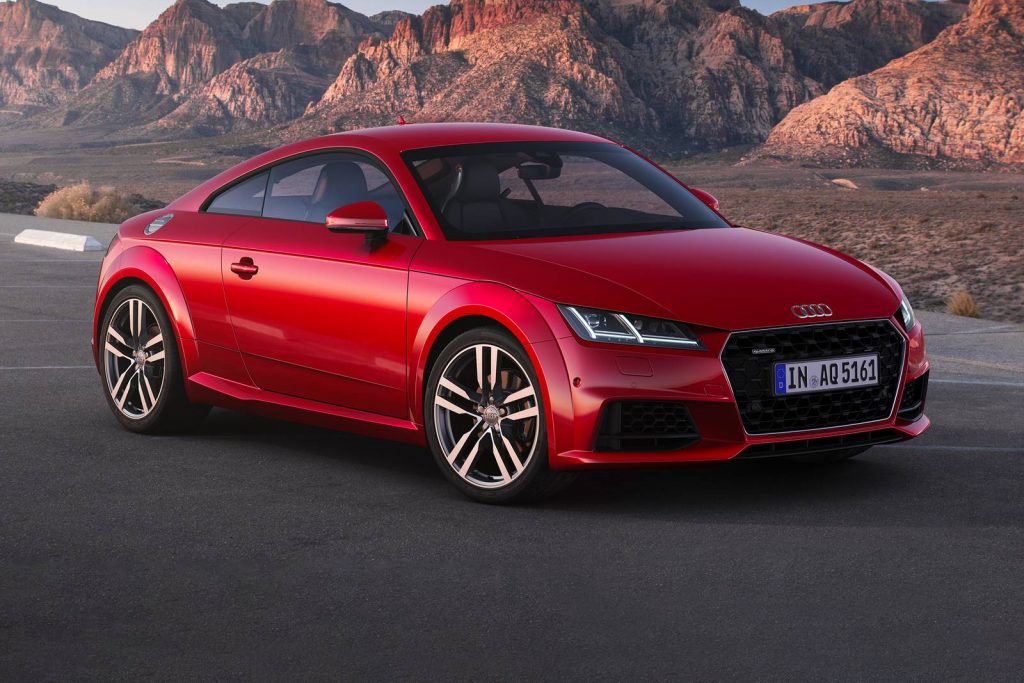 The eleventh-ranked Audi TTS is the performance version of the first-ranked Audi TT. It has a more powerful engine with 288 horsepower and 280 pound-feet of torque. It can go from zero to 60 mph in 4.4 seconds and comes with all-wheel drive.
A new Audi TTS costs between $58,699 and $63,177 and a three-year-old used Audi TTS costs between $38,197 and $45,906.
#12 Porsche 911
Reliability Score: 4.9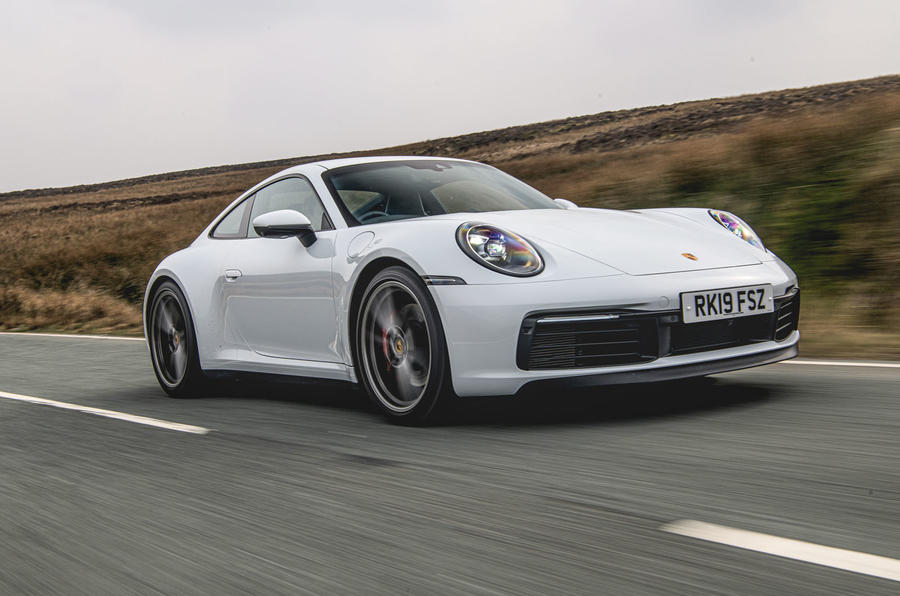 The iconic German sports car, the Porsche 911, ranks twelfth. Despite its lower-than-average reliability ranking, it deserves consideration for its performance and class-leading value retention. It has an upscale interior with a 10.9-inch touch screen infotainment system. It's base engine is a 3.0-liter twin-turbocharged flat-six with 379 horsepower and 331 pound-feet of torque. Three additional engines are available, topping out with a 3.8-liter twin-turbocharged flat-six with 640 horsepower and 590 pound-feet of torque.
A new Porsche 911 costs between $113,362 and $244,196, and a three-year-old used Porsche 911 costs between $82,845 and $171,937.
The Bottom Line
The accrued mileage on
sports cars
is generally
less than
any other vehicle class. They also don't get disposed of as quickly for things like faltering reliability or a big repair. A
sports car
is typically an occasional driver, one that's kept around not because it's practical but because it is emotional and indulgent. 
But that doesn't mean all sports cars are created equal. The pricey German models showcased here generally occupy the bottom of the list because of how expensive they are to maintain even after they depreciate to affordable levels. Proven models like the Mustang, on the other hand, can be ordered up as a stylish daily driver - and treated as such without constantly worrying about repairs. Some, like the Miata, have built their reputation on the fact they are both enjoyable and eternally reliable. 
Any sports car is going to be fun, but the ones topping this list have proven themselves to be just as reliable and low cost as they are entertaining. If you were wondering what are the best sports cars that will most likely never let you down, you've now got your answers. And if you're on a specific budget, be sure to check out our guide on the best sports cars under $30,000.
If you're in the market for a new or used sports car, you can search over 4 million used and new cars with iSeeCars' award-winning that helps shoppers find the best car deals by providing key insights and valuable resources, like the iSeeCars free VIN check reports. Whether you want a coupe, convertible, sedan, or hatchback, car buying has never been so easy.