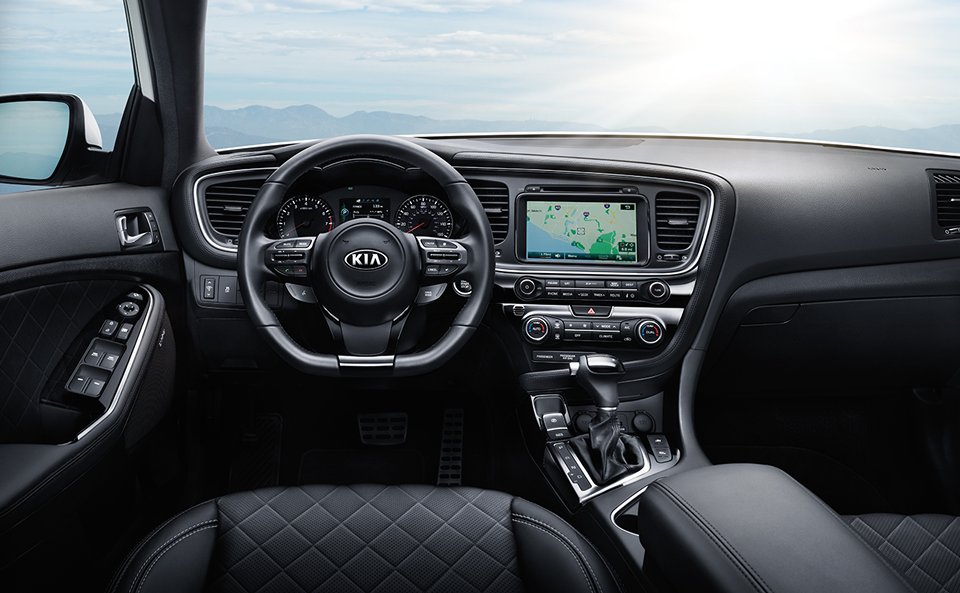 Written by James Hamel

Introduction (Final Score After Eight Categories: B+)

The Kia Optima family sedan has been a runaway hit for this Korean automaker and it's easy to see why. No, it's not because it offers a wide range of powertrains to appeal to any driver from the eco-friendly hybrid to the base 2.4 liter 192 horsepower 4-cylinder standard in EX and LX trims or even the riotously powerful 2.0 liter tubocharged 4-cylinder tested here which puts out a class leading 274 horsepower/269 lb. feet of torque. No, what the Optima managed to do since the day it first went on sale was bring true style and elegance to the family sedan class.

Sadly, it's still true to this day that most sedans geared at the family sedan buyer are at best conservatively handsome and at worst bigger stylistic disasters than that polka dot number your Aunt Florence wore to the last family reunion. We won't name names, of course but we still can't help but think that from the front the latest Nissan Altima looks like a misshapen pig. Whoops, sorry, we named a name there. On the other end of the spectrum, the Volkswagen Passat is a very handsome large sedan but it is very conservative in its styling which most automakers feel their buyers in this segment want.

But the Kia Optima proved that theory wrong with its bold tail lamp design, sporty looking razor blade grille and handsome headlamp shape all the way to its sloping greenhouse which when equipped with the panoramic sunroof looks amazingly cool when it is opened. Thank ex-Audi designer Peter Schreyer for imbuing this Audi with a look that made Kia's start to look expensive and feel that way too.

The interior in our top of the line SXL Turbo model was loaded to the gills with every available gadget, gizmo and optional extra and its quilted Nappa leather seats reminded more than one person of the seats in a Bentley. Yes, we just said that. So what's the catch? It must drive like a porpoise riding big surf, right? Oddly, no, this SXL turbo turned out to be a sedan that in fact did like to "party all the time," to paraphrase the hit song by Rick James from the 1980's popularized by none other than Eddie Murphy. But how did we get the Optima in the mood to want to party all the time? Well there's a secret we will tell you all about in the Driving Impressions section. Read on to find out more.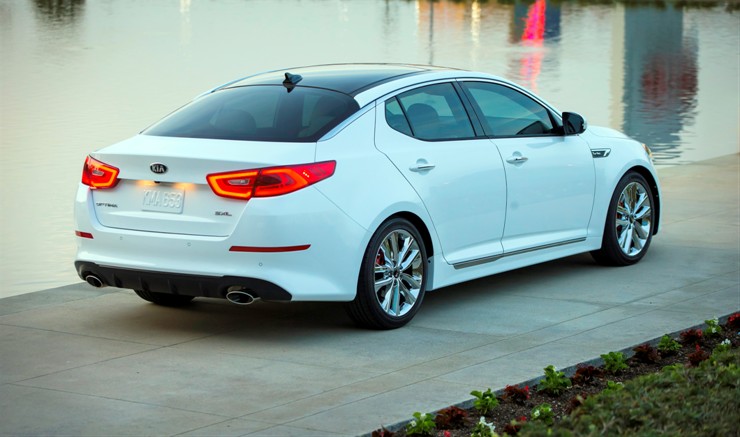 What we Loved about the 2014 Kia Optima


The wide range of powertrains, prices and driving experiences available


The style both inside and out


That turbocharged engine is a true peach


What we Didn't Love about the 2014 Kia Optima


Traction control is way to obtrusive considering what the suspension can handle


Drive mode is best left in "sport" if you like to drive enthusiastically


The Optima gets really pricey when optioned up fully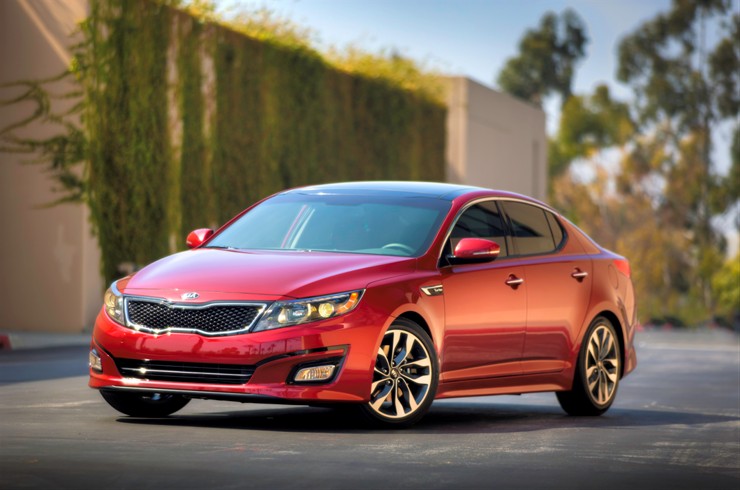 Exterior Appearance (10 out of 10)
While we could be hard asses and knock a point off for Kia's recently redesigned tail-lamp design which isn't quite as striking as the original versions posterior which gave off the appearance of having lights running up along each side of the back of the car, the 2014 Kia Optima family sedan simply looks better than any family sedan out there.
In fact, it looks better than a lot of sedans from luxury automakers which charge far more money for the privilege of owning one of their models. But really, the fault for buying an ugly, overpriced car lies in the hands of the person who signed the check. So don't be the laughing stock of your neighborhood. A 2014 Kia Optima will always turn heads and in a good way. The Joneses next door won't know what hit them.
Interior Design, Ease of Use and Build Quality (10 out of 10)
Truly an interior design tour de force in the family sedan segment, we loved everything about the 2014 Kia Optima SXL's cabin from its meaty flat bottomed steering wheel to artfully designed dashboard layout. Frankly, given the quilted Nappa leather seats and the very stylish Germanic appearance of the Optima SXL's interior why would anyone opt for the more expensive Cadenza model which is much less impressive inside? That's probably why Kia sells a whole lot of Optimas and not so many Cadenzas.
There are plenty of handy cubbies everywhere, materials quality is first rate and everything felt built to last. Trunk space was generous at 15.4 cubic feet and while rear headroom isn't class leading due to the sloping roof, two generously sized adults could ride easily in the back seat during a road trip. Granted, the best seats in the Optima are still up front most especially in the driver's seat. Great job here Kia proving that family sedan interiors don't need to feel like they were just designed to appease the needs of the rental fleet. What? We weren't looking at the Camry when we said that.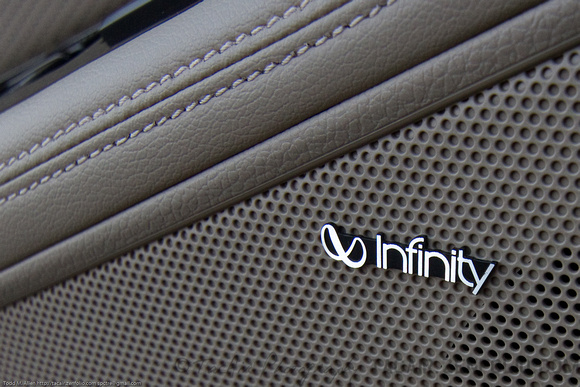 Technology (10 out of 10)
Kia's UVO infotainment system is one of the best in the industry and it performs a multitude of functions all in a manner that is simple and straightforward to understand. Syncing your smartphone to Bluetooth is quick and does not require you read the owner's manual for a novice to understand its operation. UVO also offers a bevy of safety enhancements like calling 911 if the car detects you were in an accident, the ability to inform you if it detects any mechanical malfunction with the car as well as keeping teenage driver's safe with a "Geofence" and Curfew Minder which notify the owner if the car has been driven outside a pre-determined safe zone or later than is allowed.
It also offers a jukebox function which can store your music on its hard drive, it reminds you about maintenance needs and even can set up an appointment with your local dealer. Our tester came equipped with Kia's navigation system as well which proved reliable and the graphics up to date. Our favorite tech feature, however, was the Infinity surround sound audio system with subwoofer and external amplifier. This system has proven time and time again it is capable of passing our rigorous round of sound quality tests and gives Kia the title of offering the best affordable audio upgrade on the market today. If you love music, get the Infinity audio system.
Safety (9 out of 10)
The 2014 Kia Optima scored a "Top Safety Pick" rating from the IIHS "Insurance Institute for Highway Safety" and even managed to pass with an Acceptable rating the very difficult small overlap front test meant to recreate hitting a pole or tree with the corner of your car which is one of the deadliest accident types with thousands of deaths resulting from these impacts each year. However, we are sure the 2015 Optima should receive a full "Top Safety Pick Plus" rating thanks to its newly available blind spot warning system, a rear traffic alert system and frontal impact warning. The Optima gets a full five star safety rating from the NHTSA.
Fuel Efficiency (7 out of 10)
Before we begin, let us just say this score is for the turbocharged SXL model Optima only. There is a hybrid version available and the base engine without the turbo comes with EPA fuel economy estimates of 23 city/34 highway. Out SXL turbo model was quoted by the EPA with figures of 20 city/31 highway with our average after a week of admittedly pedal to the metal driving coming out to 19.7 miles per gallon. An 18.4 gallon fuel tank ensures long cruising distances but we were only slightly disappointed in the Kia's miles per gallon average as an Accord V6 we tested returned an average of 25 miles per gallon in our hands.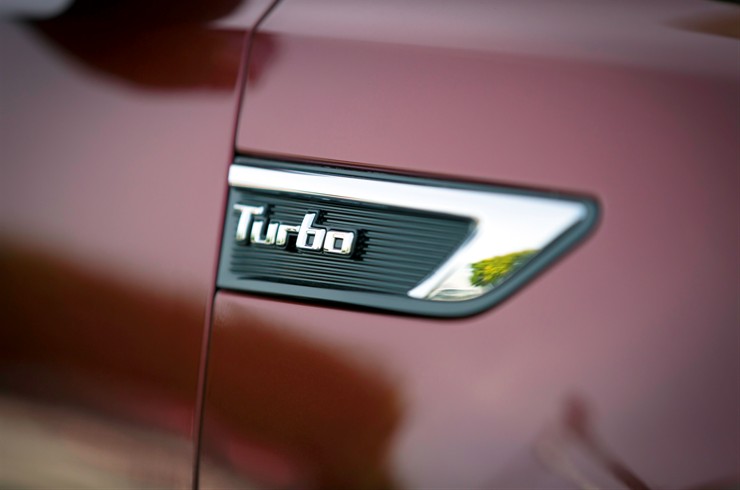 Initial Quality and Reliability Rankings (7 out of 10)
According to J.D. Power and Associates the 2014 Kia Optima averaged 3 out of five stars in initial quality with the car rarely going below that three star average in any category and often times getting four out of five stars. Clearly the car has great appeal to buyers when they purchase their Optima as they highly rated its style, interior design and features and drivability. Despite offering an average long term reliability outlook, do take heart that Kia offers a 10 year/100,000 mile powertrain warranty.
Driving Impressions (9 out of 10)
The 2014 Kia Optima SXL Turbo never is at a loss for easily accessible power thanks to a nearly lag free 2.0 liter 274 horsepower/269 lb. feet of torque turbocharged and direct injected 4-cylinder which is mated to a standard six-speed automatic whose quick and nearly imperceptible shift action left us duly impressed. The Optima's turbo four makes a pleasant burbling sound as it reaches its redline but does manage to quiet down to near silence when at freeway cruising speeds where you will only hear some slight wind and tire noise. Turn on the Infinity stereo and you won't notice at all.
But how does the Optima fare if you want to drive the car on your favorite twisting and turning backroad? Well, despite having a three mode drive system ranging from "Comfort" to "Sport," even if you are in the latter setting the car's traction control system cuts in and neuters engine output if it detects you are having too much fun. We think the Optima's traction control should have more faith in the sedan's inherently buttoned down suspension and weighty steering which reminded us of driving a solid VW sedan in terms of driver communicativeness and precision. But you can only experience that if you switch the traction control button to "off" because we didn't know how much the Optima SXL Turbo liked to party until we experienced its powerful engine unchained from its shackles.
Suddenly, braking into and then powering out of turns became fluid and balanced endeavors with none of the jerky hesitation caused by the traction control system. The Optima doesn't dance as lightly on its feet as the Accord but it does a mighty fine Volkswagen Passat impersonation on winding roads and that's no bad thing. Just make sure to hit the traction control button first. Consider it the "Road to Fun" switch.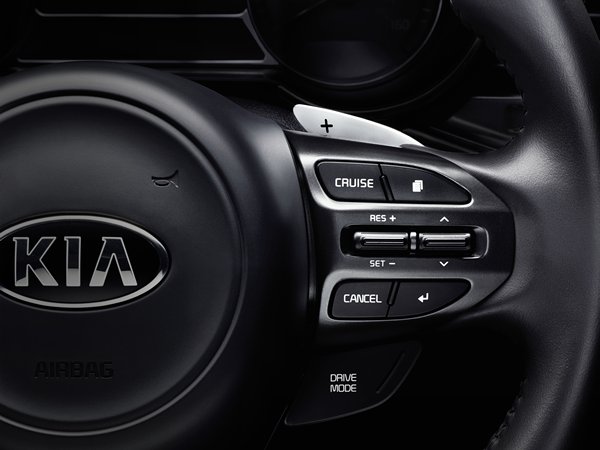 Pricing, Features and Value for Money (8 out of 10)
Our 2014 Kia Optima SXL Turbo model started out with an MSRP just under $36,000 and due to the fact that it came so fully loaded already we didn't need to add a single option. Sure, $36,000 may sound like a lot for a Kia and truth be told it is a lot for ANY family sedan on the market today fully loaded or not. But our Kia Optima did boast Nappa leather seats, dual pane panoramic sunroof, navigation, an Infinity Premium audio system, heated seats front and rear, cooled front seats, High Intensity Discharge headlamps, stylish 18-inch alloy wheels, back-up camera, power front seats with driver memory setting, push button start, keyless entry, Bluetooth, SXL exclusive chrome accenting inside and out with a subtle rear spoiler. All in all, the Optima SXL Turbo has every feature available in competing models and then some. It's in the "and then some" where the Kia truly shines as a value despite its steep price.
Final Thoughts and the Competition (70 points out of 80)
If you can't afford the price of the SXL version of the 2014 Kia Optima, there is just an SX Turbo variant that starts a little above $27,000 and still comes equipped with the glorious 2.0 liter 274 horsepower 4-cylinder fun maker. You just have to make do without chromed alloys, the Nappa Leather seats, the Infinity audio system (boo) and a few of the safety assist systems like blind-spot warning and cross traffic alert. Granted, much of that can be added to the SX Turbo optionally but that causes the sticker price to rise ever closer to the base price of the SXL. The most basic Optima LX, however, starts at just a little over $21,000 so Kia really has a lot of price points covered with this family sedan which is always stylish to no end.
And that's really the Optima's trump card over Accord, Camry, Altima, Legacy, Passat, Fusion, 6 and all of its competition. It looks like a million bucks and has no signs of being styled for utility much like every four door built to haul families manufactured since the dawn of man. It is sexy in a way that premium sedans from Audi, Cadillac and BMW are sexy. And it feels built just as luxuriously inside and out with plenty of premium touches to set it apart from the plain vanilla flavored herd. So, if you want a little spice with your next family sedan, check out the 2014 Kia Optima. Get the turbo version if you want to if you want more than spicy and are the type who eats habanero chili peppers to wake up in the morning.
Photos by MaryAnne Wendt and Kia Motors