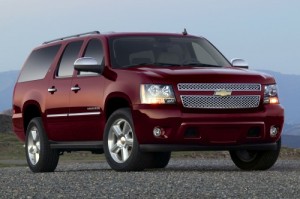 Getting out on the open road this summer with family in tow, plus all your gear and bring-alongs means you need a vehicle that's capable and roomy enough to accommodate it all. Maybe a shopping trip is in order for a larger vehicle?
There are many SUVs on the used market from which to choose. We took a look at those with the most copious amounts of cargo space and came up with these top 10 used SUVs that fit the bill.
2007-2013 Chevrolet Suburban – Full-size in every sense of the word, the 2007 through 2013 Chevrolet Suburban (and corporate siblings GMC Yukon XL and Cadillac Escalade ESV) proves that big can be beautiful – and extremely capable. Powered by a V8 engine, the Suburban easily and comfortably carries up to nine passengers. Maximum cargo capacity is 137.4 cubic feet. The Suburban can also tow a boat or trailer up to 9,600 pounds. In the used SUV market, pricing for 2007-2013 Chevrolet Suburbans ranges from around $14,498 up to $51,500.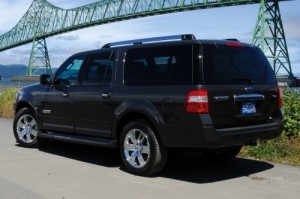 2007-2013 Ford Expedition EL – Big, tall and heavy, the 2007 through 2013 Ford Expedition EL is every bit a full-size SUV. That also means it is highly capable, accommodating eight passengers. Maximum cargo capacity is 130.8 cubic feet, 85.5 cubic feet behind the second row and 42.6 cubic feet with all seats in use. Fold-flat second-row seats and available power-folding third-row seatbacks create a wide, flat floor for cargo. Pricing used ranges from $11,900 to $44,995.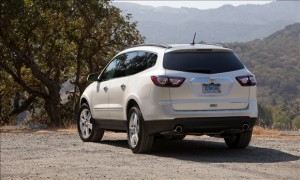 2009-2013 Chevrolet Traverse – With seating for eight passengers, the 2009-2013 Chevrolet Traverse (and corporate siblings GMC Acadia and Buick Enclave) large crossover SUV offers comfortable seating and more than decent cargo capacity. Available in front-wheel and all-wheel drive models, the Chevy Traverse has a maximum cargo capacity of 116.3 cubic feet, 70.3 cubic feet with third row stowed, and 24.4 cubic feet with all seats occupied. Pricing ranges from $11,985 to $33,850.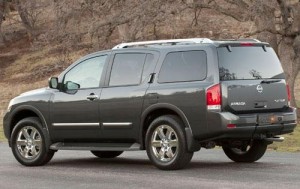 2004-2013 Nissan Armada – Seating for eight passengers (or seven with second-row captain's seats), the ability to tow campers and trailers with ease and 97 cubic feet of cargo space are compelling characteristics of the 2004-2013 Nissan Armada full-size SUV. The big V8 engine that is capable of towing boats and such, however, is also thirsty, so fuel economy won't be high. Still, ride quality is good, the available amenities are many, and the Armada may just be the savvy used SUV choice for some families. Pricing ranges from $7,997 to $41,979.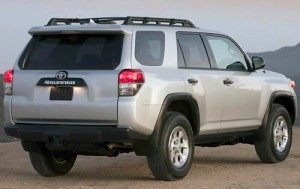 2010-2013 Toyota 4Runner – A capable people and cargo hauler that's equally at home off-road, the 2010-2013 Toyota 4Runner is a top choice for families looking for that go-anywhere vehicle that can also tote cargo. Redesigned in 2010 and featuring a powerful V6 engine, the 4Runner has a maximum cargo capacity of 90 cubic feet. With optional third row (really only suitable for small children), the 4Runner can seat seven passengers. Optional sliding rear cargo deck takes up more space but can hold up to 440 pounds. Pricing in the used market can range from $23,991 to $37,444.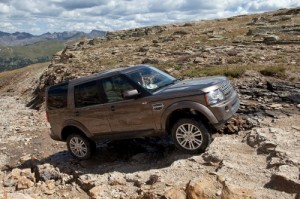 2010-2013 Land Rover LR4 – With its top-notch interior, powerful V8 engine, luxury touches throughout – and 87.4 cubic feet of cargo space (42.1 cubic feet with second-row stowed, but only 9.9 cubic feet behind the third row), the 2012-2013 Land Rover LR4 offers families great utility and user-friendliness in a thoroughly capable off-road SUV. Fold-flat second row and optional third row that also folds fully flat make stowing cargo easy. Pricing is a bit steep, ranging from $32,093 to $55,790.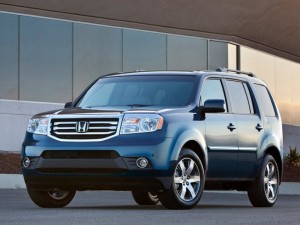 2009-2013 Honda Pilot – With a seating capacity of seven or eight, the 2009 through 2013 Honda Pilot is a fully capable SUV for families who need people-carrying and cargo capacity. Available with front- or all-wheel drive, the Pilot has comfortable seating in all three rows for adults and a maximum cargo capacity of 87.0 cubic feet. The Pilot also has numerous nifty storage areas to stow smaller items. Pricing ranges from $16,994 to $36,000.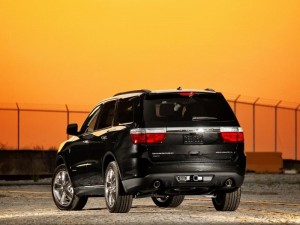 2011-2013 Dodge Durango – A midsize crossover, the 2011 through 2013 Dodge Durango seats seven in comfort and style. The Durango, available in rear- and all-wheel drive, also features a welcoming interior and balanced ride. With the second- and third-row seats folded down, there's a maximum of 84.5 cubic feet of cargo capacity, and 17.2 cubic feet behind the third row. What about pricing? Look for 2001-2013 Dodge Durango SUVs in the $15,999 to $34,991 range.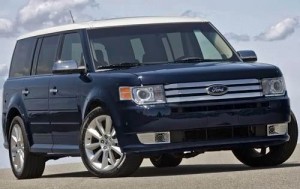 2009-2012 Ford Flex – The uniquely-styled and very versatile Ford Flex, introduced in 2009 and staying mostly the same through 2012, is a seven-passenger crossover (some call it a tall wagon) that serves family needs well. Genuine three-row space, excellent safety scores, refined ride, plenty of high-tech features and good amount of storage space are pluses. The boxy shape of the Flex makes it highly suitable for carrying cargo. With all three rows in use, there's 20 cubic feet of cargo space. Stow the third row and you get 43.2 cubic feet of storage space, and folding the second row increases cargo capacity to a maximum of 83.2 cubic feet. Look for used prices ranging from $11,995 to $31,591.
2011-2013 Ford Explorer – Redesigned in 2011 and now featuring a bigger and higher-class cabin, better fuel efficiency, numerous high-tech features and options and a well-balanced ride and handling, the 2011 through 2013 Ford Explorer SUV is a great choice for families of seven looking for roomy cargo space as well. Though the Explorer doesn't have quite the cargo capacity as some bigger rivals, it is flexible and user-friendly with a maximum of 80.7 cubic feet. With the third row folded down, there's 43.8 cubic feet of space. With all seats occupied, there's as much as 21 cubic feet of space. Pricing for used 2011-2013 Ford Explorer SUVs ranges from $37,770 to the vicinity of $42,000.