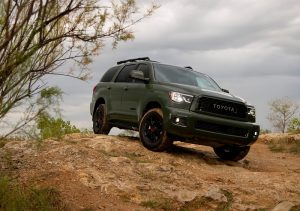 The world has officially gone mad about SUVs. American manufacturers hardly make anything with a trunk these days, and it seems that from elsewhere around the globe there's some automaker dropping news about its latest crossover or SUV. Practicality and cool factor have turned the buying public away from the long-dominant sedan to the high-riding, highly-spacious SUV. 
But trends like this come and go. But what doesn't change? A buyer's expectation of reliability. And in today's marketplace, where it seems like there's more SUVs on the market than people in Los Angeles, not all are built to the same standard.
We wanted to find out what SUVs are the most reliable, so we conducted a vehicle dependability study. This involved analyzing over 13.8 million used cars sold in 2019 from model years 1981 through 2018. For each model, the percentage of the number of cars sold with at least 200,000 miles was calculated. Those vehicles with the highest percentages have been crowned the most reliable. Models that were not in production as of the 2018 model year, heavy-duty vehicles, and low-volume models were excluded from our analysis. 
If you're familiar with our studies, you may recall we also ran the numbers to determine the most reliable three-row SUVs. Many of the cars profiled on that list will also make an appearance here. That double victory is largely due to the excellence of these models and their dominance in the reliability rankings, be they measured against just three-row models or across the entire SUV class in general.
Most Reliable SUVs
The average for the class was 0.90 percent. The top 10 winners handily beat that number. The rankings were as follows:
iSeeCars Most Reliable SUVs

| Rank | Model | % of Cars Over 200,000 Miles |
| --- | --- | --- |
| 1 | Toyota Land Cruiser | 15.7% |
| 2 | Toyota Sequoia | 9.2 |
| 3 | Ford Expedition | 5.2 |
| 4 | Chevrolet Suburban | 4.9 |
| 5 | Toyota Highlander Hybrid | 4.2 |
| 6 | Chevrolet Tahoe | 4.1 |
| 7 | GMC Yukon XL | 4.1 |
| 8 | Toyota 4Runner | 3.9 |
| 9 | GMC Yukon | 3.2 |
| 10 | Lincoln Navigator | 2.6 |
Toyota runs away with the top two places in this list. You don't see the
Toyota Land Cruiser
and
Toyota Sequoia
often: the former is more expensive than a Cadillac Escalade, while the latter is one of the most dated-looking SUVs in Toyota's lineup. But these two SUVs embody the Toyota reputation for unbeatable reliability. Consumer reports issues both of these models some of their highest reliability ratings of any model. A big part of that high score is due to their shared 5.7-liter V8 engine that is also found in the Tundra pickup truck (itself ranking as one of the most reliable pickup trucks); this a powertrain highly regarded for its ability to stand up to even the most extreme abuse. That baked-in reliability is why, be it here in the United States or off in some of the roughest, most remote parts of the world, people put their trust in these big Toyota SUVs.
Following the front-runner Toyotas is the Ford Expedition and Chevrolet Suburban. These two SUVs are popular across America as reliable livery workhorses; take a look outside any hotel, convention center, airport, or other such place of business and commerce and you're bound to see at least one of these SUVs parked out front. They're best suited to this sort of task thanks to their unparalleled passenger and cargo space as well as a high level of reliability. Because so many businesses use them for this sort of work, there are plenty of examples for sale with 200,000 or more miles, which likely accounts for their presence near the top of this list.
The fifth-place Toyota Highlander Hybrid might seem a surprising entrant here, but buyers who put major miles on their car appreciate the added fuel economy benefits from the Hybrid's gas-electric powertrain. Those buyers also like the Toyota reputation for reliability, which is as true with the Highlander Hybrid as it is with any other product from the marque. All this means a higher likelihood of these Hybrid models end up with 200,000 or more miles than the ordinary Highlander variants.
Sixth, seventh, and ninth on this list are three versions of the full-size GM SUVs: the Chevrolet Tahoe, GMC Yukon XL, and plain GMC Yukon. All three of these are largely the same vehicle underneath, though the stretched-length Yukon XL is more directly related to the Chevrolet Suburban. GM's 5.3-liter and 6.0-liter V8 powertrains found in these SUVs have been known to go the distance without much trouble, and buyers love to use them for long-distance jaunts. All these big GMs will also pull more than 8,000 pounds, making them great options for those who do regular towing.
If all its platform brethren broke into the top ten, why didn't the related Cadillac Escalade? Electronic woes and other high-tech troubles not relevant to the lower-tier models profiled here could be one reason. Their high price also keeps them out of reach of those who might really rack up the mileage, so there's probably a smaller proportion of 200,000-mile-plus Escalades running around to begin with.
The Toyota 4Runner takes spot number eight; if you've been counting, that's Toyota number four, which means that the Japanese brand holds down 40 percent of this list. But the 4Runner's presence on the list is no surprise, as its age-old 4.0-liter V6 is one of the toughest engines out there. The 4Runner is similar to the competing Jeep Wrangler in that it also enjoys a loyal following that keeps prices up and values high, ensuring high-mileage models still find happy homes. The 4Runner's reputation for durability and off-road superiority puts this genuine four-wheel drive SUV among the top ten most reliable SUVs.
Last on the list is the Lincoln Navigator. Mechanically very similar to the Ford Expedition, this luxury SUV is likely not as high-scoring as its cheaper corporate cousin due to more complex electronic and infotainment systems as well as its higher price tag. Because transaction prices are much higher for the Navigator than the Expedition, buyers are more likely to have other cars to split driving duties with. The expensive Lincoln is also too pricey for most liveries and fleets as well. The result is that there's not as many high-mile Navigators in our data, hence keeping its score as low as it is.
The Bottom Line
Other than the Highlander Hybrid, every model on this list is a large SUV with a third row. They're all built atop a full frame and powered by a big V6 or V8 engine that ensures low MPG. These SUVs are expensive to buy and expensive to gas up. They can be tough to park and driving them in tight quarters is no easy task. They are all vehicles that come with compromise. 
So no, these SUVs are not for everyone. But for all their drawbacks, they are spacious, comfortable, and above all reliable. Toyota, Ford, and General Motors have been building these sorts of vehicles for years in one form or another; the Chevrolet Suburban dates all the way back to 1935. It's safe to say these manufacturers have got the formula perfected at this point. 
The buyers benefit from this because they're buying a product that is the result of decades of R&D; as our data shows, all that R&D has led to some of the most reliable products in the general market, not only just the SUV class. The Land Cruiser, Sequoia, Suburban, and Expedition all beat out nearly all other vehicles for reliability, including light-duty pickup trucks, passenger cars, and midsize SUVs. 
If you want not only the most reliable SUV but also the most reliable vehicle you can buy period, the choices showcased here are your best bet. For going the distance without breaking so much as a light sweat, these big SUVs cannot be beat.
If you're in the market for a new or used SUV, you can search over 4 million used and new cars, trucks, and SUVs with iSeeCars' award-winning car search engine that helps shoppers find the best car deals by providing key insights and valuable resources, like the iSeeCars VIN check report. Whether you want a minivan, small SUV, or one of the SUVs profiled here, car buying has never been so easy.