Overview (Final Score: C+)

It seems odd to be reviewing the 2016 Scion iM in light of the news that the brand will be shutting its doors at the end of this model year. The iM and Scion iA subcompact, both introduced last spring, seem like the lame ducks of the brand. But there is some good news as most of Scion's lineup will move over and be sold as Toyotas. In a sense, this review is a guide of what to expect when the Scion iM becomes a Toyota.


What We Love About the 2016 Scion iM



Design that stands out


Lot of standard equipment for a low price


CVT transmission not intrusive


What We Didn't Love About the 2016 Scion iM



Slow acceleration


Engine gets noisy


Poor rear visibility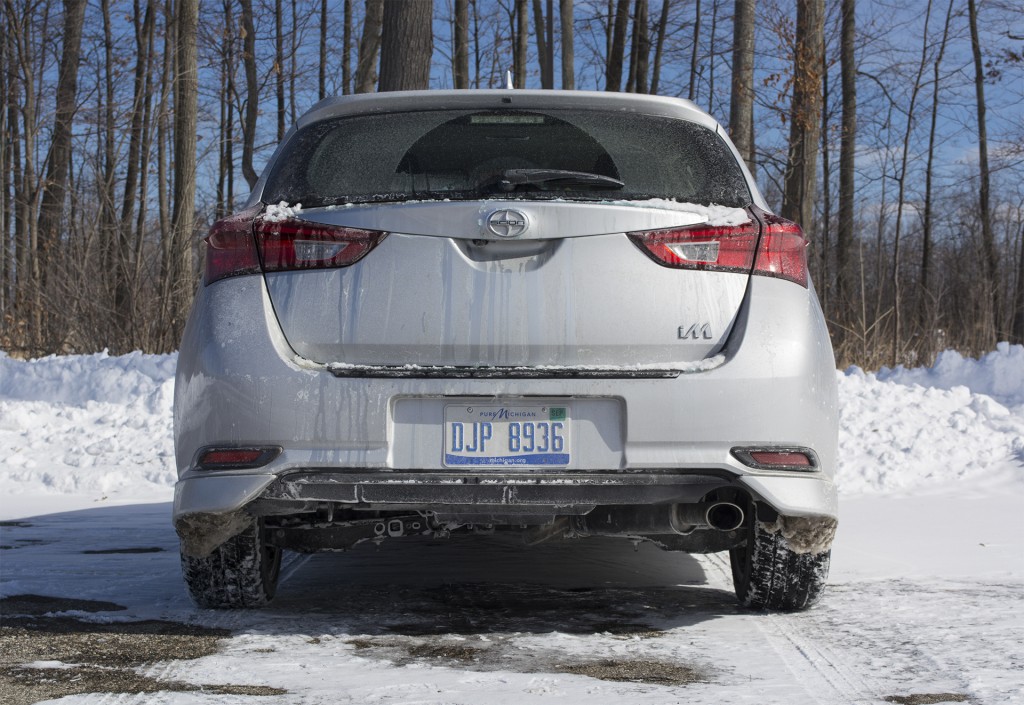 Exterior View (9/10)

The Scion iM comes our way via Europe where it is sold as the Toyota Auris. The only real change from Auris to iM is the badge. The front end is low and features a long and narrow grille, and a distinctive bumper. Around the back is a uniquely shaped tailgate with taillights that extend into the rear fenders. Wheels are a set of 17-inch alloys that help make the iM stand out.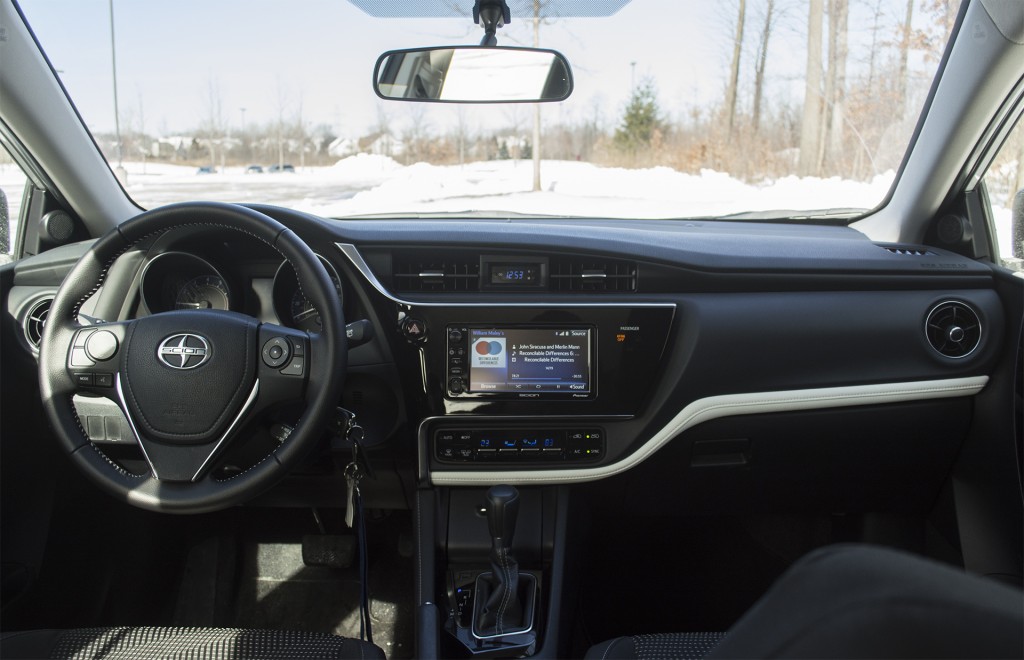 Interior Comfort, Quality and Ease of Use (7/10)

Your first thought when getting inside the Scion iM might be, 'this looks like a Toyota Corolla'. Both models share a similar dash design and various interior parts such as the steering wheel and dual-zone automatic climate control. Most of the materials used are hard plastics which might disappoint some folks. But considering how much the Scion iM costs, this is pretty much what you would expect. At least controls are within easy reach for both driver and passenger.

Seats are upholstered in cloth and provide decent support for short trips. On longer trips, we found ourselves wishing for a bit more thigh support. Getting yourself comfortable is simple with manual adjustments for the seat and the steering wheel offers tilt and telescope. Taller drivers will wish the wheel would telescope out a little bit further. The back seat is small with a limited amount of head and legroom. When it comes cargo space, the Scion iM finishes towards the bottom. Open the hatch and you'll be greeted with 20.8 cubic feet. While this is slightly bigger than the Mazda3 hatchback (20.2 cubic feet), it pales in comparison with the Ford Focus hatchback (23.3 cubic feet) and Volkswagen Golf (22.8 cubic feet). You can fold the rear seats in the iM to increase space, but it will still trail the Focus and Golf.


Technology (8/10)

Considering the low price of the Scion iM, it is impressive that it offers a fair amount of technology. It begins in the instrument cluster where a 4.2-inch color screen provides trip computer information, average fuel economy, and settings. The screen is bright and easy to read at a glance. Then there is a 7-inch touchscreen system, that provides AM/FM/HD radio, Aha internet radio, Bluetooth audio streaming, and inputs for Aux and USB. This system is used on other Toyota products and we like it. The system is one of easiest to use thanks to easy to understand interface and snappy performance. We do wish Toyota would update their system as it is beginning to look somewhat dated. Navigation is available as an option.


Fuel Economy (8/10)

The EPA rates the 2016 Scion iM at 27 City/36 Highway/31 Combined for the six-speed manual and 28 City/37 Highway/32 Combined for the CVT. Our CVT-equipped iM delivered a disappointing 25.3 MPG for the week. Some of this can be attributed to cold temperatures we were dealing with during the time of our test.


Predicted Reliability, Initial Quality Ratings (7/10)

It is still too early to report on the reliability of the Scion iM as the groups who report reliability are still gathering information. We guess that the iM will do pretty well when the results come since the model is based on the Corolla, a model that has earned high marks for reliability. As for Scion as a brand, it has an average reliability rating according to Consumer Reports and J.D. Power.


Safety (N/A)

The National Highway Traffic Safety Administration or Insurance Institute for Highway Safety haven't crash tested the Scion iM at the time of this review. In terms of overall safety equipment, the iM offers a full suite of airbags including a driver's knee airbag, traction control, stability control, and a backup camera. The last item is necessary since rear visibility is poor due to wide rear pillars. We do wish Scion had also put in a blind spot monitoring system to make it a bit easier when passing on the freeway.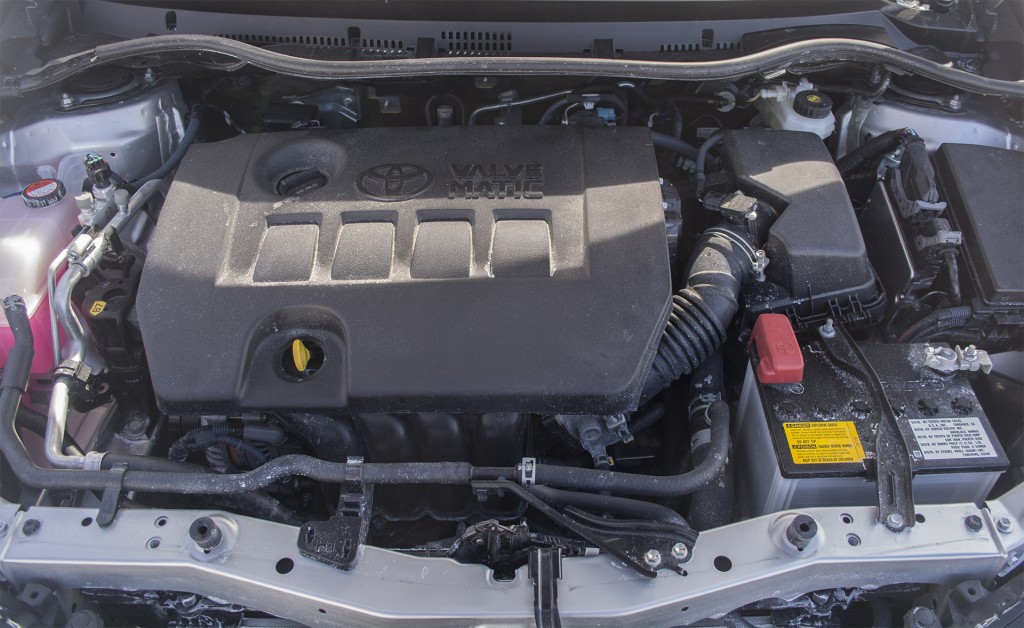 Performance (6/10)

Powering the Scion iM is a 1.8L four-cylinder producing 137 horsepower and 126 pound-feet of torque. A choice of either a six-speed manual or CVT routes the power to the front wheels. Performance is tepid with the engine seeming to make noise than actual power. You really have to work the engine if you want to get up to speed at a decent rate. Out of the two transmissions, the CVT is the preferred choice as it seems to be more in tune with the engine. The manual doesn't feel precise when going from gear to gear and has long throws.

The iM claws back some points when it comes to ride comfort as it seems settled over bumpy roads. This is due to iM having an independent rear suspension, not the Corolla's solid-axle rear suspension. This setup allows the iM to provide not only a somewhat comfortable ride, but also feel planted around turns. The iM isn't a driver's car though as the steering feels quite numb.


Pricing and Value (10/10)

Scion has all of their competitors beat when it comes pricing. The iM starts at $19,255 for the manual transmission and $19,995 for the CVT. For the price, you do get a lot of standard equipment such as keyless entry and start; automatic headlights, power-folding heated mirrors, dual-zone climate control, power windows and locks; and a leather-wrapped steering wheel. Many of these features are only available on higher trims as options or standard equipment on competitors. Our iM tester with the CVT and a few accessories comes to $20,334. A lot of car for not much money.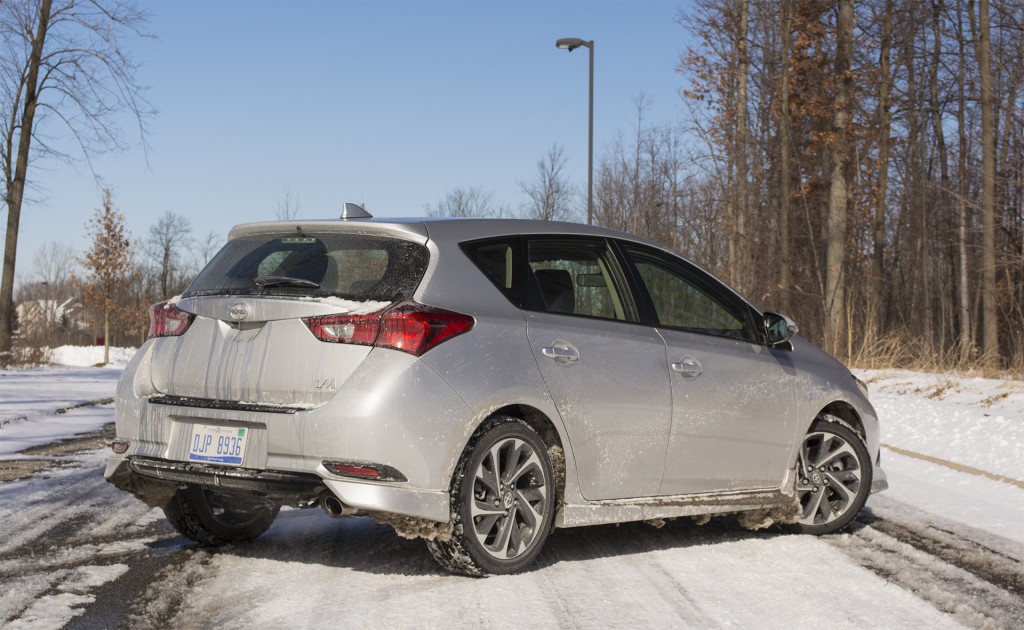 Total Score and Competitive Comparison (55/70, 78.5%)

The Mazda3 hatchback is one most engaging vehicles to drive and provides some of best fuel economy numbers in the class. The Ford Focus isn't far behind in driving fun and provides one of largest cargo areas in the class. Then there is the Volkswagen Golf which many consider to be best in the class with a well-built interior, a balance between sport and comfort, and some impressive resale values.

But the Scion iM can stand up when it comes value as it offers a lot of equipment for a low price. It also is one of the sharpest looking compacts on sale. But those are the only brights spot for the iM as most everything else ranges of mediocre to terrible. As the iM transitions from Scion to Toyota, we hope there are some changes in store such as improving the engine's performance. If you don't have much money to spend for a compact, then the give the iM a close look. Otherwise, we would implore you to look at the competition first before looking at the iM.