Lexus RC 200t ›› 2017 Lexus RC 200t Overview

Standard Features

Safety Ratings

Colors
Overview
Overview (Final Score: C-)

Most buyers who decide to buy a compact luxury coupe are doing so to make a statement. They don't want to follow those who decide to go with a sedan or crossover. For the longest time this segment was dominated by the likes of the BMW 3/4-Series Coupe, Audi A5 and Mercedes-Benz C-Class Coupe.

But the past few years have seen some new entrants in the class. One of those is one you might not expect: Lexus. The company introduced the RC coupe back in 2015 to provide a unique alternative to the usual suspects.


What We Love About the 2017 Lexus RC 200t:



Exterior design that stands out from the crowd


Good balance between comfort and sport


Well-crafted interior


What We Don't Love About the 2017 Lexus RC 200t:



Performance of turbo engine is disappointing


Infotainment system is slightly frustrating to use


Don't expect much storage or rear seat space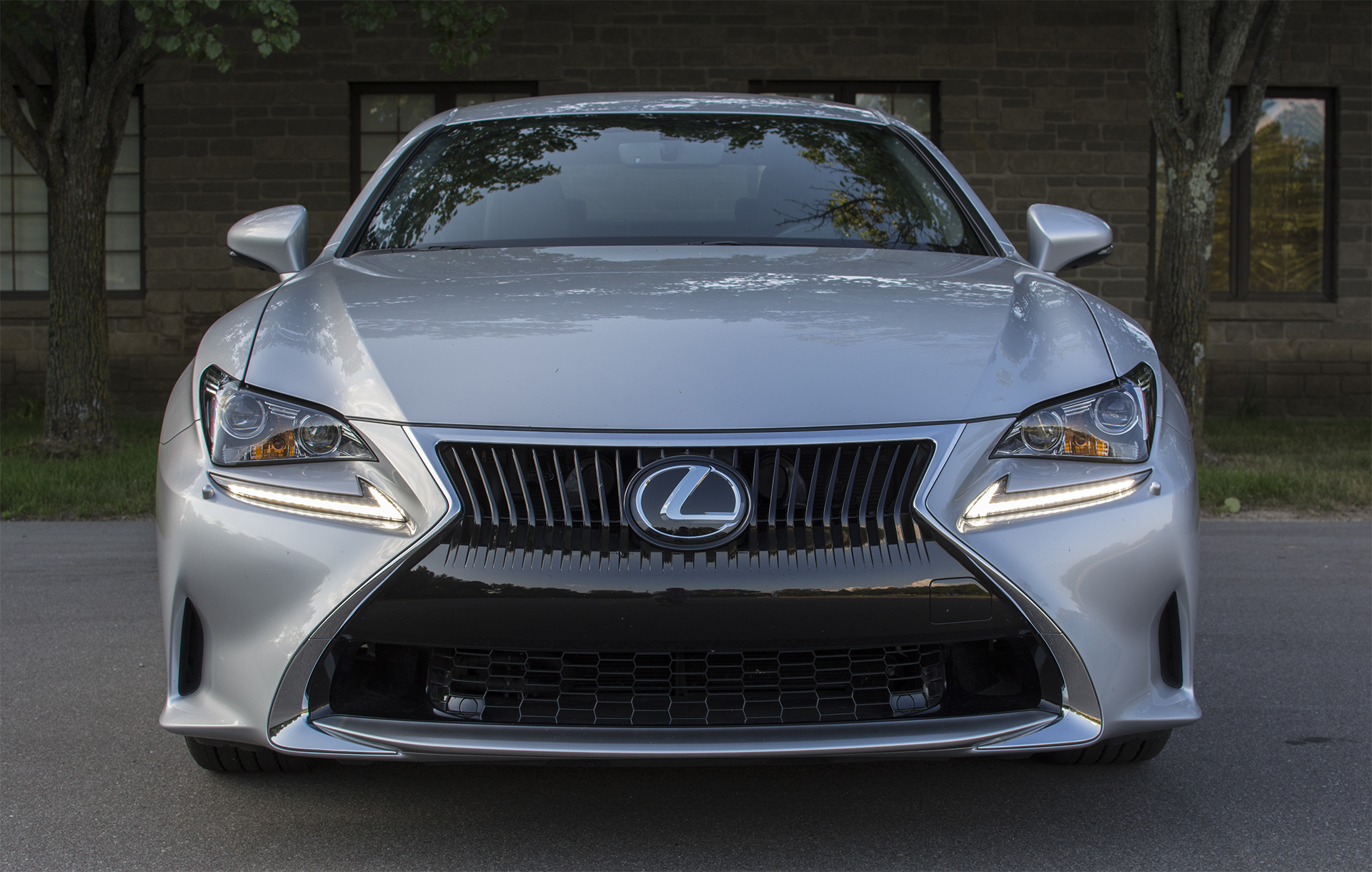 Exterior View (8/10)

Lexus went for an extroverted appearance with the RC coupe. The front is brash with a wider version Lexus spindle grille, vent cutouts for the bumper, and distinctive LED lighting underneath the headlights. Bulging fenders give off a sporting appearance with 18-inch, 5-spoke wheels filling in the wheel wells quite nicely. Around back is a bumper with faux vents and twin exhaust ports. The only item we would change on our tester is the paint. Silver makes the RC look plain. A vibrant color like a red really makes this model pop.

Optional is the F-Sport package that brings a new appearance, with a mesh grille insert and 19-inch wheels. This also gives you access to more vibrant colors such as blue and orange.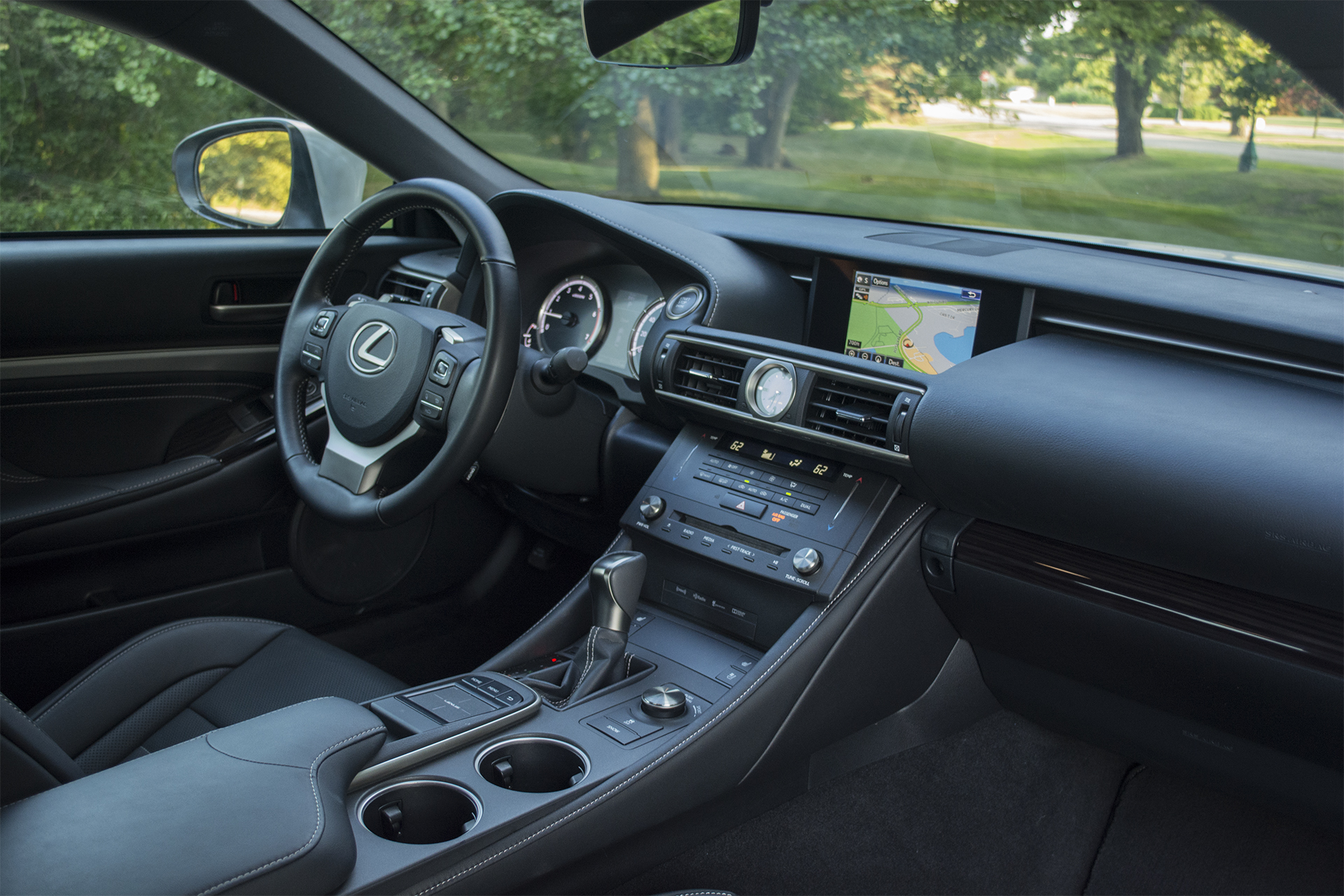 Interior Comfort, Quality and Ease of Use (7/10)

Open the wide doors of the RC 200t and it's clear Lexus' designers wanted to make you feel that you're in something quite special. Settle down in either of the front seats and it feels like you're in a cockpit, thanks to high belt line and sloping center stack layout. Material and build quality is top notch, as there is an abundance of soft-touch materials and no large gaps between the various parts of the dash and door panels. Controls are within easy reach for driver and passenger, though some will be annoyed by the touchier temperature controls. They are somewhat finicky to use and it isn't easy to set the right temperature.

Front seats come wrapped in leather, and feature power adjustments and increased side bolstering. Finding a comfortable position takes no time, though we did find the seats to lack enough thigh support for long trips. There is a back seat, but that's best used for additional storage because legroom is almost nonexistent. You'll need that back seat as interior storage is quite disappointing.

The center console storage is very shallow and the odd shape means you won't be able to put many items in there. The glove box is a similar story, as space comes at a premium. Open the trunk and you'll find one of the smallest cargo areas in the class - 10.1 cubic feet. On the plus side, the RC does come with 60/40 split folding rear seats to make it somewhat more practical.


Technology (6/10)

All RC models get a 7-inch color display that is controlled by a knob and a series of buttons. Our test vehicle came with the optional navigation system which swaps the knob for the Lexus Remote Touch system. This uses a touchpad similar to what you'll find on a laptop, to move around and select the various functions. This controller is somewhat frustrating to use because it is imprecise when trying to select. One slip of the finger will cause you to end up with a different selection. Using it on move is very distracting since you'll need to make sure what you're selecting is correct.

The small screen is vibrant, but pushed way back in the dash which makes it somewhat difficult to see easily. Sitting in the driver's chair, we found that the screen was cut off slightly due to the shroud covering the instrument cluster. Bringing the screen forward or making it larger would be a huge help.

Lexus Enform is beginning to show its age, especially in terms of the optional navigation system. The graphics don't cut it compared to the modern systems found in competitors. But the interface is easy to understand and provides decent performance. Apple CarPlay and Android Auto are not available.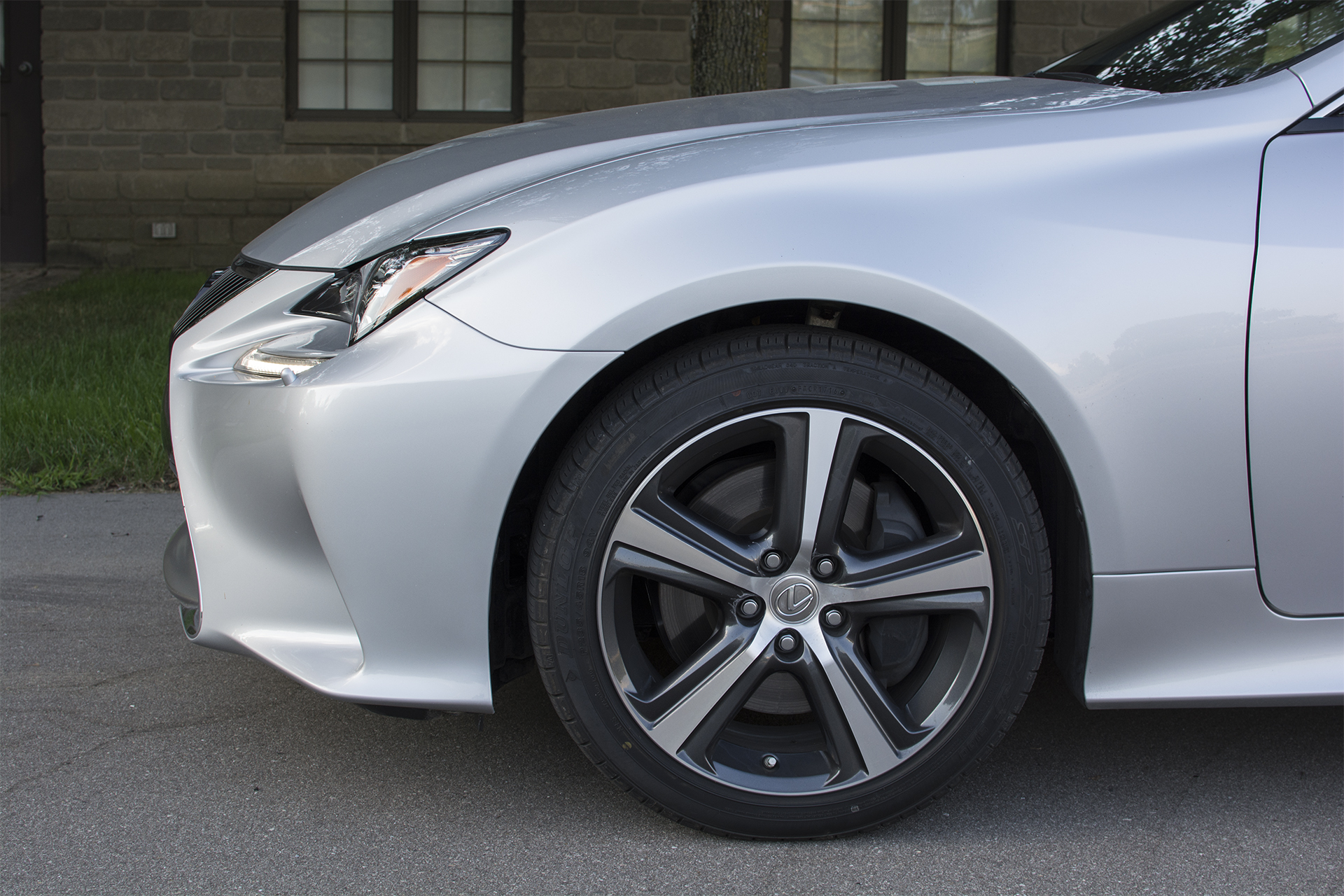 Fuel Economy (7/10)

The RC 200t fuel economy figures are low for the class as EPA says you should get 22 City/32 Highway/26 Combined. We saw an average of 25 mpg for our week-long test.


Predicted Reliability, Initial Quality Ratings (8/10)

If you want a luxury coupe to go the distance, the Lexus RC is a safe bet. Both Consumer Reports and J.D. Power rate the RC highly in predicted reliability. Initial Quality is rated average by J.D. Power.


Safety (7/10)

All RC coupes come with a full set of airbags, traction control, stability control, brake assist, backup camera and a year of Lexus Inform Safety Connect. Optional safety features include blind-spot monitoring with rear cross-traffic alert, adaptive cruise control, automatic emergency braking for the front, and front and rear parking sensors. If you want features such as automatic high beams, lane-keep assist and automatic emergency braking for the rear, you'll need to look at a competitor.

The Insurance Institute for Highway Safety is the only group that has crash tested the RC, where it was named a Top Safety Pick+.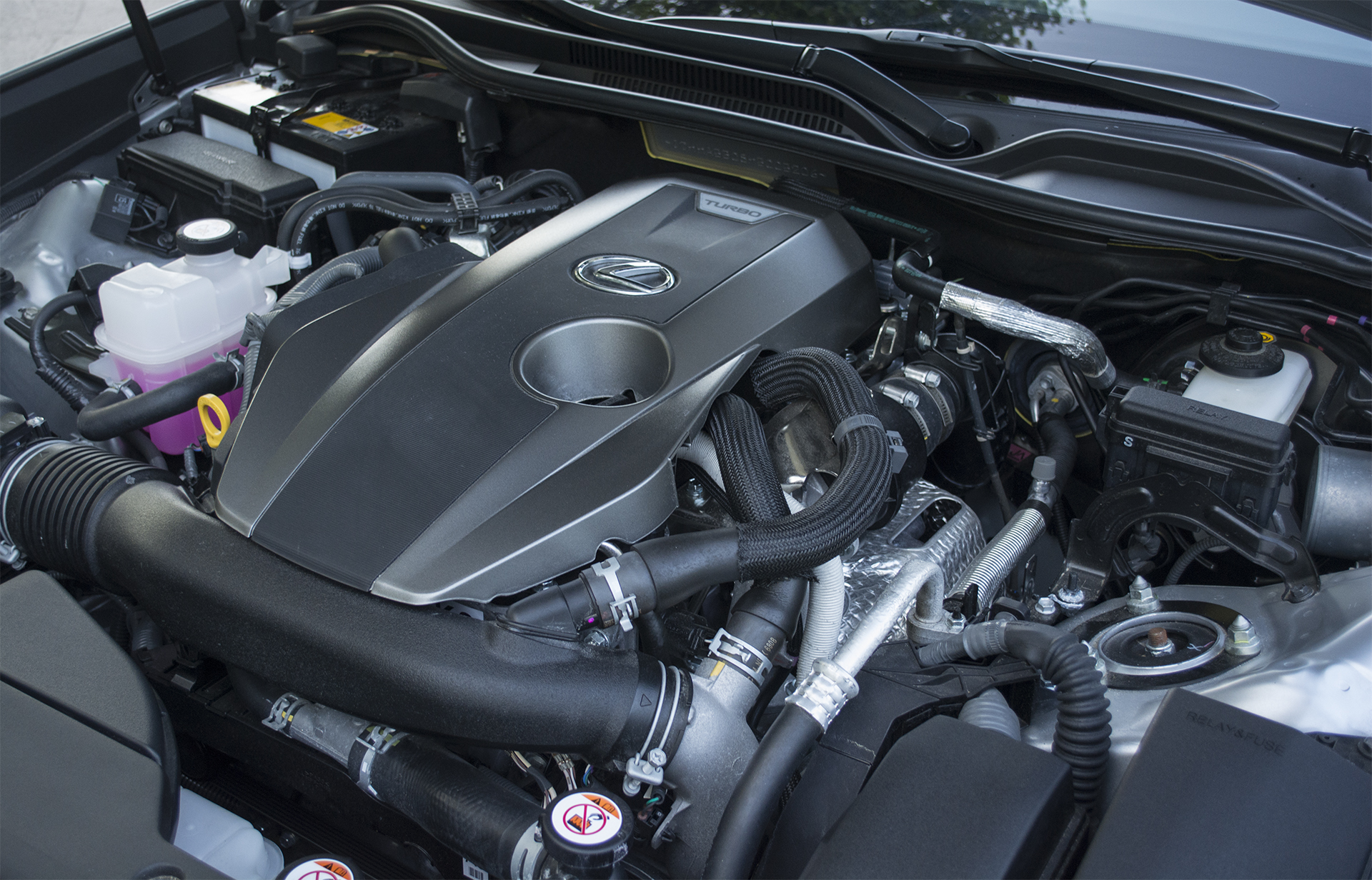 Performance (6/10)

The RC 200t uses a turbocharged 2.0-liter 4-cylinder with 241 horsepower and 258 pound-feet of torque. This is paired exclusively with an 8-speed automatic and rear-wheel drive. Despite the aggressive image put out there by the RC's exterior, the turbo-four cannot match it. Performance is only adequate, as there seems to be enough power when leaving a stop, not a significant rush that you would experience in competitors. Some of this can be laid at the RC 200t's curb weight of 3,733 pounds. You'll notice that you need to be in the mid-range of the rpm band to feel any notion of speed. On the plus side, the turbo-four doesn't have much lag. The 8-speed automatic delivers crisp and smooth shifts for the daily drive, but we found ourselves wishing the gear changes were a little bit quicker when put into the Sport mode.

If you're looking for a coupe that can soak up the miles, the RC 200t is a good choice. Bumps and uneven pavement are dealt with no intrusions coming inside. The F-Sport package isn't as smooth due to larger wheels and lower-profile tires. Wind noise is kept to silent levels, while there is a fair amount of road noise coming inside, especially from the floor.

When it comes to curvy roads, the RC 200t is willing to play. The model feels composed in the corners and the steering provides a decent amount of weight and road feel. If you want to make the RC 200t something that can give German models a run for their money, then seriously consider the F-Sport package that brings adaptive dampers, new tires, revised steering and more. We have driven a RC 350 F-Sport and can say it is quite good fun.


Pricing and Value (7/10)

The 2017 RC 200t begins at $40,155, while the F-Sport will set you back $44,260. Our modestly equipped RC 200t tester rung in at around $45,000 with a few options ticked such as adaptive cruise control, blind-spot monitoring and navigation. If you have your heart set on the RC 200t, then we would recommend something along the lines of our tester. Otherwise, save up a bit more cash and go for the RC 350.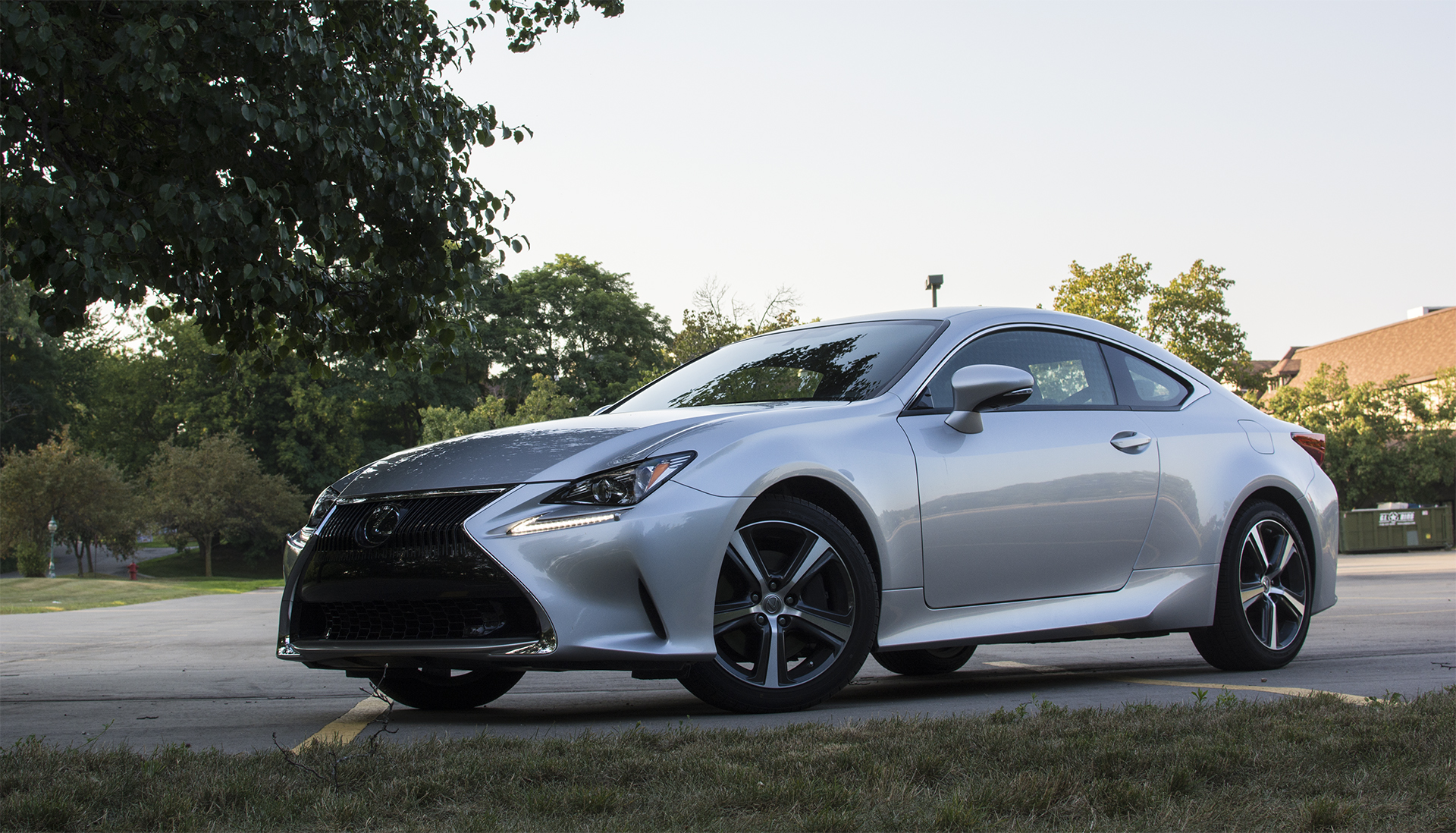 Total Score and Competitive Comparison (56/80, 70%)

When it comes compact luxury coupes, the elephant in the room is the BMW 4-Series. The 430i offers similar 248 horsepower but is much quicker than the RC 200t - 5.5 vs 7.1 seconds to get to 60 mph. Many also consider it to be the benchmark in terms of handling and the iDrive infotainment system is one of the best infotainment systems on sale. One downside is the 430i costs over $3,000 more than the RC 200t.

Cadillac's ATS Coupe comes a low price of $37,595 and gives many coupes a run for the money in terms of handling. However, the ATS trails competitors in terms of the interior materials and infotainment. The Mercedes C-Class Coupe is quite the stunner with a handsome exterior and a well-appointed interior. The C-Class also offers a comfortable ride similar to the RC.

The 2017 Lexus RC stands out with its polarizing design and relaxing drive. But there are many negatives to the RC, such as the limited amount of space for passengers and cargo, an infotainment screen that is frustrating to use, and the turbo-four that doesn't deliver the performance the coupe is hinting at. You should seriously consider the competition first before checking out the RC. Otherwise you may end up very disappointed.
| Trim | Engine | Drive Train | MSRP |
| --- | --- | --- | --- |
| 2dr Coupe | 4 Cylinder | RWD | 40155 |
Lexus RC 200t Cars for Sale