Hyundai Palisade ›› 2020 Hyundai Palisade Overview

Overview

Standard Features

Safety Ratings

Safety Features

Colors
Select another year
:
2023
⋅
2022
⋅
2021
⋅
2020
Select another model
:
Accent
⋅
Elantra
⋅
Elantra GT
⋅
Ioniq Electric
⋅
Ioniq Hybrid
⋅
Ioniq Plug-In Hybrid
⋅
Kona
⋅
Kona Electric
⋅
NEXO
⋅
Palisade
⋅
Santa Fe
⋅
Sonata
⋅
Sonata Hybrid
⋅
Tucson
⋅
Veloster
⋅
Veloster N
⋅
Venue
Overview
Overview (Final Score: A-)

The 2020 Palisade is a new three-row crossover-SUV entry from Hyundai. The Palisade essentially replaces the three-row option for the smaller and less accommodating Santa Fe XL, adding a larger, more family friendly model to compete in the larger midsize three-row segment.

The 2020 Hyundai Palisade features three roomy rows of seating, plentiful standard safety and technology features along with several options for even more, and a well-matched V6 powerplant to get it all around.

The Palisade is often compared to its cousin, the Kia Telluride, which shares several things with the Palisade. The Kia is a different option, though, with the Hyundai having a more luxurious bent towards its upscale nature. Where the Palisade really shines, though, is in its three rows of adult-usable seating. Unlike many in this segment, the third row is not cramped and only for kids or, worse, billed as being for adults without the kind of comfort to keep adults in the back from feeling cheated.

The advanced safety features and huge warranty that comes with the 2020 Palisade are more features that will definitely get buyers' interest. The Palisade comes in three trim levels with one engine and transmission option. Front-wheel drive is standard and all-wheel drive is optional. Total passenger capacity is seven or eight, depending on the second-row configuration.


What We Love About the 2020 Hyundai Palisade:



Very roomy inside with smart ergonomics throughout.


Features and technology are both abundant and easy to use.


Strong V6 powerplant with a well-matched transmission and drivetrain.


What We Don't Love About the 2020 Hyundai Palisade:



Pricey in the upper trim levels, edging into the luxury category cost-wise.


Some interior parts are cheaper and from the lower end of the Hyundai lineup.


Several unknowns given the all-new nature of this model.


Exterior View (10/10)

The 2020 Hyundai Palisade has a very good look for the segment. As a three-row crossover, it's partially an SUV and partially a minivan. This requires a certain appearance that people expect, even if it's subconsciously, and that the Palisade pulls off very well.

The flat, wide face of the Palisade offers a large, but not overbearing grille and thin, well-proportioned headlamps above larger daytime running lights and fog lamp bezels. The flat hood promises power and the large wheels deemphasize the bulk of the Palisade's overall bodywork. The raked windscreen looks shorter than expected, giving the Palisade a lower to the ground and speedier look that is helped with the slightly sloping roofline. This is helped by the slightly tapering beltline edge and pinched by the lower body gouge that tapers slightly upwards. The fenders of the Palisade bulge slightly, but not so much that they become an emphasized eye point.

This all goes together to create an SUV in appearance that doesn't have the over-done masculinity of SUVs of the past or the overly feminized sameness of some of the newer crop. Instead, the Palisade balances both sides of that yin-yang for a clean, upscale, and capable look that doesn't shy away from its largeness and yet doesn't emphasize it either.


Interior Comfort, Quality, Ergonomics (9/10)

The interior of the Hyundai Palisade is roomy, well thought out, and made up of quality materials. The Palisade is more upscale than one might expect from the Hyundai brand, part of a trend that Hyundai has been undertaking to improve how it's perceived versus cousin company Kia. This upscale trend definitely pays off for the Palisade.

For those wondering, there are three LATCH setups in the Palisade (two in the second row, one in the third) for child safety seats and five total tethers for the same. Several convenience items are available in the Palisade as well, including dual-zone climate, twin sunroofs, a household-type power outlet, and more. Cupholders are also plentiful in the Palisade and access to the third row is relatively easy given the wide rear doors and forward-tilting second-row seating.

The Palisade has seven or eight seats, depending on whether captain's chairs are chosen for the second row. All eight seating positions are comfortable and adult-friendly. Making the Palisade one of the few midsize three-row options that has an adult-usable third row outside of the minivan market. Those passengers also have climate vents and USB charging ports.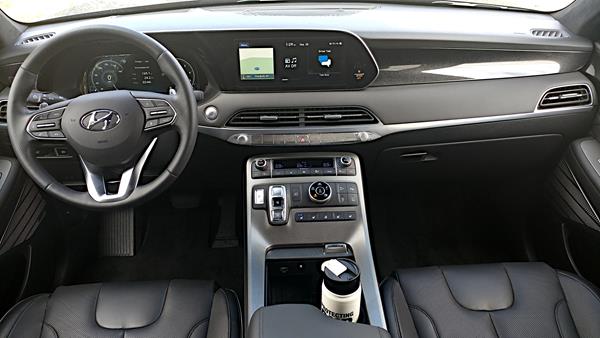 The cargo space in the 2020 Hyundai Palisade is large, with a wide door and flat floor. There are 18 cubic feet of space behind the third row. That expands to 45.8 cubic feet with the third row folded down and 86.4 with all three rows folded. That's more than most in the three-row SUV market. A small compartment underneath the rear cargo space has added room as well and makes for a good place to put out-of-sight items while out and about.


Technology (10/10)

There is a lot of tech in the new 2020 Palisade. An 8-inch touchscreen infotainment system is standard as is a 12.3-inch digital instrument cluster. Apple CarPlay, Android Auto, five USB ports, and standard Bluetooth connectivity are also standard. The touchscreen can be upgraded to a 10.25-inch option, as can third-row USB outlets as well as the audio.

The user interface for the infotainment is nicely done and intuitive to use. There are a lot of options for those willing to dig into the menus, but most casual users will find the Palisade's infotainment to be easy to learn and quick to use for mundane tasks like radio tuning and navigation (if equipped). Plug-and-play with Auto/CarPlay is easy.


Fuel Economy (8/10)

The 2020 Palisade is EPA-rated at 19 mpg in the city and 26 mpg on the highway in its front-wheel drive format. With all-wheel drive, those numbers become 19 mpg city and 24 mpg highway.

In our week with the AWD model, we saw 16.5 mpg in the city and easily achieved 24 mpg on the highway. We expect that altitude and drive style are factors.


Predicted Reliability, Initial Quality Ratings (9/10)

The 2020 Hyundai Palisade has been ranked as Better Than Most by the J.D. Power and Associates Vehicle Dependability Study. Hyundai's excellent warranty (5-year/60,000-mile bumper-to-bumper, 10-year/100,000-mile powertrain) are a definite selling point as well.


Safety (10/10)

One would have to search hard to find a three-row SUV with a better safety rating than the 2020 Hyundai Palisade. The National Highway Traffic Safety Administration (NHTSA) has given the Palisade a five-star rating overall, with five stars each for frontal and side crash tests and four stars for rollover testing.

The Insurance Institute for Highway Safety has likewise given the 2020 Palisade top ratings for safety. The Palisade received top scores of "Good" on all crash testing, including the new small front overlap passenger's side test. In addition, the Palisade received a Superior rating for its crash prevention technologies.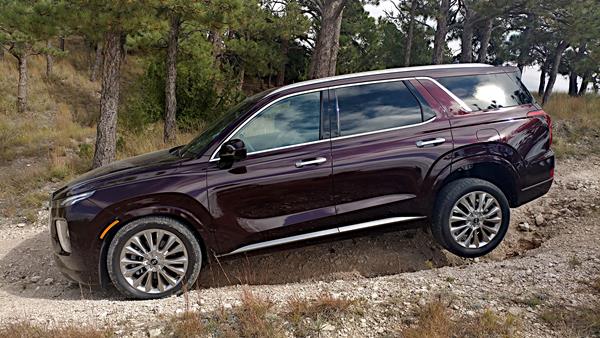 Performance (9/10)

The 2020 Hyundai Palisade is powered by a 3.8-liter V6 that outputs 291 horsepower and 262 pound-feet of torque. This is more than adequate for the Palisade's size and it runs through a well-balanced eight-speed automatic transmission. Front-wheel drive is default and all-wheel drive is optional and highly recommended ($1,700 upgrade).

The Palisade feels confident on the road and never lacks for power when power is needed. That's not to say that this powertrain is fast, however, as it's tuned more for grunt and economy than it is for speed. The Palisade isn't slow, but it's not quick either.

One of the standouts for the Palisade, though, is in drive feel. This Hyundai feels smaller than it is and corners with an unusual stiffness for the segment. It's more car- than SUV-like in its handling and that's a very good thing.


Pricing and Value (8/10)

The 2020 Palisade has a good starting point price-wise, but really sells well in its mid-tier formats. We recommend the Palisade SEL AWD at about $36,000 as a best bet for a good value mix of accouterments and money spent.

The Palisade is an excellent family vehicle, has about average fuel economy, and should have better-than-average resell down the line.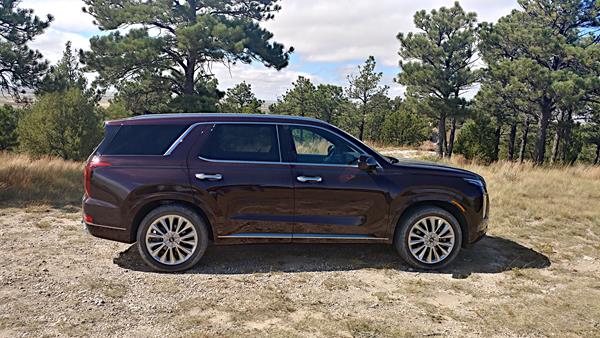 Total Score and Competitive Comparison (73/80, 91%)

Competition in the three-row midsize crossover arena is heating up. Perhaps the most compelling option against the 2020 Hyundai Palisade is its cousin at Kia, the Telluride. The Telluride is a bit cheaper to buy and shares many attributes with the Hyundai, but isn't as upscale in styling.

Also competitive is the Mazda CX-9, though that model has a less-accessible third row that isn't adult-friendly. The Toyota Highlander is a best seller in the segment for good reason and has a hybrid option, which may appeal to many. Similarly, the well-done Honda Pilot sets the bar for interior roominess and ergonomics, against which the Palisade competes very well.

The 2020 Palisade is definitely worth keeping on your list as a top contender among the three-row options. It's smart, roomy, and unusually engaging.
Hyundai Palisade SUVs for Sale