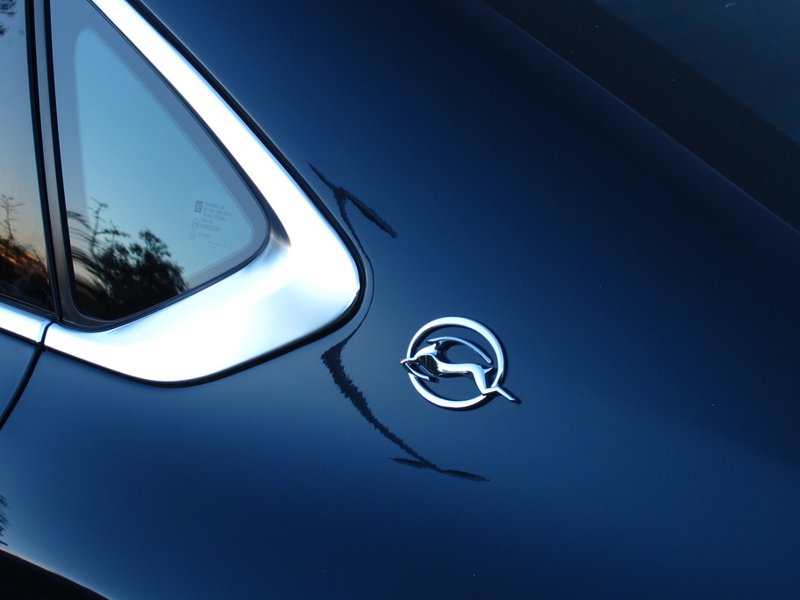 Overview (Final Grade after 8 Categories: B+)
Let's just be honest here. The last generation Chevy Impala was so "Old-School GM" that it was almost comical. The interior was as good as a rental car or FBI agent would need it to be, the powertrains and styling were dated and it lacked any real personality or style. Fast forward to its 2014 redesign and it's clear that the "New GM" which has brought us such superstars as the Cadillac ATS, latest Chevrolet Stingray, hot selling Chevy Cruze, revolutionary Chevy Volt, the desirable Buick Enclave and the just unveiled GMC Yukon Denali just to name a few, has finally worked its magic on the Impala nameplate. And boy is it good.
Frankly, General Motors doesn't make any bad cars anymore, which is evidenced in many ways like its showing in recent initial quality surveys and overall quality if the automaker's recent bout with a Toyota-like recall madness proves to be as expected—just a short term issue. Then there is the downright sexy and appealing design and style that goes into each and every car this monolithic company builds. This is all evidenced in the transformation of the 2014 Chevy Impala into a class leading position among full size family sedans which is a class that includes the rather hideous looking Toyota Avalon; cool but rather brutal Dodge Charger, the Ford Taurus as well as the Nissan Maxima which currently is akin to a bloated Altima.
The Impala is one truly smooth operator that is available with GM's lovely and powerful 3.6 liter 305 horsepower/264 lb. feet of torque 6-cylinder engine mated to a very smooth 6-speed automatic that is also responsive when you need it to be. Our nicely loaded 2LT tester came so equipped but less expensive Impala models come with a 2.5 liter 195 horsepower/187 lb. feet of torque 4-cylinder engine.  Prices for the 2014 Impala start at $26,860 and span the horizon right now all the way to a little over $37,000 for a fully loaded model with every luxury feature, gadget and gizmo you can imagine. Our tester stickered for $34,960.
What We Loved about the 2014 Chevy Impala


The dashboard design and quality of interior materials is amazingly upscale in execution


The positively enormous 18.8 cubic foot trunk and roomy interior


The exterior design is now stylish and handsome and hides the car's size well


What We Didn't Love about the 2014 Chevy Impala


The steering wheel airbag housing is too large like it's from an older car


Things can get pricey when you start adding options


Some of the wood trims available don't look like they came from a tree


Awards for Best in Class Excellence by the 2014 Chevy Impala


Most Improved Full Size Sedan Overall  and Best 2014 Full Size Sedan Interior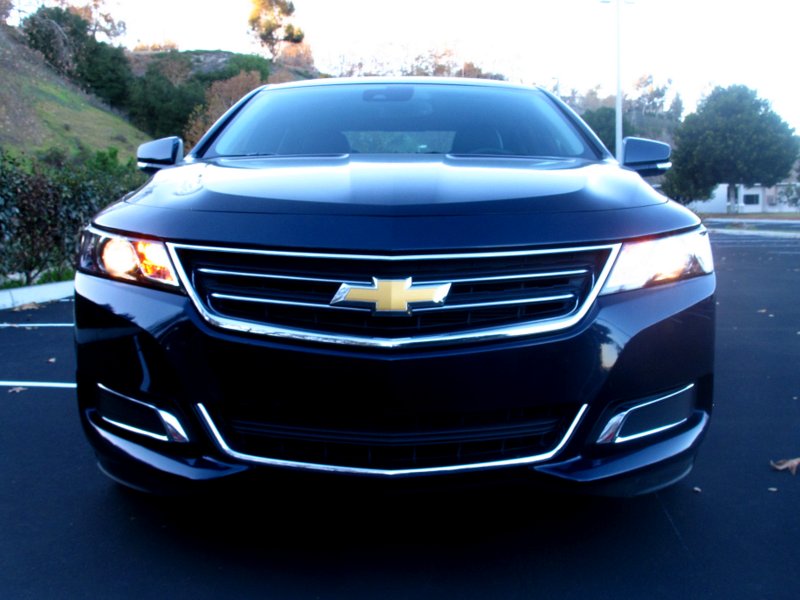 Exterior View (9 out of 10)
Compared to the last generation Impala which looked a bit dated and dowdy in its final years, the 2014 version is a svelte, handsome and very well executed large sedan design. Compare it to the current Toyota Avalon which really has nothing but bad angles, the Impala not only looks good no matter where you stand but it also manages to hide the fact that it is a rather long and wide vehicle. But you never feel like you are driving a boat with the 2014 Chevy Impala—not when you look at it from the outside and definitely not when driving it. Too bad we all can't hide our extra bulk as easily as the Impala.
Interior Comfort, Quality and Overall Ease of Use (9 out of 10)
Again, a quantum leap in interior style, execution, materials quality and overall interior quietness is what Chevy brought to the table when redesigning the all-new 2014 Chevy Impala. The dashboard was covered in parts in high quality leather as well as chrome detailing and some of the most realistic wood trim ever seen in a Chevy. This car has plenty of room for five adults to ride in serene and refined comfort with the airy greenhouse affording everyone a great view out. This would be a great road trip car.
Not only is the rear seat spacious and endowed with amazing legroom, the trunk is so large that it borders on the ridiculous. This is not a typo—the 2014 Chevy Impala has and 18.8 cubic foot trunk which is larger than some Manhattan apartments. If you can't fit all of your junk in the Impala's trunk, well, you have too much junk. We also were impressed with the high quality of the French stitched leather seats in our tester, the ice-blue lighting that permeated the cabin at night, and the dual cockpit dash design which really gives the Impala's interior a style edge.
The only piece which didn't seem to fit visually was the oversized driver's airbag housing which looked like something from a vehicle 10 years ago. If that was a nod to retro, Chevy, it wasn't successful. However, if the airbag is full of popcorn kernels that if the airbags do deploy will leave the driver to enjoy a snack as On-Star contacts the authorities—well, that would just be genius. Otherwise, this is our new favorite full size sedan interior bar none.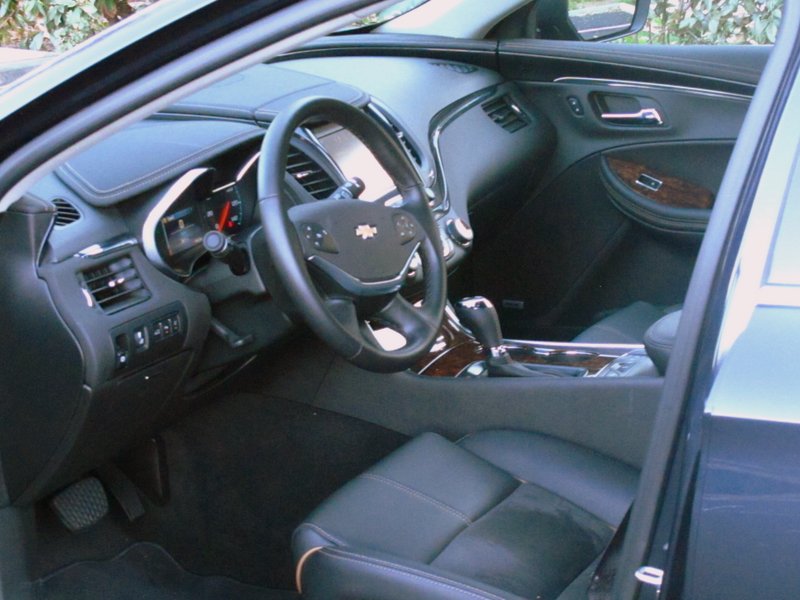 Technology (9 out of 10)
Chevy's MyLink system is easy to use and flawless in execution in ways MyFordTouch can still only dream of being. Not only that, Chevy's infotainment system also brings large enough touch screen buttons that human hands can actually hit while a human should be staring at the road ahead of them. No tiny buttons here, just clearly marked screens and submenus as well as a ridiculous 3 USB/i-pod jacks inside our Impala tester's cabin with our favorite feature being the hidden compartment behind the center mounted 8-inch nav/touch screen that is the perfect spot to hide your smart phone. Or things you don't want people finding. Whatever that may be is, of course, up to you. But we are sure the police will know about this little hiding spot right quick so maybe don't decide to start smuggling illicit items across any borders.
Bluetooth connectivity to our iPhone 5 smartphones was quick, painless and we never lost any calls during the Impala's time with us even on roads with notorious blackout zones. All in all, the technology you find in the 2014 Chevy Impala is really well integrated and that goes especially for the safety systems like GM's blind spot warning, lane departure warning (one of the smoothest and non-startling in the business) and forward/rear collision alert systems which all seem to know when to but out of the driving equation. And that is a sign of smart tech.
Fuel Economy (8 out of 10)
While buyers of the Impala can get a more fuel efficient 4-cylinder engine that would no doubt suit most buyer's needs for power, we must admit that the effortless take-off thrust afforded by our tester's optional 3.6 liter 305 horsepower 264 lb. feet of torque V6 made every drive a ridiculously fun adventure. Sure, that means EPA ratings of 18 city/28 highway but over the course of a week we averaged a little over 24 miles per gallon which is not at all that bad for a car of this size with this much power. If you want better economy, buy a Prius. But this Impala would blow the doors off a Prius.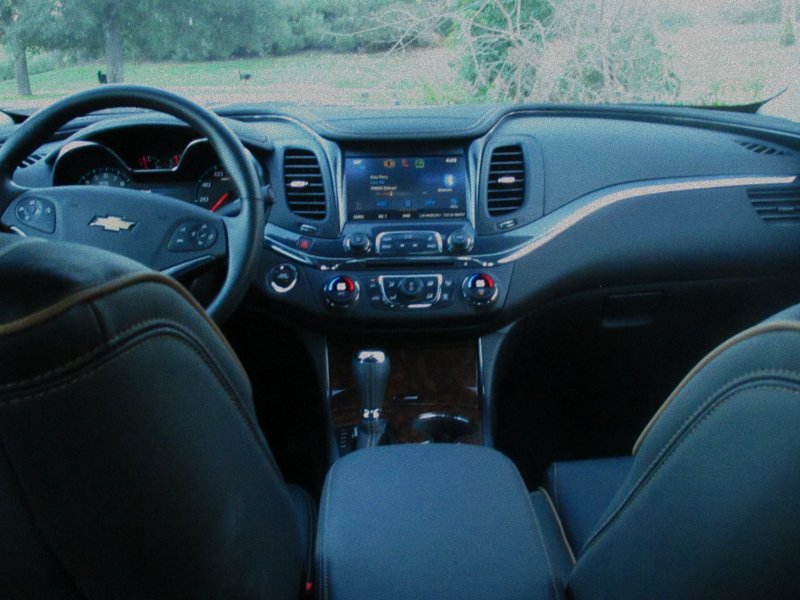 Predicted Reliability and Initial Quality Ratings (10 out of 10)
According to J.D. Power and Associates, the last generation 2013 Chevy Impala won its "Large Car Award" for Initial Quality and given that amazing outcome the 2014 is predicted to best that in initial and long term reliability. This is quite an achievement for a full size sedan who prior to now had never registered high in our minds for the utmost in quality. But if GM and Chevy could make the last generation Impala a quality piece, we have no doubt this one will be flawless. But this is the new General Motors, a new Chevrolet and now this car company leads well established, high quality brands in a number of very prestigious quality surveys. We are sure this Impala will continue the trend.
Safety (9 out of 10)
The 2014 Chevy Impala rated a full five star safety rating with the Government's NHTSA (National Highway Traffic Safety Administration) after a bevy of various crash tests. The vehicle, however, has not yet been fully tested by the IIHS in all its very tough to pass categories but in an offset front impact and side impact test the car received the top rating of "Good" so we expect the car to perform very well should you ever get into an accident.
Performance (9 out of 10)
Given the size of the 2014 Chevy Impala sedan and GM's historic tendency to err on the side of pillowy and dough like ride compliance for its full size family "roadmasters," it is quite amazing to see how well it handles corners and never makes the driver feel sensory deprived. The main reason for this, no doubt, is Chevy's excellent 3.6 liter 305 horsepower/264 lb. feet of torque V6 engine that is the range topping powerplant for the latest Impala. This motor can growl like a tiger when it gets pushed but under such conditions it also unleashes a mighty torrent of power to whoever is piloting it. General Motors uses this motor in many of its models and for good reason.
We also were highly impressed by the near total lack of marshmallow sensations or porpoising from the expertly engineered suspension which simply absorbed bumps and any uneven pavement to create a driving and riding experience that was truly like that of most luxury premium models. Never has a full size Chevy Impala family sedan (much less models like the Toyota Avalon, Hyundai Azera or Ford Taurus for that matter) ever been expected to perform with this level of refinement and sportiness. The steering feel may not keep BMW engineers up at night as it was clearly designed to feel light thereby increasing how easy the 2014 Impala feels to drive.
Truly, the 2014 Chevy Impala may be huge for a family sedan and it might intimidate lots of drivers if it didn't drive in such a way that it feels like it simply shrinks around you. You could just as well be piloting a Chevy Sonic sized car through the Home Depot parking lot given how well the latest Impala reacted to cramped parking lot craziness and dozing suburban SUV owners.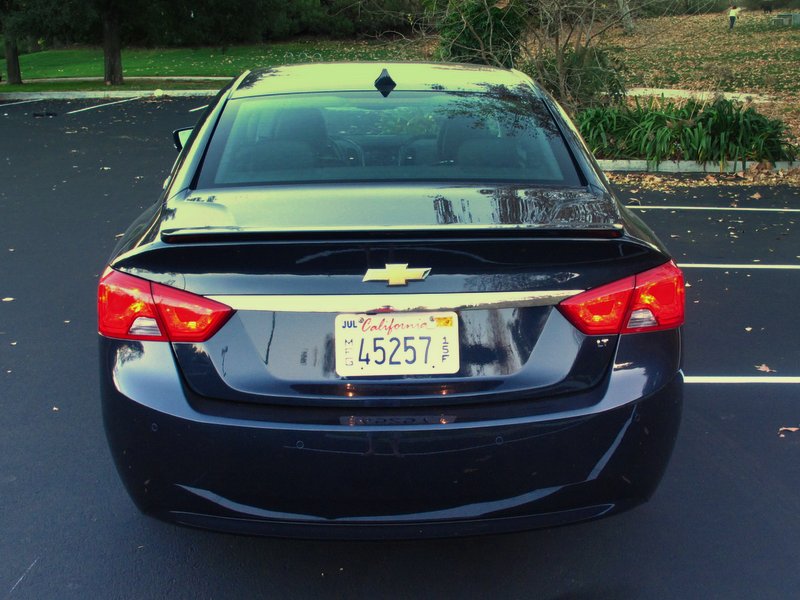 Pricing and Value for Money (8 out of 10)
One thing we do like that comes with every 2014 Chevy Impala is "Chevy Complete Care" which takes care of all routine maintenance for the first two years or 24,000 miles along with 5 years/100,000 miles of complementary roadside assistance. Both of those could save serious coin for buyers. Our 2014 Chevy Impala 2LT tester with the 3.6 liter V6/6-speed automatic combination stickered for a reasonable $29,950 boasting automatic dual zone climate control, leather seating surfaces, 18-inch chrome alloys, Bluetooth, power everything, Sirius/XM and a 6-speaker audio system to name a few items. To that we added the LT convenience package for $940 which added backup camera, sensors, floormats and a remote starting system.
Now on to the "necessities" like the $1,400 Premium audio (Bose upgrade with 11-speakers) and Sport Wheels Package (19-inch aluminum plus rear spoiler), the $1,095 navigation package and a Premium Seating Package which upgrades the leather quality and adds heated and 8-way power front seats for $945. After that we spent an additional $890 on the Advanced Safety Package with the aforementioned systems to detect blind spot objects, frontal collision and more. We recommend them all highly.
 "The Final Numbers" and the Competition (71 points out of 80)
Before we spent a week living with the 2014 Chevy Impala it was not exactly a sedan that truly captured our hearts and imaginations but trust us when we say this new car made us believers in the power of GM and the capabilities possible with full size family sedans. So don't assume that just because you want ride comfort, legroom, a trunk bigger than the great state of Texas and plenty of power that have to make do with something bludgeoned with the ugly stick (such as is true with the latest Toyota Avalon). Or, far worse, you might just make do with an ugly sedan that is like driving a shot of liquid Novocain. Again, Avalon.
Other choices include the Ford Taurus (although it is tighter on space), Dodge Charger/Chrysler 300C (fewer high tech features, less roomy), Buick LaCrosse (less athletic, a bit too much chrome) or the Nissan Maxima which has had so many face lifts we aren't even sure what it looks like anymore. Or there is the Hyundai Azera which we are sure even Hyundai forgot it was selling. So if you want to go big, go Impala.