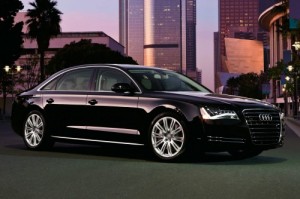 There's nothing more frustrating than trying to drive a vehicle when your body doesn't comfortably fit in the seat, your head bumps up against the car's roof, and your legs and feet are crammed and you can't find a comfortable and safe driving position.
When looking for a used luxury car that fits – literally – drivers of a taller stature, it's best to start with a list of those that accommodate taller people. Here are the top 10 we've found that do the job, for the most part. Some drivers will find it necessary to move up into a larger size vehicle, such as an SUV, to better facilitate more comfortable and safe driving.
2011-2013 Audi A8 – For a "near-perfect" blend of luxury, amenities, style and performance, aficionados say you can't beat the Audi A8. The full-size luxury sedan is available in standard and long wheelbase (A8 L) versions. One noteworthy point is that the rear seat legroom in the A8 L is more than sufficient for a pair of six-footers. Look for used prices ranging from around $42,500 to $68,999.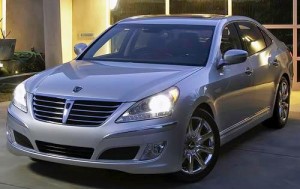 2011-2013 Hyundai Equus – Debuting in 2011, the Hyundai Equus is still a relatively new, but gaining attention, large luxury sedan. Highlights include a limousine-like cabin, extraordinarily quiet interior, first-class amenities, excellent dealer service and exceptional warranty. But for taller people, it's head room and leg room that count. Front head room is 38.7 inches, while leg room is 45.1 inches. In the rear, head room is 37.7 inches, while leg room is 38.8 inches. Check out prices ranging from $27,500 to $43,000.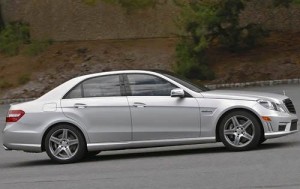 2010-2013 Mercedes-Benz E-Class – With a variety of styles to suit, the Mercedes-Benz E-Class offers luxury, performance, style and comfort that are incomparable. From base model to E63 AMG trim, the E-Class simply is without equal. For taller people, there's 37.9 inches of front head room and 41.3 inches of leg room. In the rear, the numbers are 38.2 and 35.8 inches, respectively. Prices are wide ranging, from around $25,994 to $74,998.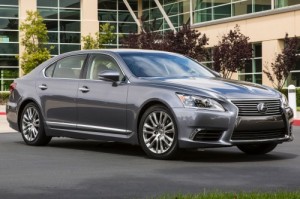 2013 Lexus LS – A "freshening" in 2013 added some extra amenities to the Lexus flagship sedan, already luxurious, highly refined, offering a comfortable – some say "serene" ride, an exceptionally quiet cabin that's chock full of features. The LS 460 L offers the most front/rear room for taller people, with numbers such as these: 38.0 inches front head room, 43.7 inches front leg room; 37.9 inches rear head room, and 36.7 inches rear leg room. Pricing ranges from around $66,994 to $70,990.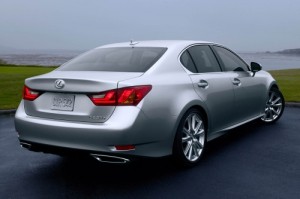 2013 Lexus GS 350 – The latest version of the Lexus GS 350 midsize luxury sport sedan debuted in the 2013 model year. It is a bit taller and wider than the model it replaced, all of which is good news for tall people. Front head room is 38.0 inches, while leg room is 42.3 inches. In the rear, head room is 37.8 inches and leg room is 36.8 inches. Prices range from $34,999 to $44,990.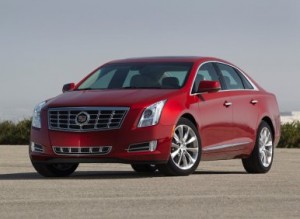 2013 Cadillac XTS – Drivers looking for a full-size luxury car that's also easy on taller drivers need look no further than the 2013 Cadillac XTS. Headroom in the front, at 40.1 inches, approaches that available in an SUV. Need to stretch out your legs on a long drive? That's easily done, too, thanks to the 45.8 inches of leg room in the XTS. Rear seat passengers can benefit from the tall roof as well, as it affords them 37.8 inches of head room and the same amount of leg space as front seat occupants. Look for prices ranging from $29,995 to $46,112.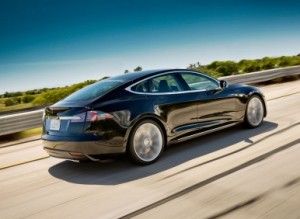 2013 Tesla Model S – If you can get past the attention-demanding headlines about exploding batteries and fires (the evidence is still not all in), another good choice of used luxury car for taller people is the 2013 Tesla Model S. Front occupants enjoy 38.8 inches of head room, while there's an ample 42.7 inches for legs to stretch out. It's a slightly different story in the second row, with 35.3 inches of headroom and 33.7 inches of legroom. Check out prices ranging from $78,888 (base) to $104,999 (Performance).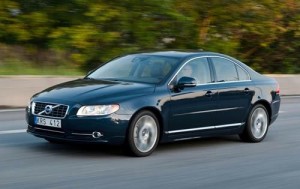 2012-2913 Volvo S80 – For drivers who just have to have the safety of a Volvo, there's the 2012-2013 Volvo S80, a midsize luxury sedan that has plenty of headroom and an extremely comfortable seat. Another plus is the eight-way power adjustable front seat to help tall drivers find just the right setting for sitting (and driving). Front head room is 37.8 inches and front leg room is 41.9 inches. As for price, check out used 2012 Volvo S80s ranging from $20,999 to $36,950.