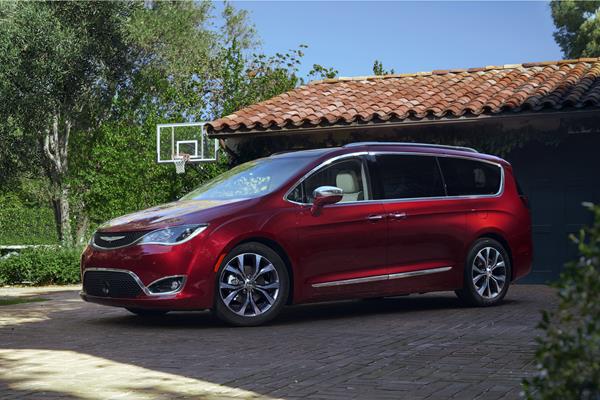 Most Reliable New And Used Minivans
For nearly 40 years, the
Minivan
has been a mainstay of the American suburban lifestyle. Cul-de-sacs and school pick-up lines are littered with these people movers, and for good reason - there's nothing else that can haul a gaggle of kids or adults with such ease, efficiency, and spaciousness.
The modern template for the minivan was introduced by Chrysler back in the 1980s.The brand took the silhouette of a full-size van and condensed it to a size that can fit in the average family garage. They built this literal mini-van on a modern front-drive platform for maximum cargo capacity and carlike ride and handling. Small four- and six-cylinder engines were employed for better fuel economy . This is the same basic formula found in today's minivans , though each manufacturer tweaks it accordingly.
Minivan sales have shrunk in recent years thanks to the popularity of SUVs . But those vehicles, trendy as they are, can't compete with the practicality of a minivan thanks to abundant cargo space and convenience features like sliding doors . (Refer to our previous article for the differences between a SUV and minivan .)
To get a better sense of the segment, we've analyzed the current crop of minivans for sale and named some favorites in a variety of categories, with reliability, affordability, and luxury chief among them. The results are clear: whatever your needs and budget, there's a minivan for you.
Most Reliable Minivans: Honda Odyssey Earns Top Spot
To determine the most reliable
minivans
, iSeeCars
analyzed over 13.8 million cars sold in 2019 from
model years
1981 through 2018. For each
minivan
, the percentage of the number of models sold with at least 200,000 miles was calculated. Those vehicles with the highest percentages have been crowned the most reliable. Models that were not in production as of the 2018
model year
, heavy-duty vehicles, and low-volume models were excluded from our analysis.
As the Chrysler Pacifica has only been on the market since 2017, it was not included in this study.
Top 5 Most Reliable Minivans
Rank
Model
% Vehicles with 200k+ miles
Average Price for a 3-Year Old Used Car
Interior Volume (cu ft)
Combined MPG
NHTSA Crash Test Rating (out of 5)

1

Honda Odyssey

2.70%

$25,869

167.6

22

MPG

5

2

Toyota Sienna

2.00%

$25,277

164.4

21

MPG

5

3

Chrysler Town & Country

1.70%

N/A

163.5

17

MPG

4

4

Nissan

Quest

1.30%

$15,583

177.8

22

MPG

(Not Rated)

5

Mazda Mazda5

0.90%

N/A

130.4

24

MPG

(Not Rated)

Overall Average
1.0%
$22,279
155.9
20.7 MPG*
4.7
*This figure represents gas-powered
minivans
only; excludes
Chrysler Pacifica
Plug-In Hybrid
**Interior volume, MPG, and NHTSA rating for each model are based on average of last 5 model years
Topping our list is the Honda Odyssey . Despite a few stumbles with automatic transmission woes over the years, Honda has consistently built a proven, long-lasting automobile; other reliability studies we've conducted often feature Honda at the top of our results. It's not surprising that 2.70 percent of Odysseys sold have reached 200,00 miles. That reliability is partially why resale values remain high, with 3-year old models selling on average for $25,869.
Following up the Odyssey is the Toyota Sienna , coming in second place with 2.00 percent of models sold reaching 200,000 miles. Toyota is another automaker that's well-known for building long-lasting cars and trucks, and their minivan is no exception to that rule. The Sienna also boasts the most cargo room behind its third-row seats and a five-star NHTSA crash-test rating.
Third place is the Chrysler Town and Country . Minivan fans will note that the Town and Country hasn't been sold since 2016, but due to their popularity used models continue to be a common sight on the used market. Despite the onset of age - the newest ones are now four years old - the Town and Country has proven reliable, with 1.70 percent of models sold showing 200,000 or more miles on the odometer. Its 22.3 mpg combined is also the highest average fuel economy among the minivans on this list.
The Nissan Quest takes fourth place. It's another minivan that's no longer sold new, but the data illustrates the longevity of this people mover: 1.30 percent of models were sold with 200,000 or more miles. It's a good choice for buyers looking for a good deal on a newer minivan , as the $15,583 average price for a 3-year-old used model undercuts the Sienna and Odyssey by about $10,000. That's a good deal for the most spacious minivan here.
Number five on the list is the Mazda5 minivan , which was discontinued after the 2016 model year . 0.90 percent of models sold had 200,000 or more miles on the odometer, a stat that ties the Dodge Grand Caravan . But the Mazda fared better than the Dodge in the 150,000- and 100,000-mile reliability measures, so the nod goes to the Japanese van. The Mazda5 puts the mini in minivan though; it has just 11.7 cubic feet of space behind its rear-seat and 142 cubic feet of total interior volume. Both stats are well below the other vans profiled here. However, it does get the best gas mileage out of the minivans profiled on this list.
Best AWD Minivan: Toyota Sienna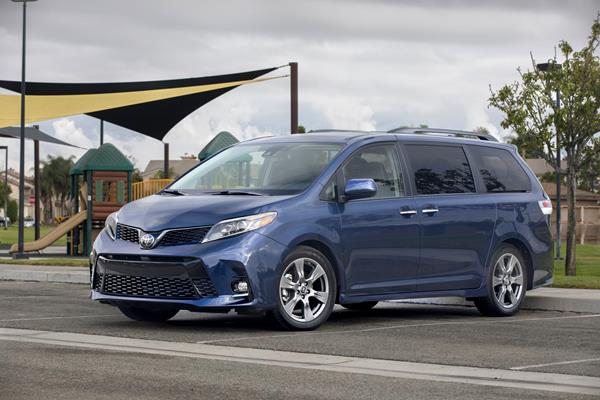 Despite there having been AWD minivans as far back as the late 1980s, the feature still hasn't been widely adopted by the segment, which is still dominated by front-wheel drive . In fact, the only minivan currently offering an AWD is the Toyota Sienna .
That it's the only minivan to offer AWD makes an already great choice even better. The V6-powered Sienna is well known for its excellent reliability, with 2.00 percent of models sold in 2019 with more than 200,000 miles, but don't discount its 164 cubic feet of total interior space, which is near the top of the class. It also has excellent value retention, a five-star crash test rating, and gets 20 mpg combined when equipped with all-wheel drive .
The Sienna's monopoly on AWD is coming to an end, though. The Chrysler Pacifica , another popular minivan choice, will begin offering AWD for the 2021 model year .
If your budget doesn't allow for something brand new but you must have an AWD minivan , there's not much choice on the late-model used market other than the Sienna. You might get lucky and find a 2015 AWD Mazda5, but otherwise you'll be sticking with the Toyota.
Best Hybrid Minivan: Chrysler Pacifica Hybrid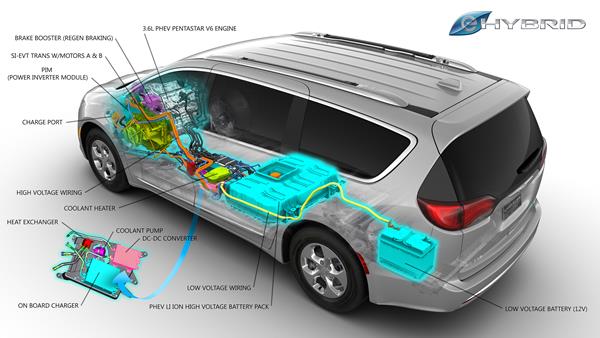 If you want a hybrid minivan you'll be shopping at a Chrysler dealer, because the Pacifica Hybrid is currently the only plug-in hybrid minivan option available, either used or new. Chrysler's fuel-saving people mover doesn't come cheap: new models have an average MSRP of $47,054, while 3-year old used models typically ring up for $31,458. But the PHEV Pacifica will get up to an EPA estimated 82 MPGe during its 32-mile all-electric driving range or 30 mpg combined while in standard hybrid operation.
The electrified Pacifica doesn't get the famed Stow 'n Go seating option, but otherwise most of the good stuff on the regular Pacifica is here as well. There's seven-passenger seating, an 8.4-inch touchscreen with the latest Uconnect infotainment system and Bluetooth, tri-zone climate control, and multiple USB ports. It also offers more luxurious features for extra cost, like heated and cooled front seats, a rear-seat entertainment system, and a 20-speaker Harman Kardon audio system.
You'll note we haven't made mention of reliability. That's because the Pacifica, which debuted in 2017, is too new for us to have any data about its longevity. Look for longest-lasting statistics to surface in the next couple years, when the oldest models begin cresting that 200,000-mile threshold.
Despite the lack of a reliability rating, the Pacifica Hybrid remains an efficient, luxurious choice for those who can afford the steep cost of entry.
Best Luxury Minivan: Chrysler Pacifica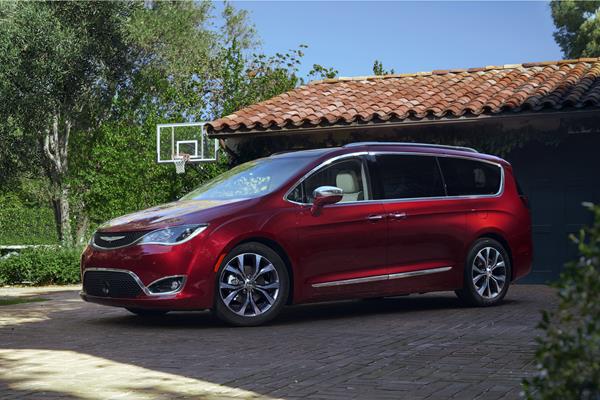 The Honda Odyssey and Toyota Sienna can both be outfitted luxuriously, but neither can match the opulence of the Chrysler Pacifica . Chrysler-branded minivans have always been luxurious, but the Pacifica is the most sumptuous yet. As touched upon in the last section, optional features include a 20-speaker audio system, heated and cooled seats, Nappa leather, two 10-inch seatback touchscreens , a stow-and-go vacuum cleaner , and a tri-pane panoramic window.
The 2021 models will up the luxury quotient even further with the all-new Pinnacle model. This top-spec trim will include a black-suede headliner, two-tone caramel-and-black leather upholstery with quilted seat bolsters, and a much larger center console. There's even two matching throw pillows included.
The average price for a new Chrysler Pacifica is $38,898, while a 3-year old used model runs on average for $22,618.
Best Affordable Minivan: Dodge Grand Caravan
The Dodge Grand Caravan is a relic dating back to 2007, but it's also the cheapest way to get into a new minivan : new models sell on average for $26,287, despite a $27,530 official starting price. A 3-year old used model can be had for just $15,648.
There's no active- safety features , few modern amenities, and a basic 6.5-inch touchscreen . It's one of two minivans that only gets a four-star overall crash-test rating from the government, and its average combined fuel economy is just 16.3 mpg , lowest among all minivans . Yet it will haul up to eight people for little money, and its cheap-looking but durable materials will tolerate even the messiest of kids.
0.90 percent of used Grand Caravans sold in 2019 had more than 200,000 miles on the odometer, placing it mid-pack among minivans for longevity.
If you're looking for something a bit more modern than the dated Dodge, there's the Chrysler Voyager . It's a budget option of the Pacifica that shares its basic look and feel but forgoes its luxurious amenities. The base model begins at about $27,000 - $500 less than the Caravan - and gets manual climate control, steel wheels, cloth seats, and a smaller 7.0-inch touchscreen . No reliability data is available for the Voyager, which was introduced for 2020.
The Kia Sedona is another affordable offering for those who don't want a Chrysler product. New models sell on average for $31,848 and used models for $19,497. It comes with more standard features than the Voyager and the Grand Caravan, and has an excellent 10-year, 100,000-mile warranty. The Kia's average combined fuel economy of 20.3 mpg is less than the 22 average combined mpg of the Voyager but better than the 16.3 mpg of the Grand Caravan.
Best Used Minivans by Price
Best Used Minivans Under $10,000
Best Minivans Under $10,000
Vehicle
Average Price
% Vehicles with 200k+ miles

2011

Kia Sedona

$6,397

0.80%

2011

Dodge Grand Caravan

$8,234

0.90%

2013 Mazda Mazda5

$8,433

0.90%

2011 Chrysler Town and Country

$8,741

1.70%

2013

Dodge Grand Caravan

$9,047

0.90%
A budget of $10,000 narrows your options, but it certainly isn't impossible to find a
cheap
minivan
with a four-figure asking price. The most affordable option is the 2011
Kia Sedona
, which sells on average for just $6,397. Another great option is a 2011
Chrysler Town and Country
, as it has the best reliability of the bunch. The
Grand Caravan
is an excellent choice because 7-year old models can be had for less than ten grand. A 2013
Mazda5
is another affordable choice and the most efficient of these options.
Whatever minivan under $10,000 you choose, we highly recommend reading through our guide on what to look for when buying a used car before going shopping. It could save you a lot of money and frustration down the road.
Best Used Minivans Under $15,000
Best Used Minivans Under $15,000
Vehicle
Average Price
% Vehicles with 200k+ miles

2013 Chrysler Town and Country

$10,513

1.70%

2015 Mazda Mazda5

$11,081

0.90%

2013

Nissan

Quest

$11,675

1.30%

2015

Dodge Grand Caravan

$12,138

0.90%

2015 Chrysler Town and Country

$13,927

1.70%

2015

Nissan

Quest

$14,088

1.30%

2013

Honda Odyssey

$14,140

2.70%

2015

Kia Sedona

$14,618

0.80%

2013

Toyota Sienna

$14,986

2.00%
A budget of $15,000 opens up a number of great choices from across the segment. We'd say the best deal for a
minivan under $15,000
goes to the
Mazda5
, of which a 5-year old model can be scooped up for just over $11,000 on average. Cheaper still but a bit older is a 2013
Town and Country
, which sells on average for about $10,500 and has reliability almost on par with the
Sienna
or
Odyssey
. As the table illustrates, those models command high resale prices on the strength of their reputations for quality and reliability. That means buying one will require spending more money for an older model, so keep that in mind during your used-
minivan
search.
Best Used Minivans Under $20,000
Best Used Minivans Under $20,000
Vehicle
Average Price
% Vehicles with 200k+ miles

2017

Nissan

Quest

$15,583

1.30%

2017

Dodge Grand Caravan

$15,648

0.90%

2015

Honda Odyssey

$19,063

2.70%

2017

Kia Sedona

$19,497

0.80%

2015

Toyota Sienna

$19,770

2.00%
Between $15,000 and $20,000 is fairly slim pickings; the five vans whose average prices fall into this bracket are clustered at either end of the spectrum. The low end of that represents a great deal, with 2017
Nissan
Quests
and
Dodge Grand Caravans
being sold on average for just over $15,500. By comparison, a 2017
Sienna
or
Odyssey
sells on average for around $25,000.
If you must have the Honda or Toyota, you can get one of these minivans for under $20,000 , though just barely. 2015 Odysseys sell on average for about $19,000, while the average price of an equally-old Sienna is just $200 shy of $20,000. A better deal might be a 2017 Kia Sedona , which can be picked up on average at the same price point. A Sedona isn't quite as long-lasting, though.
The Bottom Line
Though the segment doesn't sell in the volume it used to, there's still plenty of great family-friendly
minivans
to choose from. Consumers should have no issue finding something fitting their purse or purpose, whether that be a 9-year old Sedona or a brand-new
Pacifica Hybrid
.
The variety of selection means shoppers should carefully consider all their options. Many buyers like to stick with Honda and Toyota for their excellent reputations, but remember that comes at a cost - as the data shows, the vans from those two manufacturers are thousands more than the competition at every price point. Will something like a Kia Sedona really cause that many more headaches for owners than one of the Japanese options?
On the other end of the spectrum, the Dodge Grand Caravan looks like a steal - until you realize how dated it is. It's a 13-year old vehicle, and such a venerable design is inherently less safe or technologically advanced than the newer competition. It's worth spending a bit more money for something else with fresher styling and more modern features, such as the new Chrysler Voyager .
As you start thinking along these lines, begin to consider your budget, evaluate our data, and trawl our search engine. You'll quickly determine what the right minivan is for you.
If you're interested in a new or used minivan , try searching iSeeCars' award-winning car search engine . It uses advanced algorithms to help shoppers find the best car deals and provides key insights and valuable resources, like the iSeeCars VIN check report. Filter by price, fuel economy , seating capacity, and other parameters in order to narrow down your minivan search.