Best New and Used Convertibles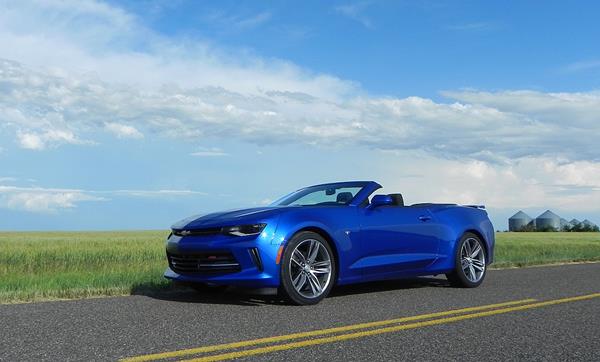 If you have the need for speed and enjoy the wind in your hair, a convertible might be the ideal car for you. While all convertibles share the ability to retract their roofs, there are a lot of variables to consider before choosing the right convertible for you. For example, you could have a hardtop or soft-top, two or four doors, a foreign or domestic model, front-wheel drive or all-wheel drive, and an intimate two-seater or a more spacious car with room for four.
We're here to help you sift through the many options to help you find the right convertible for your joy-riding needs.
Soft-Top Vs. Hardtop Convertibles:
While the other variables present when choosing a convertible are self-explanatory, whether you should choose a soft or hardtop might not be as clear. Here are the benefits and drawbacks of each to help you decide which drop-top is best for you:
Hardtop Convertible
Hardtop convertibles are more weather resistant, which is important to keep in mind if you don't have a garage or if you reside in a colder climate. With a roof similar to their coupe counterparts, they are also safer in the event of an accident and are less prone to requiring a replacement. 
Soft-top Convertible
Soft-top convertibles take up less room when they are folded down, which allows for more cargo space. They also typically take less time to retract and are often faster vehicles than hardtops because they are lighter weight. Because hardtops have more mechanical and electrical components, they are often more expensive than their soft-top counterparts.
Best Convertibles: 
You've worked hard to attain your dream car, and chances are you will want to keep it for as long as possible. While we recognize that practicality may not always be top priority when you search for a convertible, it's important to keep in mind that some convertibles are proven to last longer than others. This is especially important if you choose to use your convertible as your daily driver. 
To determine which convertibles have the most long-term reliability, iSeeCars analyzed which models are most likely to reach 150,000 miles on the odometer. Other factors that are highlighted include horsepower and torque to help differentiate each vehicle's speed and power.
Most Reliable Convertibles
Rank
Convertible
% Over 150,000 MIles
Horsepower
Torque
Average New Car Price
3-Year-Old Avg. Used Car Price

1

Audi TT

4.1%

219.8

258.0

$55,726

$34,237

2

Mazda MX-5 Miata

2.1%

162.8

146.1

$30,444

$21,222

3

Ford Mustang

1.9%

353.0

349.3

$44,642

$21,796

4

Volkswagen Eos

1.6%

200.0

207.0

-

5

Mercedes Benz SLK-Class 

1.5%

312.7

307.3

-

Sports Car Average 

1.5%
The longest-lasting car on the list is the Audi TT soft-top, which is more than twice as likely than other sports cars to reach 150,000 on the odometer. Praised for its performance and fuel economy, the sporty Audi TT is a reliable option for convertible driving whether you want it as a daily driver or for the occasional Sunday joyride. It is also available in all-wheel drive (AWD).
Two consummate two-door, sports cars round out the top three: the Ford Mustang and the Mazda MX-5 Miata. The soft-top Ford Mustang convertible, which boasts the most horsepower of all convertibles on the list, is more spacious with seating for up to four, while the Mazda Miata is a two-seater, and is available with either a soft or hardtop.
Ranked fourth is the Volkswagen Eos, which was discontinued after the 2016 model year. This makes it a contender for those in the market for a used, reliable convertible. Featuring a retractable hardtop, it was the first hardtop convertible that also featured a power sunroof. 
Rounding out the list is the Mercedes-Benz SLK-Class, which is available with a more efficient and budget-friendly four-cylinder or with a more powerful V6 or V8. Featuring a quick retracting hard-top roof, it also comes with all the high-end materials characteristic of the Mercedes-Benz nameplate. In 2016, the SLK-Class was renamed the SLC-Class, which is important to note if you're looking for a later model.
Best Hardtop Convertibles for 2020:
If you decide that a
hardtop
convertible is best for you, these are the best new and
used
hardtop
convertibles
you can buy.
Best Hardtop Convertibles
Rank
Convertible
% Over 150,000 Miles
Horsepower
Torque
New Car Avg Price
3-Year-Old Avg. Used Car Price

1

Mazda MX-5 Miata

2.1%

162.8

146.1

$30,444

$21,222

3

Chevrolet Corvette

0.6%

519.0

521.1

$71,398

$55,997

2

Mercedes-Benz SL-Class

0.1%

491.5

561.4

$112,776

$67,624

4

Mercedes-Benz SLC-Class

0.0%

301.5

328.5

$62,955

$34,972

5

BMW 4 Series

0.0%

274.9

284.5

$63,722

$35,383
While the Mazda MX-5 Miata and Mercedes-Benz SLC-Class' predecessor also made the longest-lasting list above, there are three additional hardtop convertibles to consider. 
No sports car list would be complete without the iconic Chevrolet Corvette. The Corvette was primarily a soft-top convertible, but just released a hard-top model with its 2020 Chevrolet Corvette Stingray, with a sleek design inspired by fighter jets. The two-piece hardtop can be activated at speeds up to 30 mph and can retract in as little as 16 seconds. 
Next is the Mercedes-Benz SL-Class Roadster two-seater, which is nearly double the price of the SLC-Class. It offers the luxury and prestige of a Mercedes-Benz with a high-end interior, but lags behind its competition in terms of power and handling. 
Rounding out the list is the BMW 4 Series four-seater, which is also available in all-wheel-drive. As a four-seater, it offers more cargo space than its two-seater competition although it has cramped back seats. Known for its athletic handling and standard safety features, it is a sporty, fun-to-drive vehicle though it isn't as powerful as the other German vehicles on the list. 
Best Soft-Top Convertibles for 2020:
If a soft-top convertible is more to your liking, here are the best models to consider:
Best Soft-Top Convertibles
Rank
Convertible
% Over 150,000 Miles
Horsepower
Torque
New Car Avg Price
3-Year-Old Avg. Used Car Price

1

Mazda MX-5 Miata

2.1%

162.8

146.1

$30,444

$21,222

2

Chevrolet Corvette

0.6%

519.0

521.1

$71,398

$55,997

3

Porsche 911

0.5%

433.4

378.3

$171,723

$107,017

4

Mercedes-Benz E-Class

0.2%

364.0

383.7

$82,531

$39,111

5

Audi A5

0.1%

235.0

265.5

$56,503

$30,025

6

Lamborghini Huracan

0.1%

597.9

413.9

$309,126

$218,431

7

Porsche 718 Boxster

0.0%

335.0

298.1

$81,521

$53,374

8

Mercedes-Benz C-Class

0.0%

366.6

385.0

$67,395

$39,612

9

BMW 2-Series

0.0%

285.2

303.8

$52,098

$29,332
Nine soft-top convertibles make the list, which is dominated by luxury convertibles. The top two are also available as hard-tops, while the rest are available as soft-tops. 
Two Porsches make the list: the Porsche 911 and the Porsche 718 Boxster. The four-seat 911 offers more power and agility and has an AWD option, while the two-seat 718 Boxster offers more cargo room. Both sleek models are praised for their precise handling, powerful engines, and comfortable driving dynamics.
Joining Porsches with two models is Mercedes-Benz with the E-Class and C-Class models. They have comparable horsepower and torque, but they differ in size. The E-Class is a midsize, while the C-Class is compact. They both boast luxurious interiors and comfortable handling and are available with AWD.
Two German convertibles in the small car category that are also available with AWD make the list: the Audi A5 and the BMW 2 Series convertible. The Audi A5 Cabriolet earns praise for its cabin quality and design, and boasts Audi's typical fun-to-drive dynamics and impressive technology features for driving assistance and infotainment. Meanwhile, the BMW 2 Series is known for its impressive handling and smooth ride quality.
Rounding out the list is the Lamborghini Huracan, an Italian supercar that will cost you more than $300,000 when purchased new. With its V10 engine and aerodynamic styling, it's the most powerful of the bunch and is more suited for the racetrack than for joyriding.
Convertible SUVs:
Convertibles aren't exclusive to sports cars, as there are a number of convertible SUVs to satisfy your need for open-air driving. And as a bonus, they are all five-seater and four-door convertibles, which make them far more roomy than the sportier models mentioned above.
If your open-air pursuits are likely to take you off-road, the obvious choices are the Jeep Wrangler and its four-door counterpart, the Jeep Wrangler Unlimited. And if you want a more luxurious driving experience, the Land Rover Range Rover Evoque crossover also offers a convertible version.
Affordable Convertibles by Price:
Whatever your price range, you can find an affordable open-top to suit your needs. 
Used Convertibles Under $15,000
One used convertible falls below the $10,000 price point, while three additional
used convertibles under $15,000
can be found.
Used Convertibles Under $20,000
By raising your used car budget, the following
used convertibles under $20,000
can be found:
Used Convertibles Under $25,000
At an additional cost, the following used
convertibles for under $25,000
can be found: 
Bottom Line:
Whether you're in the market for a reliable daily driver or a car reserved for joyriding, there is a convertible to suit your needs. From soft-tops to hardtops and two-seaters to four-seaters, there are many options to choose from. Happy motoring! 
If you're interested in a new or used convertible, be sure to check out iSeeCars' award-winning car search engine. It uses advanced algorithms to help shoppers find the best car deals and provides key insights and valuable resources, like the iSeeCars VIN check report. Filter by price, fuel economy, horsepower, and other parameters in order to find your next convertible.