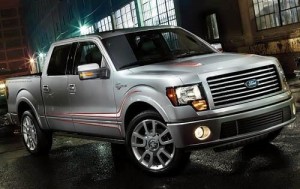 A pickup truck doesn't generally spring to mind when thinking about family vehicles. Maybe it should. With the many trims, bed size and other configurations, some pickups rival large sedans in terms of interior space and comfort – not to mention standard and optional features.
In addition, trucks offer certain towing and hauling capabilities that may prove useful for family excursions, including day trips and vacations. That, and trucks also serve double duty for work purposes. In short, trucks can be good family vehicles. With that in mind, here are 10 we consider the best used pickup trucks for families.
2011-2012 Ford F-150 – Leading off the list has to be the 2011-2012 Ford F-150 full-size truck. For more than three decades, the Ford F-150 has led the pack of trucks, bar none. Others come close, but never totally surpass what Ford has to offer. With nine or so trim levels and a dizzying array of configurations, there's a Ford F-150 to meet the needs of certain families. Prices are all over the map, from around $16,900 to about $49,800 for SVT Raptor.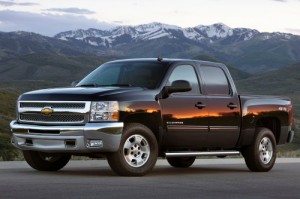 2011-2013 Chevrolet Silverado 1500 – Now fully redesigned for the 2014 model year, the 2011-2013 Chevrolet Silverado 1500 full-size pickup truck may make better sense for families looking for affordable, reliable, comfortable and roomy transportation. Go for the Extended Cab or Crew Cab models for maximum passenger space and cargo flexibility. With a number of different trims and bed sizes, not to mention engines, and two- or four-wheel drive, the Chevy Silverado is quite the bargain – if a bit long in the tooth style-wise. Prices range from around $13,885 to the vicinity of $43,200.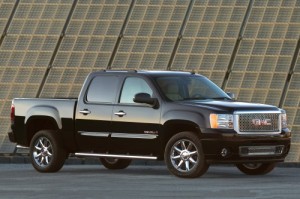 2011-2013 GMC Sierra 1500 – Think Chevrolet Silverado, but more upscale. That's the 2011-2013 GMC Sierra 1500 full-size pickup truck. Offering the same wide range of body, bed size, configurations, powertrains and two- or four-wheel drive, the GMC Sierra adds touches of luxury here and there to make family transportation in this big truck that much more enjoyable. For ultimate comfort, go for the GMC Sierra 1500 Denali Crew Cab. Prices range from around $24,500 to $43,500 (2013 GMC Sierra 1500 Denali).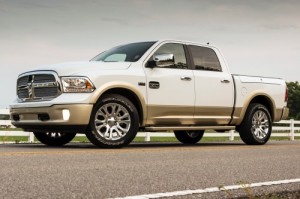 2011-2013 Ram 1500 – In 2011, it became simply the Ram 1500. This full-size pickup truck, especially in extended cab (called Quad Cab) and crew cab models may be just right for your family's needs. The crew cab offers the most interior room and, for 2013, offers a 6-foot-4-inch cargo bed. A neat feature is the Rambox cargo management feature. Interiors are among the nicest in the class. Prices range from $19,486 to around $41,750.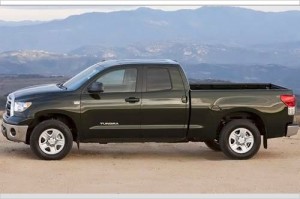 2011-2012 Toyota Tundra – In either CrewMax or Double Cab, the 2011-2012 Toyota Tundra full-size pickups offer families the kind of roomy, comfortable transportation they want and the flexibility of being able to tow a boat or trailer – and haul heavy loads. Double Cab models have a back seat that's adult-friendly and front-hinged doors that make back seat access easy. Light steering makes the Tundra easy to drive and the ride is satisfying. Prices range from around $17,900 to $35,000.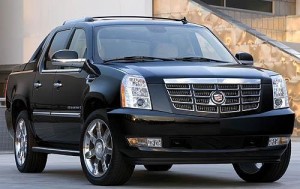 2010-2012 Cadillac Escalade EXT – A luxury pickup truck, the 2010-2012 Cadillac Escalade EXT, despite its full-size truck dimensions, handles extremely well. Comfort and luxury are hallmark traits and the Escalade EXT really shines in both departments. The upscale version of sibling Chevrolet Avalanche, the five-passenger Cadillac Escalade EXT features the "Midgate" system where the rear seats, rear window and rear bulkhead fold down for maximum cargo space. There's also an automatic tonneau cover. Prices range from $27,985 to $58,770. Note: the Escalade EXT was discontinued after the 2013 model year.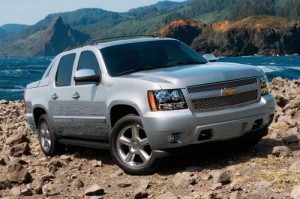 2010-2012 Chevrolet Avalanche – For a Jack-of-all-trades family vehicle, perhaps the 2010-2012 Chevrolet Avalanche midsize pickups (the more "affordable" version of the Cadillac Escalade EXT) might be the answer. From base LS (very well-equipped) to top-of-the-line LTZ (even more well-equipped), the Chevrolet Avalanche has much to offer families of five. Prices range from $21,800 to around $44,000.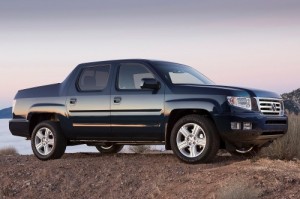 2012-2013 Honda Ridgeline – The four-door crew-cab pickup truck from Honda, the 2012-2013 Ridgeline, makes a lot of sense for some families. With a hidden trunk in the cargo bed that doubles as a cooler, a dent-proof bedliner, four-wheel independent suspension, trailer hitch and maximum 5,000-pound towing capacity, the Ridgeline can accommodate the family and meet needs for light hauling/towing. The 2012-2013 Ridgeline is quiet, comfortable and seats five. Prices range from $23,500 (for Ridgeline RT) to $31,999 (for Ridgeline RTL)
2011-2012 Nissan Frontier – A compact pickup, the 2011-2012 Nissan Frontier has pluses that should appeal to families, including quite nimble handling, comfortable front seats, strong V6 engine and easy-to-use cabin controls. The Crew Cab has front-hinged rear doors that open to a back seat wide enough to carry three adults. Prices range from $17,000 to $24,988.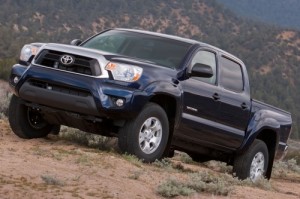 2012 Toyota Tacoma – Another compact pickup, the 2012 Toyota Tacoma is the final entry on this list of 10 best used pickup trucks for families. Better-than-average reliability is a huge bonus for a used pickup, and the Tacoma is known for this. Refreshed styling inside and out, the addition of Toyota's Entune in-car electronics to the options list, and, like all the other trucks on the list, two- or four-wheel drive, Double Cab (a crew cab with four full-size doors) and Access Cab, the 2012 Toyota Tundra deserves to be on your consideration list. Prices for Double Cab (a family choice for maximum room/comfort) range from about $24,424 to $30,500.