Written by James Hamel


Overview (Letter Grade after 8 Categories: C)

The 2016 Buick LaCrosse full size sedan is the quintessential lame duck. This is the last year for the current shape LaCrosse as a sexy, svelte and game changing 2017 model is waiting in the wings as "the new face of Buick." In fact, the future is looking quite rosy for Buick thanks to the new Cascada convertible, upcoming Envision midsize crossover and exciting concepts like the Avista coupe which was unveiled at this year's Detroit Auto Show.

But in a world where pre and post-bankruptcy GM are known as the "Old GM" and the "New GM," the current LaCrosse sedan manages to have its feet planted firmly in both eras with design and engineering elements that were disappointingly old school but with quality controls much more in keeping with the competition. Beyond roominess, comfort and a general level of competence on par with its low key competition, the 2016 Buick LaCrosse lacks any real X-Factor or draw to make it stand out in the marketplace.

No mention of "old GM" can be made without a vehicle naming mishap story. As was true with the Chevy Nova sold for decades in Latin American countries with the name "Chevy doesn't start" in Spanish, LaCrosse apparently means "to pleasure oneself" in the parlance of French speakers in Quebec, Canada where the car is built. How General Motors, which calls this sedan something else now in Quebec, missed this fact is still a mystery perhaps only someone at "Old GM" could explain.

As the 2016 Buick LaCrosse has been on sale now in its current form for quite a long time now, our fair to middling response to it could only be expected when such an exciting and sexy redesign is just one model year away.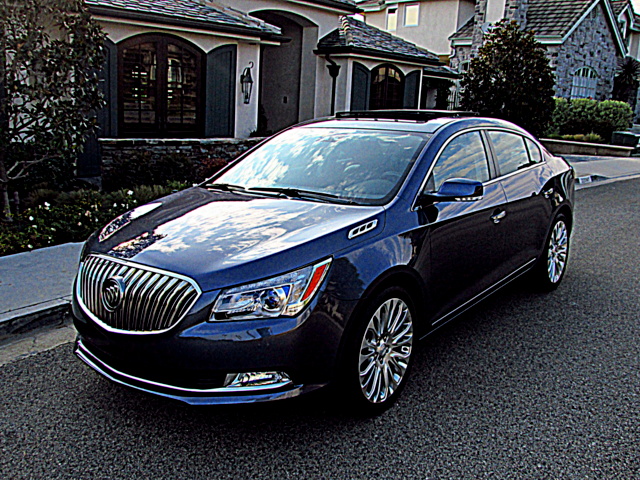 What we Loved about the 2016 Buick LaCrosse



General Motors 3.6 liter V6 engine is a gem with terrific refinement, power and efficiency.




Um, when we put the steering on its lightest setting the LaCrosse handled exactly like the 1984 Buick Electra Wagon we learned to drive in at 15. Good memories. Awful car.




It proved GM can build reliable cars with exemplary build quality.


What we Didn't Love about the 2016 Buick LaCrosse



The exterior styling is lumpen, oddly shaped and it feels like the headlamps are watching you wherever you go. We made up that last one about the headlights but its still not pretty.




It's not the divine and lovely 2017 version which blew us away at the LA Auto Show this year.




Despite looking a bit like an Orca, the 2016 LaCrosse only offers 13.3 cubic feet of cargo space thanks to very intrusive metal hinges for the trunk lid which seem designed to destroy luggage as well as the speakers mounted on a shelf behind the rear seats which extend into the trunk making them dangerously susceptible to serious damage from luggage if you don't see them. Who designs a bad trunk nowadays?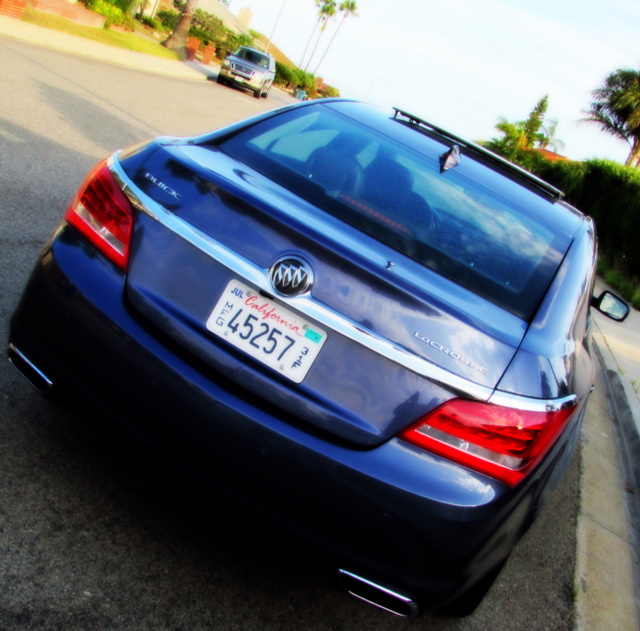 Exterior Appearance (6 out of 10)

To paraphrase a quote from Hannibal Lecter in "The Silence of the Lambs," the 2016 Buick LaCrosse has always appeared "thick around the hips and roomy" when viewed predominantly from the rear or rear ¾ view. And we assume most buyers of this car aren't out to get the attention of Buffalo Bill in his creepy, windowless van.

So, pretty much if you are ever behind one you may be reminded perhaps of Sir Mix-a-Lot's ode to the oversized backside but the rear of the LaCrosse resembles a surgery enhanced Kim Kardashian more than a shape nature would make. The design is not very cohesive, either, from the front to the back and the appearance of the headlamps, tail lamps and grille is so dull that one might assume there would be a narcolepsy danger if you stared at them for too long. Boring, conservative looking and weird? Not a good combination.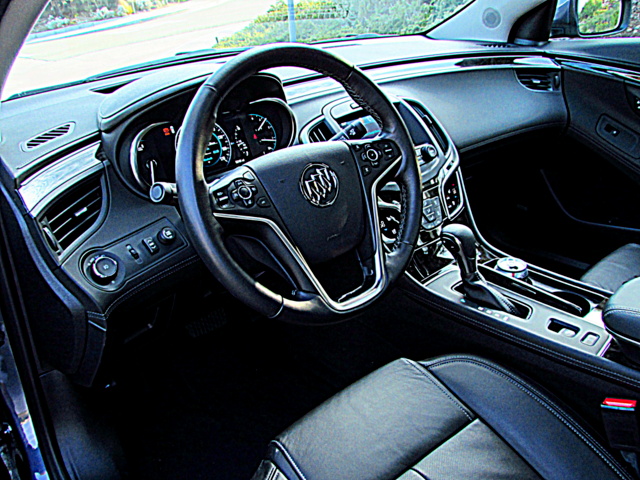 Interior Comfort, Quality and Ease of Use (7 out of 10)

While the interior décor of the 2016 Buick LaCrosse may seem to be a touch of Country Club Style elegance, sadly it appears that this sort of semi-flimsy faux wood veneer shiny sheen lacks the curb appeal to cut it with the Gen-Y car shoppers the brand so desperately craves. And how will Buick get the attention of these aforementioned radical visual aesthetic visionaries known as the future of this country. Voters, that is.

Compared to the upcoming 2017 variant, the 2016's interior has a decidedly rental car-like vibe to it overall.

But no, sadly, the LaCrosse only has 13.3 of largely cramped cargo room given the protruding trunk hinges that eat your luggage and a parcel shelf below the rear shelf to make room for the deeper Bose speakers that come with the premium audio upgrade. Just a note, Bose makes an excellent sound system for Buick so we say go for it and blow the kid's inheritance.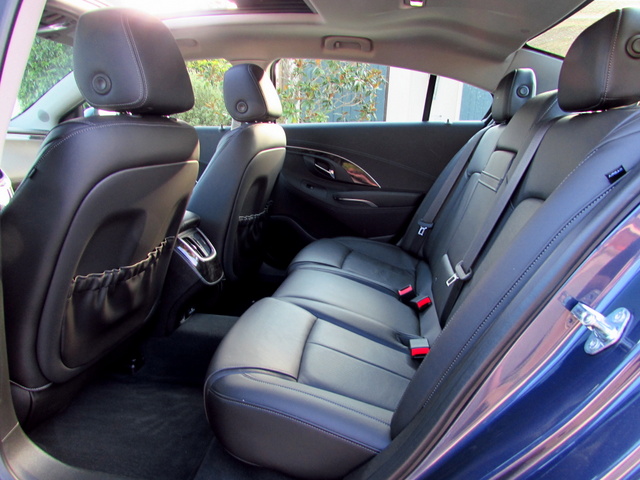 Technology (9 out of 10)

Tech moves at a lightning quick pace from model year to model year and for 2016 the absolute must have hot ticket for any new vehicle is Apple CarPlay and Android Auto. Buick already has rolled it out as a rolling addition to the model line for 2016 so don't fret about missing the latest twitter gossip. Also, the LaCrosse has its own 4G LTE Wi-Fi hot-spot  powered by on-star inside the car when it is parked. Pretty cool, eh?

The LaCrosse does, however, boast all of the latest active safety technology features like blind spot assist, cross traffic alert and active early braking which can prove essential when avoiding an accident. One far more worrisome feature on the LaCrosse is the switch where you can adjust the steering from Normal to "Sport." Let's just say keep it in sport mode all the time if you like to know where you are pointing your wheels because it will bring back memories of driving your mom's Buick Electra Wood Panel wagon for hours just to get your learners permit.

Other more spurious tech features include heated/ventilated leather seats, automatic climate control and the latest infotainment options courtesy of Buick's Intellilink Infotainment System.  There is the usual array of OnStar, Pandora and odd for this class of car—a head's up display right in front of the driver like you get with the Corvette. So are we clear Buick is serious about having your full attention?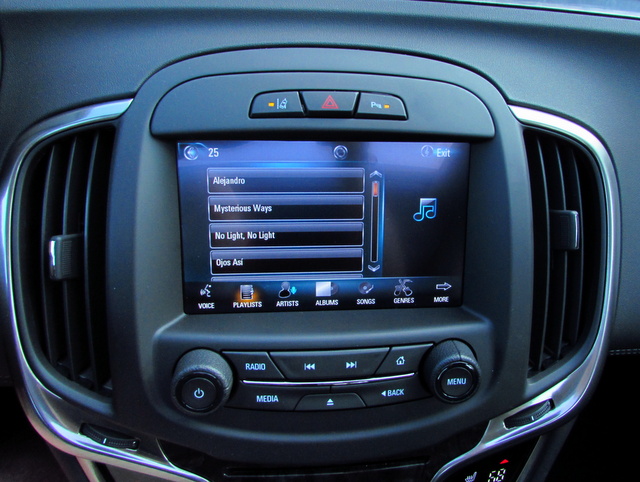 Fuel Economy (8 out of 10)

For fuel efficiency the 3.6 liter 304 horsepower V6 has plenty of get up and go when you need or want it but the backend of all that power is a somewhat thrashy engine note at higher RPMs. Thankfully this robust GM built motor has proven quite reliable over the years with rather few overt problem areas to be made mention of here. Cruising range is ample thanks to a 19-gallon fuel tank and as tested economy in the 18-23 mile per gallon range at a cruise.


Predicted Reliability and Initial Quality Rankings (9 out of 10)

Buick comes up with all aces in this particular category thanks to copious accolades from reliability resources like J.D Power and Associates and Intellichoice. Buick trailed only Lexus and Porsche in JD Power's Initial Quality Survey recently and was ahead of Toyota. This year the  2016 Buick LaCrosse even received a Best Large Car Award from J.D. Power so it looks like this brand is finally amongst the luxury elite quality wise.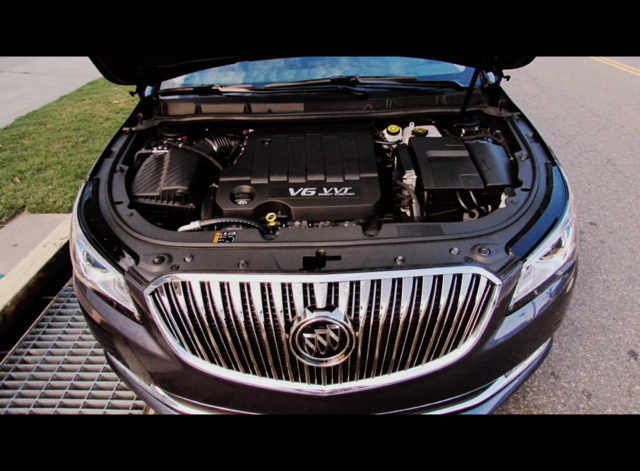 Safety (8 out of 10)

The 2016 Buick LaCrosse would most likely have gotten a perfect score here had they performed the IIHS small front overlap safety test that is the hardest on testing car's safety structures. Given its very advanced front crash safety prevention tech, the IIHS deemed the LaCrosse a "Good" across the board. When you work in insurance, "good" means you are excited.


Performance (6 out of 10)

The LaCrosse has an entry level 2.4 liter 4-cylinder that is E85 ethanol capable meaning its mainly a fleet use model. The real powertrain is the 3.6 liter 304 horsepower/264 lb. feet of torque 6-cylinder mated to a smooth but unexceptional six-speed automatic. It is athletic in its performance ability but as we mentioned earlier it can sound coarse compared to a 3-Series 6-cylinder as it wail to redline. Which makes it a place you would rather no go.

So that is mainly how you feel when driving the LaCrosse, sedate, relaxed and not really in any hurry. But it was always good to know power was just waiting for me when and if I decided to floor the accelerator pedal so as to get to the next green light three seconds faster than the guy in the car next to mine.

Braking and steering feel were adequate, take caution removing the car from "sport" mode still of course. But beyond that, this sedan made us want to sit back, put our feet up and retire. But we can't yet so that whole idea is a bust.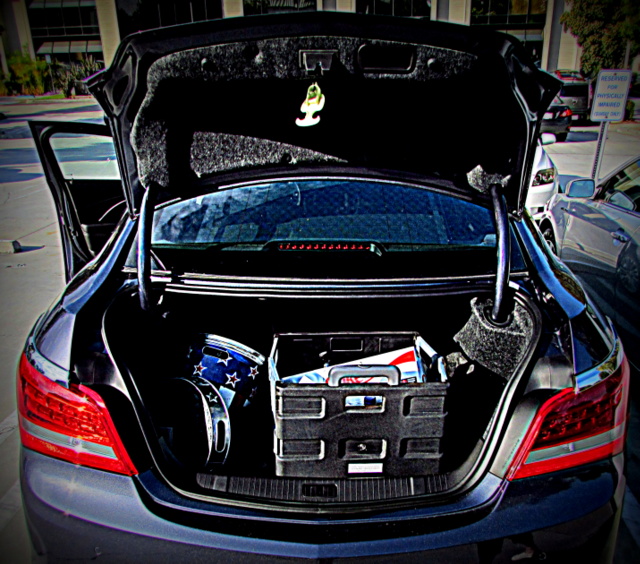 Pricing and Value for Money (5 out of 10)

This is where the Buick falls down hardest is in the value for money and depreciation arena. Not only are there some truly talented competitors out there in the game, they are all pitching in the same pricing and performance ballpark as the Buick just with fewer drawbacks and flaws.

For instance, we would definitely look first to the freshly minted Nissan Maxima, Acura TLX, Chrysler 300c or the lovely Volkswagen CC. All three come from well respected automakers with time tested value, good word of mouth from buyers as well as overall neighborhood prestige value.


The Final Numbers and the Competition (58 points out of a possible 80)

There's just something missing here that we can't put our fingers on, a pulse maybe? Something about this car that gets our hearts racing, makes us look forward to our rush hour commute. Something that tells Bob next door once and for all that you are and always will be cooler than him.

Suburban rivalries aside, there is a lot to like about the 2016 Buick LaCrosse but nothing to push you over the line so you love it. But having seen the 2017 LaCrosse up close in the metal, we can guarantee next year's Buick line-up will be in another league altogether. Yes, that's when Buick will finally toss a Lexus and Acura fighter into the ring. Stay tuned.