Pickup trucks are the most popular vehicles in the United States. Thanks to their improvements in fuel economy and ride quality, as well as their family-friendly features, these versatile vehicles can be used for both daily driving and heavy hauling.
One downside to pickup trucks is the hefty price tags they often come with due to their high demand, even in the used market.. However, you can find a reliable and durable used pickup truck for under $10,000 if you know where to look. We've done the important research for you and put together a list of the longest-lasting used pickup trucks for sale under $10,000.
Best Used Pickup Trucks Under $10,000
The
used trucks
on our list are between thirteen and fifteen-years-old and are listed in order of how they rank in our analysis of the
longest-lasting cars
that are most likely to last for 200,000 miles.
Best Used Pickups Under $10,000 - iSeeCars
Rank
Pickup Truck
% Over 200,000 Miles
Average Towing Capacity
Average Used Car Price

1

2005

Toyota Tundra

2.9%

4,700

$10,096

2

2005

Chevrolet Silverado 1500

2.0%

7,063

$8,435

3

2007

Ford F-150

1.9%

7,553

$9,496

4

2007

Nissan

Titan

1.8%

8,874

$9,591

5

2005

GMC Sierra 1500

1.7%

7,089

$8,596

6

2007

Ram 1500

1.1%

5,875

$9,773

7

2007

Nissan Frontier

0.9%

5,830

$8,694

8

2007

Chevrolet Colorado

0.8%

3,589

$8,012

9

2007

GMC Canyon

0.8%

3,589

$8,060

10

2007

Ford Ranger

-

2,460

$8,112
#1 Toyota Tundra
Ranked first is the full-size Toyota Tundra, which is a capable hauler known for its reliability. The Tundra has two available engines: a 4.0-liter V6 or a 4.7-liter V8 and a maximum towing capacity of 7,100 pounds. Though it doesn't have many standard safety features, the Tundra offers side curtain airbags and electronic stability and traction control on its extended-cab models. The Tundra comes in a variety of configurations including a regular cab that seats three, and a two-row extended cab (or access cab) and crew cab that seat up to six.
A 2005 used Toyota Tundra for sale can be found for an average of $10,096. (Though this isn't technically under $10,000, there are plenty used Tundras from the 2005 model year that can be found for under the $10k mark).
#2 Chevrolet Silverado 1500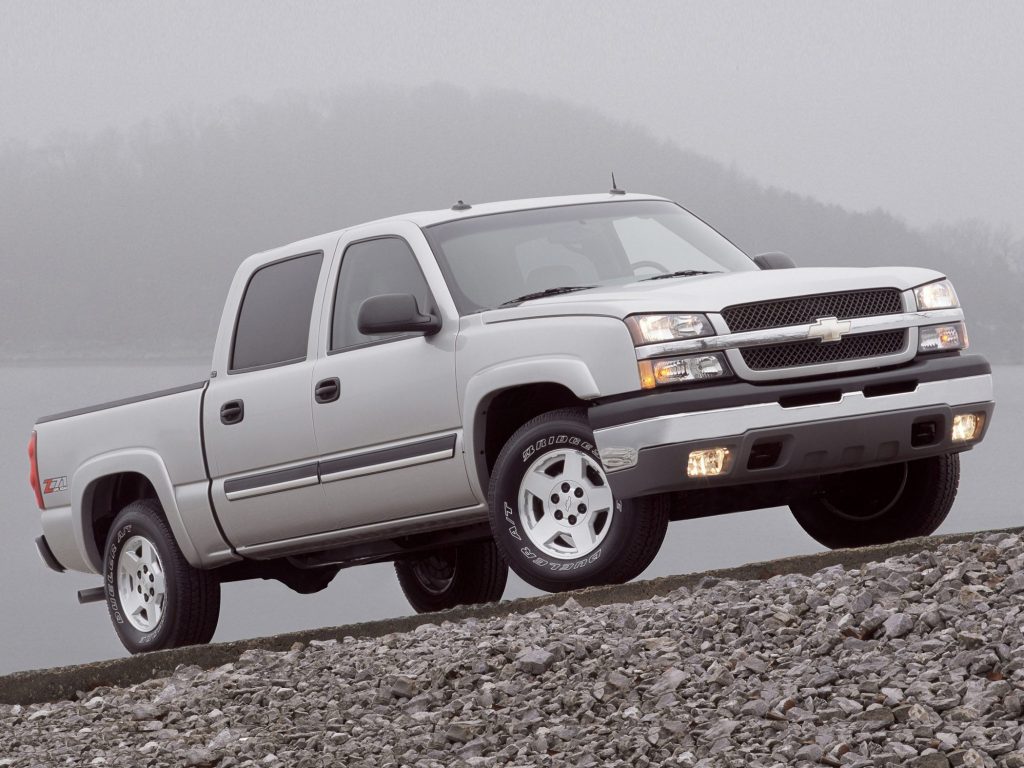 Ranked second is the 2005 Chevrolet Silverado full-size truck. The Chevy Silverado has a towing capacity of up to 7,800 pounds and emphasizes function over style in its straightforward interior design.
It has four engine options, including a 4.3-liter V6, a 4.8-liter V8, a 5.3-liter V8, and a 6.0-liter V8, along with five available transmissions. Rear-wheel drive (RWD) comes standard, but four-wheel drive is also available. The Silverado comes in three body styles: regular cab, double cab, and crew cab, and has two trims including the LS and LT. The 2005 Chevrolet Silverado 1500 for sale costs an average of $8,435.
#3 Ford-150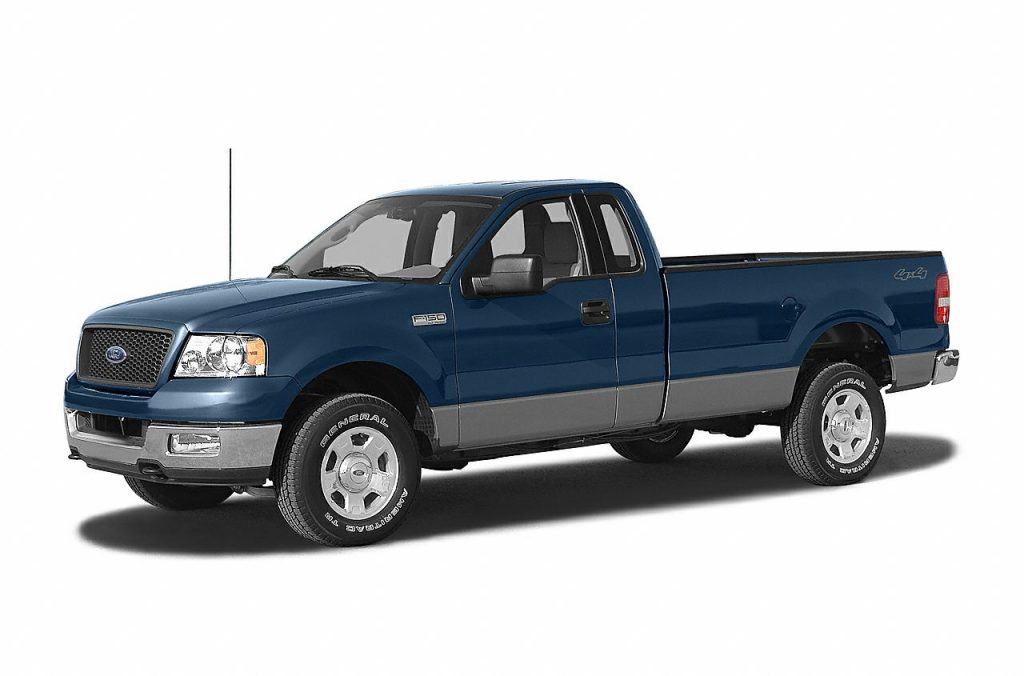 Ranked third is the full-size Ford F-150 from the 2007 model year. The Ford F-150 has three engine choices that range from a base 4.2-liter V6 to a 4.6-liter V8 and a 5.4-liter V8. The F-150 can tow up to 9,900 pounds, which is the most in its class. It also has class-leading fuel economy at 16 city/21 highway mpg and offers a refined ride.
There are six trim levels to choose from the F-150 to meet the individual needs of its owners. They include XL, STX, XLT, FX4, Lariat, and King Ranch. Each has multiple engines, suspensions, cab styles and bed length configurations. An inexpensive Work Truck option can be found on the XL model for those who need a basic and inexpensive workhorse. The middle-of-the-pack Ford F-150 XLT is the most popular, offering the most available options, chrome trim on the outside, cruise control and power windows, mirrors and locks.
The Ford F-150 has been the most popular vehicle in America for nearly 40 years due to its capabilities and versatility. A 2005 Ford F-150 for sale costs an average of $9,496.
#4 Nissan Titan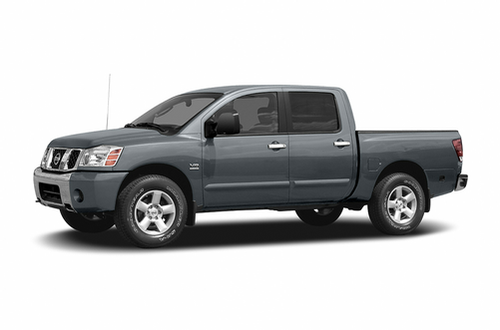 The 2007 Nissan Titan ranks fourth. The full-size truck differs from its competitors in that it only offers a V8 engine. It can tow up to 9,500 pounds when properly equipped with its max tow package. Unlike its competitors, it offers just two body styles: a half-ton extended cab with a 6-foot-6-inch bed and a half-ton crew cab with a 5-foot-6-inch bed. Both have the option for two- and four-wheel-drive configurations and come in three trim levels: XE, SE and LE.
Base XE Titans come standard with a 40/20/40-split front bench seat, air-conditioning, a stereo, cruise control and power window and door locks. The highest trim LE models add power-adjustable leather seats, dual-zone automatic climate control, an upgraded audio system, power-adjustable pedals, an auto-dimming rearview and side mirrors.
A 2007 used Nissan Titan for sale costs an average of $9,591.
#5 GMC Sierra 1500
The GMC Sierra 1500 from the 2005 model year ranks fifth. It shares a platform with the second-ranked Silverado 1500, but is a more upscale version with superior materials and more features. It offers the same engine choices and towing capacity as the Silverado while providing more upscale trims with its top-of-the-line Denali version that comes with a number of comfort features including an AWD system, two-tone leather upholstery, a Bose audio system with rear controls, and steering wheel controls. A power sunroof and a DVD entertainment system are also available.
It also offers six drivetrain options, including a mild-hybrid system for optimal fuel economy. If you want a refined yet rugged hauler, the 2005 GMC Sierra should suit your needs. A used 2005 GMC Sierra 1500 for sale costs an average of $8,596.
#6 Dodge Ram 1500 Pickup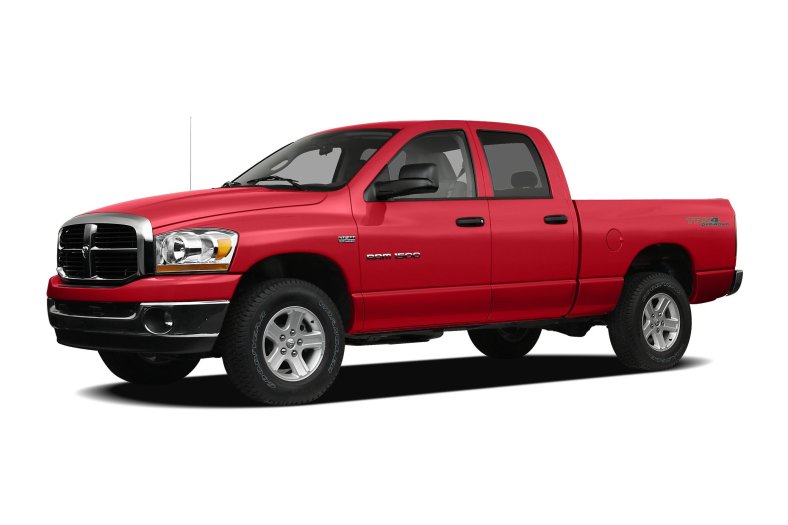 The Ram 1500 pickup ranks sixth with its 2007 version. The full-size Ram 1500 comes standard with a 215-horsepower 3.7-liver V6, and also includes two available V8 engines, a 4.7-liter and a 5.7-liter.
The 2007 Ram 1500 comes in three body styles, including a regular cab, Quad Cab (a crew cab) and Mega Cab. Three trims choices include the ST, SLT, and Laramie. The entry ST trim has no premium features, while the SLT adds alloy wheels, cruise control, keyless entry, and power windows, locks, and doors. The top-of-the-line Laramie has dual-zone automatic climate control, leather seating, a power driver seat, and steering wheel audio controls. Available options include Bluetooth, a keyless start, an off-road package, and a sport package.
A 2007 used Ram 1500 can be found for an average cost of $9,773.
#7 Nissan Frontier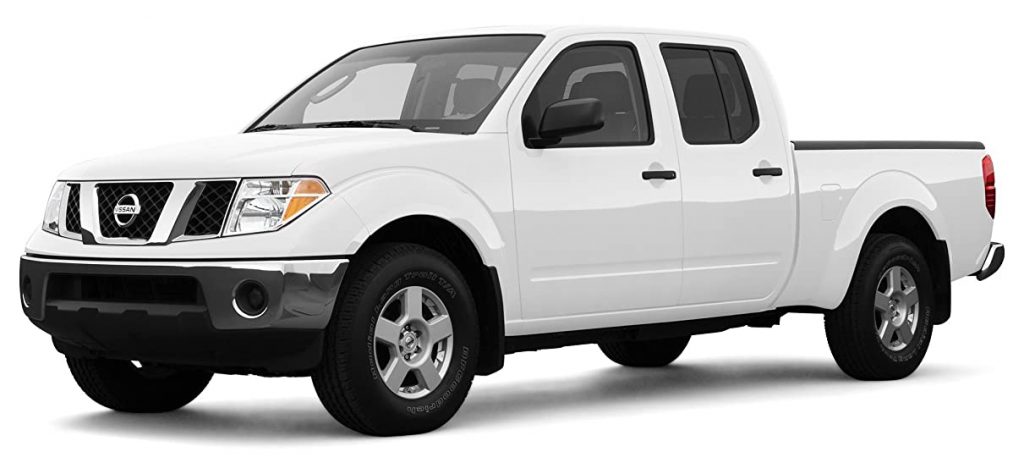 The 2007 Nissan Frontier compact pickup earns the seventh spot. The Frontier comes standard with a 2.5-liter four-cylinder engine while a more powerful V6 is also available on all but the base model. It can tow up to 6,100 pounds andcomes in four trim levels: the base XE, the mid-level SE, the more upscale LE, and the off-road-oriented Nismo. The Frontier comes standard with air conditioning, a chrome bumper and grille, a sliding rear window, and an audio system. The SE offers a power package for windows, locks and mirrors, cruise control, and a power sunroof. The LE adds fog lamps, remote keyless entry, illuminated vanity mirrors, and a leather-wrapped steering wheel.
A 2007 Nissan Frontier for sale costs an average of $8,694.
#8 Chevrolet Colorado
The 2007 Chevy Colorado compact pickup ranks eighth. The Colorado is praised for its comfort and ride quality. Its base model offers a 2.8-liter four-cylinder engine and an optional 3.7-liter five-cylinder is available on higher trims. There are three main trim levels which include the work truck base model, LS and LT. However, a number of packages are available to suit a driver's individual needs, such as an off-road package and a street-performance Xtreme package with performance tires and a lowered suspension.
A 2007 used Chevrolet Colorado costs an average of $8,012.
#9 GMC Canyon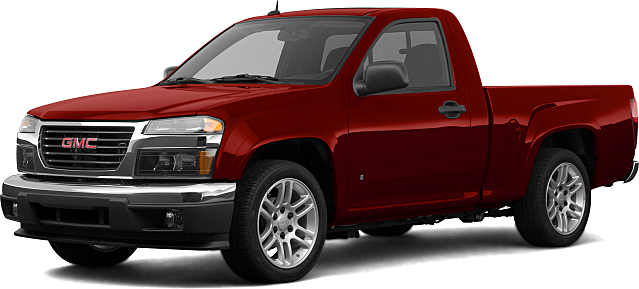 Ranked ninth is the 2007 GMC Canyon, which is a more upscale variant of the Chevrolet Colorado. The 2007 Canyon comes with a base four-cylinder engine and, like its sibling, a five-cylinder is also available. The Canyon comes with three trim levels: the SL, SLE, and SLT as well as a Work Truck trim that is reserved for commercial use only. SL models come with air conditioning, alloy wheels, and cruise control, while upper trims come with leather upholstery and heated front seats. The Canyon has a towing capacity of 4,000 pounds. A 2007 used GMC Canyon can be found for an average of $8,060.
#10 Ford Ranger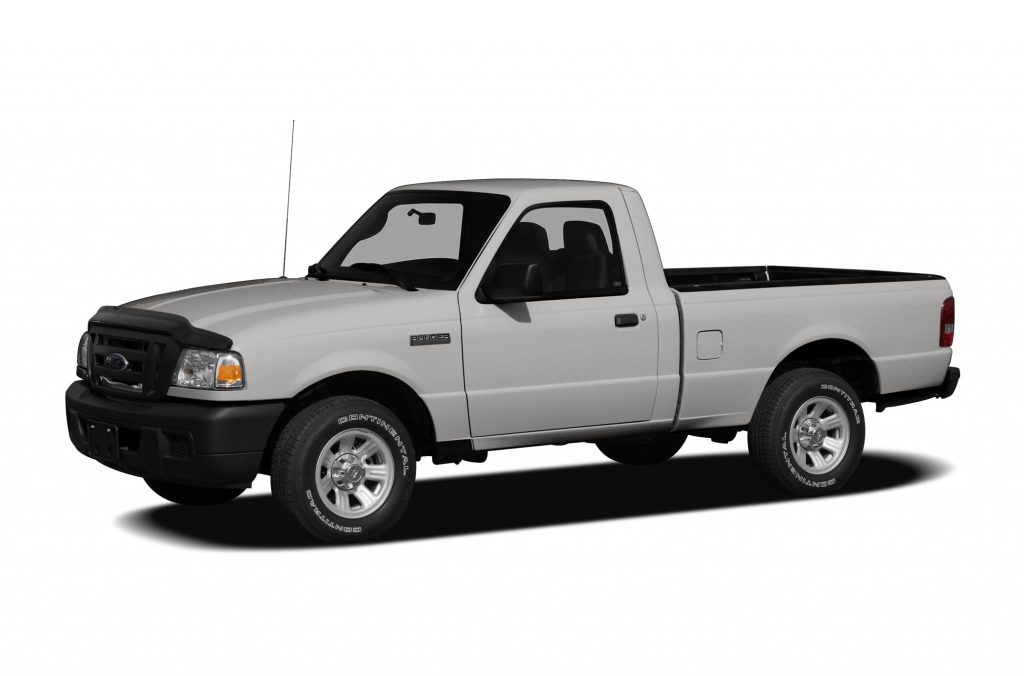 Ranked tenth is the Ford Ranger from the 2007 model year. The Ford Ranger does not have a longevity ranking since it was not produced for the 2012-2018 model years. The Ranger comes in six trims: XL, STX, XLT, Sport, FX4 Off-Road, and FX Level II. Three engines are available including a base 2.3-liter four-cylinder, a 3.0-liter V6, and a 4.0-liter V6, plus two cab sizes, regular and super cab. When properly equipped, it can tow a maximum of 6,000 pounds. A 2007 Ford Ranger for sale costs an average of $8,112.
Honorable Mentions
The 2005 used Toyota Tacoma missed the list due to its average price of $11,000 for its 2005 model. But, it is a capable and reliable hauler that is worth considering.
Bottom Line
Whether a workhorse of a family hauler that's more rugged than a minivan, you can find the right pickup to suit your budget. When it comes to finding used trucks under $10,000, a reliable pre-owned pickup offers significant savings when compared to buying a new car. Reliability is especially important as these older used trucks will not be protected by a warranty. When buying a used pickup, you should always get a vehicle history report and have it inspected by a trusted mechanic. You can also refer to the iSeeCars free VIN Check online report which will provide you with all the information you need to make a wise car-buying decision.
If you're interested in a new car or a used car, be sure to check out iSeeCars' award-winning car search engine. It uses advanced algorithms to help shoppers find the best car deals across all pickup trucks from light duty to super duty, and provides key insights and valuable resources, like the iSeeCars VIN check report. It will also alert you to price drops to help you get the best price on your used car. Filter by make, model, interior color, exterior color, price, fuel type, and special features to find the best deal on your next vehicle.