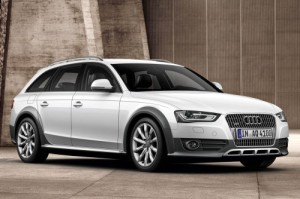 Family car buyers who want luxurious cabins, excellent ride and handling and more space than traditional four-door sedans, but still don't want to go the crossover, SUV or minivan route may find a lot to like in luxury station wagons. Still, buying new can set you back a pretty penny, so searching for a likely candidate in the used car market may be your best option.
Here we take a look at five of the best used luxury station wagons. There's something for everyone in this list.
2013 Audi Allroad – At its core, it's based on the discontinued (in the U.S.) Audi A4 Avant, but the 2013 Audi Allroad, an all-new model, boasts more cladding and added ground clearance. The cabin has leather seats and a panoramic sunroof standard. All-wheel drive is also standard. The Allroad is powered by a 211-horsepower 2.0-liter turbocharged four-cylinder engine matched with an eight-speed automatic transmission. This setup delivers an EPA-estimated 20 mpg city and 27 mpg highway fuel economy. Available in Premium, Premium Plus and Prestige trim, look for used models ranging in price from around $34,995 to $48,000.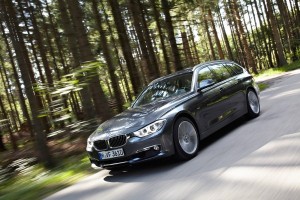 2013-2014 BMW 3-Series Sports Wagon – Yes, it's a wagon and, yes, it drives like a BMW. The all-new BMW 3-Series Sports Wagon is sold in a single trim level, powered by a 241-horsepower 2.0-liter turbocharged four-cylinder engine matched with an eight-speed automatic transmission and all-wheel drive. With rear seats folded, there's 53 cubic feet of storage capacity in the enclosed cargo space. Good luck finding a used model in your neighborhood, though. You may need to wait a few months and try to work your magic on someone selling a used 2014 model. Even then, prices may be steep.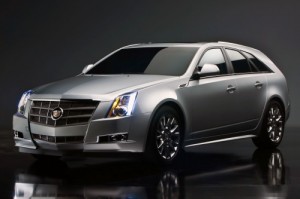 2013 Cadillac CTS Wagon – Bold styling, elegant cabin, excellent safety scores, generous space and lots of technology features mark the 2013 Cadillac CTS wagon. An added advantage is that the Caddy CTS wagon is bigger inside than competitors, making it much more comfortable to drive and ride in and also providing plenty of cargo space. The five-passenger midsize wagon is available in four trim levels: 3.0 base, 3.0 Luxury, 3.6 Performance and 3.6 Premium. Rear-wheel drive is standard, while all-wheel drive is optional. In 3.0 models, the engine is a 270-horsepower 3.0-liter V6. In 3.6 models, it's a 318-horsepower 3.6-liter V6. EPA-estimated fuel economy is 18/26/21 mpg (3.0, front- or all-wheel drive), and the same fuel economy for the 3.6. Pricing ranges from the vicinity of $27,270 for the 3.0 base to $35,130 for 3.6 Premium (in excellent condition). Add more for additional options.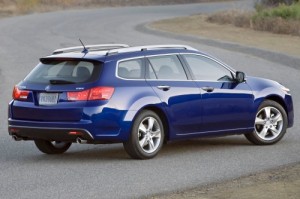 2013 Acura TSX Wagon – Appealing in its driving and handling ability, the 2013 Acura TSX wagon provides the type of refinement buyers expect in an Acura and delivers the fuel economy expected from a Honda. Power comes from a 201-horsepower 2.4-liter four-cylinder engine paired with a five-speed automatic transmission with sport paddles. Fuel economy is estimated at 22 mpg city/30 mpg highway/25 mpg combined. While the entry-level compact luxury wagon may not quite be in the class of the BMW or Mercedes-Benz in terms of prestige, in cargo space the Acura TSX wagon shines: 66.2 cubic feet of maximum cargo capacity with the second-row seat in the folded-down position. As for pricing, used 2013 Acura TSX wagons range from about $28,494 to $36,405 (if you can find them).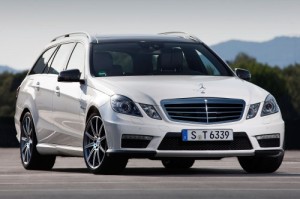 2013 Mercedes-Benz E-Class Wagon – Getting into the high-priced luxury station wagon category here, but, as the old saying goes, you get what you pay for. The 2013 Mercedes-Benz E-Class wagon is a seven-passenger pleaser. Pluses include superb balance of ride and handling, meticulously crafted cabin, a maximum of 57 cubic feet of cargo space and a rear-facing third-row seat. Available in E350 4MATIC and E63 AMG, used pricing starts from around $53,883.