Japanese CUVs and minivans top the list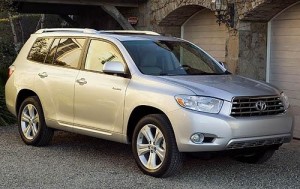 For some models, almost a third of owners hold onto their new cars for a decade, based on a study by iSeeCars.com, an automotive research firm. The analysis of nearly 400,000 cars from the 2005 model year sold between January 1, 2015 and July 30, 2015 revealed that the percentage of the original owners keeping a particular new model for ten years ranged between 3.6 percent and 28.6 percent (original owner cars are cars that were bought as new by the owner). The overall average was 13.5 percent, with 39.9 percent of the 168 models studied above the average and 60.1 percent below the average.
Of the models analyzed, 15 were at least 1.5 times more likely to be held by their owners for 10 years. Those cars are: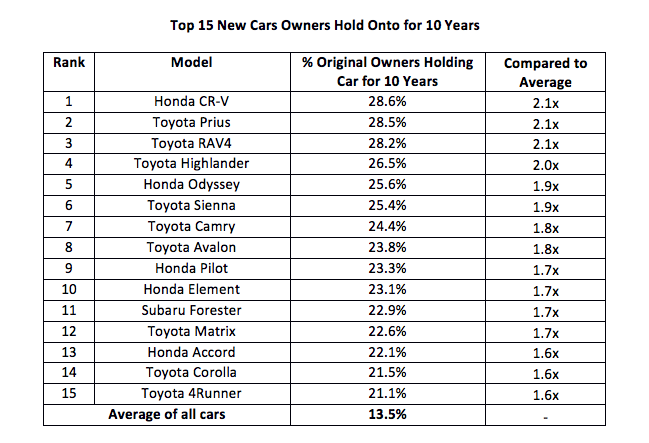 Nine of the 15 are Toyota models, five are Hondas, and there is a lone Subaru. "While it's not surprising that many Toyotas and Hondas made the list as they have based their reputations on reliability, what is surprising is the makeup of the cars," said Phong Ly, CEO of iSeeCars.com. Four of the top five cars are CUVs and minivans, while CUVs and minivans dominate the overall list with 10 vehicles of the 15. "These vehicles tend to be largely family cars, so if people buy these cars when they are just starting their families, it stands to reason that these cars would suit them for many years," said Ly.
Ranked second on the list is the Toyota Prius, which some may find surprising because a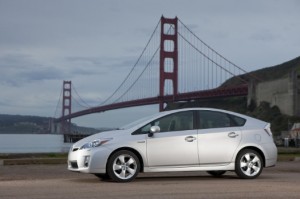 ten-year-old car averages 150,000 miles, and some consumers have expressed concerns about the lifespan of hybrid batteries. However, tests by Consumer Reports on a Prius with 208,000 miles as well as other studies have shown no decrease in battery effectiveness over the years. "There is a rather large contingent of Toyota Prius owners that are happily touting the fact that their cars have logged 100,000 miles or more, with many commenting they expect to the car to last beyond 200,000 miles," said Ly.
Largely absent from the Top 15 are the most popular cars—those that have been characteristically the most popular with buyers nationwide. In fact, only two in the Top 15, the Honda Accord and Toyota Camry, are also among the Top 10 in terms of popularity. Those two cars, with the addition of the Honda Civic, were the only top-selling cars with a percentage of original-owners greater than the 13.5 percent average.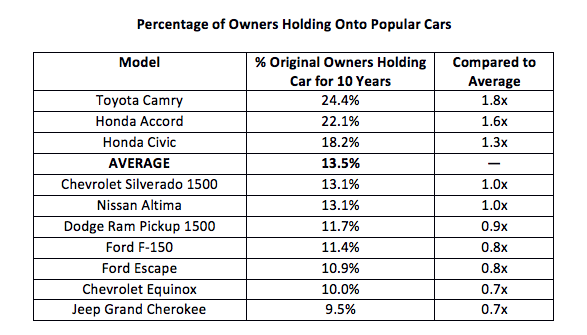 The percentage of original-owners for the three most popular pickups were below average. "One reason that may be is because these cars are often used as work vehicles, such as in construction. Work vehicles log many more miles than average, likely requiring them to be replaced sooner," said Ly.
Also absent from the Top 15 are domestic brands, likely because domestics don't have the same reputation for reliability that the Japanese brands have, says Ly. The highest-ranking domestic vehicle was the Pontiac Vibe, produced jointly with Toyota, of which 17.5 percent of original owners opted to keep for 10 years.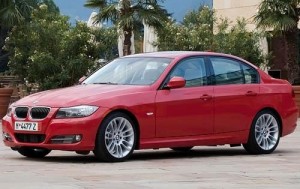 By contrast, the bottom of the overall list was populated primarily by domestic nameplates that are known for their use in commercial fleets or the rental market, such as the Chevrolet Impala, Chrysler Sebring and the Ford Taurus, or by cars that are popular as leases, such as the BMW 5 Series. "All of those markets are designed for cars that are no more than a few years old, so a decade after these 2005 cars were introduced, most of them would be sold by their second or third owners, rather than the original owners," said Ly.
For car shoppers, buying an older, single-owner car can mean a solid car at a great savings. "Cars kept by the original owners for a decade tend to be well-cared-for, in terms of actual maintenance and repairs as well as overall cleanliness, so a car shopper is likely to find more value than in a car that has been through multiple owners and with a history that may not be so straightforward."
To see the complete list of the cars owners keep for a decade - click here The Cars Owners Keep for 10 Years - Full List
Methodology
iSeeCars.com analyzed over 395,000 used cars from model year 2005, sold between January 1 and July 30, 2015. For each model, the number of cars sold by the original owner (based on Carfax data) was tallied and expressed as a percentage of the total number of cars sold. Original owner cars are cars that were bought as new by the owner. Models with fewer than 50 original-owner cars were excluded from further analysis. The models were then ranked by the original-owner percentage.
About iSeeCars.com
iSeeCars.com is a car search engine that helps consumers find the best deal by providing key insights and analysis about each used car. The proprietary iSeeCars.com algorithm ranks cars by calculating an overall score based on analysis of the car's condition, history, negotiability, price and the dealer. Based in the Boston area, iSeeCars.com was founded by former TripAdvisor and SAP developers and executives determined to improve the used car shopping experience for consumers.