Right now automakers may be wooing prospective car shoppers with enticing ads for new cars, but a recent study by iSeeCars.com found that buying a used 1-year-old model over a new one can translate into substantial consumer savings -- from $6.8K up to $37.6K.
"Everybody knows that new cars depreciate the most in the first year and that different cars have different depreciation rates, but we wanted to see which used cars experienced the largest price drops compared to their new models," said Phong Ly, iSeeCars.com CEO.
When comparing the price of new cars with the price of 1-year-old cars with average miles, iSeeCars.com's data analysts found that the average first-year price difference was 16.9 percent. By comparison, the top 10 cars with the largest price differences ranged from 29.2 percent (Jaguar XK) to 38.2 percent (Hyundai Genesis) in loss of value after just one year of ownership.
For consumers shopping for a Hyundai Genesis, the car with the biggest percentage loss in value, choosing a 1-year-old used Genesis over a brand new one can lead to potential savings of $16.6K. Buyers looking for a Chevrolet Impala, the most popular car on the top 10 list, can potentially save $10.8K by making a similar choice.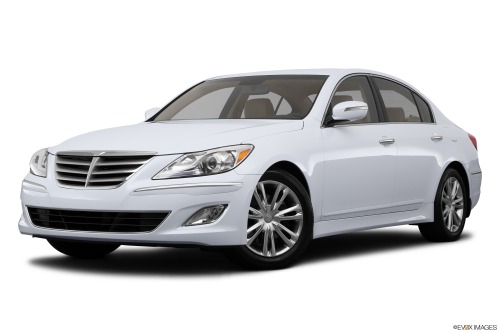 "There are numerous reasons for the wide range of differences, but the most prominent factors that increase the price difference between a car's new and lightly used models are lower popularity compared to its competitors, a brand with reported dependability issues or expensive repairs, or having just undergone a redesign," said Ly.
The Top 10 Cars to Buy Used Over New*
| | | | |
| --- | --- | --- | --- |
| Rank | Vehicle | $ Price Difference over the First Year | % Price Difference over the First Year |
| 1 | | -$16.6K | -38.2% |
| 2 (tie) | | -$6.9K | -36.9% |
| 2 (tie) | | -$20.0K | -36.9% |
| 4 | | -$10.8K | -33.5% |
| 5 | | -$21.1K | -32.8% |
| 6 | | -$15.7K | -32.6% |
| 7 | | -$37.6K | -32.4% |
| 8 | | -$14.6K | -30.4% |
| 9 | | -$9.0K | -29.3% |
| 10 | | -$28.1K | -29.2% |
Consumers may be surprised at the number of luxury cars on the list, but luxury models often have higher initial depreciation rates than non-luxury cars. Many luxury cars are leased for the first few years by individuals or companies for fleet or management use, which increases the number of used cars in the marketplace, causing a further decline in first-year depreciation.
"While some luxury models tend to lose a lot of their value early on, they still don't drop enough in price to be affordable to many consumers to buy used, so they aren't even on the consideration list for those shoppers," said Ly. "Shoppers who can afford to own or lease those cars would generally prefer to buy the new model or rollover their luxury leased car for a lease on the latest and greatest model, making the used model less desirable to those shoppers."
Of course, price isn't the only factor in buying a car, so consumers would be wise to consider all the reasons that are important to them before making a final decision. New cars typically come with a better warranty than used cars and even certified pre-owned cars, which may bring some car shoppers peace of mind.
Additionally, even with a substantial cost savings, some consumers may still opt for the new model based on where the car is in its design lifecycle. "If you buy a 1-year-old car of a model that has been fully redesigned for the current model year, such as the 2015 Hyundai Genesis, then you're buying the previous generation of the car and it will already look dated compared to the new model," Ly said. Car shoppers would also face a similar situation when buying the 2013 models of either the Chevrolet Impala or the Mercedes-Benz S-Class, because both were redesigned for the 2014 model year.
"Understanding the difference in price between a new car and a slightly used model is a powerful tool for consumers in their decision-making process. It's often possible to buy a car that is one model year old with low miles and get all the features available in the brand new model, so it makes good sense to seriously consider this option," said Ly.
*Methodology of the Study
iSeeCars.com analyzed approximately 15.7 million cars for sale from January 1, 2014 to December 5, 2014. Used cars were defined as vehicles from the 2013-2014 model years with mileage within 20 percent of 13,476, the average annual miles traveled in the U.S., according to the Department of Transportation. The average asking prices of these 1-year-old cars and of the new 2014 model (and 2015 model, when available) were compared. The difference in price for each car was expressed as a percentage of the new model average price and used to identify the 10 cars with the largest price differences across the first year.
About iSeeCars.com
iSeeCars.com is a car search engine that helps consumers find the best deal by providing key insights and analysis about each used car. The proprietary iSeeCars.com algorithm ranks cars by calculating an overall score based on analysis of the car's condition, history, negotiability, price and the dealer. Based in the Boston area, iSeeCars.com was founded by former TripAdvisor and SAP developers and executives determined to improve the used car shopping experience for consumers.