Sporty cars and SUVs, led by Toyota, dominate the list of new cars that owners keep the longest before selling, according to a new study by iSeeCars.com. Toyota models took four of the top 10 spots on the list of cars kept well beyond the average length of ownership.
iSeeCars.com analysts found that drivers kept the Toyota Land Cruiser the longest, for 10.6 years before selling —compared to 7.3 years that the average vehicle is held onto. While the cars on the list are all recognizable, only one of America's best-selling cars, Ford Explorer, made the list of original-owner favorites.
The automotive research firm analyzed more than 15.7 million used vehicles sold by original owners to identify when new car owners sell their cars. The average length of ownership for the top 10 models ranges from 8.8 to 10.6 years – or 21 percent to 45 percent longer than the overall average (7.3 years). The list includes four Toyotas (three of which are SUVs), four sports cars and two Ford SUVs. The only sedan on the list is the Toyota Avalon.
"While the average age of cars on the road overall has grown to well beyond a decade, among new car buyers, people are getting rid of their cars after 7.3 years on average — one to two years after they've paid them off," said iSeeCars.com CEO Phong Ly.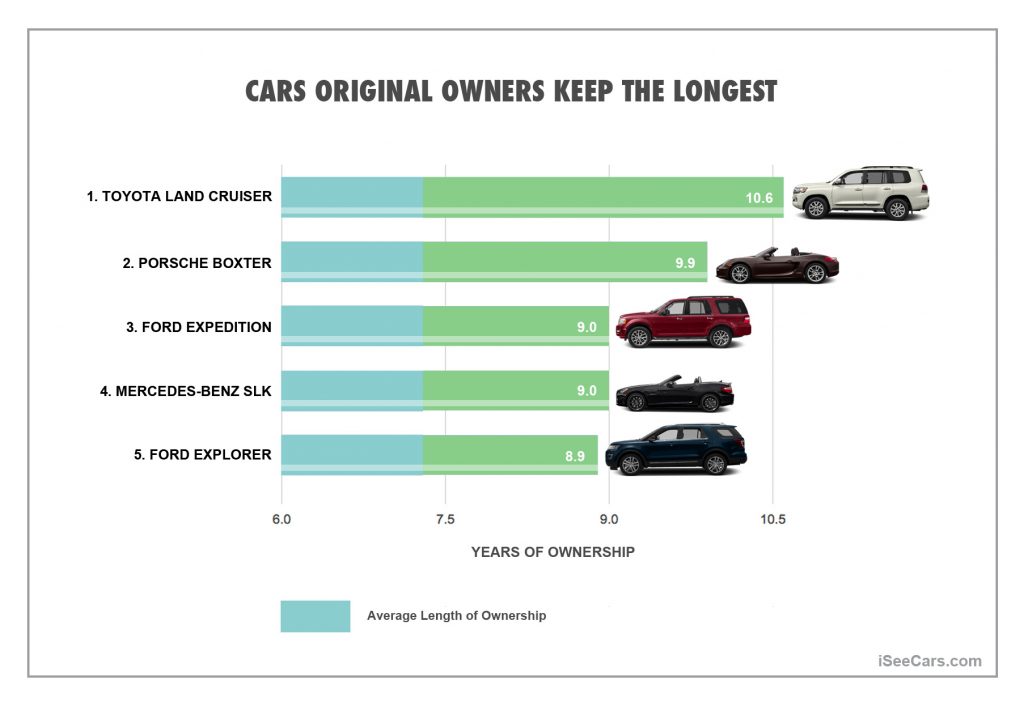 With five SUVs on the Longest-Kept list, it might seem like owners hold onto these vehicles longer than other segments. But SUVs are only kept for 7.2 years, very similar to the overall average.
One of the reasons why drivers hold onto these particular models the longest before selling them may be their unique features. "The first-ranked Land Cruiser has a very niche buyer who's looking for rugged, off-road capability, but also luxury features," said Ly. "With competitors like Land Rover's Range Rover and the Mercedes-Benz G-Class, it's the least expensive option when comparably equipped."
Among the list of cars original owners keep the longest before selling are three seven-seat SUVs: Toyota 4Runner, Toyota Sequoia and Ford Expedition. "These vehicles tend to log high miles and take a beating. Parents who keep these cars longer probably aren't ready to replace them until their kids get older and they know their new car won't get destroyed," Ly said.
Top 10 New Cars Owners Keep the Longest
Rank
Model
# Years of Ownership (Avg.)
1
Toyota Land Cruiser
10.6
2
Porsche Boxster
9.9
3
Ford Expedition
9.0
4
Mercedes-Benz SLK
9.0
5
Ford Explorer
8.9
6
Toyota Sequoia
8.9
7
Chevrolet Corvette
8.8
8
Toyota Avalon
8.8
9
Toyota 4Runner
8.8
10
Audi TT
8.8
Average for All Cars
7.3
Four sporty cars are among the models original owners love to keep — Porsche Boxster, Mercedes-Benz SLK, Chevrolet Corvette and Audi TT.  Ly explained, "These cars all have a timeless look that makes them instantly recognizable on the road. As a result, older models of these cars don't look outdated. While the three imports have been on the market for about 20 years, their styling is very similar to their original designs. Even the Corvette, which is in its seventh generation, has a modernized version of the classic lines it first sported in 1953, making it easy to spot by even a novice car enthusiast."
How Long Do Owners Keep America's Popular Cars Before Selling?
Absent from the Top 10 list are some of the nation's most popular cars. The average length of ownership for these new cars before getting resold ranges from 5.3 to 8.9 years, with the Ford Explorer being the only car to rank on both lists. Ten of the 20 best-selling cars are kept for longer than the overall average. Ly noted, "Most of these vehicles have strong reputations for being long-lasting and reliable, such as the Toyota Camry and Corolla, Honda Accord and Civic and all of the full-size domestic pickups."
It might be surprising not to see cars like the Honda Accord or Toyota Camry in the overall list. Sedans in general have been declining in market share at the segment level since 2008. "We suspect that many buyers who purchased these sedans a few years ago have been trading them in for the sexier crossovers now that gas prices are significantly lower, thus driving down the average years they are owned," said Ly.
Length of Ownership for Popular Cars
Rank
Model
# Years of Ownership (Avg.)
1
Ford Explorer
8.9
2
Honda Accord
8.4
3
Toyota Camry
8.0
4
Honda Civic
7.9
5
Jeep Grand Cherokee
7.8
6
Toyota Corolla
7.7
7
Honda CR-V
7.6
8
Dodge/Ram Ram Pickup 1500
7.5
9
Chevrolet Silverado 1500
7.4
10
Ford F-150
7.4
11
GMC Sierra 1500
7.3
Overall Average
7.3
12
Nissan Altima
7.2
13
Hyundai Elantra
7.2
14
Nissan Sentra
7.1
15
Toyota RAV4
7.1
16
Ford Escape
6.9
17
Chevrolet Malibu
6.6
18
Chevrolet Equinox
6.0
19
Ford Fusion
5.7
20
Nissan Rogue
5.3
Ly continued, "Many of the cars toward the bottom of this list have not been on the market as long, have had quality issues at some point during in their history or are often found in fleet or rental use, which overall reduces their average years of ownership below the industry average."
Passenger Cars People Hold Onto the Longest
Passenger cars are sold 7.2 years on average after the initial purchase — very close to the overall average. Among the Top 10 passenger cars kept the longest, the top five are already on the overall list. Ranked sixth is the Mercedes-Benz SL-Class, yet another sporty car, though one that targets wealthier buyers with higher disposable income, followed by four more mainstream sedans. "Even so, both the Volkswagen Passat and the Mazda6 attract buyers that are looking for something a little bit different than the uber-popular Honda Accord and the fleet-prominent Ford Taurus," said Ly.
New Passenger Cars Owners Keep the Longest
Rank
Model
# Years of Ownership (Avg.)
1
Porsche Boxster
9.9
2
Mercedes-Benz SLK
9.0
3
Chevrolet Corvette
8.8
4
Toyota Avalon
8.8
5
Audi TT
8.8
6
Mercedes-Benz SL-Class
8.7
7
Volkswagen Passat
8.7
8
Mazda Mazda6
8.6
9
Ford Taurus
8.6
10
Honda Accord
8.4
Passenger Car Average
7.2
Pickup Trucks Owners Keep the Longest
Pickup trucks are the only segment original owners keep longer than the overall average – 7.5 years versus 7.3 years. Still, no pickups made it on the overall list. All of the ranked models run close in average age before being sold, ranging from 7.3 to 7.8 years. The pickup truck list also has a balanced mix of imports and domestics.
Ly explained, "Pickup truck buyers tend to fall into a couple of distinct groups. There are individuals and small business owners who use these trucks for their truck capability all the time, such as for work or a personal use, such as towing a boat. That group knows they need a pickup and wouldn't drive anything else, so they keep their vehicles for longer."
He continued, "But there's a second group that doesn't keep their trucks very long at all. This group is represented largely by people using pickups in commercial fleets, so the pickups are usually leased and replaced every few years. There's also a smaller group of individuals who opt for a pickup truck only to be disappointed in the ride, fuel economy or other comfort features and decide it really isn't for them."
New Pickup Trucks Owners Keep the Longest
Rank
Model
# Years of Ownership (Avg.)
1
Toyota Tacoma
7.8
2
Nissan Frontier
7.7
3
Dodge/Ram Pickup 1500
7.5
4
Toyota Tundra
7.5
5
Nissan Titan
7.5
Pickup Truck Average
7.5
6
Chevrolet Silverado 1500
7.4
7
Ford F-150
7.4
8
GMC Sierra 1500
7.3
"The key to buying a new car people love enough to keep for a long time is taking the time to find something that truly fits their personality and long-term needs," said Ly. "Car shoppers should do solid research upfront, calculating the costs of ownership and spending enough time on test drives to make sure everyone who'll be in the car is really comfortable."
Methodology
iSeeCars.com analyzed more than 15.7 million used cars sold by their original owners between Jan. 1, 2013 and Dec. 31, 2016. Models which were owned for less than 5 years were excluded from the analysis, to eliminate the effect of short lease terms on the data. Models that were in production for less than 9 of the 10 most recent model years (2008 to 2017) were also excluded from the analysis. The average age of each model was calculated using the ages of cars when they were first listed for sale.
About iSeeCars.com
iSeeCars.com is an automotive data and research company that's saved car shoppers more than $115 million. It helps consumers find the best deals by providing key insights and guidance, using big data analytics powered by over 25 billion (and growing) data points and proprietary algorithms to objectively analyze, score and rank millions of cars and thousands of dealers. Based in the Boston area, iSeeCars.com was founded by a former TripAdvisor developer and SAP executive determined to improve the car shopping experience.