Overview (Final Score: B+)

Heavy duty pickup trucks have been getting more and more capable. Almost to the point of ridiculousness. Often at the top of that heap, with many "best in class" boasts to prove it, is the Ram 3500. With up to 35,100 pounds of towing capacity, a huge interior, and beyond premium fitment in some models, the new Ram 3500 is more than just a workhorse.

The heavy duty pickup truck lineup from Ram Trucks saw a total makeover in 2019, marking the fifth generation of the Ram HD line. The Ram 3500, as the top consumer-grade model in that heavy duty series, was one of the more anticipated of those trucks. For 2020, Ram added a few more things, including some driver aid and safety options, a larger fuel tank option, and more.

From basic work truck to luxurious trailer puller, the 2020 Ram 3500 has a build option to fit most any need in the one-ton consumer or commercial pickup truck market. Below the Ram 3500 are the 2500 and 1500, both consumer-grade pickups with commercial options. Above the 3500 are the 4500 and beyond, even heavier-duty pickups largely aimed towards a commercial buyer.

For 2020, the Ram 3500 is offered in five trim levels, three cab configurations, two bed lengths, and both rear- or four-wheel drive. Most Ram 3500 models can also be had with a single or dual rear axle and any of three engines.


What We Love About the 2020 Ram 3500:



Two diesel engine options with massive amounts of towing


Big, spacious, and quiet cabin despite the truck's work focus


Best infotainment system on the truck market today


What We Don't Love About the 2020 Ram 3500:



Diesel engine is a constant presence, even at idle


Very tall, almost semi-truck driving height; higher than other competitors


Trailering gimmicks are not as prevalent as with other brands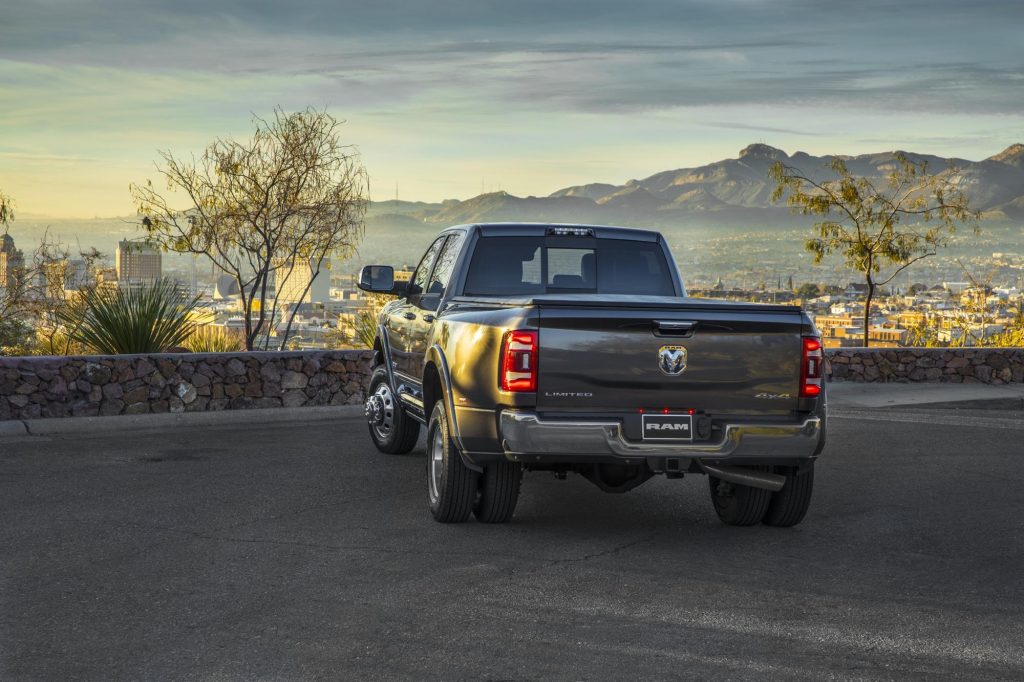 Exterior View (8/10)

Ram Truck, when it was still called Dodge Truck decades ago, began the trend of "larger than life" for pickup truck design. The oversized grille, fat bumpers, huge fenders, and other aspects that are commonplace in pickup trucks today were started by Dodge in the 1980s and 1990s.

The trend continues with this new generation of the Ram. Granted, with a 3500 model of any type, hiding the sheer bulk of this heavy duty workhorse is not really possible. Yet Ram embraces the gigantic proportions and even accentuates with a lot of grille chrome, fat lettering, and more. In the Ram 3500 line, this changes some between models with the more luxurious options having a more refined air about them versus the understated bling found on the lower end models.

Ram is also a pioneer in and one of the few truck makers still building integrated flare-out fenders for dually axles, as opposed to the cutouts and larger add-on flares that might be found on other brands. This gives the truck a more seamless look and, frankly, adds the feeling that the truck was designed as-is for work as-is. No compromises or second thoughts.

In all, the exterior of the 2020 Ram 3500 is strong, unmistakably Ram, and very well-considered.


Interior Comfort, Quality, Ergonomics (10/10)

No matter the truck, the climb in and out of a big 3500-class pickup is going to be some work. There's no way around that. The Ram 3500, however, rewards those who take the leap (for some, that might be literal) to get inside the pickup. A very roomy interior marked by comfortable seating (no matter the trim point) and a well-laid out, smart cabin greets.

The front seats of the Ram 3500 are either two outboard bucket-style seats with a massive center console storage bin or a shallower center bin that folds up to reveal a large center seating position to make for three up front.

For the driver, controls layout and gauge reading is easy and smart. We like the multifunctional gauge cluster found in some upper trims for its multitude of options and informational readouts. Others may like the simplicity of the lower trims' no frills approach.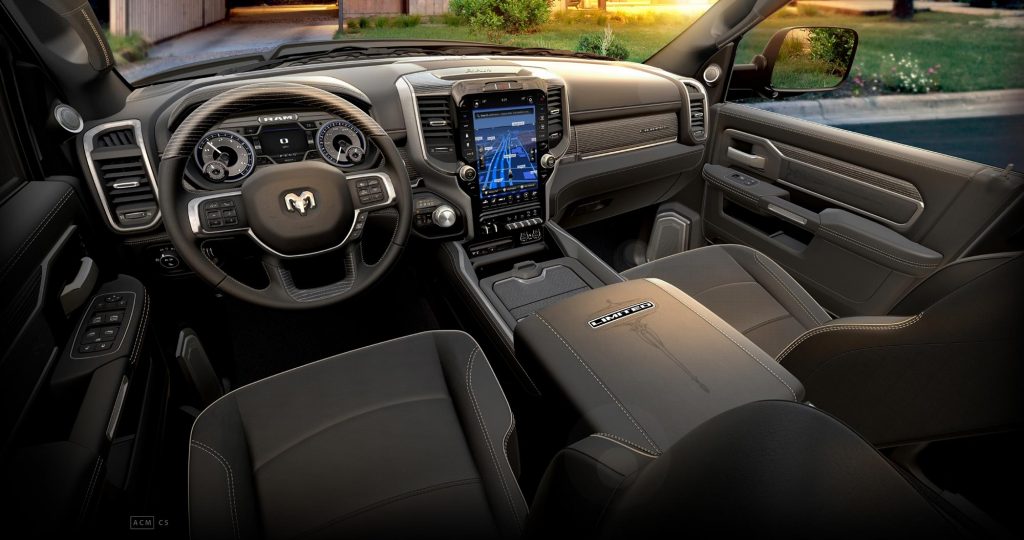 In the back seats, depending on cab configuration, there is generally a lot of room. Both the extended and full crew cabs have seats large enough to accommodate adults of most any size. The Ram 3500 may have the most spacious rear seats on the market, in fact, with the full crew cab seating three adults across without any shoulder bump or knee room issues.

Storage abounds within the 2020 Ram 3500, with cup holders, bins, and Ram's signature underfloor "saddle bags" allowing for the stashing of untold amounts of gear.


Technology (10/10)

With what is definitely the best infotainment in the truck market day, Ram has taken the UConnect user interface and boosted it with the option of a 12-inch vertical screen that can be used all at once or split in half between apps. This system is easy to use, responds quickly, and has a robust set of apps and options.

Those new to the idea of infotainment will find things easy to understand and the basics quick at hand. This is bolstered by the more traditional hard controls for basic climate control and radio tuning and volume changing. Once learned, however, quick things like turning on heated steering, streaming music from a device, or getting navigation information into the system come with a short learning curve. Android Auto and Apple CarPlay are also included in all touchscreen systems, further shortening that learning curve for those familiar with those systems.


Fuel Economy (8/10)

The 2020 Ram 3500 is not rated by the Environmental Protection Agency for fuel economy. All heavy-duty pickup trucks are exempt from EPA fuel economy testing requirements. So the results we have for the truck are based on our own drive and comparisons are with similarly-equipped trucks we've also driven.

The industry doesn't expect big numbers for MPG returns. The Ram 3500 with the larger diesel engine, as we tested it, averaged 14.5 mpg on the highway when empty. When towing or hauling, most can expect those numbers to drop by half if the loads are heavy.

Rendering an educated guess, we'd say that the lighter diesel engine will likely return somewhat better fuel economy and the gasoline engine probably closely matches our experience with the heavy-duty diesel.


Predicted Reliability, Initial Quality Ratings (7/10)

So far, Ram Truck has been hit-and-miss with reliability expectations. There are no reliability returns to measure from our usual sources for the Ram 3500 this year except what Consumer Reports has to say. They give the Ram 3500 a middling result in reliability expectation.

We do know that, as of this writing, there have been no factory recalls for the 2020 Ram 3500 and that the brand's reliability expectation has been growing overall.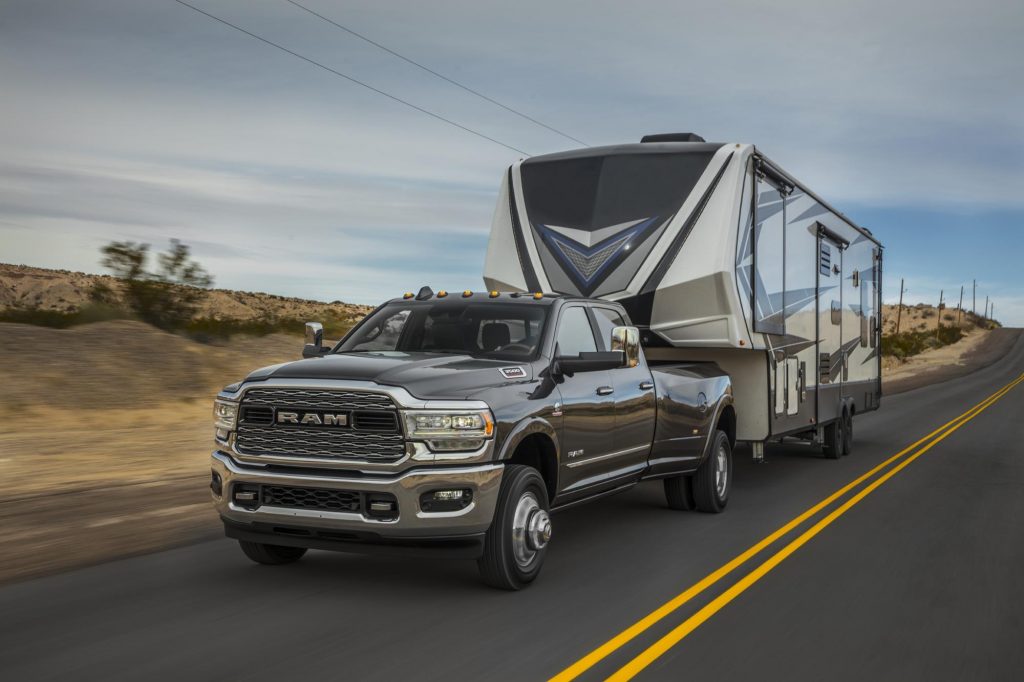 Safety (8/10)

Heavy-duty pickup trucks are not generally crash tested by the National Highway Traffic Safety Administration (NHTSA) or the Insurance Institute for Highway Safety (IIHS). Teh Ram 3500 does, however, come with or have available several basic and advanced safety technologies.

Driver-assist options such as a surround-view camera, special trailering camera views, adaptive cruise control, and lane-keeping assistance are all available for the 2020 Ram 3500.


Performance (10/10)

The 2020 Ram 3500 has three engine options. The standard (base) engine is a very well-done gasoline-burning 6.4-liter V8 that outputs 410 horsepower and 429 pound-feet of torque. This engine mates to an eight-speed automatic transmission.

The first upgrade is to a 6.7-liter Cummins-made diesel engine that outputs 370 hp and 850 lb-ft of torque to a six-speed automatic. This turbodiesel engine is the most popular choice for the Ram 3500.

The above engine can be purchase at high output. New for this generation of the truck, the high-output turbodiesel option upgrades power to 400 horses and 1,000 lb-ft of torque. The same six-speed automatic is attached.

All three engine options have either rear-wheel or four-wheel drive options.

Whatever engine is chosen, the capabilities of the Ram 3500 change with that choice. The base engine gives the Ram 3500 a towing capacity of up to 14,970 pounds. Upgrading to the diesel engines changes that upwards, with the high-output engine maxing at over 35,000 pounds.

Whatever the weight limits, drivers of the Ram 3500 will feel confident about pulling, hauling, or just driving the truck. It's very well designed.


Pricing and Value (9/10)

Heavy duty trucks are expensive. The Ram 3500 is no exception. Most buyers are going to be in the middle range for purchase price, but those going all the way to the top could find themselves pushing into six-digit territory.

The Ram enjoys a good resale value and strong presence in both the commercial and consumer markets. So the high price paid will not necessarily destroy value over time.

Thus we consider the Ram 3500 to be a good purchase value, whatever the package price. With the caveat that there is a need for the truck and its capabilities.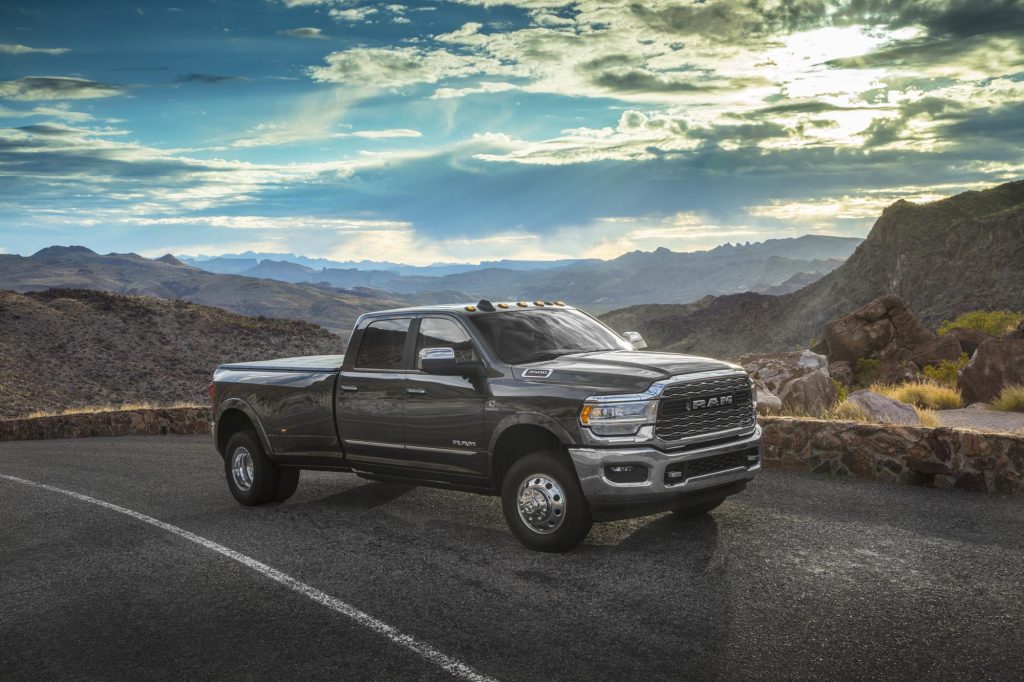 Total Score and Competitive Comparison (70/80, 88%)

The 2020 Ram 3500 competes in an arena against only a handful of strong competitors. Chief among them are the Ford F-350, the Chevrolet 3500, and the GMC 3500. All three are solid choices in the HD truck market. We do give Ram credit, however, for having a strong brand and look for that brand, excellent capabilities, and a sort of panache not seen from the others.

The 2020 Ram 3500 offers a lot of truck for a fair price. We think that the extra capability of the high-output Cummins engine may have a lot of appeal, but most will be more than taken care of with the other two engine options as well. The Ram 3500 offers a lot of workhorse for those needing a seriously capable truck.