Overview (Final Score: A-)

For those who live in a world where towing massive amounts of cargo is required, but need something more versatile than a semi-truck, there's the heavy-duty pickup truck. The 2018 Ram 3500 fits in that small category of massive vehicles. Similar in design to the Ram 2500 below it, the Ram 3500 is made a little stouter and a little more capable in order to push the limits.

The maximum towing load for the 2018 Ram 3500 is over 31,000 pounds and its maximum payload is over 7,300 pounds. Those are some big numbers and the truck has to be big to match that. Which it is.

New for 2018 in the Ram 3500 is a standard rearview camera, standard Android Auto and Apple CarPlay, and a few upgrade options for the infotainment that weren't available before.

The 2018 Ram 3500 is available in three cab styles and two bed lengths, with three engine options. There are two transmissions and six trim levels as well. Both rear-wheel and four-wheel drive are available.

The base model is the Tradesman, which will suit many low-end workaday buyers, while the middle of the road is the Big Horn (aka Lone Star in Texas) and the top of the line are the Laramie Longhorn and Limited trims for serious highfalutin comfort.


What We Love About the 2018 Ram 3500:



Roomy, well-designed interior


Strong engine and drivetrain choices


Excellent towing capability and comfort


What We Don't Love About the 2018 Ram 3500:



Reliability and safety are difficult to predict


Buyers drawn to the 3500 may actually need a 2500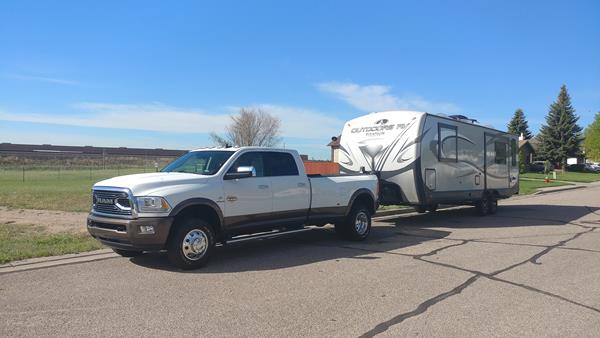 Exterior View (9/10)

It's difficult to judge huge pickup trucks like the 2018 Ram 3500, in terms of exterior design. Most pickups in this category aim to be hugely muscular and semi-truck-like while adding a hint of upscale appeal. The 3500 does a good job of that, with emphasis on muscle, as is Ram's preference.

The signature crossbar Ram Truck grille is centered by the huge ram's head logo and flanked by shape-matched headlamps to mirror each half of that massive grille. A thick bumper rides below the grille, underpinned by a narrow intake and some air dams.

Heavy-duty wheels, thick fenders with large gaps for plenty of wheel travel (and to show off the thumb-thick coil springs up front) add to the robust nature of the Ram 3500. The tall, flat hood promises a huge engine underneath (and usually delivers), but the simple windscreen angle and plain, unadorned cabin surrounds and door markings temper that testosterone-laden front end. The cargo bed's rails are matched to the greenhouse edge to hint at good airflow, while the rear fenders and lines are simplified but robust.

The big 2018 Ram 3500's look promises a rig that's comfortable with hard work, whether at rest or on the job.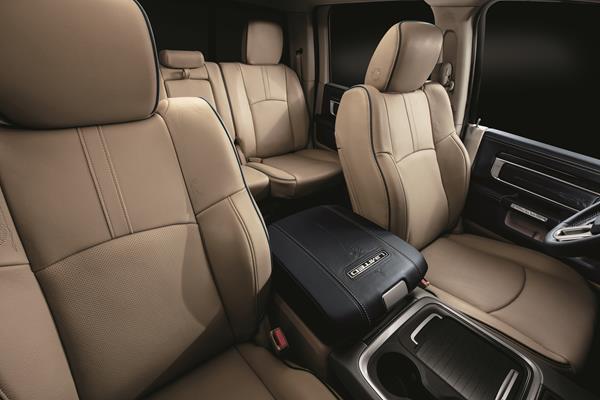 Interior Comfort, Quality, Ergonomics (10/10)

Everything about the Ram's interior is well done. The controls layout is intuitive and smart, with big knobs and easy-to-find buttons for what's needed most. The cabin feels open and is easy to see out of, which seems anathema to its exterior look. Although the truck is high off the ground, grab handles and easy steps make getting in and out much easier than on many big trucks like this.

The 2018 Ram 3500 is comfortable, with spacious seating and excellent storage capacity. The "saddle bag" ram bags behind the driver and front passenger's seats, just ahead of the rear seating, are very useful for items like ball tongues, tie-downs, gooseneck balls and so forth. The large center console storage and big spaces for drinks and other items are plentiful and nicely done.

In the rear on crew cab models, seating three across is well accommodated and storage is, again, very well throughout. Touches on some models, such as our tester's Laramie Longhorn trim, add a lot of luxury to the truck, while lower end models have a solid workaday feel hat doesn't come at the price of comfort.

The cargo bed is not as easy to get into on the Ram 3500, but added bumper steps or other options can remedy that. It's not likely that this truck's owners will be using the cargo bed for much outside of tow hitches and occasional extraneous gear. The Ram 3500 is more about towing than it is about hauling, truth be told.


Technology (10/10)

Technology in the 2018 Ram 3500 centers on the 8.4-inch touchscreen and its Uconnect infotainment system. This is one of the best in the business with several available options, including navigation and WiFi connectivity. The 2018 Ram 3500 comes standard with basic connectivity such as Bluetooth, Apple CarPlay and Android Auto. Functionality on the screen is easy to understand, and menus are fast and responsive.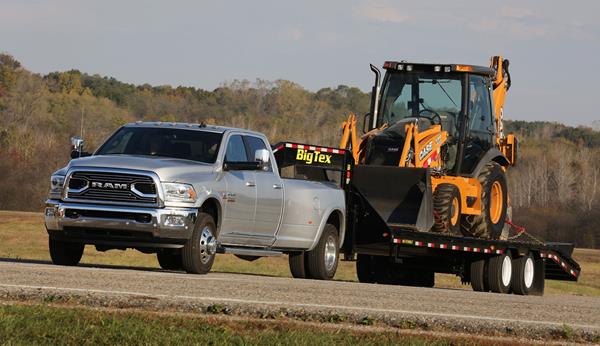 Fuel Economy (8/10)

It's difficult to gauge fuel economy in the heavy-duty segment as the EPA does not regulate or require testing for expected mpg. Engine options in the Ram 3500 plus the types of loads and work required will determine fuel economy.

Our few days in the 2018 Ram 3500 with a dual rear axle, Cummins diesel engine and fifth wheel hitch returned mixed fuel economy according to workload. Empty of cargo and towing, our average mpg was about 21 (city/highway mix). Under heavy load with a fifth wheel trailer, mileage dropped to the single digits on side roads and averaged about 11 mpg on the highway. Under a lighter load being bumper pulled, mileage stayed in the teens throughout, averaging about 15 mpg altogether.


Predicted Reliability, Initial Quality Ratings (8/10)

It's difficult to ascertain reliability for the 2018 Ram 3500, as HD trucks are rarely included in consumer studies and surveys. Overall, however, the Ram 3500 enjoys a reputation for reliability, especially with its diesel engine options. For 2018, we expect that will continue.


Safety (8/10)

There are no crash test results for the 2018 Ram 3500 to report, but the sheer size and weight of this truck should make it relatively safe compared to other vehicles on the road. Rollover is a concern, of course, but the Ram 3500 feels well balanced, and has a wide stance and heavy load capability. Most fatalities reported in trucks like this are from passengers not wearing seat belt restraints.


Performance (10/10)

The 2018 Ram 3500 has three engine choices, and two are gasoline options. The base engine is a 5.7-liter V8 that outputs 383 horsepower and 400 pound-feet of torque into a six-speed automatic transmission. This engine should be familiar to Ram fans as the go-to V8 in most of the company's truck lineup. Rear-wheel drive or part-time four-wheel drive are available for this engine.

The upgrade gasoline engine is a monster 6.4-liter V8 that outputs 410 horses and 429 lb-ft of torque into a six-speed automatic transmission. Again, rear-wheel or four-wheel drive are available. This engine is capable of doing a lot of work and is a popular upgrade choice for this particular truck.

The diesel option is a big 6.7-liter Cummins-made six-cylinder that outputs 350 hp and 660 lb-ft of torque. This engine is paired to a six-speed manual or automatic transmission. The latter trans adds a lot more torque, to the tune of 880 lb-ft total. A heavy-duty automatic transmission can also be paired to it, bulking output to 385 hp and 930 lb-ft. We drove that option with a dual rear wheel axle. That massive combination comes together for some serious pulling and hauling power.

When towing, either from the bumper or on a fifth wheel or gooseneck, the 2018 Ram 3500 is a smooth power deliverer that has braking capable of stopping heavy loads as well. With the massive Cummins powerplant, towing over 20,000 pounds of trailer and cargo was a cinch and it made lighter trailers feel like child's play. This is a hugely capable machine.


Pricing and Value (10/10)

Most trucks in the heavy-duty category from any of the three manufacturers are priced competitively with one another. Resale values for trucks, especially HD pickups, are also very high compared to the rest of the automotive market. Those things combine to make buying a Ram 3500 a good bet, no matter its configuration.

The best way to get high value out of a pickup truck is to purchase what you need for the job(s) you plan to use it for. In the heavy-duty categories, specifically the Ram 3500's, the goal is usually to pull heavy trailers loaded with stuff. For that job, the 2018 Ram 3500 is a very good match.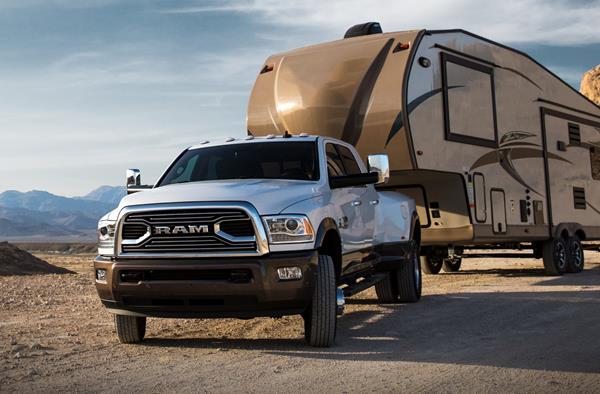 Total Score and Competitive Comparison (73/80, 91%)

There are only two competitors for the 2018 Ram 3500: the Ford F-350 and Chevrolet Silverado/GMC Sierra 3500HD twins. Both are good options for heavy-duty buyers, with purchase decisions coming down largely to need and preference. The Ford has a more luxurious package in its upper-end offering and the Chevrolet/GMC models have strong trailering control capabilities.

The Ram offers the best of everything, though, including the most comfortable on-highway drive experience when unladen.

The 2018 Ram 3500 is a serious, strong machine with a long list of best-in-class claims. The Ram offers a muscular look to go with its pumped up capabilities. It's one of the best towing rigs we've driven under heavy loads.