Overview (Final Score: A-)

There are heavy-duty trucks and there are heavy-duty pickup powerhouses. The 2500 class of pickups might be HD for the masses, but the 3500 class is the workhorse for the serious-minded towing and hauling set. In that heavy group of big trucks stands the 2017 Ram 3500.

Carrying over virtually unchanged from the 2016 model year, the Ram 3500 continues to be the best-in-class marketing machine for the brand. There are no less than three cab configurations, two bed lengths, two rear axle options, three engines and three transmissions offered for this truck. Trim levels range from the simple Tradesman workhorse to the luxurious limousine-quality Limited.

Towing capacities in the 2017 Ram 3500 range from a surprising 13,910 pounds to a massively jaw-dropping 31,210 pounds. Yet no matter its tow capacity, the Ram 3500 drives smoothly and brakes confidently all of the time, whether loaded or not.

That makes the 2017 Ram 3500 one of the best heavy-duty trucks you can buy and we give it a well-deserved "A" rating for that.


What We Love About the 2017 Ram 3500:



Excellent powertrain and drivetrain choices


Solid performance in towing and fuel economy


Wonderful interior experience no matter the trim level


What We Don't Love About the 2017 Ram 3500:



Difficult to gauge safety in this segment


Base gasoline engine seems near-useless for a truck this big


Some useful things like bed steps and the like are not available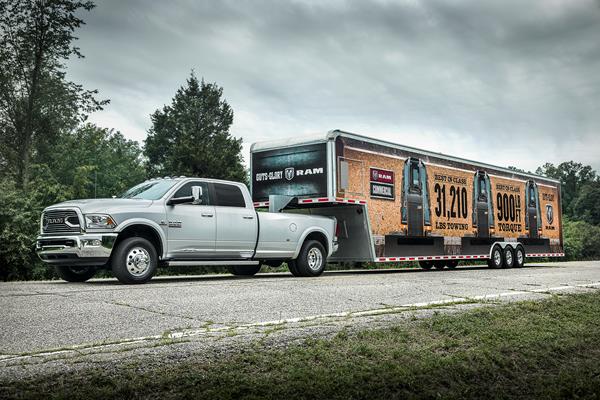 Exterior View (8/10)

The 2017 Ram 3500 is a big, beefy powerhouse and its design language emphasizes that. It shares many design elements with the entire Ram Truck line, including the heavy grille, huge bumpers, muscular fenders and large greenhouse. The 3500 also has a large hump in its hood to accent the gigantic engine under there and carries some suspension height to go with its heavy-duty build.

The Ram 3500 is otherwise largely identical to the rest of the Ram truck lineup. Whether with single or dual rear tires, the smaller side mirrors or huge towing glass, it's a huge truck.

The 3500 has specialized wheels to carry the heavier loads expected of this heavy hauler. Body options include three cab styles (regular, extended and quad) and two bed lengths (short and standard). Various trim options also change the bodywork to some degree.


Interior Comfort, Quality, Ergonomics (10/10)

Where the Ram 3500 changes the most through the trim levels is with its interior. The base model Tradesman is very well outfitted for everyday use as a working pickup, as is the next step up in the SLT. The Big Horn (called the Lone Star in Texas) is also a good mid-level option package that upgrades seating and some amenities, as do the Laramie Longhorn and the Limited, which are luxurious in their outfitting.

Whatever trim is chosen, the interior of the 2017 Ram 3500 is very well done. Like all Ram trucks, the 3500 offers a spacious front seating area, ready access to the driver's controls, and an interior experience that coddles a bit without making you feel bad about forgetting the pliers are still in your back pocket.

In the Crew and Mega cabs, rear seating is expansive and accommodating. The extended cab (Crew) is of a good size for occasional back seat use and for hauling extra items that shouldn't be out in the bed. It's also ideal for dogs and children, but spacious enough to allow adults to use it once in a while too. The Mega Cab is huge and easily seats three across in the rear with room to spare.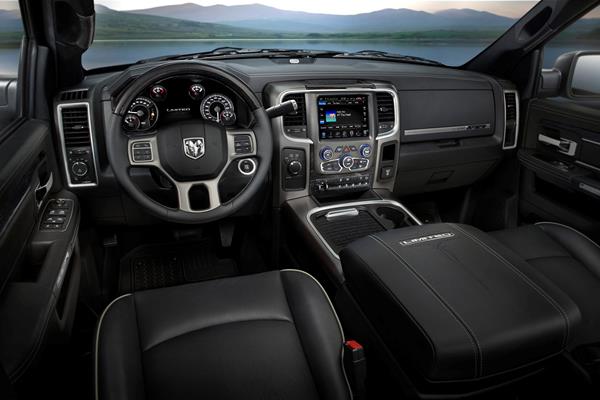 Getting in and out of the big 3500 can be a bit difficult for the height challenged or those with little legs. Optional side running boards or bars can help that and multiple grab handles are supplied in all 3500 models to give a place to grip for a boost.

In all cases, the Ram 3500 has one of the best interiors in the heavy-duty business. There is a lot of storage for gadgets, drinks, and more and some smart bins throughout the cabin. The optional load-leveling suspension is also awesome and exclusive to the Ram.


Technology (10/10)

The 2017 Ram 3500 benefits from the Uconnect infotainment system found in all Fiat Chrysler automobiles. This is one of the best infotainment systems in the business with a very easy to use format and extremely good capability. The advanced 8.4-inch Uconnect is available in most of the 3500's trim points and offers good navigation, WiFi hotspot connectivity, great smartphone connectivity and app integration and more. Our favorite is the speech-to-text for both receiving and sending text messages hands-free.

There isn't much that the infotainment in the Ram 3500 can't do, and we love it for that.


Fuel Economy (8/10)

Fuel economy is relative in the HD segments. The EPA does not require MPG testing for vehicles over 8,500 pounds, which includes most HD models like the Ram 3500. Real-world usages will likely range in returns from 12 mpg to 20 mpg, depending on the powertrain and drivetrain used and whether the pickup truck is loaded or pulling a trailer.

Our real-world returns in the Ram 3500 with the diesel powerplant, four-wheel drive, and a dual rear axle were very good at about 20 mpg on average when running empty. This number drops significantly when under load, of course. The Ram 3500 is a working truck and as such MPG returns are of minimal concern for most owners.


Predicted Reliability, Initial Quality Ratings (9/10)

The 2017 Ram 3500 has a five-year, 36,000-mile warranty bumper to bumper and the diesel engine is warrantied to 100,000 miles (60,000 on other powerplants). 60 months of roadside assistance is also standard with the Ram 3500 on many trim levels.

The heavy-duty segments are not normally rated by major outlets for dependability. There are relatively few complaints registered from consumers for the Ram 3500 this model year and the past couple of years of Ram Trucks in the HD segments has shown similar results. This bodes well for expected reliability.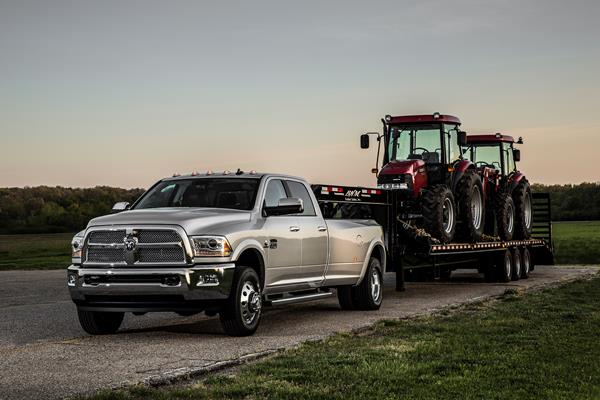 Safety (9/10)

Gauging safety in the HD segment is difficult, as neither the National Highway Traffic Safety Administration (NHTSA) nor the Insurance Institute for Highway Safety (IIHS) crash test these big trucks. These are huge vehicles and safety is generally built into that kind of bulk.

The 2017 Ram 3500 has a few aces up its sleeve when it comes to safety options. Beyond the usual airbags and trailer sway control that comes with trucks like this, the 3500 includes an option for front and rear parking sensors, which is standard in some trim levels.


Performance (9/10)

Performance metrics for a heavy-duty pickup truck are dependent more on muscle and capability than they are on speed or handling. There are three engine options for the Ram 3500 and both rear-wheel and 4-wheel drive can be had along with a single or dual rear axle.

The base engine is a 5.7-liter V8 gasoline engine (aka Hemi) outputting 383 horsepower and 400 foot pounds of torque to a 6-speed automatic transmission. A natural gas version of this engine can be ordered as well. This engine gives the Ram 3500 up to 13,910 pounds of towing capacity when properly equipped.

The next step up is another gasoline-powered powerplant in the 6.4-liter V8 that churns out 410 horses and 429 lb-ft of torque. The 6-speed automatic is still there. Towing is rated at up to 16,370 pounds.

Finally, the big diesel and it special heavy-duty transmission. This can tow up to an astonishing 31,210 pounds when so equipped. The 6.7-liter turbodiesel six produces 350 hp and 660 lb-ft with the 6-speed manual transmission, 370 hp and 800 lb-ft with the 6-speed automatic, and 385 horses and 900 foot pounds with the heavy-duty automatic transmission. We drove the latter with a dually rear axle and 4-wheel drive with a Mega Cab and 8-foot bed.

In that setup, we towed a 11,000 pound gooseneck trailer and cargo without issue. The 2017 Ram 3500 barely seemed to notice it was there, and accelerated and operated just as it would without any load at all, with the exception of an improved highway ride and better handling (surprisingly) on dirt roads due to the added weight on the rear axle. The optional factory-installed wide and push-out trailer mirrors, dual rear cameras (one on the tailgate and one on the rear cargo light) were a boon when hitching up as well.

Given its performance with a relatively light load for the truck, we expect that with a trailer twice as heavy, the Ram 3500 would still do very well as a towing machine.


Pricing and Value (9/10)

For those who need a truck with the kind of capabilities that the Ram 3500 offers, the 2017 model is a good choice. Excellent towing, high resale values and a popular design are all reasons to buy the 2017 Ram 3500. For those who do not need a truck this large, the return will drop significantly with the value being negated by over-compensation.

The Ram 3500 is a working truck that is meant to be used to tow and haul things. As an everyday driver, it's a terrible choice for commuting and will be difficult to park (at best) in most situations. As a machine meant to tow big loads and carry heavy things, there are few in the same league as the 2017 Ram 3500.


Total Score and Competitive Comparison (72/80, 90%)

Competition in the 3500 segment is slim. The Ford Super Duty F-350 is a popular choice with similar engine options and a lot of muscle, but with a less highway-friendly ride and lower overall towing numbers. Likewise the Chevrolet 3500HD and GMC 3500HD twins are not as good on the highway, but do offer better real-world fuel economy in their gasoline engines.

The 2017 Ram 3500 is the king of workhorse trucks in this heavy-duty segment. The Ram offers good looks, an excellent interior, and superior towing and hauling capabilities along with a smooth ride and smart fuel economy. The powertrain choices can fit most any need in the HD realm as well. This is definitely HD done right.