Overview (Final Score: C-)

Here's an interesting fact: About a quarter of full-size pickup sales are made up of heavy-duty models. This is somewhat surprising as heavy-duty trucks aren't really built to handle the daily grind. They are built with pulling construction equipment or hauling stones from a quarry as examples. But more and more buyers are turning to pickups as their daily drivers because it offers them the capability they want in a vehicle.

Truck manufacturers are aware of this and have been adding more convenience and luxury features to help draw possible buyers to their showrooms. A key example is the Ram 2500. This old school heavy-duty truck has been getting various changes to try and make it more appealing to buyers who need something to haul a big trailer. Let's see how it stacks up.


What We Love About the 2017 Ram 2500:



Laramie Longhorn trim is quite luxurious


High towing number when equipped with the Cummins diesel


Spacious back seat


What We Don't Love About the 2017 Ram 2500:



UConnect is beginning to show its age


Ride is a bit bouncy when the bed isn't loaded


Cummins diesel isn't as quick as some competitors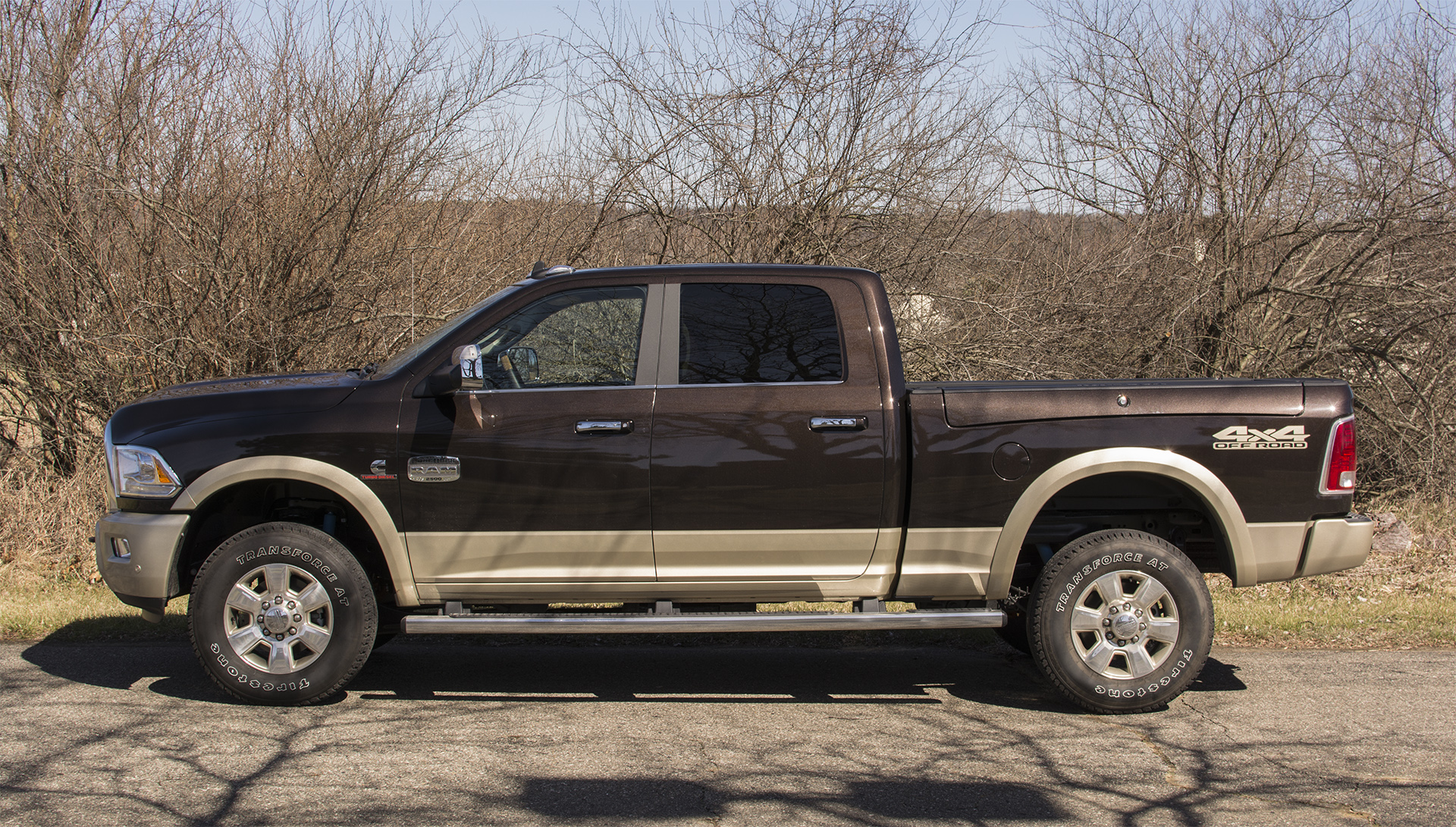 Exterior View (8/10)

Ram may have one of the oldest designs in the heavy-duty truck class. But the it gets better with age adage fully applies here. The big rig styling cues of a massive grille, square headlights, massive bumpers and large Ram badges work very well.

Ram stands out from the competition in terms of how each of the trims has their own distinct look. Take, for example, our Laramie Longhorn tester that indulges the fantasy of being a cowboy. This trim swaps the cross-hair grille for one featuring RAM in big letters, chrome-clad 18-inch wheels wrapped in meaty off-road tires, and large "Laramie Longhorn" badging on the front doors that are designed to look like belt buckles. It may be a bit much for some, but we like that Ram went all in.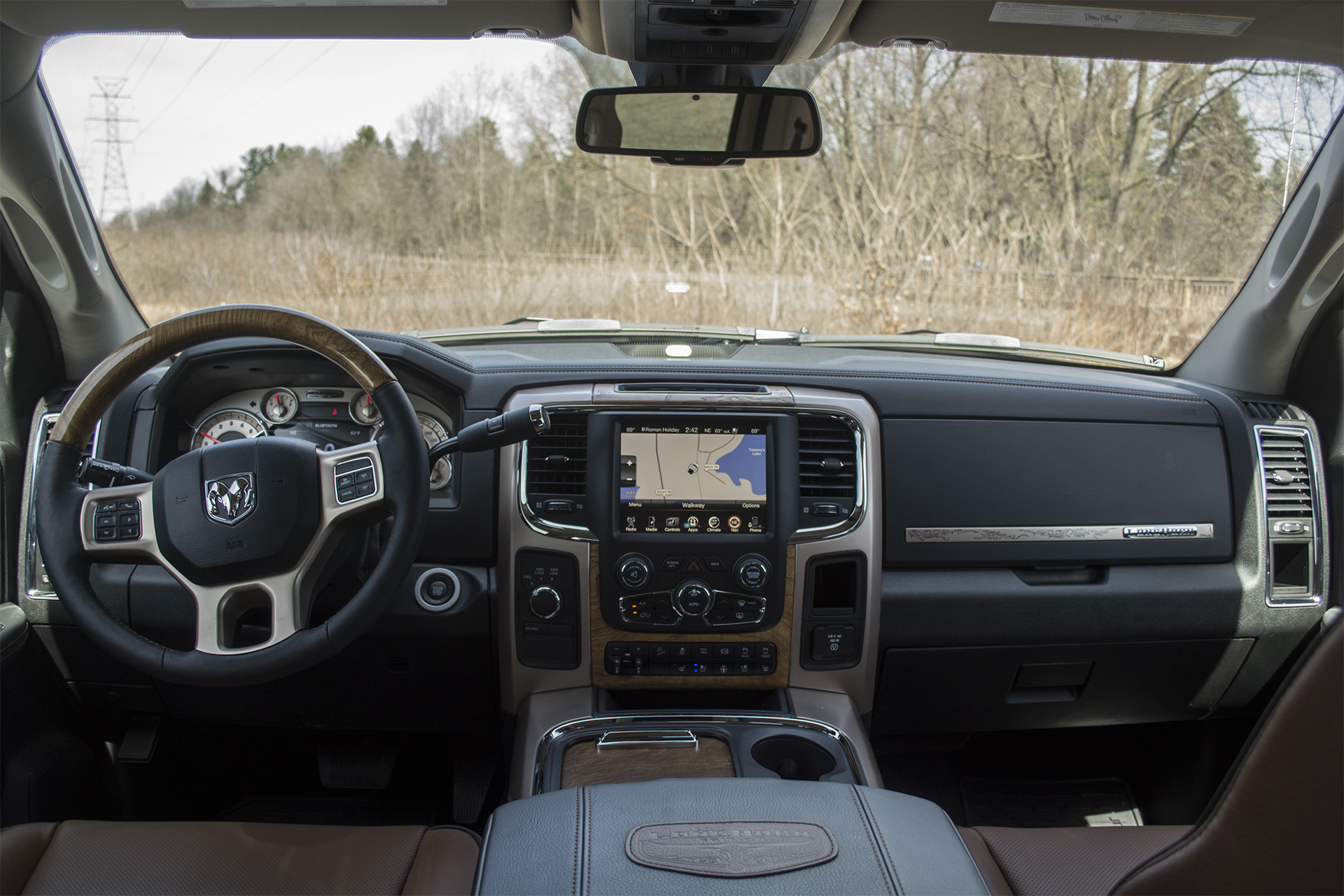 Interior Comfort, Quality and Ease of Use (8/10)

Getting into the Ram 2500 is a bit of a task as the cab sits up very high. Even with a set of optional door rails, you'll need to use the grab handles inside to pull yourself in. Once inside, the Ram 2500 is quite a nice place to be.

The Laramie Longhorn goes all out in terms of luxury appointments, with high-quality leather wrapping the seats, acres of wood trim and a large amount of soft-touch material. That doesn't mean Ram has forgotten that this is a truck first and foremost. This is reflected in an impressive gauge package that includes all of the key gauges needed, such as oil and engine temp. A large color screen provides more key details for the driver. Controls are laid out in a very logical fashion, and feature large buttons and knobs.

The front seats in the Laramie Longhorn provide decent comfort over long trips and feature power adjustments to find that perfect position. One item we are disappointed not to see is a telescoping steering wheel. This means a number of drivers will need to sit closer to reach the steering wheel at a comfortable position. Ram does offer power adjustable pedals, but it only solves the issue somewhat. Passengers sitting in the back will find ample head and leg room, along with seat cushions that are slightly more cushy than those for the front.


Technology (7/10)

Ram offers a variety of infotainment systems for the 2500 ranging from 3.0 to 8.4 inches. Our tester featured the 8.4-inch screen with the UConnect infotainment system. For the most part, we like UConnect because it provides a simple interface while being powerful to do various tasks rapid pace. We do wish Fiat Chrysler installed the latest version of UConnect for the 2500, as it brings a fresh coat of paint for the interface along with compatibility with Apple CarPlay and Android Auto. Hopefully this is in the cards for the near future.


Fuel Economy (N/A)

There are no official EPA fuel economy numbers for the Ram 2500, which is exempted from testing due to it being over a certain gross vehicle weight. Our week-long testing saw an average of 15 mpg.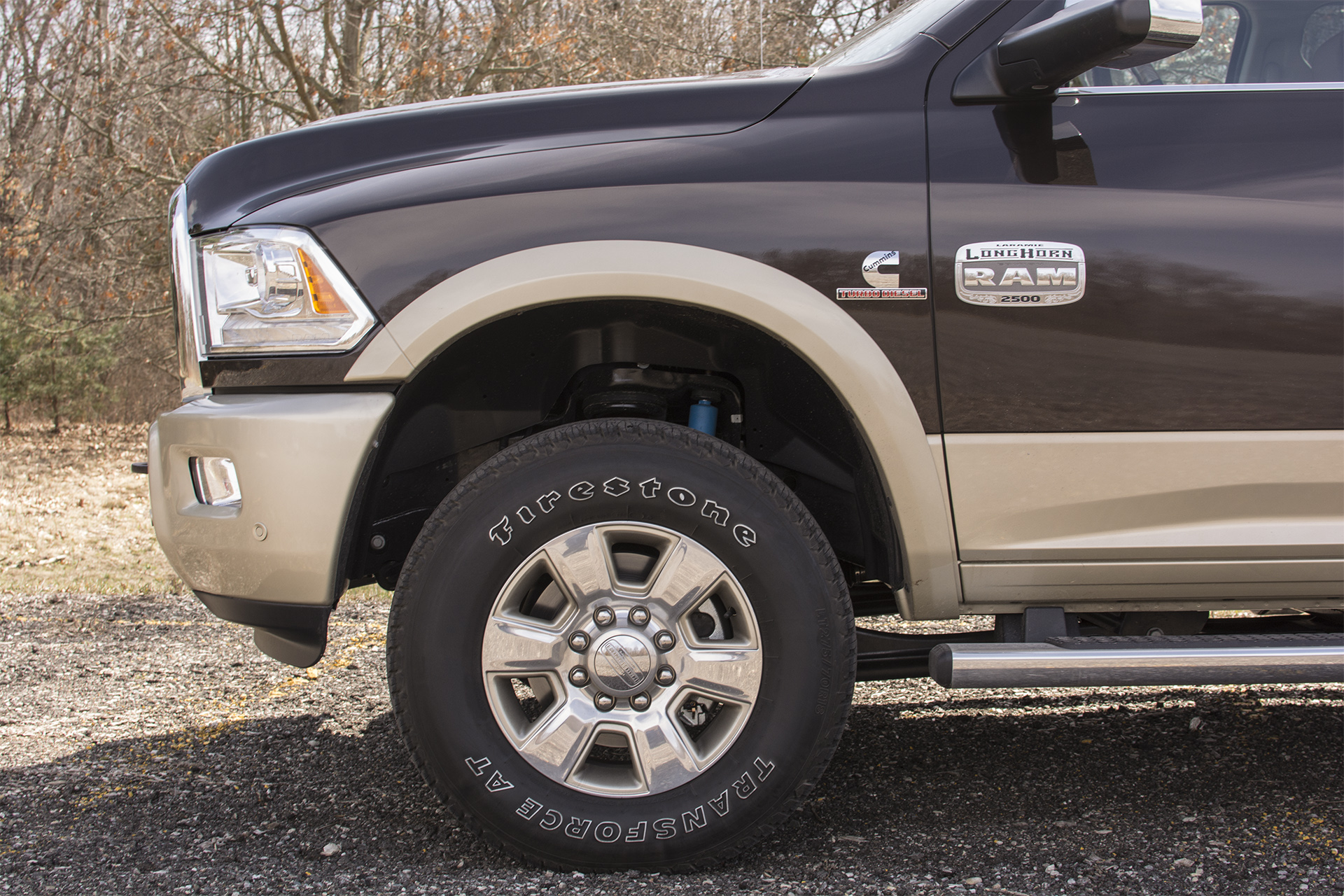 Predicted Reliability, Initial Quality Ratings (5/10)

If there is one place that Ram falters, it has to be reliability. Both Consumer Reports and J.D. Power rate the Ram 2500 toward the bottom of reliability. More worrying is a recent Consumer Reports car reliability study rated the Ram brand near the bottom. If there is some good news, the Ram 2500 got an average rating in J.D. Power's initial quality study.


Safety (6/10)

Ram trails Ford and General Motors in terms of safety equipment on heavy-duty trucks. The 2500 comes standard with a full complement of airbags, traction control, stability control and tire-pressure monitoring. Models above the base Tradesman get an electronic trailer brake controller and keyless entry. Optional features include parking sensors, backup camera, a camera showing the cargo box and a security alarm. If you want blind spot monitoring, forward collision alert and adaptive cruise control, you'll need to look elsewhere.

The National Highway Traffic Safety Administration (NHTSA) has been the only group to crash test the Ram 2500, giving it an overall rating of four stars.


Performance (7/10)

Ram offers three engines, depending on your needs. The base is a 5.7L HEMI V8 with 383 horsepower and 400 pound-feet of torque. Next is a 6.4L HEMI V8 offering up 410 horsepower and 429 pound-feet of torque. Last is a 6.7L Cummins turbodiesel inline-six, offering two different outputs: 350 horsepower and 660 pound-feet if you go for a 6-speed manual, or 370 horsepower and 800 pound-feet if you opt for the 6-speed automatic. The two gas engines are only available with a 6-speed automatic.

Our test truck came equipped with the Cummins turbodiesel paired with a 6-speed automatic. Despite what the power figures tell you, the Cummins isn't built to haul arse. Reportedly the Ram 2500 with the Cummins will hit 60 mph in under 9 seconds. We would agree with these findings, as the Cummins takes its sweet time to get up speed. There were times we wished Ram and Cummins could give us a little bit more oomph on the low end. Also, the Cummins isn't the most refined engine in the class. Start up the engine and you'll be greeted with diesel clatter similar to a semi truck.

The Cummins redeems itself when it comes towing. Our particular configuration - Crew Cab with a 6'6" bed and 4WD - has a maximum rating of 17,200 pounds. This exceeds the max tow ratings for Ford's F-250 and the Chevrolet Silverado 2500HD/GMC Sierra 2500HD when similarly equipped.

Heavy-duty trucks have a reputation for having jarring rides due to their suspensions being set up to handle heavy loads. Ram tries to alleviate this issue by using coil springs instead of leaf-springs in the back. Unlike the Ram 1500 where this makes a huge difference, the coil springs really don't make a difference in terms of 2500's ride. It will transmit a fair number of bumps and road imperfections up the passenger's backside. The ride will begin to smooth out if you place a load into the bed or hook up a trailer. The Ram 2500's suspension does claw some points back since it does much better job of keeping body motions in check. Steering is light and doesn't have much feel, something that is common in most heavy-duty trucks. This means the Ram 2500 is a bit of a handful when maneuvering in tight spaces such as a parking lot.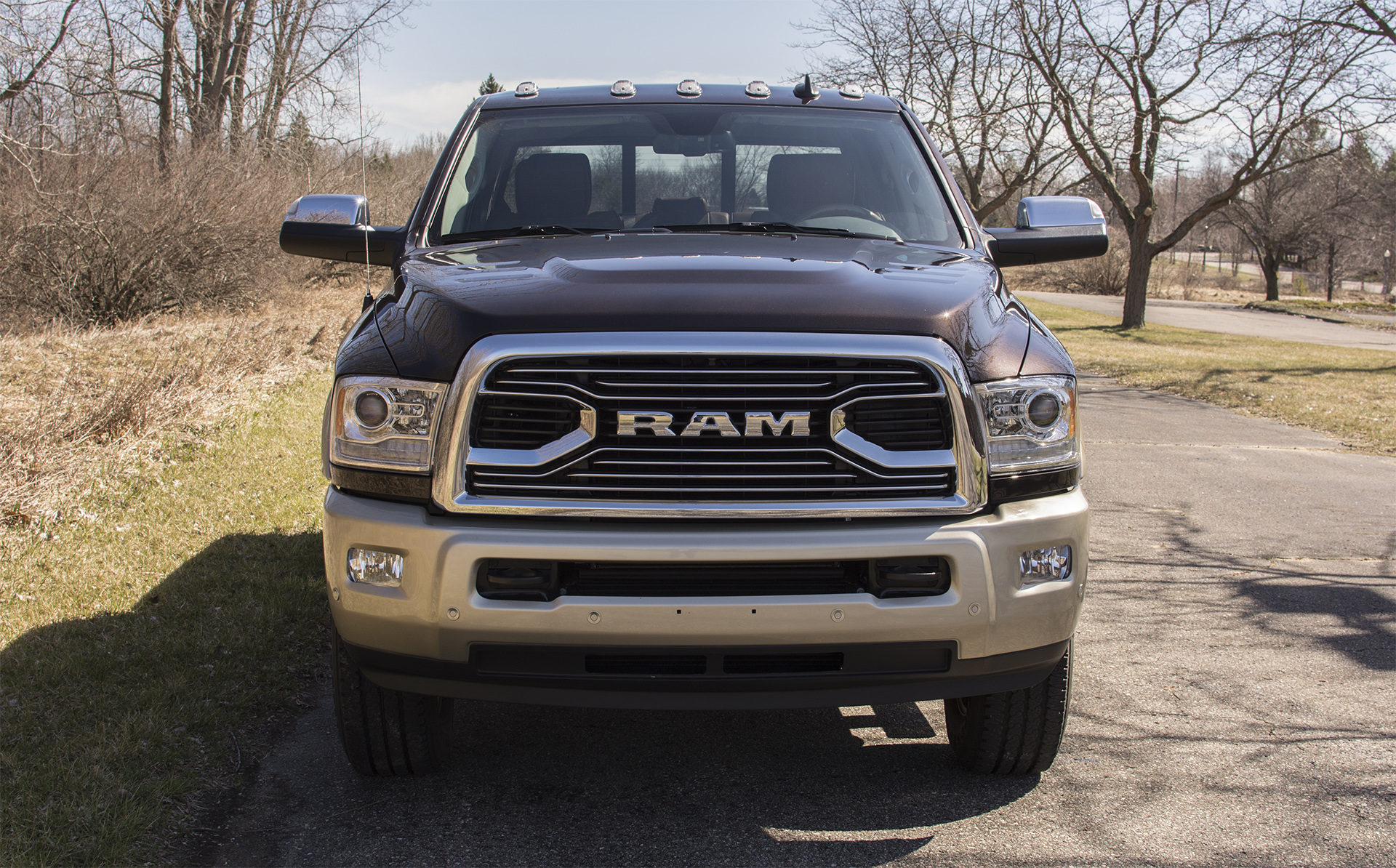 Pricing and Value (8/10)

The Ram 2500 lineup begins at $32,145 for the base Tradesman regular cab with 2-wheel drive and climbs to $62,775 for the Limited Mega Cab with 4-wheel drive. Our Ram 2500 Laramie Longhorn crew cab tester started at $57,575 and came to a final price of $73,310. This includes the Cummins diesel, Ram Box storage, Keyless entry and start, and a number of other options.

For most buyers, we recommend either the Big Horn or Laramie trims as they'll get you the equipment you want along with an extensive options list to deck it out to your heart's content. If you aren't planning to tow a heavy trailer, stick with either 5.7 or 6.4 V8s which will deliver better performance around town.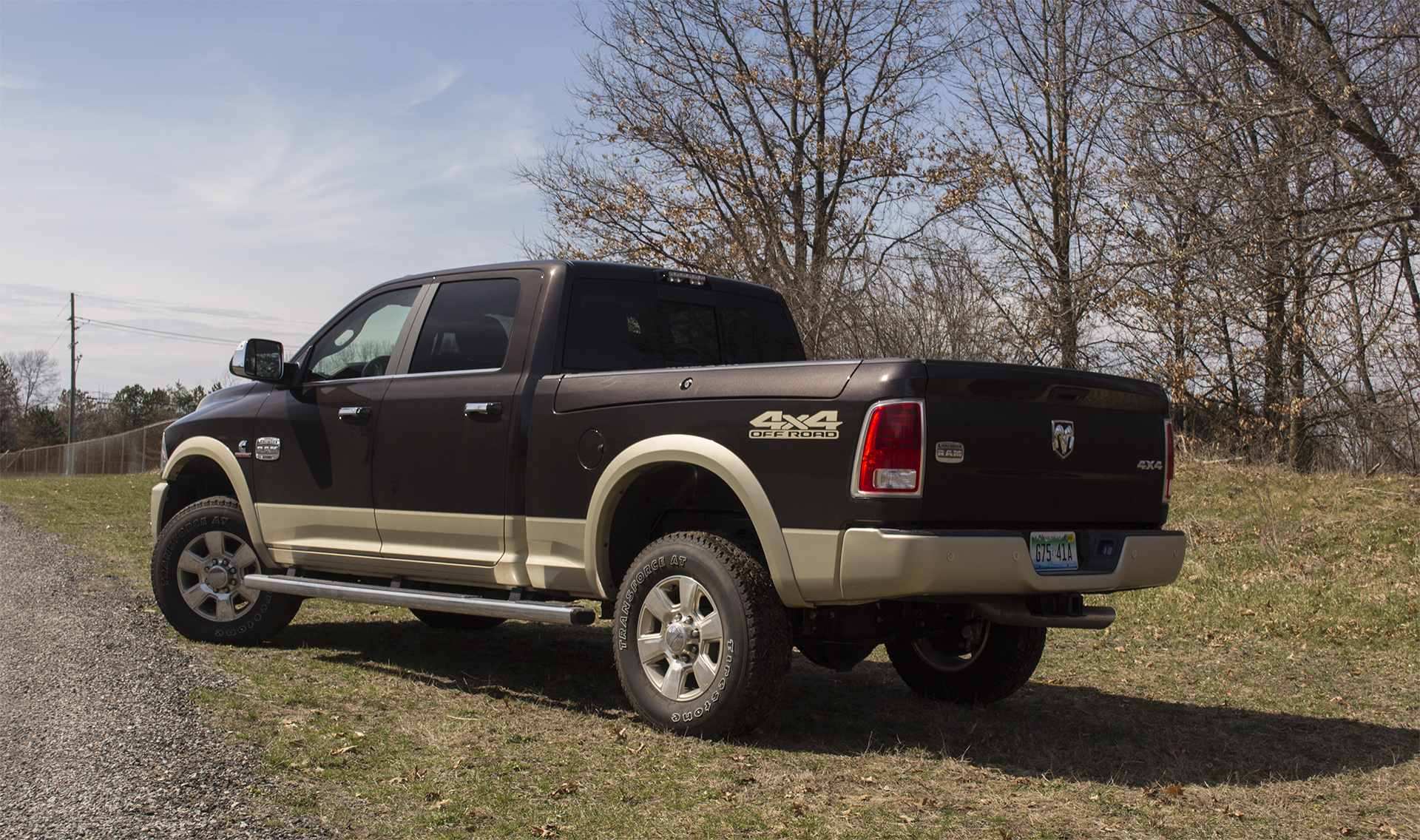 Total Score and Competitive Comparison (49/70, 70%)

The recently redesigned Ford F-250 currently sits on top of the heavy-duty truck pile, thanks in part to the model offering a load of active safety equipment and a high-quality interior. It doesn't trail too far behind the Ram 2500 in maximum towing - 15,000 lbs when properly equipped with the PowerStroke Diesel V8.

GM's heavy-duty trucks recently underwent a refresh which included a heavily reworked Duramax V8 turbodiesel. The updated engine makes the Chevrolet Silverado 2500HD and GMC Sierra 2500HD the fastest trucks in the class. We also think they provide the best ride quality in the class.

Heavy-duty pickups have graduated from being a special purpose model used for certain situations to being an all-purpose model. Ford and GM have made this transition, while Ram has only made it part way. The interior is quite comfortable for passengers and the control layout is simple. Plus the large range of trims on offer gives Ram an edge over the competition. But it's clear that the Ram 2500 is showing its age. It's optional Cummins diesel cannot compare to the competition in terms of outright performance, and the ride quality needs a bit of work. The 2017 Ram 2500 is a good truck, but it's left in the dust by the competition. A redesign can't come soon enough.