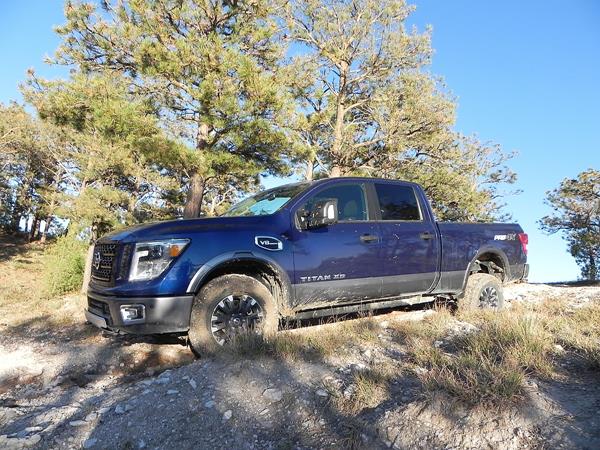 Overview (Final Score: B)

The 2017 Nissan Titan XD is now offered as both a diesel-powered and gasoline-powered pickup working in between the light duty (half-ton) and medium-duty (three-quarter ton) markets. A heavy-duty half-ton, the Titan XD has more towing and pulling ability than its half-ton counterparts, but less than its three-quarter ton peers.

Having driven both the Cummins diesel-powered Titan XD and the V8 Endurance gasoline model, we found that most buyers in need of more capability than the average half-ton will likely find a match in the Titan XD. Drivers towing a lot of loads will prefer the diesel, while those only occasionally pulling a heavy camper or horse trailer will find the gasoline option to be just fine.

The Nissan Titan XD is offered in a variety of cab and bed length configurations and in both rear-wheel and 4-wheel drive.

What We Love About the 2017 Nissan Titan XD:



Smooth highway ride


Excellent towing capability with quietly capable gadgetry to make it easy


Comfortable interior experience, loaded or empty


What We Don't Love About the 2017 Nissan Titan XD:


Fuel economy is untested


Reliability is largely untested


Safety is not tested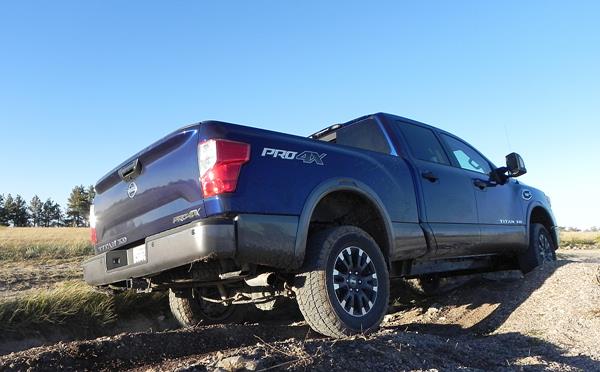 Exterior View (10/10 relative to market)
The Titan lives up to its name with a huge presence for the XD model. A wide, tall grille dominates the front fascia, flanked by massive multi-level headlamps and underscored by a strong bumper and wide, muscular fenders.
Most of the exterior of the Titan XD emphasizes the rugged truck as its overall theme. It's ground clearance, heavy-appearing bodywork and overlarge wheel wells all make for a larger than life appearance. Otherwise the vaguely coupe-styled windscreen and roof of the former Titan is carried over. Badges at the rear corner of the front fenders note whether the Titan XD is in its Cummins-powered diesel form or its new V8 Endurance gasoline version.
All of this bulky muscularity is to get across the point that the Titan XD is not a standard half-ton truck, but is a new class of pickup: a heavy-duty half-ton. Anyone who sees this truck will realize that it's not just another 1500-class offering.
Interior Comfort, Quality, Ergonomics (8/10)
The 2017 Nissan Titan XD's interior is very good quality. The cabin is well-fitted and materials quality is good across the board. Like all pickup trucks in today's world, comfort is key, and huge amounts of available storage are in high demand. Drink holders are plentiful, with at least five in reach of the driver in any trim level.
High points to the Titan XD's interior are the baseball bat-sized shifting lever on the column, the nicely tucked-away, but accessible trailer brake controls and the extremely well-designed seating for both easier ingress/egress and long drive comfort.
Down sides are the small dials and buttons for climate and infotainment, which are difficult to use with work gloves or cold hands, and the sometimes hard-to-find defrost buttons when the shifter is in the Drive position (it blocks the driver's view).
Adjustability, roominess both front and rear (especially in the Crew Cab configuration), and overall ergonomics in the Titan XD are good. The robust feeling the dashboard gives is excellent, but the relatively small 7-inch infotainment screen and its slightly upward cant can make it harder to use in some lighting situations.
In all, we really like the general layout of the Titan XD's interior and its overall feeling of can-do robustness and comfort. Truck buyers will be impressed.
As for the cargo bed, there are a myriad of options for the Titan XD, including the Titan Boxes that sit over the wheel wells on either side while still allowing a full sheet of 4-foot wide plywood to slide between. Tie-down rails, cargo lighting, a soft-drop tailgate and more are available. As are folding side steps and toy racks.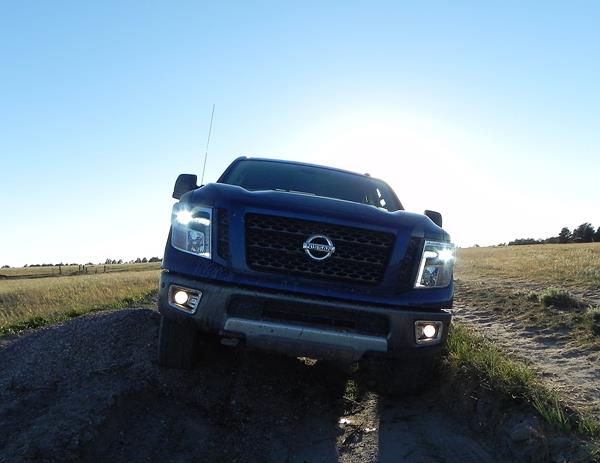 Technology (8/10)
The 2017 Titan XD comes with a 7-inch touchscreen as standard and it has basic connectivity from the get-go. Beyond that, upgrading trim levels or adding packages moves the tech options up the ladder to Nissan's top-tier offering with app integration and smartphone controls. There are better options in competing trucks, but for the most part it's usable and useful on every level with a user control system that is about average in terms of ease of use and learning curve.
Other notable tech includes the handy remote control trailer light test option that allows the driver to hook up a trailer, plug in its lights and then test them from outside the truck using the keyfob. This is very handy and makes setting up a trailer an easy one-man job.
Fuel Economy (8/10)
Fuel economy ratings from the EPA are not required for the Titan XD because it is considered a heavy-duty vehicle. So the estimates are ours, based on one week's worth of driving in both the diesel and the gasoline-powered models. These real-world numbers were achieved at altitude and with a highway-heavy mix of driving.
The Titan XD diesel averaged just under 16 mpg overall when empty and about 14 mpg when under load, which speaks to the engine's power output and efficiency when loaded. The gasoline-powered Titan XD was nearly the same, averaging about 17 mpg overall, but dropped considerably when towing heavy loads to about 11 mpg on average.
Predicted Reliability, Initial Quality Ratings (8/10)
There are no predicted reliability expectations for the Titan XD as of this writing, but Nissan did just announce a new warranty for the truck. This warranty is best-in-class at 5 years of 100,000 miles for both bumper-to-bumper and powertrain. This says that the company expects high reliability for the truck (gasoline and diesel) for the long term.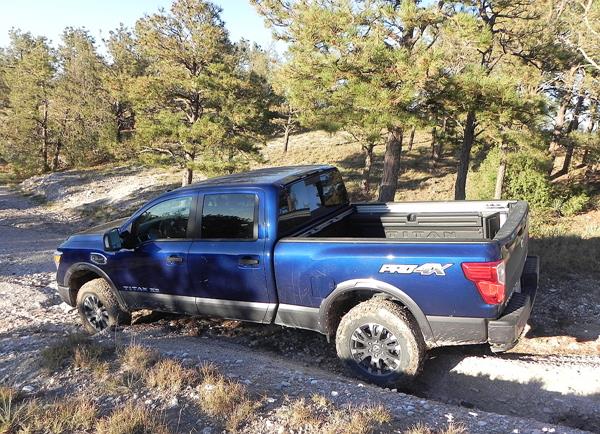 Safety (9/10)
It's unlikely that the 2017 Nissan Titan XD will be crash tested by either the National Highway Traffic Safety Administration or the Insurance Institute for Highway Safety. The large number of included and available safety features for the truck, as well as its sheer bulk and size lead us to believe that it will likely fare well in crash tests were it to be tested. That, plus the brand's historical high marks in sport utilities and trucks, gives us reason to rank the Titan XD with a high score for safety.
Performance (10/10)
There are two engine options for the 2017 Nissan Titan XD. Each of these is mated to an automatic transmission and comes with either rear-wheel or 4-wheel drive.
The V8 Endurance gasoline-powered model utilizes a 5.6-liter eight-cylinder engine that outputs 390 horsepower and 401 pound-feet of torque. The engine's output highs are in a relatively wide band thanks to its tuning and transmission, giving this gas-powered Titan XD a solid workhorse potential as well as good off-line and on-highway performance for acceleration and passing. We noted its almost sporty nature when driving without a load and its solid capability when under load (towing). Towing in the V8 Endurance models is rated at up to 11,270 pounds and can haul up to 2,594 pounds in its cargo bed. A 7-speed automatic transmission is standard.
A big V8 diesel engine from Cummins is also available for the 2017 Titan XD. This engine outputs 310 horses and 555 pound-feet of torque. A 6-speed automatic transmission is mated to this engine and towing is rated at up to 12,314 pounds and can haul up to 2,091 pounds in the cargo bed.
Compared to the gasoline model, the diesel-powered Titan XD was much more sluggish on the uptake and required more finesse to accelerate to highway speeds. But under heavy load (more than 10,000 pounds in a gooseneck trailer) the Cummins-run Titan XD accelerated at the same rate as when empty and barely noticed hills or traffic changes, speaking to the immense power of the V8 diesel. By contrast, the gas-powered model was very capable in its own right, but under a similar load, it struggled more to get up to highway speeds and to maintain them on hills.
Whether loaded or not, though, the 2017 Nissan Titan XD is a great drive around town and on the highway. The sheer mass of the truck is felt when maneuvering, and its wide turning radius is a downer in town, but truck owners are not likely to see this as a negative as other, similarly-capable three-quarter ton trucks from other makes usually suffer the same issues.
On the highway, both the diesel and gasoline versions of the Titan XD are excellent rides with smooth handling, great road absorption and a remarkably quiet interior.
Pricing and Value (8/10)
Value will depend largely on what you need a big truck like the Titan XD for. If you're purchasing this truck as a workhorse for towing and pulling loads, then it will definitely be of high value thanks to its excellent towing and pulling properties. As a daily driver or commute vehicle where towing and carrying goods is not happening often, the Titan XD is not a good choice due to its low fuel economy and potentially high maintenance costs in comparison to a less capable truck. Especially if the diesel option is chosen.
The 2017 Titan XD has a relatively low base price for its gasoline engine option and a good mid-range price for its diesel variant. A fully-loaded Titan XD can get pricey, but compared to a similar three-quarter ton truck or even a high-end half-ton, the price tag is still reasonable given the capabilities of this big Nissan.
Resale values are unproven, but the Cummins-powered Nissan Titan XD is likely to retain a lot of value because the diesel will be long-lived and of strong working value for some time. The excellent warranty will play into a higher resale potential for the big Nissan as well.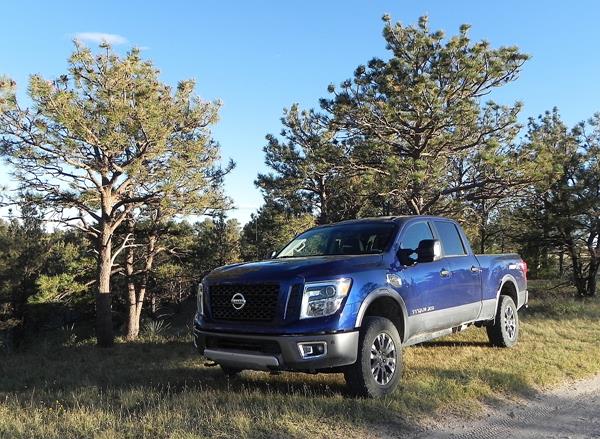 Total Score and Competitive Comparison (69/80, 86%)
Because the Titan XD is in a class of its own, sitting between a standard half-ton and a full three-quarter ton pickup truck, it's difficult to find comparisons on the market. The nearest competitor is likely the Ram 1500 EcoDiesel model with its 3.0-liter diesel engine that offers far less towing and capability at a lower price. Otherwise, heavy-duty trucks like the Silverado 2500HD from Chevrolet and the Ram 2500 and Ford F-250 are higher up the ladder in terms of capability and price.
For those hauling livestock trailers, gooseneck recreation vehicles or car hauler trailers, the 2017 Nissan Titan XD is probably a better choice than a full three-quarter ton truck. It will offer the right amount of capability with more efficiency and comfort. Otherwise, those needing the basic capabilities of a half-ton pickup can look to any of the makes, including Nissan, for their needs.
We feel that there is a niche of buyers for the Nissan Titan XD and sales figures for the truck show that Nissan is finding them.