Overview (Final Score: B+)

At one time, the full-size sedan was considered to be the pinnacle of luxury in America. It was a sign you were doing quite well and wanted to reward yourself. You'd get glances from people if you rolled up in something like an Oldsmobile Delta 88 or a Ford Crown Victoria. But now, the full-size sedan is becoming an endangered species thanks in part to buyers seeing crossovers and small luxury sedans as a way to move up.

Despite the slumping sales, some automakers are still persistent in this class. Case in point is Kia. A few years ago, the Korean automaker introduced the Cadenza full-size sedan. It never really made a mark in the class in terms of sales, only moving less than 30k units in four years. Most automakers would decide to end production due to the poor sales. But not Kia, who introduced a redesigned Cadenza last year, fixing a number of issues that possibly played a role in the poor sales.


What We Love About the 2017 Kia Cadenza:



Has some style


Interior is a treat for the eyes


Smooth ride


What We Don't Love About the 2017 Kia Cadenza:



No folding rear seats


Not the most fun vehicle to drive


Fuel economy could be better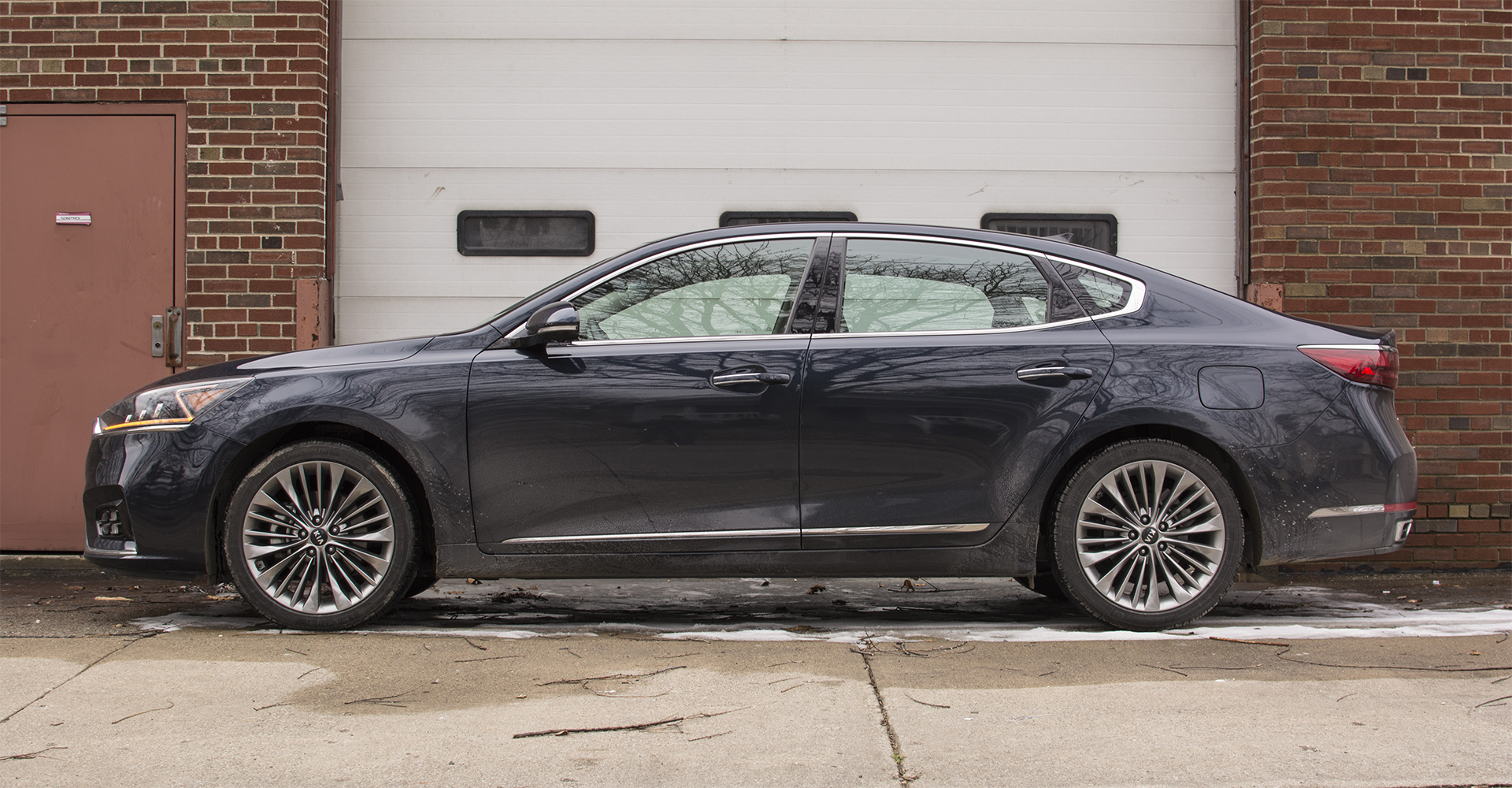 Exterior View (9/10)

The biggest complaint you could level at the previous Cadenza was its lack of style. The only real design trait that the Cadenza featured was the tiger nose grille. Everything else could be described as bland. Kia's designers needed to give the redesigned Cadenza some flair. And they succeeded in this regard.

Up front, Kia has placed a wider version of their tiger nose grille. It has also been shaped to go inward into the vehicle to provide some visual depth. Sitting on either side are a set of LED headlights with a unique Z-shaped lighting element for the turn signal.

Around back, designers reshaped the trunk lid and added chrome trim for the exhaust outlets. The base Cadenza Premium gets 18-inch wheels as standard, while the Technology and Limited feature 19-inch wheels.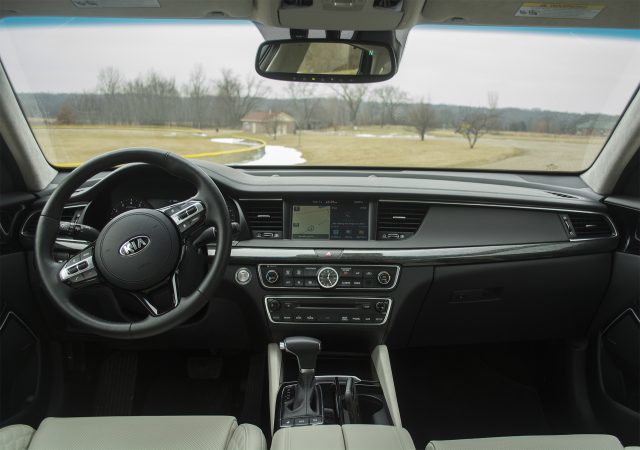 Interior Comfort, Quality and Ease of Use (10/10)

If you ever want to shock someone, just have them sit in a Kia Cadenza. They'll be mesmerized that a Kia features touches that you'd find in luxury vehicles, such as quilted leather on the seat bolsters, dark wood trim, a padded driver knee rest and excellent build quality. The control layout is top-notch, with a simple layout of buttons in the center stack and console. Both the driver and passenger can easily reach the various controls.

Making yourself comfortable in the front seats is quite easy, thanks to the numerous power adjustments on offer, including an extending thigh bolster. A power tilt-telescoping steering wheel helps tall drivers find a position that works.

Backseat passengers will fill find plenty of legroom, but headroom is at a premium if the Cadenza comes with the optional panoramic sunroof. Trunk space measures 16 cubic feet, which is about average for the class. Disappointingly, the rear seats don't fold.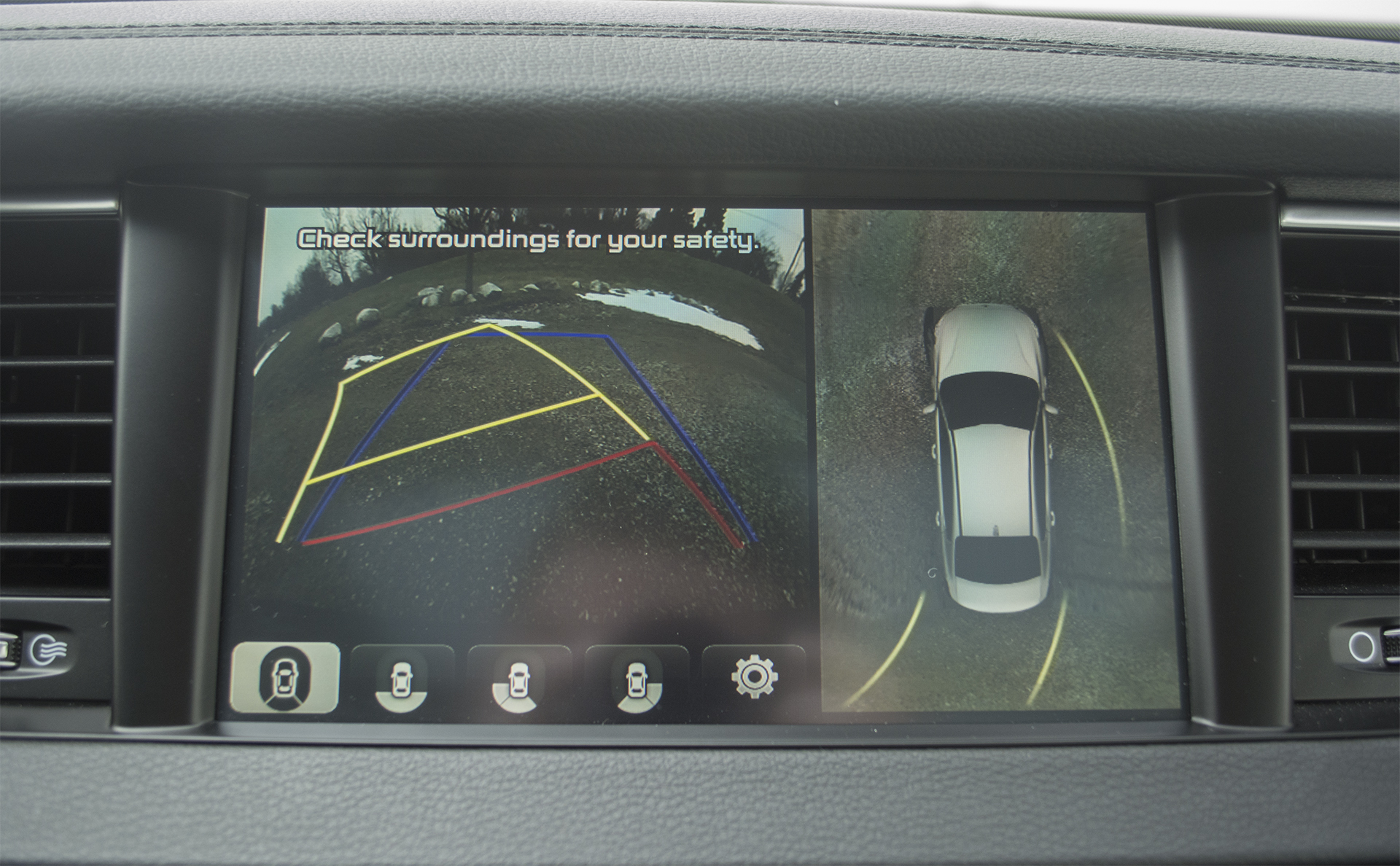 Technology (9/10)

The Cadenza Premium comes with a 7-inch touchscreen, while the Technology and Limited come with a larger 8-inch screen. Both systems feature Apple CarPlay and Android Auto integration. I

n our opinion, Kia produces one of the best infotainment systems on the market. A simple interface and redundant physical buttons make for an easy system to learn. Performance is quite snappy when switching between the various screens or bringing up navigation. CarPlay integration is also impressive, as it only took a few moments for the system to find an iPhone 7 Plus and bring up the CarPlay interface. There were no issues with apps crashing or freezing during our time in the Cadenza.

The Limited model also comes with a heads-up display that can show key information, such as speed, what you're listening to and navigation. In our test car, we found the heads-up display to be somewhat blurry. This made it somewhat distracting to use when on the move, so we ended up turning it off for most of our testing. We're not sure if this was an issue with this particular vehicle or all Cadenzas equipped with this system


Fuel Economy (6/10)

EPA fuel economy figures for the 2017 Kia Cadenza land at 20 City/28 Highway/23 Combined, slightly below most competitors in the class. Our average fuel economy of 21.5 mpg for the week reflects this.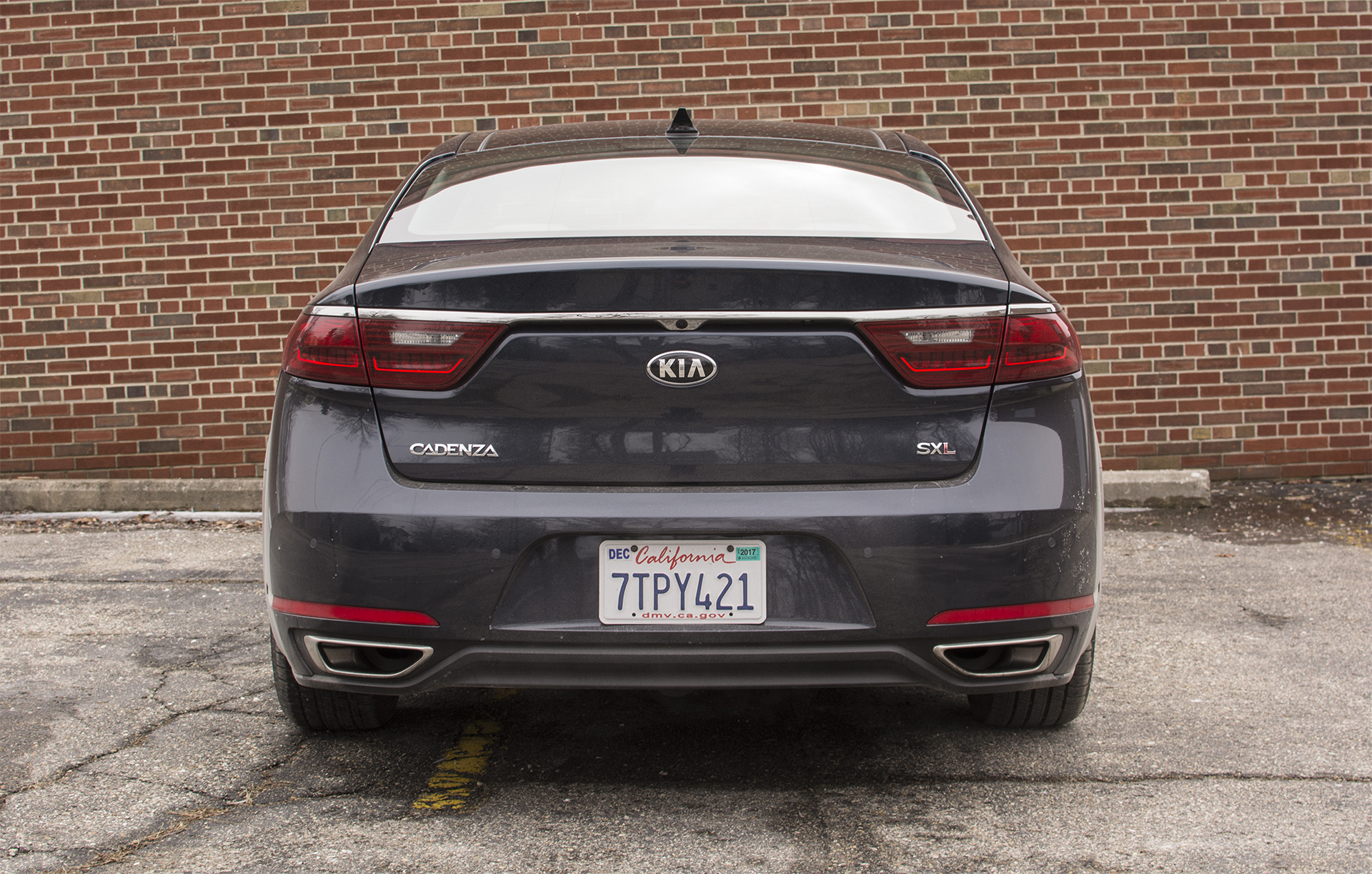 Predicted Reliability, Initial Quality Ratings (10/10)

Both Consumer Reports and J.D. Power report the 2017 Kia Cadenza is Above Average when it comes to reliability. J.D. Power marks the Cadenza very high in terms of initial quality.


Safety (9/10)

The Cadenza offers a lot of safety equipment for the price, as all models come with a full set of airbags, traction control, stability control, hill-start assist, tire pressure monitoring and a backup camera. The Technology and Limited models add autonomous emergency braking, forward collision warning, blind-spot monitoring with rear-cross traffic alert, lane departure warning, parking sensors and adaptive cruise control. Some of these features, such as the blind-spot monitoring and parking sensors, are available on the base Cadenza Premium via a package.

At the time of this writing, the 2017 Cadenza hasn't been tested by either the National Highway Traffic Safety Administration or Insurance Institute for Highway Safety.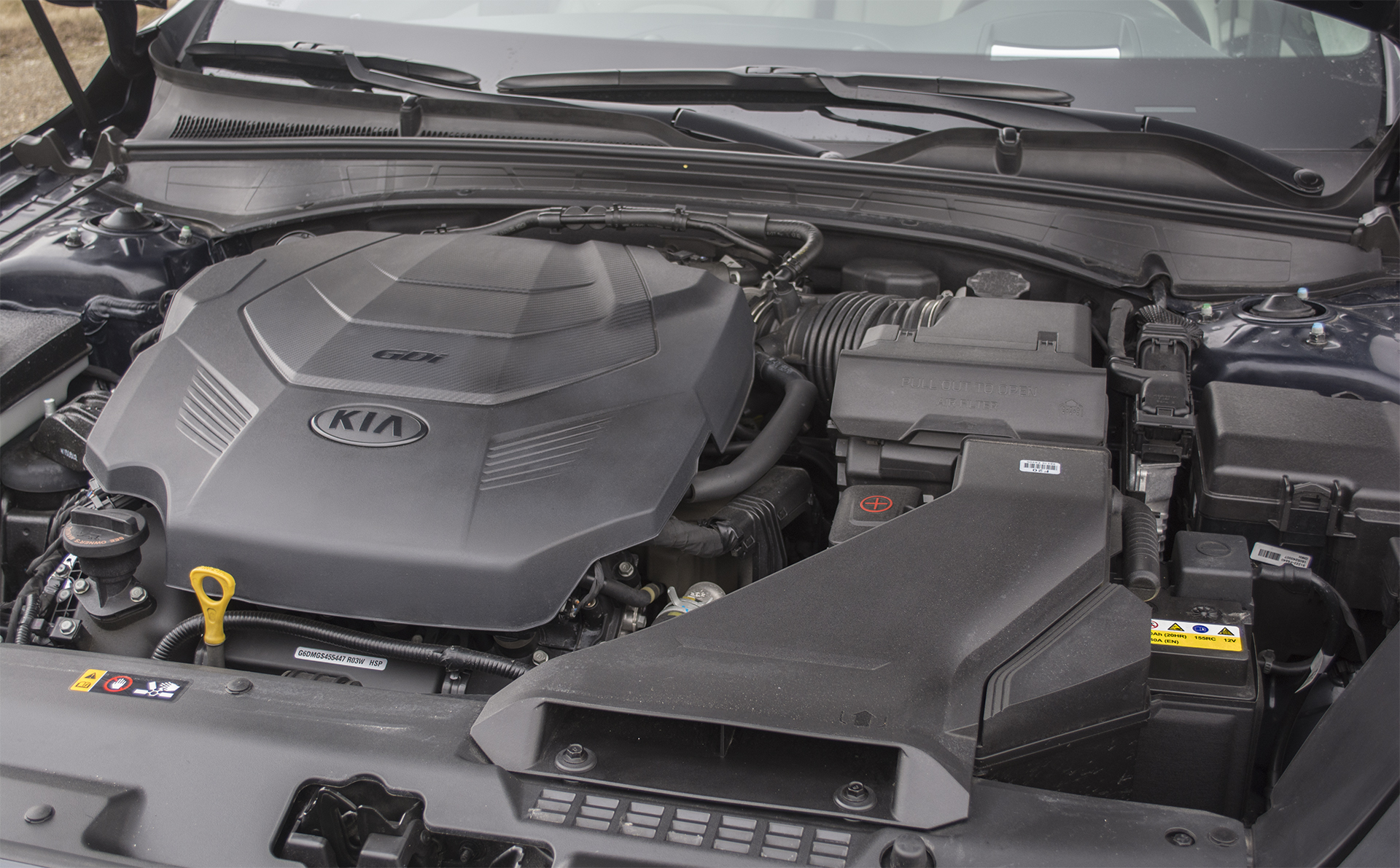 Performance (9/10)

Kia only offers one engine for the Cadenza, a 3.3L V6 with 290 horsepower and 253 pound-feet of torque. This is paired with an 8-speed automatic and front-wheel drive.

Compared to the outgoing model, the 2017 Cadenza feels much faster. Thank the new 8-speed automatic that helps keep the engine right at the peak of power. It doesn't hurt that the transmission delivers buttery-smooth shifts. The downside to the Cadenza's V6 is that isn't as fast or punchy as some competitors like the Nissan Maxima. Those who have timed the Cadenza in 0 to 60 mph say it takes between 6.5 to 6.8 seconds. The engine does earn some points back for minimal NVH levels and smooth power delivery.

Large sedans focus more on delivering a smooth and comfortable ride than being athletic in the corners, and the Cadenza is no exception. Take a corner somewhat enthusiastically and the Cadenza will reward you with a fair amount of body roll, causing you and your passengers to brace themselves. But the Cadenza more than makes up for this with one of the smoothest and comforting rides in the class. Lumpy roads become gentle ripples thanks to the soft suspension tuning Kia has done. Road and wind noise are kept to almost near-silent levels.


Pricing and Value (9/10)

The 2017 Kia Cadenza carries a base price of $31,990 for the base Premium model. Our top-line Limited comes with an as-tested price of $45,290, putting it at the expensive end of the full-size sedan class. But it should be noted that you get everything except the kitchen sink as standard with this trim.

For most buyers, we'd say the Technology trim is the sweet spot in the Cadenza lineup. At $38,990, you get most everything you need, such as the advanced safety equipment and a larger touchscreen.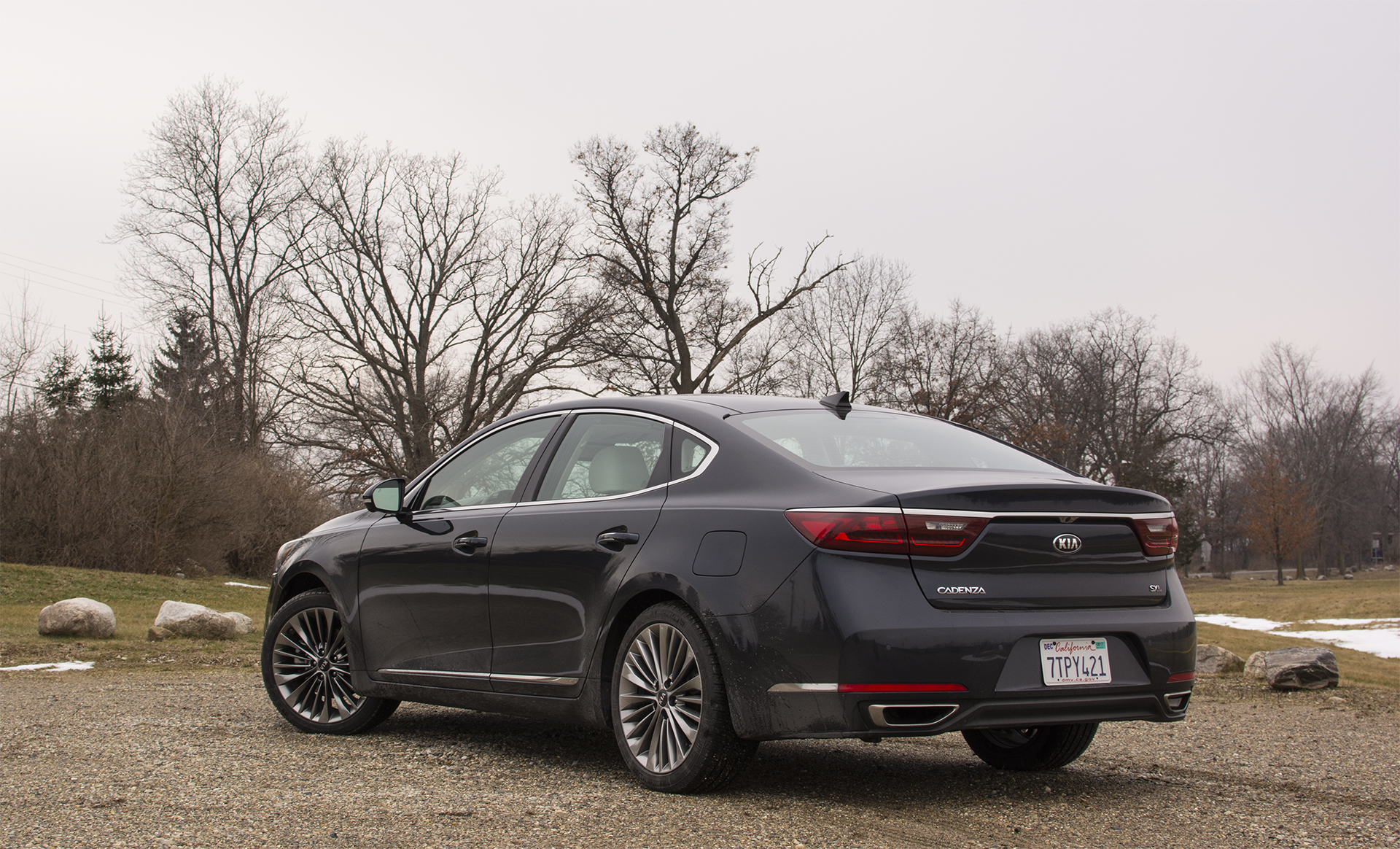 Total Score and Competitive Comparison (71/80, 89%)

The Chevrolet Impala is considered to be the gold standard in the class at the moment, thanks to its classy styling, impressive equipment levels, and a nice balance between ride and handling. The recently redesigned Buick LaCrosse stands out with a sharp design and possibly the quietest ride in the class. Those wanting something a bit sporty should look at either the Nissan Maxima or Toyota Avalon.

Kia might not the brand that comes to mind when it comes to a full-size sedan. But the redesigned Cadenza shows that Kia can build a competent full-sedan, as well as one that can challenge for best-in-class.

The Cadenza is competing in a segment that's getting smaller as the years go by, and it is not being helped by the badge on the front, which brings up bad memories for some people. That shouldn't scare you away because the Kia Cadenza offers a number of positives that can make you forget the badge it wears.