Overview (Final Score: B)

The 2017 Infiniti QX80 is a big, bold machine that doesn't make any bones about its size or luxury. It's remained largely unchanged for some time now, but has needed much to keep it relevant.

For 2017, changes are minimal and include the addition of in-car WiFi as part of the popular Theater Package upgrade. Trailer sway control is now standard in the QX80, going along with the now-standard tow kit. A huge array of standard equipment follows those additions. That's not to say that the QX80 is without its problems. Fuel economy and a relatively small fuel tank plague it, but our time in the QX80 also proved its bad-weather credibility to be high as well.

The QX80's bold exterior is matched with its luxurious interior. Excellent comfort-level luxury is matched with high-end technology and smart ergonomics throughout the inside. Match that with unexpectedly great off-road capability and some serious towing muscle and you get a great luxury SUV. It's easy to see why the QX80 is a top contender in this market.


What We Love About the 2017 Infiniti QX80:



Bold, robust styling matched by capability


Interior is as top shelf as it can get in this category


Option packages are smartly done with good value


What We Don't Love About the 2017 Infiniti QX80:



Third row is not as large as some competitors


Low fuel economy and small fuel tank are a bad mix


Bold styling can be off-putting for some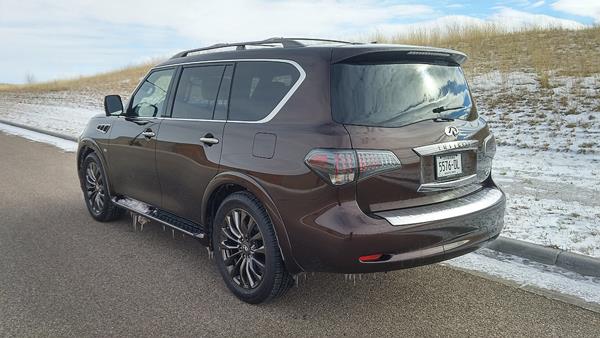 Exterior View (8/10)

The exterior design of the 2017 Infiniti QX80 is about two things: emphasizing bulk and luxury. The QX80 is a huge sport utility with a large presence in both style and size. A big mesh grille, rounded wide nose, tall fenders and a long hood all emphasize power. The squared body of the SUV is rounded at the edges and classically combines straight horizontal lines with curved vertical elements to create a forward-moving musculature.

Between the styled classicism and raw muscularity of the QX80 lie the luxurious details decked out in chrome and aluminum. The 2017 QX80 is a combination of ostentatious bulk and luxurious sinew, making it a great-looking SUV to some and a bit over the top for others.


Interior Comfort, Quality, Ergonomics (10/10)

The interior of the 2017 QX80 is all about luxury, with comfort taking first priority. The high quality of the materials and workmanship of the interior materials and build are an integral part of the design, which creates an atmosphere of comfortable opulence. Controls and buttons are intelligently laid out and instruments are nicely placed and easy to read.

Seating in the front is extremely comfortable with plenty of adjustment. The second row is the same, with a lot of adjustment for tall and long-legged passengers. The third row is good for adults, if need be, but is mainly aimed toward children with low seat cushions and decent but not exceptional leg room.

Cargo space in the 2017 Infiniti QX80 is excellent with 16.6 cubic feet behind the third row and 49.6 with that third row folded down. 95 cubic feet are available when both the second and third rows are folded. That's plenty of room for most uses with a lot of configuration options thanks to split-fold seating throughout.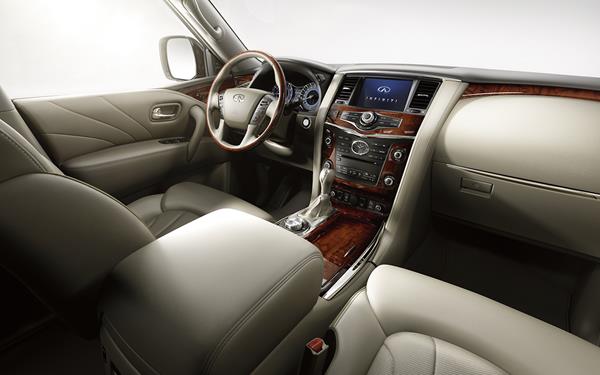 Technology (8/10)

An 8-inch touchscreen is standard as the base technology option in the 2017 QX80. Basic smartphone connectivity, voice control, satellite radio, Bose stereo sound and navigation are also standard equipment. Nissan's surround view camera system is also standard equipment, giving a 360-degree view of the vehicle for parking and maneuvering.

Upgrades come in packages to include dual screen rear entertainment, which sets a screen into the back of the headrests of the front seats for second row use. These include wireless headphones and a remote control. A split bench can replace the second row captain's chairs. Apps and other tech upgrades for connectivity and phone sync can be found in other upgrade packages. In-car WiFi is also now available with the rear seat entertainment package.


Fuel Economy (7/10)

Fuel economy in the 2017 Infiniti QX80 is by far its weakest point. This big luxury SUV is thirsty, having only 13 mpg in the city and 19 mpg on the highway in its 4WD configuration. With the rear-wheel drive base model, economy bumps by a point to 14 mpg city and 20 mpg highway.

Most competitors are above the QX80's fuel economy numbers, but we note that real-world returns will vary widely. Ours were above expectation with an average of 16 mpg overall after about 400 miles of driving, mostly in inclement weather with 4WD engaged.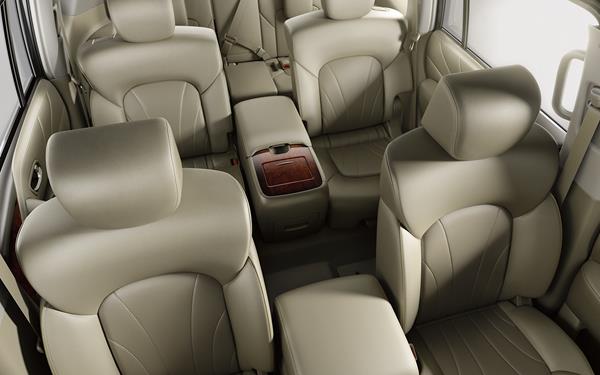 Predicted Reliability, Initial Quality Ratings (9/10)

The Infiniti QX80 has solid reliability scores for 2017. The J.D. Power and Associates Vehicle Dependability Study ranks the QX80 as "Better Than Most" for reliability. With no recalls (as of this writing) and no serious customer complaints so far, the 2017 QX80 looks good on this front.


Safety (8/10)

Crash test evaluations and results have not been published for the 2017 Infiniti QX80 as of this writing. Thus there are no scores from the National Highway Traffic Safety Administration (NHTSA) nor from the Insurance Institute for Highway Safety (IIHS). With a good track record for this generation of the SUV and given its large size and bulk, we expect that the 2017 QX80 is a safe drive. Standard safety equipment is plentiful on this luxury SUV.


Performance (10/10)

In overall performance, the 2017 QX80 is an excellent luxury SUV. It's quick, confident, muscular and capable. A 5.6-liter V8 sits under the hood and outputs 400 horsepower and 413 foot pounds of torque through a 7-speed automatic transmission. Rear-wheel drive is standard and four-wheel drive is optional. The 2017 QX80 is rated to tow up to 8,500 pounds and comes standard with trailer sway control and a self-leveling rear end.

Out on the highway the 2017 Infiniti QX80 is a solid, well-mannered ride that gives all of the confidence a big truck-based vehicle can offer without the harsh ride quality that often comes with that. A forgiving suspension that intelligently adapts to on- and off-road use is key for that. The optional Hydraulic Body Motion Control System is a boon as well and comes highly recommended. Especially for those who also opt for the beautiful, but harsh-riding 22-inch wheel option.

Around town the QX80 is a bulky machine, but it maneuvers well despite its size. The standard 360-degree camera system and excellent parking radar system are excellent aids to have with this big SUV.

Off the road the 2017 QX80 is a powerhouse of capability. This is where the roots of the big QX come out as the Patrol it's based upon takes over and struts its stuff. A hydraulic sway bar that allows a surprising amount of wheel reach is standard equipment and gives the QX80 next-level capability as an off-road machine.


Pricing and Value (9/10)

The 2017 QX80 is expensive, there's no doubt about that. But it's packed with a lot of capability and value to go with that price. Competitors that are truly competition for the QX80 are few and are priced in the same ballpark. Most buyers can expect to get their QX80 in the $80k to $85k range, and it will be well-equipped at that price.

With a true 3-row, large-sized SUV like this, the value is measured in versatility, capability and longevity. Value is also found in the standout styling and large amount of bells and whistles that are included on the window sticker's list. The 2017 Infiniti QX80 is a winner on that front.


Total Score and Competitive Comparison (69/80, 86%)

There are a lot of full-size SUVs to choose from, but only a few in the luxury category match the extreme capability of the 2017 Infiniti QX80. Its closest competitors are the Lexus LX 570, which is also very capable both on and off the road, and the Mercedes-Benz GLS Series. The Cadillac Escalade and Lincoln Navigator are also worth cross-shopping if your off-road needs are not as demanding. Against these, the QX80 competes most squarely with the Lexus and the toe-to-toe would be a close call to make. The Infiniti is more luxurious, whereas the Lexus may have a bit more off-road credibility. Against the Mercedes, the QX80 is a better all-around offering.

Your style preference question is key to deciding which one to buy. If you favor big, bold, no-holds-barred styling, you'll like the 2017 Infiniti QX80 as it backs that up with solid performance and capability.