Overview (Final Score: B+)

The 2017 Buick LaCrosse is all-new for the model year and it really shows. Especially inside. In years past, it's been little more than a Chevrolet Impala with lipstick, but it's now definitely differentiated from the Chevy, at least on the inside. Our chief complaint about the LaCrosse is its plain and fairly boring exterior look.

Once inside the LaCrosse, that impression changes immediately. This sedan has one of the more well-done interiors we've seen in any sedan segment. That's backed up with a confident drive dynamic and smart fuel economy thanks to the tried-and-true drivetrain underneath the car.

The 2017 LaCrosse is now truly competitive with both top-level sedans and entry-level luxury models and finally hits the sweet spot Buick has long aimed for. This is an excellent car that definitely deserves our high rating.


What We Love About the 2017 Buick LaCrosse:



Wonderful interior experience


Composed drive dynamic


Solid fuel economy returns in the real world


What We Don't Love About the 2017 Buick LaCrosse:



Very "blah" exterior with little pizzazz


Value may be hard to discern versus competition


Some luxury amenities can be pricey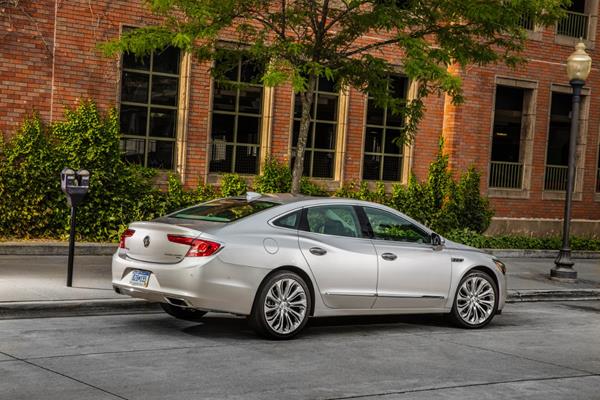 Exterior View (7/10)

The Buick LaCrosse is what most would neutrally call "contemporary" in its exterior design. As a full-size sedan, it competes in the premium market against rivals that are usually big on style and presence, making it stand out only because the LaCrosse has neither.

The 2017 Buick LaCrosse is not an ugly car, nor is it entirely forgettable. What sets it apart from the Chevrolet Impala it shares much of its build with are the cascading Buick grille; a more rounded, sleek look to its fascia and rear pillar; and better wheel choices.

In the end, the exterior of the 2017 LaCrosse is neither bold nor eye-catching. Instead, it hearkens to the 1990s when Buick models were often only lightly massaged versions of the Chevy cars they were based on.


Interior Comfort, Quality, Ergonomics (10/10)

The interior of the new 2017 Buick LaCrosse is where it's at for this big sedan. Everything jumps out as being quality and set in place with a good eye toward functional design. The inside of the LaCrosse are not as spartanly purposeful as would-be rivals from Germany might have, but instead is lush and comfortable without being ostentatious. (The latter ideal is left for Cadillac to pursue.)

Standard features in the 2017 LaCrosse include dual-zone climate, dual USB ports, an 8-inch touchscreen infotainment system with Apple CarPlay and Android Auto, a rearview camera and parking sensors, and more.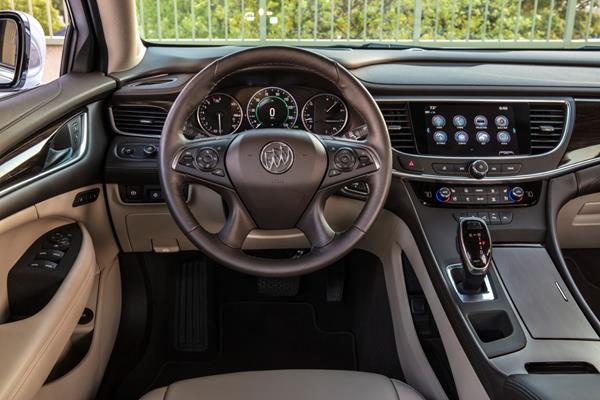 The driver and front passenger are treated to a curving dashboard that carries straight visual lines that somehow never actually straighten out. This gives more room, but also gives your eyes a softer surface to take in on the whole. Materials are all well placed and high rent, with nary a cheap plastic seen anywhere. Seating for the driver and front passenger is excellent, with just the right amount of plush cushion to keep it luxurious without getting overly thick.

The rear seats are also well done, seating three across without much fuss. Shoulder room is good and legroom for the outboard seats is very good as well. Some very tall passengers may have problems with the sloping roofline, but anyone under NBA player size will find themselves comfortable in the back of the 2017 LaCrosse. Unlike the front, rear passengers will not find as many useful storage options for gadgets and gear.

In the trunk, the 2017 Buick LaCrosse offers ample cargo space at about 15 cubic feet. There are rivals with larger trunks, but the LaCrosse has an easy-access rear deck lid opening that makes loading most items simple and fuss-free. A ski pass-through and folding rear seats are standard in the LaCrosse.


Technology (9/10)

The LaCrosse comes with Buick's latest infotainment interface on a standard 8-inch touchscreen. Several things like Apple CarPlay and Android Auto as well as a WiFi hotspot are all standard in the LaCrosse. Streaming services and other apps are built-in or can be used from a connected phone.

We like the logic of General Motors' infotainment. In the Buick it's been done with simple, large on-screen buttons for easy navigation. The screen could be canted a bit more toward the driver to make it easier to reach and to reduce glare, but it's not so terribly placed that it's difficult to use.

What we really like about the Buick LaCrosse's infotainment is that it doesn't limit the functions because the vehicle is in motion. This allows the front passenger full access to the infotainment while the vehicle is in motion.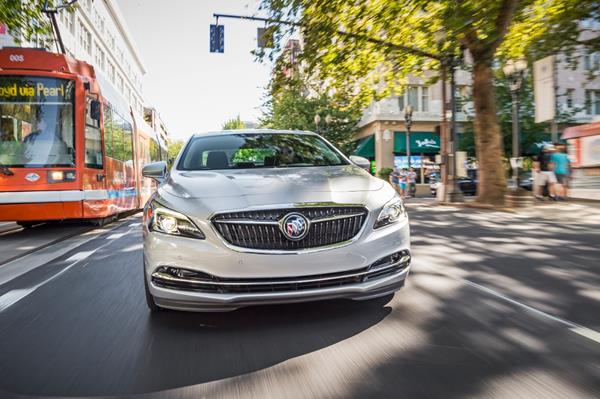 Fuel Economy (9/10)

The 2017 Buick LaCrosse is not a segment leader in fuel economy, but it's not a slouch either. The engine and automatic transmission operate in either front-wheel or all-wheel drive. The FWD LaCrosse is EPA-rated at 21 mpg in the city and 31 mpg on the highway. The AWD option lowers those numbers of 20 mpg city and 29 mpg highway.

In the real world, our AWD LaCrosse easily met those EPA estimates, especially for highway driving. That's surprising given our high altitude (over 5,000 feet) and regular cross-winds. We expect that most drivers of the LaCrosse will get as good or better than the expected MPG ratings for the car.


Predicted Reliability, Initial Quality Ratings (9/10)

The 2017 Buick LaCrosse scores well with expected reliability and quality. The J.D. Power and Associates Vehicles Dependability Study rates the 2017 LaCrosse as "Better Than Most" for initial quality. There has been one recall for this big Buick.


Safety (10/10)

The 2017 Buick LaCrosse has perfect safety scores across the board. The National Highway Traffic Safety Administration (NHTSA) has given the LaCrosse a perfect 5-Star crash rating on all of its tests. The Insurance Institute for Highway Safety (IIHS) has likewise given the 2017 LaCrosse a top score of "Good" on all of its crash tests, rating the sedan as a Top Safety Pick.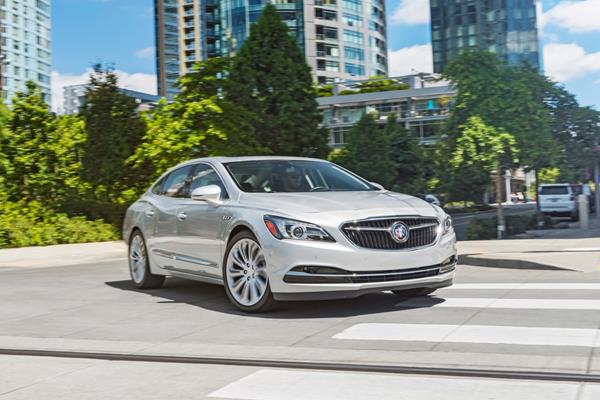 Performance (9/10)

The 2017 Buick LaCrosse uses a 3.6-liter V6 that outputs 310 horsepower and 282 foot pounds of torque. Front-wheel drive is standard, as is the automatic transmission, and all-wheel drive is optional.

The V6 powers the LaCrosse very well and is just about right, in terms of power output and capability, for the big car's needs. This isn't a race car, of course, but the excellent output is smooth and well-tuned.

On the road, the 2017 LaCrosse is a comfortable drive with a good amount of acceleration that doesn't get pushy about its muscle. Transmission shifting is smooth and quiet and the LaCrosse absorbs the road well without feeling too cushy or spring-loaded. On the highway this confident presence is retained.

Some drivers may be surprised at the smart handling and confidence that the big LaCrosse gives, especially in the turns when at speed. This big sedan is not a sports car, but it doesn't handle with the springy body roll that the brand used to be known for. Instead, it's tight and well-maintained in the curve. Very likable.


Pricing and Value (8/10)

The 2017 LaCrosse is well-priced for the segment, though comparables are not easily found as most are true luxury cars or top-trim regular vehicles. The premium-level Buick fits somewhere between those standards and is priced accordingly.

The base price for the four-door is excellent, fitting below most top-fit models in the standard segment and well below the expected price of a luxury model. Most buyers will probably find their sweet spot for price and value in the Essence or Premium trim levels, where the 2017 LaCrosse is priced at about $39k-$41k. Adding all-wheel drive, a good choice for many markets, increases the car's cost by about $2k.


Total Score and Competitive Comparison (71/80, 89%)

The competition for the 2017 Buick LaCrosse is mainly from the high-trim standard sedan arena and the entry-level luxury market. The Buick, sitting between those two points as a premium-level sedan, straddles both lines in its base and uppermost offerings. Most comparable are the equally-beefy in size Chrysler 300 at its top-most point, which is very comparable and also has AWD as an option. The Lexus ES is another comparable, though it is much more luxurious inside and out and priced accordingly. Shoppers might also want to consider the Toyota Avalon in its highest trim as an option.

As it is, the 2017 Buick LaCrosse is singular in the full-sized sedan category. It's more than just a tarted up Impala, as it was in years past, and is far more well done than might be expected from those used to Buick models from the 1990s and early 2000s. It's enjoyable to drive, well-mannered and unobtrusive. This is a very likable sedan.