Overview (Final Score: B)

The BMW i3 is now in its fourth year in 2017 and some improvements have made a compelling little car even more interesting. The i3 is most recognizable for its eye-catching looks, carbon fiber design and useful versatility. True to the BMW nameplate, it's also fun to drive.

For 2017 BMW shuffled the packaging for trim levels in the i3 and added a larger battery pack option to extend the driving range over 100 miles. The base model is now known as the 60 Ah and the larger-battery option as the standard i3. The range-extended option is also still available, but only with the larger battery pack.

Buyers considering a 2017 BMW i3 should be aware that the car is designed primarily for in-city and around-town use, and it's optimized for that. It is highway-capable and able to do freeway speeds, but range and power usage change significantly when it's used that way.

For the urban or suburban commuter, the i3 is a nice mix of luxury, capability and ergonomics all wrapped in a good-looking package.


What We Love About the 2017 BMW i3:



Great packaging of comfort, versatility, and capability


Fun to drive


Neat look that makes no bones about its futurism


What We Don't Love About the 2017 BMW i3:



Pricey when compared to other options


Not a very good highway car


Some upgrades seem a bit over priced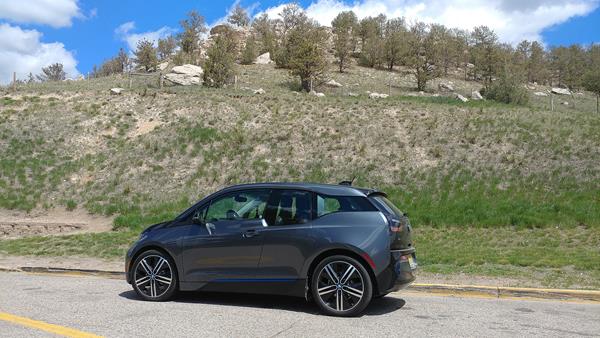 Exterior View (9/10)

The 2017 BMW i3 probably deserves to be a 10 here, but the look is polarizing for those not ready for a futuristic vehicle. The i3 makes sure everyone looking at it knows that it's not a standard road-goer, with a useful square body that cuts itself short on hood length and emphasizes its relatively long wheelbase for the i3's size.

The front fascia of the i3 is definitely BMW, with the kidney grille and wide bumper cover. From there, things get more next-decade as the small headlamps, tiny hood and rolling roofline take over. Side paneling is simple, but very obviously aerodynamic and the floating roof with the deleted third pillar and suicide (reverse opening) rear doors without visible handles are all from a time machine.

One thing the BMW i3 doesn't do is over-emphasize its futuristic construction, having been built almost entirely out of carbon fiber. From the outside without opened doors, that fact is hidden well. It's not until the doors are opened and the tall sills, gray edges and flooring are seen that the carbon fiber is noted. Kudos to BMW for not going overboard there.

Overall, we're fans of the small, boxy but futuristic look of the BMW i3 and like that it stands out so well.


Interior Comfort, Quality, Ergonomics (9/10)

Aside from the wide sills at the doors and awkward rear seat entry, the interior of the 2017 BMW i3 is very well done. The wide sills are a requirement because the car's framing is carbon fiber, which means thick is good. The rear seat entry is mostly due to the car's size, but the entry is helped by the wide-swinging rear doors, which open to reveal no pillar between the front seat and rear entry, making getting in much easier than it would be otherwise.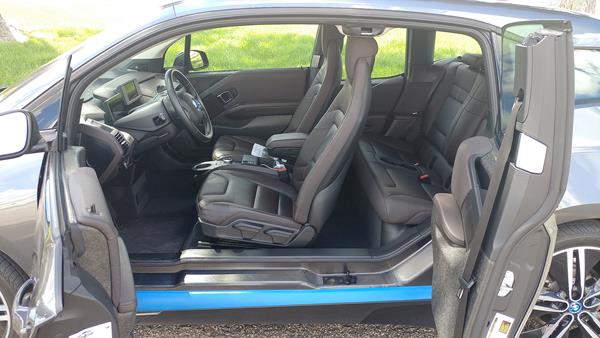 All of the driver's controls in the i3 are very well placed and easy to understand. The driver's position is likewise very adjustable. Headroom is much more generous than most would expect, given the i3's size, and legroom is equally roomy.

Rear seating in the BMW i3 is good - much more spacious than the car's size would indicate. It's not quite adult size, but close enough that two adults can sit there semi-comfortably for short stints. Children two and three across are also accommodated, though seatbelts for three kids in booster seats can be a challenge.

Competing electric vehicles will seem chintzy compared to the quality of materials and workmanship found in the BMW, which fits given the car's higher status and cost. Cargo space is tiny at only 11.2 cubic feet and a high floor makes loading some heavier items trickier. Helping make up for that, the i3's roof is higher than most compact hatchbacks and the rear seats actually fold flat, giving a large floor space to work with when larger items are to be carried.


Technology (8/10)

There's a lot of great tech in the BMW i3 and most of it is fairly easy to learn and use on a daily basis. The problem is that most of the good stuff comes with costly upgrades for a car that's already pretty expensive to start with. Luckily, BMW is upping the ante with some packaging, so it's easier to get the larger infotainment screen and better navigation without spending a lot more.

The i3 has no CD slot or AM radio tuning, which might be a problem for some who like their talk radio or battery-free music choices. On the up side, smartphone integration in the i3 is some of the best we've seen and the USB and iPod interfaces are plug-and-play with most devices.

Voice control and navigation are equally well done with the i3 and some advanced driver aids, when opted for, are well worth having. The semi-automated parking is excellent and highly recommended for urban dwellers.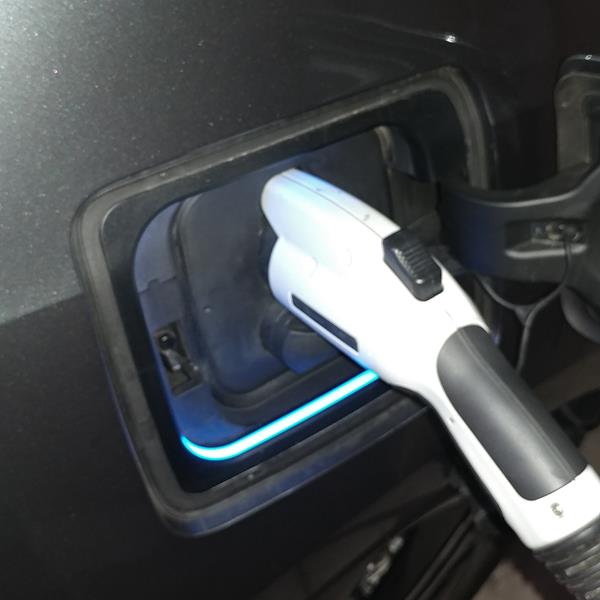 Fuel Economy (10/10)

Obviously, fuel economy is where it's at with the BMW i3. This electric car has two battery options and a range-extended option. The base model has a 22 kWh battery that provides about 81 miles of range in everyday driving. The larger 33 kWh battery is new this year and provides about 114 miles of range. The range-extended option uses that same battery, but adds a gasoline engine to provide power for a few more miles. That gasoline engine gets about 35 mpg when running.

The major downside to the 2017 BMW i3 is that the estimated range of the batteries is based largely on urban or lower speed driving. Once on the highway, those numbers drop significantly. In the range-extended version, our fully-charged, fully-fueled range estimate was 158 to 180 miles, but that dropped to 110 miles once we hit freeway speeds (75 mph). A 90-mile round trip on the freeway required all of the battery's juice plus a half-gallon of fuel. The i3 is definitely not a long-distance commuter or interstate driver.

On the other hand, range estimates were spot-on when driving around town or at speeds lower than 55 mph. When the i3 is used for what it's made for, it does very well with fuel economy.

Charge times vary depending on the charging type used. Our 120v outlet charging took about 15 hours from empty, but a public charging station capable of offering Level II charged the car to 80 percent in under two hours.


Predicted Reliability, Initial Quality Ratings (9/10)

There have been two recalls for the 2017 i3, both of which were for safety reasons rather than reliability. The car has received a "Better Than Most" rating in the J.D. Power and Associates Vehicle Dependability Study. That plus the car's relatively long history in its current generation and the reputation for general reliability it's garnered in that time give us good reason to rate it highly here.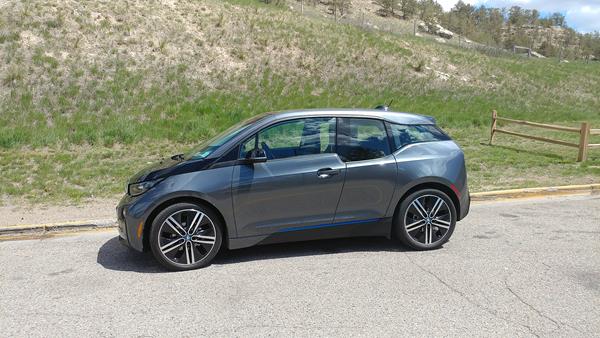 Safety (8/10)

The 2017 BMW i3 has been crash tested by the Insurance Institute for Highway Safety (IIHS) with top results of "Good" on all but the rear crash test, which received a second-best "Acceptable" rating. This is the first time in the car's history that it's been crash tested by an American agency. European tests have produced similar results.


Performance (8/10)

There's no tire burning with a car like the 2017 BMW i3, but it's quick anyway. Stomping on the accelerator slings the car forward with a 0 to 60 time of about 7 seconds. That won't beat super cars or muscle coupes, but it'll definitely smoke most of the other EVs on the market.

On the road, the BMW i3 is a great little car. It handles very well thanks to the low-slung weight of the batteries, the light weight of the vehicle's build, and the wide spacing of the wheels. Turning is similar to what's expected of any BMW coupe and acceleration through most speeds is aggressive.

However, the i3 is fairly loud on the highway, and its low stance means less visibility than might be had from a larger vehicle. Knowing that, the BMW i3 is better than most small hatchbacks and sedans in the compact and midsize segments when it comes to visibility and drive quality.

The range extender engine is a 0.6-liter 2-cylinder acting only as a generator, so its output is purely measured in electrical capability, which maxes out at roughly the car's maximum usage at cruising speed.


Pricing and Value (7/10)

The BMW i3 is a great little car, but it's not terribly competitive to other options on the market. The electric-only models are expensive when compared to some alternatives and so far, dealerships have been generally unwilling to offer incentives for buying the car.

The base model has only about 80-some miles of range for a price that's fairly steep when compared to a similarly capable electrics on offer. Jumping to the larger battery only worsens this deal, adding almost $4,000, and adding the range extender creates a serious head-scratcher when it comes to justifying to the bean counters.

There isn't much data to go with for resale values on the i3, but we expect that it will do fairly well at resale given the good battery warranty.

Our suggestion is to go with the larger battery pack only if you truly need to have 100 or so miles of range. Most buyers are likely just fine with the smaller pack if the BMW i3 is being used for its designed purpose: in-city driving.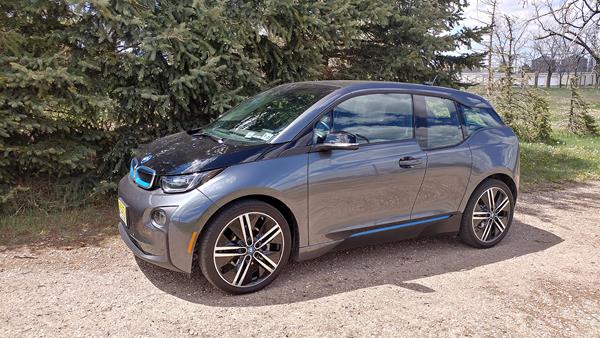 Total Score and Competitive Comparison (68/80, 85%)

There aren't any apples-to-apples comparables to the 2017 BMW i3, but there are some electrics worth considering that are similar in terms of capability.

The i3 is a pretty little car with a good amount of luxury and capability. If the former isn't all that important to you, the much more reasonably priced Nissan LEAF is a good option that can be had for far less money. The LEAF has more versatility in everyday use and about the same range as the base model i3. The Chevrolet Bolt EV is probably the closest real competition to the i3, and offers a very compelling package at a lower price. Especially when the longer range of the larger battery is added in on the i3. Be sure to shop around.

The 2017 BMW i3 is a great little car for those looking to get into the zero-emissions game. It's built in a much more sustainable manner, factory-to-sales floor, than are often-cited competitors like Tesla, and it has unique styling and fun elements that aren't found in the best-selling LEAF.

What's more, its drive dynamics and well-designed usefulness are very good reasons to consider this little Bimmer over other EVs. For anyone living in an urban or suburban area who needs a versatile commuter, the plug on the BMW i3 is just icing on an already positive cake.