Written by James Hamel


Overview (Letter Grade after 8 Categories: B+)

Now, before we begin please bear in mind that this is a review of the Ram 1500 line of full size pick-up trucks which is its own separate brand apart from, well, the D-word. Seriously, don't be calling the 2016 Ram a 2016 Dodge Ram in front of an owner or someone who works for Ram because you might just get a very dirty look. Or if you were Janet Jackson you might say, "No my first name ain't Dodge, it's Ram. Ram 1500 full size pick-up if you're nasty." So don't be nasty and get it right.

Now moving on from hit songs from the 1980's, let's discuss which of the many, many, many Ram 1500 pick-up truck options we actually had a chance to test both on and off-road. For our one-week full in-depth test we sampled a 2016 Ram 1500 Outdoorsman Crew Cab 4x4 with the new 3.0 liter V6 EcoDiesel which puts out 240 horsepower/420 lb. feet of torque with a tow rating of 9,200 lbs. all while being EPA rated 21 city/29 highway. We surpassed 32 miles per gallon in our Ram EcoDiesel on a long highway trek down to San Diego and back which for a truck this size is amazing. Our overall average was 27.8 miles per gallon due to our endless enjoyment of this motors effortlessly smooth power.

We did a short spin on a street course in a heavier duty Ram 2500 which basically has more hauling and towing ability best left for heavy duty or work truck purposes. It is available with a 6.7 liter Cummins turbodiesel with 800 lb. feet of torque and a tow rating of 17,980 pounds which could come in handy if you needed to haul your trailer home out of the way of an approaching Tornado. This is the motor and model for folks who haul serious cargo.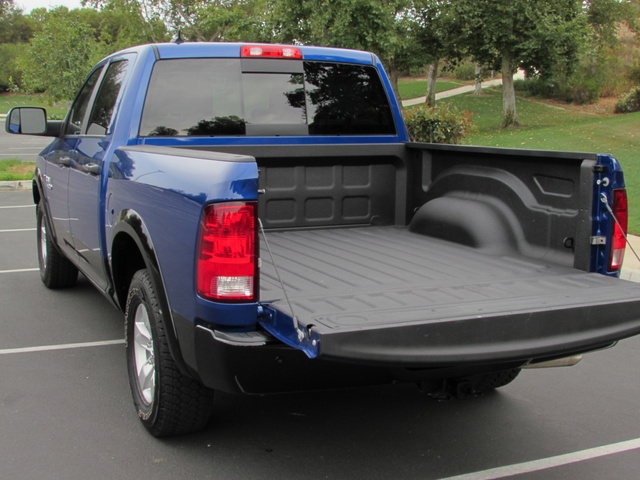 And finally, we got the chance to go off-roading with an amazing member of the Ram team in the new 2016 Ram Rebel 4x4 trim with full air suspension to make ride height worries a thing of the past. The Rebel is just available with the still amazing 5.7 liter with 395 horsepower/410 lb. feet of torque.

A base 3.6 liter Pentastar V6 can be ordered with various Ram trims but we did not have a chance to sample one. Our assumption is that an engine that is amazing in a 300, Charger, Journey or Challenger might be less so in this application. And do you want to tell your friends you didn't get the Hemi or the awesome new diesel? No. And with prices starting at just $27,000 for a nicely equipped Express, there truly is a Ram 1500 for every purse and purpose. (Note: There is a $25,000 Tradesman model obviously meant for people who use it to practice a trade. It lacks somewhat in creature comforts.)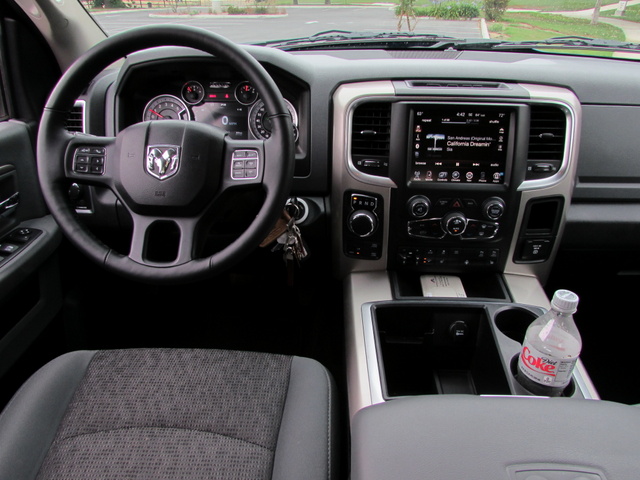 What we loved about the 2016 Ram 1500



The new 3.0 liter EcoDiesel is powerful, quiet and frugal




The multitude of well thought out trim levels




The RamBoxes should be a must for anyone using this truck for any family duty


What we didn't love about the 2016 Ram



The grey cloth seats of our $40,000 plus Tradesman model cheapened the interior




We recommend any Ram interior with leather or a brown/cocoa trim combo




That people don't care for the Rebel model's grille.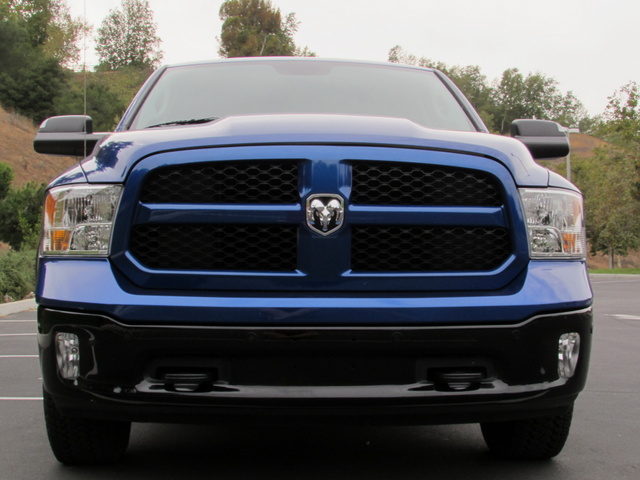 Exterior View (9 out of 10)

Whereas it now seems that every full-size truck maker from Toyota to Chevy to Nissan to Ford is getting into the super-oversize front grille motif that Ram pretty much invented, rarely are they done in any style other than glitzy shiny chrome. At Ram, while they still offer variations of their chrome cross hair grille (the new range topping $51,000 Limited model has a chromed out grille with its very own built in nostrils so it looks a bit like a blinged out, pissed off Bull ready to charge. Yet somehow, its design is not vulgar in any way it just makes a bold statement of fearlessness.

We could talk about the different Ram grille designs available for days but just rest assured that there is a style for everyone including a uniquely effective (and rather unique) full body color version as can be found on Sport trims and our test Outdoorsman Diesel model which looked handsome in electric blue. The most controversial grille design to some is also the newest—the one that comes standard with the Ram Rebel trim which we had the good fortune to take off-road. We will just say if you don't understand its appearance when the truck is clean, cover it with dirt and its cool factor shines through. Actually, there is no Ram truck that looks uncool. Not one.

And what can we say about the optional $1295 Ramboxes located on either side of the pick-up bed that lock and even have a drain at the bottom should you decide to use these waterproof wonders as ice filled coolers for beverages during your camping trip at the lake. The other reason they are brilliant? Say you want to go to Costco but would like to use all the seats for passengers, well now everyone won't have to ride home with everything you bought in their laps. We spent $400 at Costco and all of our purchases fit easily. If it is available with your trim level preference and you aren't using this just as a work truck the Ramboxes should be considered a must have option.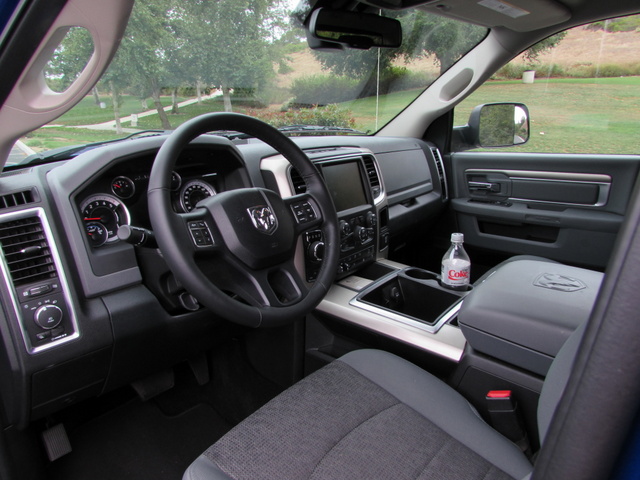 Interior Comfort, Quality and Ease of Use (8 out of 10)

There are so many different interior trim designs, grades and colors of leather or fabric and overall appearance themes inside the 2016 Ram 1500 (ranging from down home Texas Cowboy to upscale night out at the Opera) that it makes you wonder how the tough truck maker can keep coming up with so many new sub-niches of the full size pick-up market year after year. Why don't we look at one of the latest new interior designs as found in the 2016 Ram Rebel 1500 4x4 which we took on an unforgettable off-road excursion.

Now, we had no problem keeping up with heavy duty and trail proven Jeep Wranglers which were traveling along ahead of us but it was quite clear our ride was far more luxurious and comfortable what with the unique tire tread floormats, ruby red interior trim splattered around the interior for visual interest and some of the most visually unique seats embossed with REBEL, made out of a sturdy mix of cloth and vinyl with the appearance of tires treads all over them.

Yes, it looks like a Leprechaun took out his Ram 1500 Rebel and drove it off-road all over your seats leaving a neat and inventive pattern. Is it still politically correct to call them Leprechauns? No matter, any mythical creature great or small will love the interior of the 2016 Ram 1500 because there is just such a huge amount of choice and personalization. And if you will believe it, Ram offers even more intensive ways to customize your pick-up if you can't find the perfect model on your dealer lot.

While the 2016 Ram is faultless when it comes to interior ergonomics and controls, oddment storage is impeccable and build quality is like nothing you have ever seen in a Ram, some people are quite picky. For instance, our test 2016 Ram 1500 Diesel Outdoorsman was one of the most amazing pick-up trucks we have ever experienced on this planet or any other, it oddly just came equipped with rather dull cloth seats. And if you plan on bringing the labs with you in the Ram, sorry, you will want leather.

So Ram and Chrysler brands work with a firm called Katzkin Leather which can be ordered directly through the dealership when you lease or finance your truck and the moderate cost to have leather installed can even be lumped into payments.  Prices vary depending on what you want but are hugely reasonable consider the quality of the end result and if you plan to use your Ram at all like a truck, leather is a wise investment.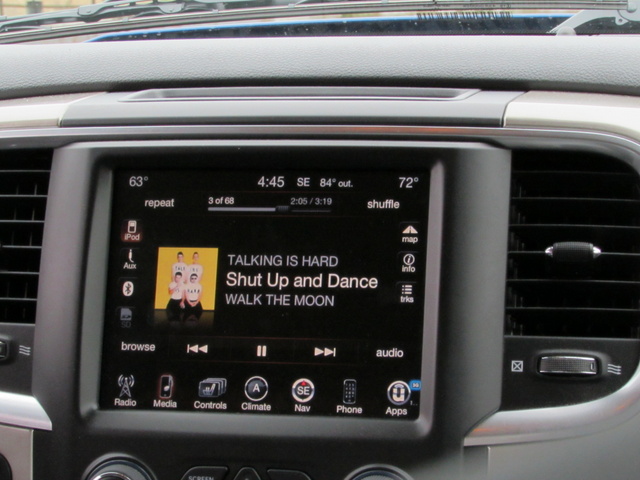 Technology (9 out of 10)

When Ram and Chrysler/Fiat as a whole overhauled their UConnect infotainment systems to call them a sea change in speed, ease of use and capability would be a supreme understatement. Kind of like if you said you were suspicious that Donald Trump's hair wasn't real. Prior to the update, UConnect was functional but used cartoonish looking and outdated Garmin map technology for the navigation and response times were slow for Bluetooth syncing. Now how fast can a Chrysler product like the Ram Sync to an iPhone? We clocked our UConnect in the 2016 Ram 1500 Outdoorsman diesel at 3.5 seconds to full connectivity. That's a record.

Now, the Electronic Vehicle Information Center located in between the gauges ahead of the driver is not as large as the one available with the current F-150 but then the Ram's system is easier to use and doesn't overdose the driver with so much information as to induce vertigo. Sometimes, you don't need to know everything your truck is doing. You are still supposed to be steering it, you know. A big help in that department as well is how effectively the Ram 1500 UConnect can read back your texts to you and then after following easy prompting, you can reply to the text with the voice activation controls. And yes, the voice activation actually understood everything we told it which is rare. Only CarPlay managed to do that.

So what else can U-Connect do? Well it offers drivers a Wi-Fi hotspot, 9/11 emergency assistance, Yelp to "help" you find reviews of local establishments, it gives movie listings, sports scores, it can remotely lock/unlock your doors, call roadside assistance for you, start the truck remotely if it's buried under 10 feet of snow (talking to you Michigan) and even scare away groups of teens loitering nearby after you activate the horn and lights remotely. Not that we suggest you do that for personal amusement, of course.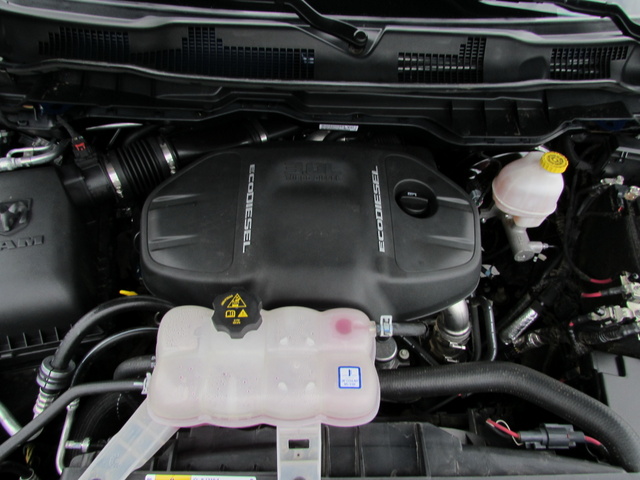 Fuel Economy (9 out of 10)

To help maximize fuel efficiency Ram trucks include flaps inside the grille which open and close depending on your speed and the cooling needs of the engine. With the flaps open, the engine is naturally cooled with the airflow but if that is not needed closing the flaps makes the truck more aerodynamic and therefore more fuel efficient—a claim we definitely could see in our 2016 Dodge Ram Outdoorsman Diesel. It is EPA rated at 19 city/27 highway and in our hands averaged 23.5 miles per gallon in a mix of highway and city driving. The Ram EcoDiesel also has Urea direct injection so there should be no emissions issues like those that recently plagued Volkswagen and its diesel motors.


Predicted Reliability and Initial Quality Rankings (9 out of 10)

J.D. Power and Associates awarded the Ram 1500 pick-up one of its highly coveted APEAL awards based on initial quality impressions. Overall quality and projected reliability for the Ram 1500 was also given a laudable three out of five stars. As far as full size pick-up trucks go, considering all of the complex mechanicals that can go wrong the Ram's result is quite impressive. Both the new diesel engine and air suspension also do not appear to be problematic for customers according to an overview of Ram message boards. In fact, Ram is so confident in the reliability of its new diesel that it comes with a class leading five year/100,000 mile powertrain warranty.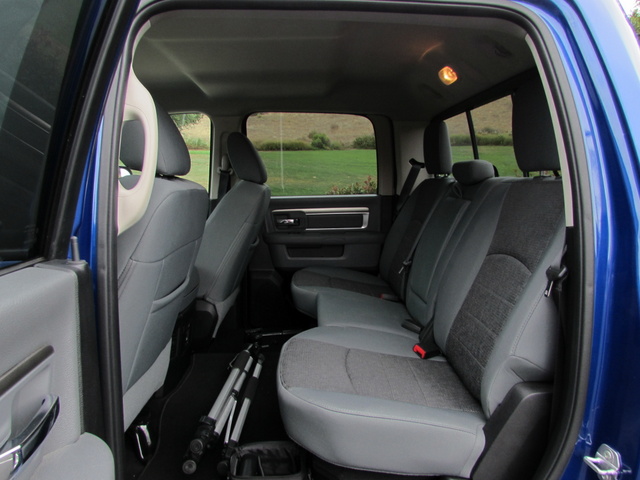 Safety (8 out of 10)

You might assume that a vehicle as large as a full size pick-up truck would be pretty much the safest thing you can buy but that is not really the case. No full size pick-ups were awarded "Top Safety Pick Plus' awards from the IIHS (Insurance Institute for Highway Safety) due to various issues like a lack of active safety systems. The newly redesigned Ford F-150 got a "Top Safety Pick" award only for the four-door crew cab but not for the extended cab model which in the small front overlap test it scored a scary "Marginal" due to significant intrusion into the passenger safety cell.

For the Ram, it outperformed rivals in many categories except the roof strength test which demonstrates how well a vehicle might perform in a rollover accident. Ram did recently introduce a canopy airbag system that deploys during rollovers but frankly we never felt that this pick-up was in any way top heavy like so many SUVs which are narrower. This sure footedness was present even when we were off-roading in the Rebel.  For more detailed information on any full size pick-up go to iihs.org.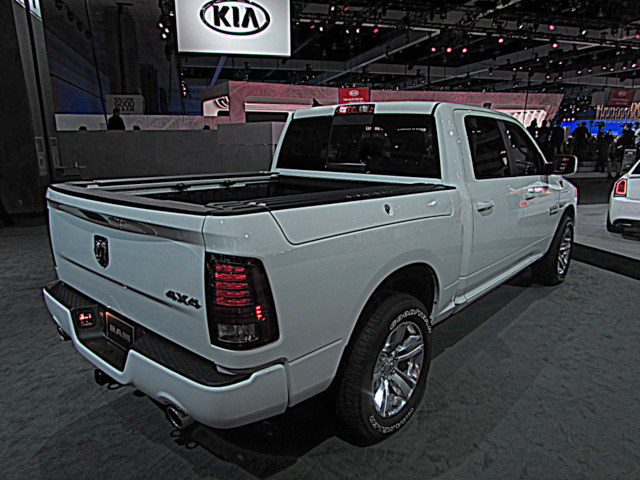 Performance (10 out of 10)

Decisions, decisions, decisions. While we didn't have a chance to try the 2016 Ram with the base Pentastar V6, in every other application it has proven to be a strong and potently sturdy motor. But if you are going to buy a Ram 1500 full size pick-up we would say why not go the whole hog and order yours with either the ferociously potent and guttural 5.7 liter 395 horsepower/410 lb. feet of torque V8 gas motor. We tried this iconic motor out on an off-road trail in the new Rebel trim and it did not disappoint making mince meat of the ruts, deep crevasses and the steep uphill slope. Plus, it made a really cool sound. It always does.

Surprisingly, so does Ram's new, utterly brilliant 3.0 liter 240 horsepower/420 pound feet of torque turbodiesel V6. Unlike many clattery diesels, the EcoDiesel emits a deep and bass rich engine note that just screams macho without the need to be loud and obnoxious about it. It is strong and tough but it doesn't need to shout it. You can just tell by the way the engine and 8-speed automatic allow the truck to pull away from traffic with amazing alacrity. All while dragging a trailer park resident out of the path of an approaching tornado. The motor feels that strong. Tow ratings for the diesel are 9,210 pounds and the payload rating is 1,600 lbs. The Hemi can handle a bit more with a 10,650 pound tow rating and 1,810 payload rating.

From behind the wheel, the Ram's brakes feel strong and fade free on long road trips, steering feel is tied with the Ford F-150 for best in class and ride quality on the highway is smooth and refined. Wind and road noise is well suppressed unless you truck is equipped with the extra large side mirrors that make towing things like large boats easier. There isn't much you can do about that. Bigger mirrors, more wind noise. But you'll find those on that larger, more heavy duty 2500 and 3500 models as standard so be sure you need to regularly haul a horse trailer or perhaps Godzilla in a cage before deciding you need that upgrade.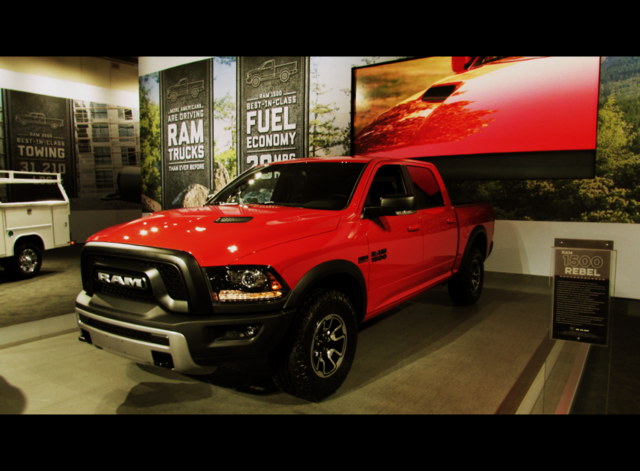 Pricing and Value for Money (9 out of 10)

All full-size pick-up trucks can get expensive, very expensive so to criticize the Ram 1500 for sharing that attribute at the higher trim levels would be pointless. And nowhere else can you find tremendous hauling power, off-road ability, luxury car levels of interior quality and family sedan beating fuel efficiency in something this big and heavy.

From its handy air suspension to best in class ride quality to the revolutionary 3.0 liter 240 horsepower/420 lb. feet of torque EcoDiesel V6 engine which is a paragon of refinement and accelerative thrust, the 2016 Ram 1500 offers the usefulness buyers will need and use. All of these things (and don't forget the brilliant Rambox!) you simply can't get anywhere else and it is in these various brilliant features that the Ram becomes an obvious value. And with prices ranging from $26,000 on up to $51,000 for the 2016 Ram 1500, we are sure there is one in that price scale perfect for you.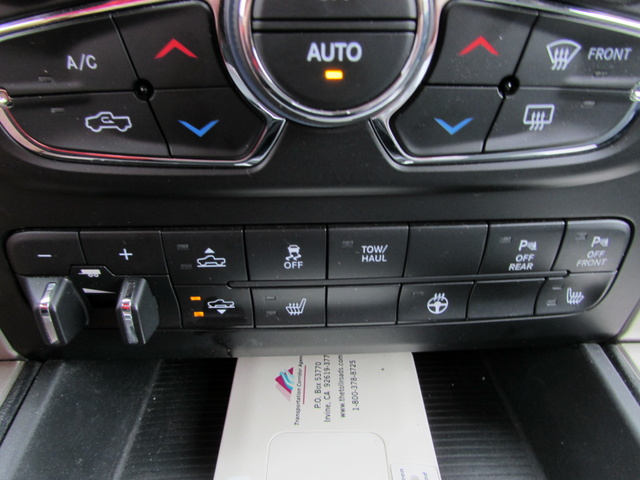 The Final Numbers and the Competition (71 points out of a possible 80)

So, if it were our money which full size pick-up truck would we choose? Well, you are actually looking at it and we can say that with sureness and authority. No doubt we are also fans of the Ram's arch nemesis the F-150 as it drives well especially impressing around town but some of the features are overly complex and may confuse buyers.

On the other hand, the GM full-size truck twins have nothing at all unique or interesting about them without so much as a cleverly placed cubby hole in the interior. No imagination went into the design of those trucks and the steering is so numb you feel like you are constantly veering into other lanes of traffic. And lastly, the Tundra has a great engine and gearbox but the ride is absolutely atrocious on the freeway. That truck should come with its own chiropractor. So there you have it. Go buy a Ram 1500.