Overview (Final Score: A-)
The big 2016 Infiniti QX80 is one of a handful of full-sized sport utility vehicles that dominate the luxury market in both size and capability. This generation of the large and in charge QX80 has been around for a handful of years now and is wearing its age very well. For 2016, a few exterior tweaks to the very bold styling statement that the big Infiniti makes are all that's changed from the outside.

On the inside, a new interior fit and color choice is added and a limited-run Signature Edition is added that combines some popular technology packages for the SUV.

All told, though, this is one standout luxury sport utility and those who are drawn to it are those who want to go big and flaunt that choice. With a muscular presence, faster-than-expected performance metric, and excellent array of capabilities, the 2016 QX80 is definitely a top contender in the full-sized luxury SUV market today.


What We Loved About the 2016 Infiniti QX80



Eye-catching and statement-making styling.


Excellent interior fit and finish with a lot of bang for the buck.


Smart options packages and solid performance are highlights.


What We Didn't Love About the 2016 Infiniti QX80



Kids-only third row.


Lack of crash testing for safety evaluation.


Low fuel economy and a relatively small fuel tank mean a lot of stops at the station.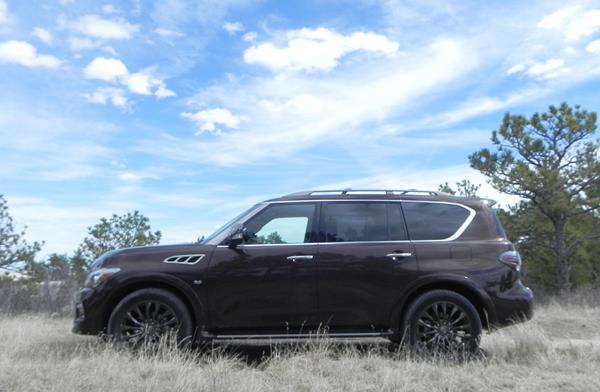 Exterior View (8/10 relative to market)
The 2016 QX80 is a big vehicle and its design flaunts this. The rounded fascia is dominated by a big, square grille. The hood above is flat and long, promising power underneath. Flared fenders both fore and aft and a bulky build to maximize interior space complete the overall look. Bodywork is simple, but not without elegance.

The 2016 Infiniti QX80 has a look of luxury to temper all that raw bulk. Added chrome adornments, beautiful wheels, and sharp pulls to empower the squared corners all make sure the onlooker knows this is a luxury SUV. Like most vehicles in the Infiniti line, it's the details that set off the otherwise simple design.


Interior Comfort, Quality, Ergonomics (10/10)
The interior of the QX80 is beautifully configured with an eye towards luxury. High quality materials and workmanship are plainly seen throughout. One's first impression on entering the 2016 QX80 might be of an overwhelming array of buttons, yet a few moments in the front seat shows that these are intuitive and intelligently laid out.

Front row seating is extremely comfortable and the surprisingly adjustable second row is also very accommodating. The third row is primarily for children, though a couple of adults could occupy it for short drives.

Cargo space is also generous with 16.6 cubic feet behind the third row and 49.6 with the third row folded. A cavernous 95 cubic feet is available with the second and third rows folded.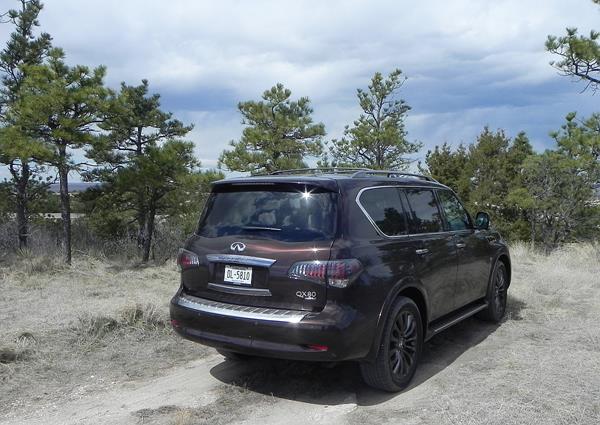 Technology (8/10)
A generous amount of technology is included as standard in the 2016 Infiniti QX80. An eight inch touchscreen is standard, as is basic smartphone connectivity. Navigation, voice controls, and a Bose sound system with satellite radio are also standard. As is a 360-degree surround view camera system.

Several packages can upgrade the base system. These include highlights such as a dual-screen rear seat entertainment system, a split bench to replace the standard second row captain's chairs, and several tech upgrades to the audio system and apps selection.


Fuel Economy (6/10)
All of the size and three-ton luxury of the QX80 has a price and fuel economy is where it's paid. The Infiniti QX80 is EPA rated at 16 mpg combined in rear-wheel drive and 15 mpg in the four-wheel drive model. The city and highway ratings are 14/20 and 13/19 respectively.

In the real world, our 4WD test model averaged 14 mpg overall.


Predicted Reliability, Initial Quality Ratings (9/10)
The 2016 Infiniti QX80 has an advantage in being solidly at the middle of its generational age, allowing plenty of back history to determine reliability. It has consistently held "Better Than Most" in the J.D. Power and Associates Vehicle Dependability Study and has not had any recalls for this model year. The warranty on the QX80 is about average for the segment at 4yr/60,000 miles and 6yr/70,000 on the powertrain.


Safety (8/10)
Because the Infiniti QX80 has not been evaluated in crash tests by either the National Highway Traffic Safety Administration or the Insurance Institute for Highway Safety, we cannot give it a top score for safety. The QX80 does have a good track record for safety, however, and comes standard with a large suite of safety equipment and technologies. For that reason, we are scoring it highly despite the lack of crash testing.


Performance (10/10)
Compared to most of the big SUVs in the luxury segment, the 2016 Infiniti QX80 does well for itself in performance. The SUV is powered by a 5.6-liter V8 that produces 400 horsepower and 413 pound-feet of torque. This runs through a seven-speed automatic transmission in rear-wheel drive. Four-wheel drive is optional and includes low range gearing. A towing package adds up to 8,500 pounds of capability and includes a self-leveling rear end.

On the road, the QX80 has excellent acceleration and good handling for such a large truck. Especially with the optional Hydraulic Body Motion Control System. The suspension is forgiving, but not too cushy, though the large 22-inch wheels on the upgraded trims might be a little too rough for some drivers. Most dealerships will likely downgrade to the smaller wheels at no charge.

Off the road, the QX80 is a good rig in most common situations. Without more serious tires, though, it is definitely not a trail master. For most needs, though, the 2016 Infiniti QX80 is an excellent drive. It will definitely get a family with their gear and camp trailer to the lake without trouble.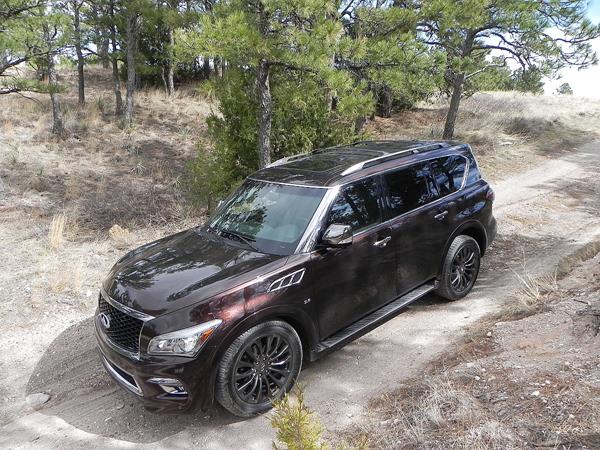 Pricing and Value (9/10)
The Infiniti QX80 has a large price to go with its large size, but compared to contemporaries on the market, it's reasonably priced for the package inclusions. Most buyers can expect to pay about $80,000 for a 2016 QX80 with enough bells and whistles to make any luxury buyer happy. Although the SUV does have a premium unleaded requirement, that is considered the norm for the segment and most luxury buyers expect to purchase premium at the pump.

Doing the math, the standout styling and excellent array of inclusions for the price paid make the QX80 one of the better values on the luxury SUV market.


Total Score and Competitive Comparison (68/80, 85%)
There is no lack of competition in the full-sized luxury SUV market. Despite the slow disappearance of non-luxury sport utilities in favor of crossovers, in the luxury market, there are still plenty of buyers willing to spend to get a true body-on-frame SUV. Primary competitors against the QX80 are the Mercedes-Benz GL, the Cadillac Escalade, and the Lexus LX 570. The Escalade is much cheaper by comparison, but doesn't have the same high level of refinement and standard equipment. The Mercedes is much more expensive, but has a more adult-friendly third-row and a better on-road ride. The Lexus is also more expensive and not as well-heeled for the price, but offers far superior off-road capability thanks to its Land Cruiser roots.

In the end, though, the choice will likely come down to style and preference rather than some easily-defined metric of power or value. In the luxury segment, the buyer's choice is rarely based on anything tangible. The QX80 has certainly had no trouble finding buyers since its introduction a few years ago and with this light refresh on its bold styling and new interior options, it's surely going to continue to be a hit.