Written by Jimmy Dinsmore


Overview (Overall Grade: B+)

Hybrids can be so ho-hum with their slow engines and their bizarre looks. These are generalizations of course. And there are exceptions too. For example, the 2016 Hyundai Sonata Hybrid breaks the mold of what you think hybrids are! It has a powerful enough engine, refined looks and has the good traits of a conventional, along with the perks of a hybrid drivetrain, which means amazing fuel economy.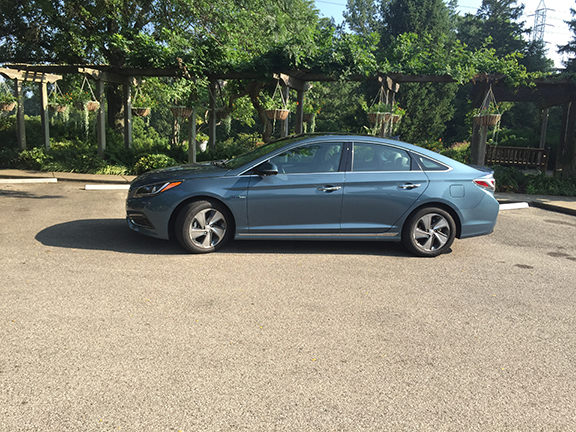 What We Loved about the Hyundai Sonata Hybrid



Fuel economy


Redesigned looks


Quiet interior and ride


What We Didn't Love about the Hyundai Sonata Hybrid



Slightly underpowered


Interior headroom


Transmission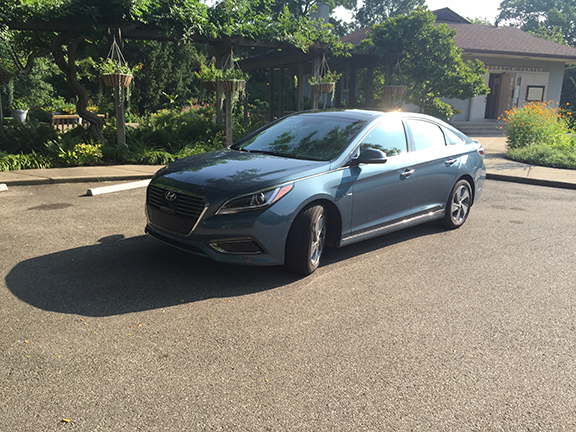 Exterior View (8 out of 10)

All other Sonatas went through a significant upgrade and update last model year. The 2015 Sonata hybrid did not, for some reason. In 2016, the hybrid catches up with the rest and gets a handsome new exterior that has classic looks. Nothing quirky about these looks, as too many other hybrids feel the need to look different. Other than a special blue on the Hyundai logo, there's nothing else that distinguishes this as a fuel-sipping hybrid. The front end is starkly different from older Sonatas. Indeed this family sedan has gone through a maturation process in its styling. Hyundai is likely following suit of Toyota and Honda, going a more conservative route with styling, although the Sonata Hybrid has some bold touches and modern flare. The overall fit and finish, and lines on the Sonata flow well from front to back, and are further accentuated with the side panel styling. The Sonata looks good on profile and from the front. The back end is a little blander.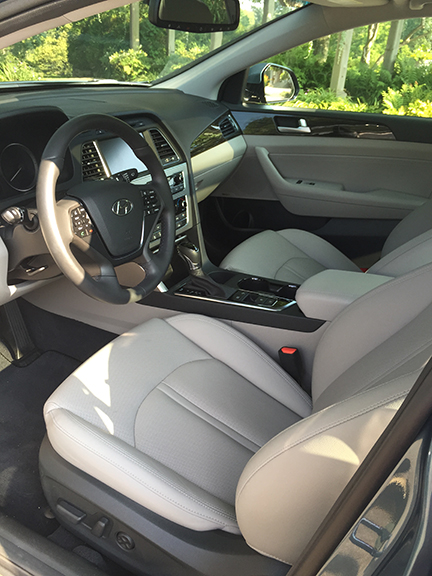 Interior Comfort, Quality and Overall Ease of Use (9 out of 10)

For several years, the Sonata has differentiated itself from its competitors, specifically Toyota and Honda by offering a high quality, nice interior. For this model year, Hyundai has really outdone itself. Further material improvements bring the Sonata hybrid to the point of luxury. Soft touch points are found throughout and the overall feel is crisp and well organized. The center stack is extremely well organized. It also resembles many Hondas and Toyotas. The only issue is with the angle of the 8-inch touchscreen. It's angled up and that produces both glare, making it harder to see, and also a more difficult angle for the driver to operate. Although the infotainment system is intuitive, this holds it back a little. The front seats have leather and are both heated and cooled. Generally, hybrids don't offer these options. Even the rear seats are heated. Passengers in the back seat will enjoy the soft leather-clad seats. Part of the redesign brought an overall increase to the cabin space, and it's quite noticeable in the back seat where both headroom and legroom are improved. Even the trunk has more cargo room, which again is not something hybrids are known for. The Hyundai Sonata Hybrid has 13.3 cubic feet of space in the trunk.


Technology (7 out of 10)

As mentioned, the Sonata's infotainment system has an 8-inch color touchscreen. It's a great system that is intuitive and requires minimal time to figure out. Hyundai's Blue Link system works well and integrates with all smart phones and devices. Downloadable apps like Pandora and Apple's Siri Eyes integrate well into the system and expand the resourcefulness of it. There is a navigation system too which is quite simple to use. You can plug in a destination very easily. The nine-speaker Infinity sound system is great. It helps that the Sonata is so incredibly quiet, that it makes the sound quality even better.


Fuel Economy (10 out of 10)

With the redesign, a new engine and modifications to its hybrid system, the 2016 Sonata Hybrid gets a 10 percent increase in fuel economy. They now go over the cherished mark of 40 mpg. In fact, the Sonata Hybrid has an EPA rating of 39 mpg/city and 43 mpg/highway. In a week's worth of driving, both on and off the highway, I averaged 41 mpg. Achieving this milestone is difficult.


Predicted Reliability and Initial Quality Ratings (9 out of 10)

The 2016 model has yet to be tested by any of the major outlets for reliability. However, the 2015 Sonata hybrid received high marks from JD Power receiving four out of five from them, making them ranked as better than most.


Safety (9 out of 10)

The National Highway Traffic Safety Administration (NHTSA) gave the Sonata Hybrid stellar marks. They got a five-star overall rating and scored well in all their crash tests. IIHS has not yet tested or rated the Sonata Hybrid. The sedan has plenty of safety features of note. In addition to 4-wheel ABS brakes, the Sonata has a lane-departure warning system, front collision warning system and a rear parking camera.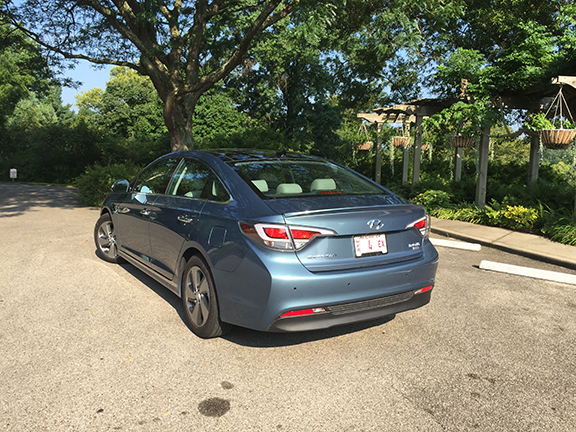 Performance (9 out of 10)

There's a brand new motor for the Sonata Hybrid. A 2.0-liter gasoline engine works congruently with an electric assist motor. The two systems combined produce 193 horsepower. This is a reasonable amount of power for a hybrid. The smaller engine this time around drops the power down a little, but overall the Sonata performs well. It's neither over powered nor under powered, which again is something most hybrids can't say. A six-speed automatic transmission is a little uninspiring. It would've been nice to see a seven or eight speed integrated in, and that would've improved fuel economy even more. The Sonata is a front-wheel drive sedan. With the hybrid system, the engine is whisper quiet, especially at the lower speeds where the electric motor does more of the work. The regenerative brakes are firm, but not sticky. All-in-all, the Sonata Hybrid drives more like a regular Sonata with a smooth, comfortable ride.


Pricing and Value for Money (7 out of 10)

The Sonata Hybrid is priced slightly higher than the regular Sonata. With only two trims, the base Sonata Hybrid SE has a starting price of just under $27,000. My tester was the Sonata Hybrid Limited with a base price of $30,100. With the Ultimate Package, which included a lot of neat technology, as well as a panoramic sunroof, my tester had a final price of $35,765. In comparison, a 2016 Sonata Limited (non hybrid) has a MSRP of $28,295. So, like all carmakers, Hyundai hikes up the price of the Sonata Hybrid due to the technology found in the vehicle. Ion batteries are expensive and so is the overall hybrid technology. You have to do the math for yourself to see how much the fuel savings will offset the increase in cost.


 "The Final Numbers" and the Competition (68 points out of 80: 85%)

The 2016 Hyundai Sonata Hybrid is one of my favorite hybrids. It's actually fun to drive and when compared to other hybrids on the road, it doesn't look quirky. Rather, it looks like many other family sedans on the road. It can rival the Honda Accord and Toyota Camry, and now with that 40+ mpg milestone, for those who want a really comfortable and fuel efficient family vehicle, this is a serious contender.